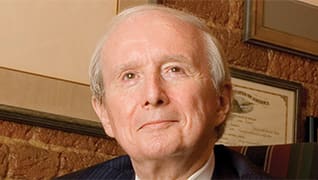 Photo by: Lee Celano
The Greatest
In Jack Martzell's half-century career, he has represented Muhammad Ali and the KKK has wanted him dead
Published in 2007 Louisiana Super Lawyers magazine
By Henry Alpert on December 27, 2006
John "Jack" Martzell has made his name by taking things as they come. "I remember riding a trolley when I was a high school sophomore filled with plans and mulling over how none of them ever seemed to work out," he recalls. "I made a deal with God and said I would just provide the forward momentum for my life, and 'You do the rest.' It's worked out wonderfully."
Over his five-decade career, Martzell never formulated long-term plans or objectives for his practice. But his powerful oratory skills and work ethic have brought him a lifetime's worth of fascinating and high-profile cases that have simply "walked through my door."
As Martzell approaches 70, he's neither mired in nostalgia about his long career nor thinking about retirement. He simply keeps on with his daily work out of the restored 1840 building that houses the firm of Martzell & Bickford in New Orleans' Warehouse District. His beautiful office features a "Napoleon in Egypt" motif, which mirrors his fascination with the Little Corporal. The room's original cypress beams and floors are decorated with lush drapes, an impressive antique statue of an Arab woman, and long-handled, feathered fans one could imagine servants wielding in a sultan's chamber. Martzell says he's been inspired by the Corsican's military accomplishments, infrastructural improvements of Paris, drafting of the civil code and his towering persona in general.
Martzell may not have the all-consuming ambition of a Napoleon, but his "forward momentum" hasn't stopped yet. He was recently awarded the Louisiana Bar Foundation Curtis R. Boisfontaine Trial Advocacy Award, the highest honor of the Louisiana State Bar Association. The media has dubbed Martzell "the lawyer's lawyer," noting his eloquence, professional curiosity and legal craftsmanship. It's that reputation for excellence that has brought clients through his door, including celebrities such as Muhammad Ali and Al Copeland, the flashy owner of the Popeye's Fried Chicken chain. Martzell was recently involved in a well-publicized class action suit against Murphy Oil following a Hurricane Katrina oil spill; he's also done a lot of white-collar defense work and maritime personal injury litigation. He describes his practice as "wonderfully eclectic." And he wouldn't have it any other way.
Much of Martzell's life has been shaped by his Catholic boyhood in Shreveport and his time as a student at Notre Dame. He recalls dates and long-past events with clarity, even remembering a fit of hysterical tears at the age of 5 when Notre Dame lost a key football game.
His father never actively encouraged Martzell to go to his alma mater, Notre Dame, but Martzell admired the man so much that he did so anyway. At the time, collegiate debate teams were popular, and Martzell excelled at a national level. Despite his oratory skill, though, Martzell didn't jump right into law school. He was more inclined to go into business; during his senior year he applied to Harvard Business School, but withdrew upon receiving a debate fellowship to Notre Dame Law School.
"There were three reasons I decided to go to law school," he says. "One, I was happier than I ever had been in my life. Two, I was crazy about the girls at St. Mary's. And three, I had never been to the Notre Dame campus on the weekends.
"After three months of law school, I said to myself, 'This is it?'" says Martzell. "I loved it. It has never seemed like work to me."
In 1961, Martzell began a clerkship in New Orleans with Judge J. Skelly Wright, who was a lightning rod at the time for his involvement in the enforcement of desegregation laws. Wright was so relentlessly harassed by segregationists that in 1962 he accepted an appointment to the Federal Appeals Court in Washington, D.C. But he didn't move on before leaving a lasting influence on New Orleans––and Martzell.
Martzell's experience as Wright's clerk earned him a job representing the city of Bogalusa. A lumber mill town with a powerful union, Bogalusa had a restive African-American population agitating for employment rights and nondiscriminatory practices through marches and other demonstrations.
"I was defending the [city], and our goal was to deal with the situation," he recalls. "When I was a clerk, I was disappointed with the establishment lawyers who treated racial issues like a crusade. I worked on the issues like a lawyer."
Once the Bogalusa unrest began moving toward resolution, then-Gov. John McKeithen tapped Martzell, then still in his 20s, to be the director of the newly formed Human Relations Commission (HRC) along with a black associate director. The commission, purportedly the first of its kind in the nation, consisted of 42 whites and 42 blacks, and its goal was to resolve state racial tensions in those "incredible times."
"We changed many city ordinances to make them nondiscriminatory, but we failed a lot, too," explains Martzell. "There was no precedent for anything I was doing during those years, and lawyers love precedents. It's scary at first to venture out beyond them; then it's thrilling and you can't get enough––it's like catnip. If there were ever a book about me, it would be called A Lawyer in No-Precedent Land."
During his six years as director of the HRC, Martzell was also building his law practice in New Orleans, and his reputation was growing. He began making contacts with big political players in Louisiana. For a time, there was even buzz that he might enter the political arena. But while he's been a behind-the-scenes confidant to a few politicians, he's never ventured into the limelight himself––the posturing required to be successful at the political game doesn't appeal to him, he says.
Still, his reputation in political circles has led troubled politicians to walk through his door. Currently, he's working on the defense of C. Hunter King, a former elected judge of Orleans Parish who was ousted for violating campaign finance laws and for perjury during a related investigation. In the late 1980s, Martzell was involved in defense work in the casino license controversy that eventually led to the imprisonment of former Louisiana Gov. Edwin Edwards.
His firm also became the only one in Louisiana to try––and win––election contests in both the U.S. Senate and House of Representatives after representing Sen. Mary Landrieu and Rep. Rick Tonry in separate cases. "Those were interesting experiences," he says, "different than trying a case in a judicial setting."
But no client of Martzell's is as famous as three-time heavyweight boxing champion Muhammad Ali. In 1978, after Ali won a bout against Leon Spinks in the Superdome, two boxing promoters filed a $20 million suit against Ali alleging that comments he made during a postmatch press conference were slanderous.
"Ali is larger than life, but he's also one of the nicest, most pleasant, most giving people I've ever met," Martzell says. "A normally 10-minute walk to the courthouse would take 45 minutes with him, because he'd stop to talk with everyone he encountered, joke around and spar with them.
"He had an enormous sense of his fame and importance to his fans. He told me, 'I represent a lot to the black and poor. We can't settle the case because it would be a backwards step.' So, we went to trial, and we won."
Along the way, Martzell developed a friendship with Ali. He and his young son were invited to Las Vegas as Ali trained for an upcoming match. They spent four days visiting the champ, in the presence of a fascinating entourage of characters all buzzing around this outsized personality. Martzell says the scene was as surreal as being in a Salvador Dalí painting.
The bulk of his clients haven't been politicians or celebrities, Martzell says, but rather the hardworking poor whom he represents in personal injury, class action and product liability cases. Martzell's father made certain that his son could relate to hard work by placing him in grueling jobs in oil fields and battery factories between college semesters.
Rich or poor, Martzell rarely turns down a client. "God left out my judgmental bone," he says. "The only human foible I can't tolerate is hypocrisy. It is strange because I've overlooked plenty of other flaws, but I find it impossible to represent a client whom I find to be hypocritical."
In the courtroom, Martzell claims straightness and sincerity as his principal strategy.
"Truth is a tactic," he explains. "Apart from the morality of it, it has a strategic value." He recalls a client injured in an on-the-job accident being cross-examined by the defense. Every time the defense lawyer believed he scored a point, Martzell's client would concede it with a wide-eyed, disarming sincerity that convinced the jury to decide in his favor.
"A favorite saying of mine is, 'It's hard to fake sincerity,'" Martzell says. "Sincerity is not necessarily likability. The jury simply has to think you're genuine."
Martzell's other tried-and-true strategy is to adopt a pedagogical mode. He figures that the one experience everyone in the United States has in common is attending school. Because of this, he says, jury members respond to the teacher-student dynamic. Martzell works well as an authority because he's so completely immersed in the details of all his cases––"dipped in it like an apple in taffy," as he puts it.
And Martzell is occasionally a professor in more than the courtroom. He returns to Notre Dame for a week each year to lecture on trial and appellate work, and also lectures at local law schools.
Martzell says preparation is a lawyer's most valuable tool. Other advice he offers is to look for solutions in unlikely places, not to be intimidated out of asking more experienced lawyers for advice and to be open to outside ideas.
He enjoys teaching, but he claims he could never leave trial work to become a full-time professor. "I enjoy the combat," he says. "I'd miss the fray."
Over the course of his career, Martzell has taken on publicly hated clients. During the Bogalusa period, the Ku Klux Klan even had a contract out on his life, a fact he only learned after the tense racial situation had dissipated. "Even though I was defending the establishment, the Ku Klux Klan didn't like the way I was handling the negotiations," he says. "Apparently, they thought I was too 'polite' with the other side."
But that's the Martzell way: Treat everyone with respect, and don't lose cases.
Search attorney feature articles
Helpful links
Other featured articles
Local Counsel with Diego A. Gutiérrez
The Seattle attorney says all lawyers have the ability—and obligation—to help others around them
Kostan Lathouris' promise to represent tribal interests and sovereignty 
View more articles featuring lawyers
Find top lawyers with confidence
The Super Lawyers patented selection process is peer influenced and research driven, selecting the top 5% of attorneys to the Super Lawyers lists each year. We know lawyers and make it easy to connect with them.
Find a lawyer near you