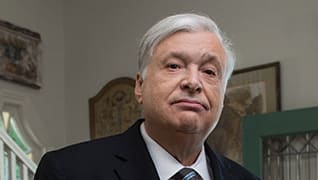 Photo by: Romero & Romero
The Right Track
From railroads to secret fried chicken recipes, Ben Slater is a force in the courtroom
Published in 2018 Louisiana Super Lawyers magazine
By Kathy Finn on December 27, 2017
For much of the 1990s, if you couldn't find Ben Slater III in his office or the courtroom, your best bet was in the suburban New Orleans office of a cantankerous fried chicken entrepreneur. Into the wee hours.
The air in that office burned with the smells of hot cooking oil and heavy spices as Slater hunched over a conference table squinting at documents and planning his next moves in a long-running legal battle between his client, Al Copeland—the founder of what was first called Chicken on the Run, then Popeyes Chicken and Biscuits—and the company that had come to own Copeland's business. That company was now also laying claim to Copeland's proprietary spice formulas. 
Slater, now 67, recalls that around 12 a.m. each night, a worker from the downstairs test kitchen would show up with plates of spicy chicken and blackened fish, seeking his boss' approval of the dishes for the next day's menu. The tastings became Slater's supper each day.
"I got real tired of rainbow trout," he recalls.
His work on behalf of Copeland, who in 1972 founded what became the fast-food chain and a string of sit-down restaurants, spanned nearly a decade during the prime of a legal career in which Slater has also gone to bat for railroad, energy and food industry clients.
A tall, broad-shouldered man with a deep voice and booming laugh, Slater is well-suited to the courtroom. "I think I was always cut out to be a litigator," he says. "I liked the battle, and I enjoyed being in public and standing up and articulating my position. I knew my strengths were using my instincts and abilities to think quickly on my feet."
Yet Slater shoots from the hip only when necessary. His confident courtroom demeanor is the result of intense prep. His specific strategy: trying to anticipate every argument and objection that his opponent may raise in court, and plan how he will react in each instance.
"I don't go into court with a lot of notes," Slater says. "When I go into a trial, my goal is to know everything that is going to happen: what questions the other lawyer will ask his witness, how the witness will answer, how I will object. A perfect trial is where I have figured out every single thing that is going to happen."
Phillip Wittmann of Stone Pigman Walther Wittmann has watched Slater in action in several cases in which they both were involved. Slater is, he says, "not only a well-mannered lawyer who exudes professionalism and is not unduly antagonistic with the other side, but he is always well-prepared." 
Slater initially followed in the footsteps of his father, joining Monroe & Lemann in New Orleans soon after his graduation from Tulane University Law School in 1975. He rose through the ranks while learning the ins and outs of litigation from his father, Benjamin Slater Jr., who died in 2011. "He was a real lawyer's lawyer who loved the nuances of the law," says Slater III.
The father also eventually handed off to his son a few cases for one of his longtime clients: Norfolk Southern Railway. 
In one of the most notable cases, Norfolk Southern had decided to file suit against the Lloyd's insurance market and a number of other insurers to force them to cover some $50 million in payments the railroad had made to settle environmental damage claims related to creosote-covered ties used in its tracks, as well as diesel contamination at loading and unloading facilities around the country. The railway was seeking coverage under policies the insurers had issued in the 1950s and '60s.
The cases landed in Slater's lap just as it was becoming clear that Monroe & Lemann, reeling from the sudden death of a senior partner, would not survive. In search of solid ground, he considered joining another firm, but after weighing the complexities of doing so, he chose a different path: At age 42, he decided to open a law office and file suit on behalf of the railroad against nearly 100 insurance companies on his own.
During the next seven years, Slater's firm, with a handful of legal and support staff, prepared to take the insurers to court. Slater traveled repeatedly to the Lloyd's headquarters in London and various U.S. cities to take depositions, while his associates combed through the old insurance policies. Ultimately, he would take the insurers through several state jury and bench trials, winning them all for Norfolk Southern.
At the same time, Slater repped another client in a case stemming from a railroad car that carried a volatile chemical and caught fire while parked on a track in New Orleans. Slater's client had provided the car to the primary class-action defendant, CSX Corp. "We litigated for 12 years and tried the case for about three months in federal court," he recalls.
The case made headlines when a jury ordered the defendants to pay punitive damages of $4 billion. But Slater's client and the others appealed the verdict and ultimately settled the case for a much smaller sum.
It was during this period, which Slater says was already the busiest time of his life, that he agreed to represent Copeland.
The rags-to-riches fried-chicken entrepreneur, famous for his hard-headed insistence on doing things his own way, had in early 1989 mounted a deal to acquire the larger Church's Chicken chain in a $400 million deal bankrolled by a Canadian bank and Merrill Lynch & Co., using a then-new financing tool: junk bonds. While the deal was in process, the junk bond market collapsed, and Copeland's creditors would eventually force him into an involuntary Chapter 11 bankruptcy filing.
It was when his creditors tried to claim ownership of Copeland's spice formulas that he turned to Slater for help. So it was that in the early 1990s, after working full days at his law office on various railroad-related matters, Slater headed for Copeland's office 10 miles away. Though he had little experience in bankruptcy court, Slater was able to convince a judge the spice formulas belonged to Copeland.
"Al always said he liked that I thought outside the box in my approach to the case," Slater recalls. "Still, he was worried that we were going to lose, but I said, 'I bet you a hundred bucks we're going to win,' and we did."
True to his word, Copeland paid up, and, Slater says: "I kept that hundred-dollar bill for a long time."
The bankruptcy ultimately resulted in Copeland losing both restaurant chains to a newly formed owner called AFC Enterprises. But his retention of the spice recipes proved to be a windfall as Slater—in an example of that outside-the-box approach—negotiated a lucrative extended contract that required AFC to continue buying the all-important spice mixes from Copeland for an indefinite period. "Al ended up with a 'forever' supply contract," Slater says.
Slater also extracted a hefty settlement for Copeland from Merrill Lynch for its failure to place the junk bonds that would have funded the Church's acquisition. (Copeland died in 2008, and his family took over the business.)
Slater looks back on his years of running his own law firm as a tough, intellectually stimulating period that imbued him with confidence in his litigation skills. Prevailing in the high-profile Copeland matter, despite being inexperienced in bankruptcy court, was a big feather in his cap. His success likely also emboldened him to veer briefly into another area he had always been drawn to: politics. 
In 1999, he threw his name into a race for a state legislative seat that had opened when lawyer David Vitter won election to Congress. "I figured I was good at public speaking, and it would serve me well in politics," Slater says. 
Though he did garner enough votes to land in a runoff against one other candidate, Slater lost the final race.
A few years later, he left his solo practice and joined the 100-person Lemle & Kelleher, moving into a management position. In 2012, Lemle & Kelleher joined Texas-based Beirne, Maynard & Parsons, and in 2016 Beirne joined the Florida-based Akerman law firm. Slater now finds himself as managing partner of Akerman's New Orleans office, where he divides his time between litigation and growing the office.
New Orleans attorney Jeff Pastorek is among the young lawyers in the area who have benefitted from association with Slater. After joining Lemle & Kelleher in 2010, Pastorek worked with Slater on Norfolk Southern cases involving encroachments on the railroad's rights of way in south Louisiana.
Pastorek particularly enjoyed the detective work they did together—digging deep into old property records that reflected environmental changes that had occurred in New Orleans for more than a century. Their research showed that rising water levels in lakes at the edge of the city had caused property owners to move their elevated fishing camps closer to shore, drawing dangerously close to railroad tracks that run along the base of a levee.
"I really enjoyed working with Ben on the details of that research," Pastorek says, adding that their reviews of the surveys enabled them to address what had become a perilous situation for residents and railroad workers.
Slater says he is grateful to have spent a lengthy career doing what he loves, though at times—when he reflects on those late nights and weekends during a decade of working for Copeland—he wishes he could have spent a bit more time with his wife and three children. But he likes the fact that they "could not be more different" from one another.
"I think having children with different strengths, interests and needs makes a parent a better person," he says.
Outside of the office, Slater remains active in state Republican Party activities, plays golf as often as possible and loves fly-fishing trips to North Carolina. 
He also continues to delight in New Orleans cuisine. His favorite meal today is the trout meunière at Galatoire's restaurant in the French Quarter.
But no rainbow trout. He's had enough  to last a lifetime.
Search attorney feature articles