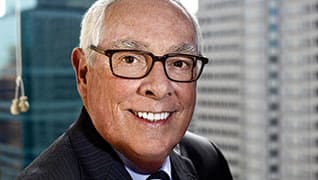 Photo by: Luigi Ciuffetelli
Across The Aisle Style
Benjamin Rosenberg wants to beat his opponents, not beat them down
Published in 2015 Maryland Super Lawyers magazine
By Bill Glose on December 12, 2014
Yes, Benjamin Rosenberg has gotten witnesses to credit his good lawyering right from the stand, and yes, he's so iconic in Maryland law that a bobblehead was created in his likeness as part of his firm's 25th anniversary fete. But to fully appreciate what Rosenberg, founder and chairman of Rosenberg Martin Greenberg, adds to a case, one needs only to study his behavior in 2014's Bob Smith Automotive Group Inc., et al. v. Ally Financial Inc.
Rosenberg, a business litigation and appellate lawyer, represented Ally Financial, which for years had been known as GMAC (General Motors Acceptance Corporation). This Detroit-based company finances all the GM cars displayed for sale at dealerships, a practice known as floor-plan financing. "In this case, this dealership group claimed that by changing their lending practices, GMAC made it impossible for [dealers] to stay in business," he says. "But the fact of the matter is that they went out of business in early 2009 when the economy was in a free fall." Rosenberg shrugs, an Aw shucks expression on his face that goes well with his warm brown eyes and circlet of silver hair.
Not only did Rosenberg defeat the Maryland dealership group on all the claims, including one for $20 million, the court further ruled in favor of Ally on its breach-of-contract counterclaim. But the salient point is not the money Rosenberg saved his client, but his behavior as he got the job done.
"The case was one of the most respectful and collegial relationships between opposing counsels that I've ever seen, and that was chiefly because of Ben," says Leigh R. Melton, who served as one of Rosenberg's co-counsels on the Ally case. "He was even respectful doing cross-examination. Lee Denny [one of the chief plaintiffs] actually thanked him a couple of times from the stand and complimented him on being such a good lawyer. You don't generally see anything like that."
During that five-week trial, Rosenberg did all he could to make the legal team from Detroit feel at home in Maryland. "We had an out-of-town paralegal in the case who was having a rough time being away from her family for so long," says Melton. "And Ben was able to hook something up in the hotel so she could watch her child's softball game in Michigan while she was here."
Kramon & Graham's Andrew Jay Graham has both worked with and against Rosenberg. "Either way he's a pleasure to work with," Graham says. "He can be one of the funniest guys I know.
"He is a leader of the bar who makes all lawyers look good. For Ben, the courtroom is something close to a sporting event. It's a competition. You fight hard and afterwards have a drink together with your opponent. And there's nothing wrong with that."
Rosenberg's 21st floor office, nestled amid the white stone and polished glass skyscrapers of downtown Baltimore, is a far cry from the Northwestern Baltimore working-class neighborhood where he grew up.
"My mom was a secretary," says Rosenberg. "She was one of the few working mothers in my generation. My dad was a furniture salesman. Economically, life was a real struggle for them."
Embracing his parents' ethic, Rosenberg began working at age 16, taking on a variety of jobs from plumber's assistant to working in the warehouse of a shoe distributing company. But it was his job with the National Cam Company, a subcontractor for Bethlehem Steel, that taught him an important life lesson. This was in the days before OSHA required factories to issue protective equipment to their workers and industrial accidents were regular occurrences, as Rosenberg discovered firsthand.
"Somebody sliced my arm with a piece of sheet metal," he says. "It required a lot of medical attention. The next day I went in to see the nurse at the company, and she said, 'Here, take these pills and go back out there and work.' I realized that for people who didn't have other choices in their lives, that's what they had to do—go back out there with your injury. At least I could say, 'Sorry, I'm not going. I'll see you tomorrow.' But for most of the people who work in that factory, they didn't have that choice."
It was a lesson that stuck with him. It gave him an understanding of how economic problems can overwhelm working class people. "A lot of the people we talk to are juries," he says. "Being able to relate to and empathize with people from all walks of life is crucial for a trial lawyer."
Rosenberg admits that he didn't know what a lawyer did until he went to college, and even then he wasn't too sure if it was the right career path for him. "I hated law school," he says. "It was boring and dry and tedious and repetitive."
He might have thrown in the towel if not for Lou Silverstein, a general practitioner who hired Rosenberg as a summer intern after his first year in law school. The practice of law, he discovered, was much more exciting than the study of it. "It was a real eye-opener for me," he says. "I saw that you could really make a difference and have fun doing it."
Then a different type of service intervened. The year was 1967 and draft notices were sending young men to Vietnam with increasing frequency. Without a deferment, it was only a matter of time until he was drafted. A recruiter offered Rosenberg and a law school friend, Stanley Fine, a couple of slots in the Coast Guard Reserve. There was one problem: The slots were only available at the same time as their two-week block of law school exams.
"So we went down and talked to the dean, and the dean allowed us to take all our exams in one week," Rosenberg says. "We enlisted in the morning, we were on the train at noon and we were at Cape May, New Jersey, that night. It was all in one fell swoop."
After law school, Rosenberg became an associate at Venable, Baetjer and Howard, a full-spectrum practice that was one of the largest and most prestigious in Baltimore. To his good fortune, he was assigned to work for a brilliant taskmaster named Frank Murnaghan.
"One of the great things about Frank Murnaghan was that he would say yes to anybody who asked him to be their lawyer," says Rosenberg. "He didn't have a filter. So here I am, probably 28 or 29 years old, and in walks [a prospective client named] Mrs. Robinson. She asks Mr. Murnaghan to be her lawyer for her divorce, and he says, 'I'd be happy to help you, Mrs. Robinson. My colleague Mr. Rosenberg will take care of you.' Well, I lost that case and had to write the brief on the appeal. I lost the appeal.
"Then Mr. Robinson turned around and sued Mrs. Robinson. I represented her, lost, and had to take that to appeal. Lost that appeal, too. So on one case, I tried it twice, appealed it twice, and lost all four times."
In another case that was being appealed to Maryland's highest court, Murnaghan allowed Rosenberg to make the oral argument.
"It turns out that the day our case was being argued," says Rosenberg, "a new judge was being installed. So I walk into the courtroom and they're all there lined up around the bench. Normally you argue to a panel of three. This time there were 13 of them. As I stood up and started to make my presentation, one of the judges asked me a 'yes' or 'no' question, and I answered, 'Yes.' I sat down and then the other side argued. Then Murnaghan put a hand on my leg and said, 'I'll handle the rebuttal.' And he stood up and the first thing he said was, 'Judge so-and-so, you asked Mr. Rosenberg this question, and Mr. Rosenberg's answer was 'yes.' Well, actually the answer is 'no.'" Rosenberg explodes with laughter. "I just looked for a hole to crawl into."
But instead of finding that hole, Rosenberg kept at it until he found the partnership track, and it was made official in January 1977, just as the U.S. government was undergoing a power shift. Jimmy Carter had just been elected and the Democrats were in control. The new party filled two of its new positions with partners from Venable: Ben Civiletti, the head of the litigation department, became the deputy attorney general; and Murhaghan was appointed as a judge on the 4th Circuit Court of Appeals.
"I remember the partners' meeting shortly after all this happened and the managing partner saying, 'What are we going to do when we get a big case? Who's going to try it?' I raised my hand and said, 'Mr. Eney, we're already trying big cases.' Because I was. The clients had nowhere else to go. So not only did I have the benefit of working under Frank Murnaghan, but when those two giants left, it was like the world opened up. As a really junior partner in the firm, I was given much greater responsibility than I would have ever enjoyed if those guys had stayed. It was the greatest thing that ever happened to me in terms of my professional career."
Thanks to this new position, Rosenberg was able to quickly pick up A-list clients. He represented Homer Gudelsky, whose family foundation was part of putting Mister Rogers' Neighborhood on the air, in an estate dispute in Baltimore. Another of his clients was suing Lloyd's of London. And he represented the Eastalco Aluminum Company in what was the largest environmental case in Maryland at the time.
"I never would've been able to try that [Eastalco] case [if the other lawyers had been there]," says Rosenberg. "It involved expert witnesses all over the country and people in all kinds of different fields of endeavor—chemists, veterinarians, botanists, biologists. We had all kinds of experts. And we got a great result. The jury as a compromise verdict gave the plaintiffs about 5 percent or 10 percent of what they were asking for. Essentially, we won the case."
One success followed another until Rosenberg decided to set up his own shop with two fellow Venable attorneys, Bob Proutt and Gene Funk, as well as lawyer Barry Greenberg.
He still takes on clients for any type of case, but now approaching 70, his focus has shifted. "I have found as I've gotten older that I enjoy writing more and more," he says. "It was something I regarded as a kind of drudgery when I was a younger lawyer. I still love the rough-and-tumble and the give-and-take of the courtroom, but I've come to appreciate the skills and the exercise of writing a persuasive appellate brief. What you say in an appellate argument very rarely influences the outcome of the case. It's what you write in your brief."
"Ben has a wonderful way of expressing himself in very clear and concise terms, and persuasive terms," says Fine. "He is an excellent writer, but he also speaks beautifully and he does it in a way that is very understandable for both judges and juries."
Rosenberg is also putting more emphasis on community service these days. "Ben is one of the best trial and appellate lawyers in the state," says Graham. "And at the same time, he's very serious about giving back to the community, particularly the people who are underserved when it comes to lawyers."
Together with Graham, Rosenberg serves as co-chair on Maryland Legal Aid's Equal Justice Council, which raises funds to provide legal aid for about 80,000 clients a year who could not otherwise afford a lawyer. But that's not all.
Melton heads up a mentoring program for the Maryland Professionalism Center run through the Court of Appeals. "Ben has spoken to the mentees about what to do once they graduate from law school," she says. "He is constantly giving a lot of his time to provide for the service of the profession. He also teaches the professionalism course, which is a mandatory course for all new admittees to the Bar before they're sworn in. I teach it as well, but Ben has been teaching in the civil division of it for several years."
"It takes up a lot of my time now," Rosenberg says. "But I get as much pleasure and gratification out of my extracurricular activities as I do all of the other stuff."
Of course, there's still some time for fun. As the observant Graham reports: "He's a neighbor [of mine] in Canton whom I see almost daily, often grilling steak on his deck. And he's a regular at the Canton Merritt Athletic Club who frequently, at the direction of his trainer, Kathleen, can be seen on one torture machine or another at 7 a.m."
Rosenberg says the biggest joy in his professional life is shepherding the growth of his firm and its lawyers. Scanning a framed group photo taken to commemorate the firm's 25th anniversary, Rosenberg points out the two secretaries and founding partners who have been there since the beginning.
"Our firm today, I think, is comparable to what Venable was when I joined it in 1969," he says. "That's the most gratifying thing. It's not a particular case. It's having all these wonderful younger lawyers around who understand the importance of practicing well with great integrity. This is what really makes me jump for joy."
Then he pauses and taps that bobblehead doll. "Well, this does, too."
Search attorney feature articles