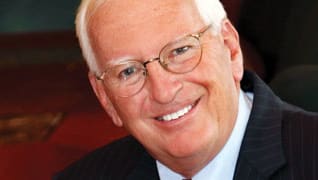 Photo by: Luigi Ciuffetelli
Killing Them with Kindness
Plaintiff's lawyers hate to face Donald L. DeVries Jr. in a courtroom because he is so darn nice
Published in 2014 Maryland Super Lawyers magazine
By Bill Glose on December 11, 2013
Donald L. DeVries Jr. stares at the Inner Harbor from his 20th-floor office in downtown Baltimore. His hometown is 10 miles away. A few streets over stands the Baltimore firm where he started out and became a partner. Finally there's One South Street, home to Goodell, DeVries, Leech & Dann, a boutique litigation firm he and his partners founded 25 years ago.
DeVries grew up in Ruxton, just north of the city border but within the I-695 beltway. His father was vice president of Koppers Co., a Fortune 500 that no longer exists. He would travel to the company's various manufacturing facilities and chat with the employees, going out of his way to know them. This was the person who taught DeVries how a man should behave.
"He spent his life working hard and [was] totally involved in the Baltimore civic community," says DeVries, fingering the gold signet ring bequeathed to him by his father. The edges of the family crest—a lion leaping on a shield over the moon and stars—inscribed on the face are worn smooth. "He was a role model for his work ethic, his uncompromising integrity, his humility and concern for all of his employees and was always a total gentleman. He was also enormously committed to civic endeavors, and that was a huge influence on me. I made up my mind that we all owe something to the community and should all give back in some way or another."
DeVries' way is with the Maryland Institute for Emergency Medical Services Systems, the only such system in the nation. Today, it boasts 11 trauma centers, 49 emergency rooms, 11 police helicopters, 500 ambulances and more than 30,000 pre-hospital providers. But in the early 1990s, it nearly collapsed due to financial difficulties and the retirement of its founder, Dr. R Adams Cowley. To prevent that from happening, then-Gov. William Shaefer formed a board to govern the entire statewide system and appointed DeVries chairman in 1993. Every governor since then has reaffirmed the appointment.
DeVries' legal accolades and well-earned reputation as the good guy around town would be enough to puff the chest of any lawyer. But instead of showing off his many "Best Of" awards, it is a plaque in the corner that DeVries points to. Inscribed are the words "EMS Provider of the Year." Maybe it reminds him of his father's civic advocacy. Or maybe it's that the legal huzzahs simply come second to giving back. "That's the award I'm most proud of," he says.
"There was a lot of mistrust because there was this leadership vacuum for two or three years," says Dr. Robert R. Bass, the executive director of Maryland's EMS Systems. "It was Don's steady hand and his leadership that brought the system back together. And since that time, his steady hand has maintained it. His theme basically is what he calls cooperative excellence. Probably his biggest contribution to the system is his ability to bring people together."
DeVries started out in Dartmouth's pre-med curriculum with the full intention of earning a lab coat and stethoscope. It turned out science was not his strong suit. He switched to history. Graduating in 1969, he entered the University of Maryland School of Law, uncertain of what he would do with his J.D. It wasn't until a summer clerkship with Semmes, Bowen & Semmes that he found his calling. While researching questions of evidentiary points, he got to witness the tango of litigation. He was a goner.
"All of a sudden," he says, "the profession made a lot of sense to me."
When Semmes took him on as an associate, DeVries made it clear that he wanted into the courtroom. Any courtroom. "Back then a lot of cases could be tried," DeVries says. "Obviously as an associate, I didn't get serious cases; but the fender benders were there and insurance companies in those days didn't have big, in-house legal departments. It was a wonderful opportunity for people of my ilk to learn to get their feet on the ground in the courtroom pretty darn quickly."
The flipside was a number of frivolous lawsuits. In 1985, DeVries was one of the lawyers appointed to a governor's task force on tort reform in Maryland. One of the things that came out of that was a requirement that within 90 days of filing, plaintiffs had to obtain a report from an expert witness saying the lawsuit had merit.
"It's tended to keep the extreme case that has no potential merit out of the system," says DeVries. "All the old ones where we used to say, 'Oh this guy's an idiot. Why did he file that?' Those typically aren't in there anymore. It has also tended to concentrate the malpractice cases in the hands of fewer and fewer plaintiff's attorneys who are very experienced in this arena."
When DeVries wasn't trying his own cases at Semmes, he was in court watching his mentor John Mudd attack witnesses on the stand. "He was a very aggressive cross-examiner," says DeVries. "I couldn't imitate his style. There are many times I wish I could have, but the bottom line is we have to do it our own way. My style is my style. You can practice law and be a gentleman. That's been my mantra for my entire career."
Henry E. Dugan Jr., a partner at Dugan, Babij & Tolley, can attest. "One of the things as a plaintiff's attorney that you hate the most in a defense attorney is that they're really likable," says Dugan. "And juries don't just find Don likable, they find him lovable. Even when he's eviscerating an expert, he does it in a very nice way. We've been going at it many times through the years, and I always marvel at his ability to do that. He's the silver-haired fox."
Back then, DeVries loved litigation so much, he thought: Wouldn't it be great to have a firm that only did litigation? So in 1988, he and three other partners left Semmes to build just the thing. "This was a significant event for the Baltimore legal community since, prior to that time, lawyers tended to work for one firm for their entire career," DeVries says, acknowledging that now, there's substantial mobility in the legal community.
"We only handle cases that are in litigation or that will involve potential litigation. We're not full-service," DeVries says, wiping the air in front of him as if erasing something. He gesticulates frequently. "It would be malpractice for me to write you a will or give you tax advice. Probably the same would be true for all my partners." But DeVries is adamant about one thing—"I have the best team of medical malpractice lawyers in the state. It is to them that I owe my success."
Along the way to trying over 100 jury cases to verdict, DeVries has honed his courtroom skills to a razor's edge. Even so, he'll be the first to advise a client not to draw blood. "The bottom line is there are very few cases that don't warrant at least the thought of settlement," he says. "Statistically most cases do settle, and the settlement value has no sliding scale. The settlement value is what both sides can finally agree to. The old saying is true: 'The best settlement is the kind where both sides walk away unhappy.'"
Over the years, DeVries has become the guy to see for malpractice cases throughout Maryland and Washington, D.C. MedStar Health, a nonprofit regional health care system that employs over 1,300 physicians and handles about one malpractice claim every 2½ days, chooses DeVries as one of its go-to attorneys to handle its biggest and most complicated cases, such as those involving neurological impairment to infants and adults.
"I need somebody who can establish an instant rapport with a physician, sometimes a high-profile physician in our organization who has just found himself the target of litigation," says Larry L. Smith, vice president of risk management for MedStar. "I don't have to do anything more than have Don make contact with that physician and the issue will be solved. He has a way of relating to physicians and making an instantaneous connection that gains their trust and their confidence."
Equally impressed with DeVries is M. Lauree Barreca, senior counsel for litigation in the Johns Hopkins Health System. "He is someone who has the respect not only of the litigation part of our business, but also certainly all the way up to the top," she says. "If I tell my general counsel that I've retained Don, it will be like, 'OK, we know the case will be fine.'"
In a recent case, for example, a woman was giving birth at home in the care of a midwife, but after complications, she was rushed to Johns Hopkins, where the child was born with permanent physical and mental disabilities. Moved by the child's injuries, the jury awarded $55 million to the parents. But DeVries didn't let go. He argued on appeal that the defense should have been allowed to introduce evidence of the midwife's alleged negligence, to demonstrate that the baby's injuries had occurred at home under her care. In 2013, the Court of Special Appeals vacated the judgment and ordered a new trial.
"I think he led [the case] through with his team very well to get us to where we needed to be," says Barreca, "understanding clearly pretty early on we weren't going to win this, but we were going to preserve the record for an appeal. [That] was the reason we were able to finally get someone to more rationally look at the facts and the reversal was granted."
The plaintiffs appealed the reversal, but on Oct. 21, 2013, the Court of Appeals denied their appeal. "The case has been remanded back to circuit court to be tried over again," DeVries says. "I'll get a second bite of the apple."
Search attorney feature articles
Helpful links
Other featured articles
Advocating for the marginalized is Will Hoch's calling
Greg Howison raises grass-fed beef—but it's not on his dinner plate
Family lawyer Michèle Bissada quietly handles the biggest cases
View more articles featuring lawyers
Find top lawyers with confidence
The Super Lawyers patented selection process is peer influenced and research driven, selecting the top 5% of attorneys to the Super Lawyers lists each year. We know lawyers and make it easy to connect with them.
Find a lawyer near you