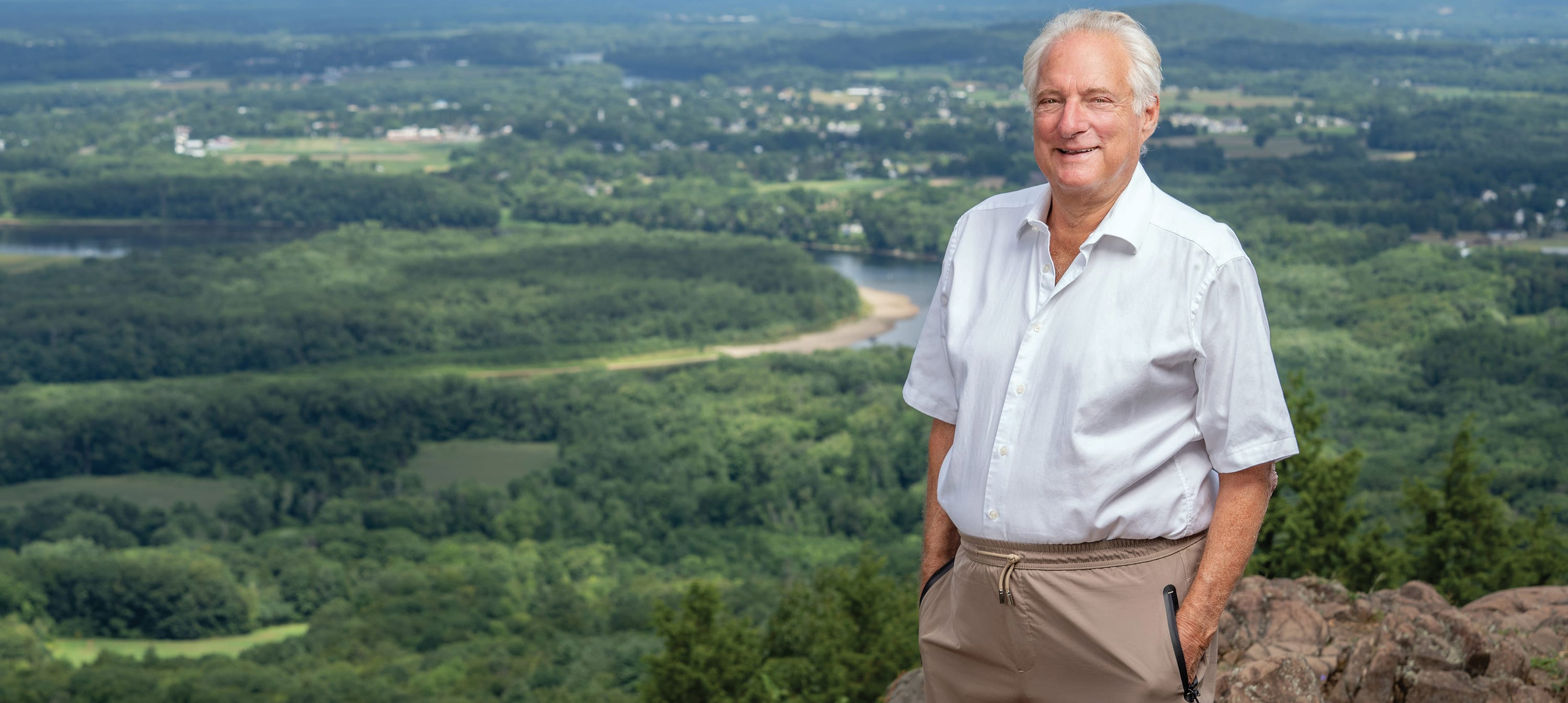 Pathfinder
Whether he's on Machu Picchu or repping entertainment law clients, Fred Fierst always finds the way forward
Published in 2022 Massachusetts Super Lawyers magazine
By Nick DiUlio on October 7, 2022
It was the early 1980s and Fred Fierst was working as a solo practitioner in Northampton when he got a call from a prominent lawyer in New York City asking for his help. He told Fierst that the daughter of a famed film director was being charged with the death of a pedestrian she'd allegedly hit while driving down Main Street as she headed back to Smith College, where she was a student.
"She was a lovely person and clearly not guilty of anything," says Fierst, founding partner at Fierst Bloomberg Ohm. According to eyewitness accounts, a woman had suddenly walked out into the street from between parked cars. After her car struck the pedestrian, the driver stopped immediately, and the police arrived within a minute or two. Bystanders said that they there was nothing she could have done to avoid the woman.
"She was sent on her way—distressed and shaken, of course, but pleased that she was not going to be facing any charges," says Fierst. "One of the officers even called her later to make sure she was OK and to assure her that the accident was not her fault. … Word eventually got out that she was the daughter of a big shot, and that's when the chief of police decided to open an investigation and charge her with driving to endanger. This became front-page news."
Fierst, in his early 30s at the time, wasn't distracted by the noise. He found a statute that said police officers on the scene of an accident had to issue a ticket then and there, or have an ongoing investigation. If that doesn't happen, they can't go back and retroactively charge someone. Fierst filed a motion to dismiss and the case was closed.
"That's the case that made people in town sit up. Here was this new lawyer who just won a high-profile case, and people started thinking that maybe they should come see me for their cases," says Fierst, now 74. "That's how I got known locally."
Since then, Fierst's practice has expanded to include TV, animation, film, and video game studio clients on five continents. Clients say he knows as much about intellectual property as he does about business structures, game development and licensing, acquisitions and more.
"When you think there's only one path ahead of you, Fred has three or four other ideas you never even considered. That out-of-the-box thinking and problem solving has been invaluable," says longtime client David Perry, a former game developer and founder of Shiny Entertainment. "When you're working on a deal and people hear that Fred's involved, everything becomes so much nicer and more pleasant, because he's so well-known and so widely respected. Not just here, but around the world."
Raised in the Washington, D.C. area, Fierst was born to lawyers who'd both studied at Yale Law School. His father, Herbert A. Fierst, worked in the Truman administration as a liaison between the White House and the State Department, a post that landed him on Sen. Joseph McCarthy's list of alleged communist spies within the U.S. government.
Meanwhile, Fierst's mother Edith took time off from her legal work to raise Fred and his two siblings, and eventually played a role in President Jimmy Carter's National Advisory Committee for Women, which was formed in 1978.
Fierst earned his undergraduate degree from Tufts University in 1970. "I wasn't a super serious student," says Fierst. "I played sports, dated as many girls as I could, and I was president of my fraternity. That said, I did take learning seriously."
A few years after graduation, Fierst—who was heavily involved in the anti-war movement and counter-culture politics—had to make a decision. He'd taken the LSATs, but he was also working as a successful carpenter and documentarian, and wasn't sure about following the same path his parents had taken. Then, while doing yoga one morning on Cape Cod in 1972, it clicked.
"I had this realization that I could go to law school if that's what I wanted to do—and even if that's what my parents wanted me to do," says Fierst.
Despite loving the intellectual electricity of Columbia Law School, he still wasn't convinced a career in law was right for him. "I thought, 'Man, being a lawyer just isn't my thing. It's just too straight,'" he recalls. "But there I was in New York City, so why not at least give it a try and see what it's like to work in that world."
Fierst took a job with a small firm on Wall Street. He recalls an early case where his client was arrested after picking a dollar bill out of the pocket of an undercover cop. At the time, New York had a two-strike law, and this was the man's second offense, meaning he was facing a mandatory five years in jail. Fierst decided to meet with the prosecutor and file a revise and revoke on the young man's first offense, reducing it from a felony to a misdemeanor, thus sparing him jail time.
"That felt really good," he says. "I was starting to get a sense of what this world was like, and I found the legal work absolutely fascinating."
Fierst's first major exposure to entertainment law came when his firm asked him to defend CBS Records against a lawsuit filed by country singer Tanya Tucker. According to Fierst, Tucker had turned 18 and wanted to disaffirm the contract she had signed with CBS at the age of 14. Diving into research, Fierst discovered that Tucker would, within six months of her 18th birthday, also have to pay back to CBS the consideration she'd received as a minor in order to successfully get out of the contract. His strategy was simple: wait six months and a day from her 18th birthday and then get a summary judgment. It worked.
"The senior partner on the other side, Peter Parcher, came up to me afterward and said, 'I can't believe you beat me on this case,'" says Fierst. "He was stunned."
Parcher offered Fierst a partnership at his firm, which Fierst accepted several months later. In his nearly two years at Parcher & Herbert, Fierst found himself working on cases involving the likes of the Rolling Stones, Bruce Springsteen, and Paul Simon.
"I would always say yes. I would take any case of any kind as long as it was gnarly and interesting and there was a good lawyer on the other side," recalls Fierst. "I was barely 30, and whatever the case was, wherever it was in the world, I'd do it. I was discovering a degree of self-confidence, and a degree of confidence in the courtroom, that would come to serve me well in the years to come."
If the Smith College case is what made Fierst a local commodity, it was Leonardo, Donatello, Raphael and Michelangelo who brought him international acclaim.
After a couple of exciting years at Parcher (which included, among many other anecdotes, the hiring of a private investigator to track down a man who'd been impersonating Pink Floyd's manager and running up big bills in the band's name), Fierst decided to take a break from law in March 1979 to explore South America. He ended up embarking on a 14-month wandering, traveling overland to Tierra Del Fuego and back. He met his wife, Eva, while backpacking on Machu Picchu. She owned a wine bar in her home country, Germany, which she sold before moving to the U.S. in 1980 to settle down with Fierst in Northampton.
Ken Neiman co-founded the firm with Fierst in 1981 and remained a partner until leaving to become a magistrate judge in 1995. "Fred has a confidence about him that he can move forward through any situation or case, and I was more than happy to go with that energy," Neiman says. "He has a really good business mind. He can analyze problems very quickly. He was always one step ahead of other lawyers. And he was a really creative deal maker. We were a good fit for each other."
Throughout the 1980s, Fierst and Neiman earned a reputation in civil and criminal trials, family law, corporate transactions, torts, commercial and residential real estate, trusts and estates, bankruptcy, social security and labor law. But everything changed when Fierst met Kevin Eastman and Peter Laird, two local comic book creators who'd recently found sudden, breathtaking success with a humble 3,000-print comic book called Teenage Mutant Ninja Turtles. Eastman and Laird had formed Mirage Studios and needed help handling their intellectual property.
"They had just signed a short deal with Playmates Toys to license the Turtles. So I decided to represent them," says Fierst. "This became my sole focus over the next five years, as we did the toy line, a TV show, a video game, and extremely successful movies. It was the Turtles that turned me into the guy who went to Paris and London and Tokyo and Bangkok."
For Mirage, Fierst handled everything from negotiating international IP deals to setting up trademarks, suing companies that reneged on contracts, and working as a brand ambassador for the international phenomenon. He immersed himself in the world of pop-culture intellectual property, traveling to Comic-Con in San Diego, the Electronic Entertainment Expo in Los Angeles, and even as far as Japan to assess whether the Turtles could find success on the other side of the world. (Spoiler alert: they did.)
"To do deals in this space you need to understand the business, so I went to every single convention I could find," says Fierst. "Wander the floor. Talk to people. Who are the people in the syndication world? Who are the toy companies? Who are the licensing agents? How do they operate? What do they want? How do you become a video game company? There are very few people I've met along the way who have tried to do what I'm doing. Most lawyers in this space are hyper focused on one aspect. I do all of them."
Fierst understood a new chapter had dawned. He recalls a 1991 conversation with his wife where he said, "I know it's crazy to think that anyone is going to hire me out of Northampton. But I'm good at this, and I think a lot of other people would hire me to do for their IPs what I've done with the Turtles." He was right. By 1993 he'd foregone all other legal work to focus his time exclusively on entertainment properties, including Shiny's blockbuster game Earthworm Jim.
"He knows everybody. He has all the right relationships, and he knows what deal structures will get things done," says David Perry, who, with Fierst's help, not only successfully launched the Earthworm Jim game, but a toy line and TV show as well. "He's helped me think about the big picture when dealmaking, like telling me, 'David, you don't have to win every battle to win the war. Let's win the war.'"
In 2001, Fred Malmberg was working on a multimillion-dollar deal to acquire the complete IP for Conan the Barbarian, a complicated and arduous process that Fierst navigated with signature steadiness.
"He has been much more than a lawyer to me," says Malmberg, who's known Fierst since 1993. "He sees both sides of the coin, and he's never going in guns blazing just trying to find the best deal or victory. He wants what's fair. He's an excellent negotiator who can straighten out very complex issues to try and find a solution. More like a mediator. Of course he's a formidable lawyer, but he's also honest and pure, and he comes off as a really deep adviser. I think that's why people connect with him so much."
Over the course of his career, Fierst has rubbed elbows with some of the world's most famous entertainers and creators and negotiated billions of dollars in deals—and that's to say nothing of his other adventures, such as the handful of years he spent as an international art broker in the 1980s, curating a group of museum-quality paintings from artists in Central and South America and bringing them back to the U.S. to be distributed among the collectors who financed his trips.
Today Fierst still travels the world for his clients and his own exploration. But it's his pride in his Northampton firm—which welcomed his son Daniel, who's now a partner, in 2015—that gives him the most satisfaction.
"I feel that I've been true to myself, and I appreciate the career and the life that I've had. But I love most the feeling of walking into my little firm and getting the sense that I'm truly loved and respected," says Fierst. "I feel the way you'd expect a village elder in the Third World might feel. They really appreciate me, honor me, and ask me for advice. That's a great feeling.
---
Simon Says
Shortly after Fierst joined Parcher, one of the firm's most famous clients, Paul Simon, found himself in a dispute with his label, CBS Records. Simon had recently signed on with Warner Brothers, and the president of CBS Records was furious.
"Paul had just finished recording his last album for CBS, and the president told Paul he was going to bury it because of what he did with Warner Brothers," recalls Fierst. "This guy was a notorious yeller and screamer and said, 'I will bury your entire career!'"
One afternoon Fierst had to get Simon's signature on an affidavit for a lawsuit against CBS, so he visited him at his New York City apartment at 63 Central Park West.
"He said to me, 'What do you think of my case?' And I said, 'Well, I'm just the junior partner here. It's not for me to say,'" says Fierst. "But he pressed, recalling that we'd both gone to Columbia. He said, 'I'm paying you, what? Two hundred dollars an hour? I want to know what you think of this case.' So I finally told him that I thought he should settle and not push it. Fighting wasn't going to help his career, and we had max leverage by filing our public complaint. Settle and move on."
When Fierst got to his office the next day, Parcher said he'd gotten a call from Simon's personal attorney, who told him that Fierst's advice had so upset the singer that Simon was now having a total breakdown.
"I was like, 'There's no way that's true,'" says Fierst. "So, I told them to call Paul right then. We put him on speaker phone, and asked Paul to relay the story from the day before, which he did calmly without any distress. He was basically like, 'Why do you care so much?' And that's when I realized the intense jealousy that can motivate some lawyers. They will do anything to drive a wedge between any other lawyer who might be a threat to maintaining their direct link to their clients."
Search attorney feature articles