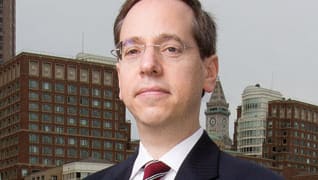 Photo by: Bryce Vickmark
The Code of Law
Former computer programmer Michael A. Albert of Wolf, Greenfield & Sacks has developed one of Massachusetts' most significant IP litigation practices
Published in 2012 Massachusetts Super Lawyers magazine
By Ross Pfund on October 22, 2012
Q: Before you went to law school at Harvard, you were an undergrad there. What did you study?
A: My undergraduate degree was in philosophy, which allowed me to take courses in a number of different areas, ranging from math to linguistics to computer science. I actually worked as a computer programmer to pay my way through college. Law is like computer programming, in a way: It's using a specialized language to solve real-world problems.
Q: We don't get to talk to a lot of programmers-turned-lawyers, but when you put it that way, I can see a commonality.
A: At the time, it seemed to me that they were very similar, but one thing I've learned over time is that there's a big difference. With the law, you've got the human element. Legal cases are decided by judges and jurors. Having the answer that's technically right isn't all it takes—you have to understand the human element: what motivates people to decide a case in your favor.
Q: Is that something that you had to pick up over time, or did it come as easy as the specialized language?
A: In law school, you learn the language of the law and you learn legal research, but you don't necessarily learn what it is that drives people, what motivates companies to make the decisions that they make. You pick that up when you're actually practicing law. One of the things that's fun for me is [learning] how companies think, how the people who run them think, what motivates them and what their needs are, and applying these legal and technical skills that we have as IP lawyers to solving their problems.
Q: How did you end up at Wolf Greenfield?
A: My first exposure to IP law goes back to when, as I said, I was working as a computer programmer. I was working for an educational software company. I was asked to sign a nondisclosure agreement for a new computer that was going to be coming out at that time—it hadn't been released to the public yet, and I was working on software development for that platform. It turned out to be the Apple Macintosh.
That experience really opened my eyes to the kinds of issues that IP lawyers face, and whetted my appetite. I ended up at Wolf Greenfield because it's one of the pre-eminent intellectual property firms in the country.
Q: What was it like developing for the Apple Macintosh?
A: I think it was the first time I had ever used a user interface that involved a mouse. At the time, we programmed so that you entered in code to determine where the cursor was going to be on the screen. You didn't actually take a physical object in your hand and move it around to place your cursor where you wanted it. I remember thinking, "This is odd. It'll never catch on." Which just goes to show that I shouldn't predict the future. [Laughs]
Q: What brought you to the litigation side of IP law?
A: I enjoy both the problem-solving aspect of it and the, how shall I say it, adversarial conflict side of it. IP is a particularly fun field to litigate, because I always get to learn about new technologies. I've litigated cases ranging from biotechnology to computer hardware and software to mechanical devices to laser medical treatments. It's just a wonderful range. It's fun to have the opportunity to immerse myself enough in new technologies to be conversant in them.
Q: Are there any technologies that have been particularly difficult to wrap your mind around?
A: Many of them are. Biotechnology cases are particularly complex. There's a whole field to learn about just to be able to understand the terminology that's being used.
I had a medical device case, the Diomed case, which went to trial in 2007. That's the one where we got the largest patent verdict in Massachusetts for that year. That case involved laser treatment for varicose veins. I had the opportunity to work with the world's leading expert on medical lasers. He'd actually invented many of the lasers that are used in medical procedures today. I immersed myself in that case for two or three years, really learning about not just the medical aspect, but the physics, the imaging—I learned how to read the medical ultrasounds—how the lasers themselves work. All of this needed to be boiled down and translated into language that a judge and a jury could understand. I find that to be an exciting challenge.
One of the culminating moments in that case came when I was cross-examining the other side's medical expert. I was able to catch him in inconsistencies between the testimony that he was giving and some articles that he had published several years earlier. He was quite surprised that I did that! After the end of the deposition, he said that I knew more about the field than some of his graduate students. I took that as a sign that maybe I was doing something right.
Q: What's your approach to communicating with juries?
A: One of the critical issues with any fact-finder is maintaining your credibility. Part of that is making sure that you don't overstate your case. But part of it is also making sure that you understand it at a deep enough level that you can present it in a simple and straightforward way so that they can see what's relevant to the case and what's a distraction.
Q: Do you have a courtroom style?
A: I see myself as an aggressive litigator but not an aggressive personality. My style in court is comparatively low-key for a litigator. I try not to sound over-the-top or bombastic. I don't think that's effective. What I do is, right from the beginning of a case, figure out what the endgame is going to be and understand it. If I can keep my eye on the endgame, I can pick my battles and decide what's important and cost-effective for the client. Then I can be aggressive in serving the client's needs without coming across in court as an aggressively unpleasant personality, which can turn judges and juries off.
Q: How do you deal with losing a case?
A: One of our founding parters, David Wolf, who's been working as an IP lawyer for about 60 years now, likes to say that he wins 97-and-a-half percent of his cases. He settles 95 percent of them and that's a win, and then the other five percent, you know, he wins half and he loses half. [Laughs]
Winning and losing can be measured in a lot of different ways. The key is to set reasonable expectations. Certainly, no lawyer wins all their cases. What we can do for clients is to ensure that every step of the way, they know where we are with the case, they know what risks they're facing, and they have the opportunity to make cost-benefit judgment calls.
Q: You also do some arbitration for Internet domain name disputes. What's that like?
A: It's great. It gives me the opportunity to play the role of judge and read briefs from the perspective of the decision-maker, rather than the perspective of an advocate. It keeps me focused when I'm writing my own briefs on how the decision-maker may be likely to interpret them. Sometimes you see arguments that are really over the top or undermine the lawyer's credibility. When you're serving as the judge or arbitrator, you realize how harmful that can be to someone's case.
Search attorney feature articles