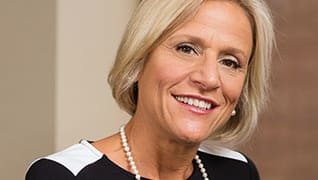 Photo by: Bryce Vickmark
The Details and the Big Picture
White-collar defender Karen F. Green has the rare ability to see both
Published in 2014 New England Super Lawyers magazine
By David Levine on October 17, 2014
Over the course of her career, Karen F. Green has moved in and out of the public and private sectors. She's been, among other things, a deputy U.S. attorney, bringing charges against defendants in connection with the criminal health care fraud enforcement program. But no matter where she's been working, criminal defense work has always spoken to her.
"Even as assistant attorney, I kept being very drawn to criminal work," she says. "When I returned to private practice, I handled more criminal cases, and then when I went back to the U.S. attorney, I was pretty much the number two person in the office overseeing most of the criminal division.
"Over the years, I came to appreciate that the system really is designed to get to the truth, and the system works most effectively when both sides are well represented."
Green, 58, now focuses on complex business litigation, such as white-collar criminal defense and False Claims Act litigation at Wilmer Cutler Pickering Hale and Dorr in Boston. Companies come to her when they're faced with a government investigation or allegations of fraud, conspiracy, bribery and violations of federal statutes, like the Anti-Kickback Statute, the Food, Drug, and Cosmetic Act, the Foreign Corrupt Practices Act, the Export Control Act and securities laws.
In a recent case, Green represented Google after the company was accused of aiding and abetting online Canadian pharmacies that were unlawfully targeting and selling prescription drugs to U.S. consumers through Google ads. She's also represented medical device manufacturers and defense contractors. But many of her biggest clients and most impressive legal victories must go unnamed. In those cases, she says, "My goal is to avoid indictment."
Born Karen Falkenstein, she and her two siblings grew up in Somerville—then a decidedly blue-collar town—the children of a police officer and a teacher.
"We were a modest family, but we had everything we needed," Green says. She was involved in music and drama at Arlington Catholic High School and calls herself extremely outgoing—"my sister would say bossy!" she says with a laugh. "I must have a theatrical side; I really get energy from other people. Some people love to labor alone, but I love working with other people and always have. As kid I was a joiner, and luckily I had a mother who encouraged that. We didn't have a lot of money, but she encouraged her kids to get involved in school and in the community."
She graduated magna cum laude and Phi Beta Kappa from Radcliffe College/Harvard University in 1978. She pursued a few different majors before settling on sociology with a special interest in public policy after taking a course on the sociology of deviance during the second semester of her freshman year, which piqued her interest—"interesting," she says, "given that I ended up working on criminal cases. During my investigations in criminal litigation, I spend a lot of time interviewing people, learning about what actually happened and trying to reconcile different people's version of the same reality. I like to learn who goes along to get along, who makes a good leader. It's of great interest to sociologists and to litigators, and I think my interest in how people behave serves me well."
At Harvard Law, she met Mark V. Green, a year behind her, and they married in 1982. She and Mark, who is now an associate justice on the Massachusetts Appeals Court, live in Brookline and have two grown children: Colin, 28, a high school teacher in Taiwan; and Alexander, 25, an ensign in the United States Navy.
Since getting her J.D. in 1981, Green has bounced between private and public practice, but always with a purpose: "I have always been happiest when I felt my work was contributing to something larger than myself," she says. "The most satisfying work I have done has broader public purpose, and made a significant difference in people's lives."
Green served as a law clerk to U.S. District Court Judge W. Arthur Garrity Jr., at a tense political time in Boston—the school busing issue was national news, and Garrity was the judge in the case. "If anything, my year there confirmed that one could do a lot of really good things as a lawyer," she says. "He was a great mentor, an incredibly kind, gentle man who just did his job. He wrote very precisely, and I learned a lot about precision and concision and what it means to be a professional. And he encouraged us to become involved in the significant events of our time. He actually heard a priest say that at my wedding, and he repeated it often."
For Green, one of the significant events has been the advancement of women in law. As a child, her image of lawyers was limited to Perry Mason and Atticus Finch. When she joined what was then Hale and Dorr as a litigation associate in 1982, "I think there was one female equity partner," she says. "Now, about 25 percent of U.S. partners are women. I think I was the fourth female litigation equity partner; now we're about 25 percent of the firm." She served in the civil division of the U.S. attorney's office in Boston from 1984 through 1986. "I was the first woman deputy U.S. attorney in that office," she adds. "I remember when you could put all the women at the ABA White Collar Crime National Institute in one small room. A friend started a women's dinner, and had less than 12 women the first year. This spring there were over 150 women at the dinner who participated in the institute. We may not always appreciate changes, and they may seem slow, but it is happening."
Her most famous and lasting work at the U.S. attorney's office involved obtaining summary judgment on behalf of the Environmental Protection Agency in a lawsuit compelling the cleanup of Boston Harbor, a case with national coverage and implications.
"That case really did help resolve a significant public problem," she says. "I have always been very proud of my work on that case. I was not alone obviously, but I felt like I contributed to moving beyond talking about it to resolving it. I think that is what lawyers do best: solve problems. Whenever I stroll along the harbor, I like to think that it was helpful."
Her former boss, former U.S. Attorney Donald K. Stern, says Green has a unique combination of skills. "Some lawyers' greatest strength is looking at the big picture and making strategic decisions," he says. "Others focus on the narrow facts. She has the ability to do both very well—look at the big picture and also home in on the details."
In 1986, Green returned to Hale and Dorr, where she became an equity partner in 1990. Then in 1993, she became chief of staff of Gov. William F. Weld—the first female chief of staff of a Massachusetts governor—and from there it was back to the U.S. attorney's office as a deputy U.S. attorney, where she led the civil and criminal health care fraud enforcement program and served on the Department of Justice's National Health Care Fraud Working Group. She came back to her equity partner role at what's now WilmerHale for good—so far—in 1996.
That's also the year she tried a pro bono case on behalf of Granada House, a home for people recovering from addiction. The group home was denied permits by the city of Boston. "We tried to negotiate, but the city said, 'Sue us.' So we did," Green says. The judge agreed to her motion of partial summary judgment in violation of fair housing and ADA statutes. "As result, they have been operating a really good group home and served many people who need it," she says. "This was gratifying because it was not just about money. It had broad social impact."
She believes her work in criminal defense can have that kind of effect as well. "You can represent a company with tens of thousands of employees, most of whom had no involvement in the investigation," Green says. "You are having an impact on more people than those the government is focusing on. The collateral consequences of conviction or adverse publicity could affect their jobs."
Green laments the decline in the number of trials. "There's an adrenaline rush," she says. "It's show time, but it's also the accumulation of a lot of hard work. You either know the case or you don't, and I like that. There are not a lot of trials going on these days, and I miss that."
She fills that void with mentorship. "She is a great role model and mentor to women lawyers," says Cindy Vreeland, an IP litigation partner at WilmerHale who worked with Green on the Granada House case. "She is a mentor of mine, a role model in how to be a professional woman. She has a standard of excellence in every facet of her profession and her life."
Green also cares about life outside the law, says John F. Batter III, a securities litigation partner at WilmerHale and a law school classmate. "She wants people on her teams to understand that family and outside interests are important to the work-life balance," he says. "She works very hard, yet never loses sight of the balance of friendships and family."
"She works incredibly hard," adds Mary Jeka, general counsel and senior vice president for university relations at Tufts University, a former colleague in state government and a close personal friend. "She's a goer and a doer. But she is also a very genuine, unpretentious person, very giving and generous. She will drop everything in the midst of her incredibly crazy schedule to help you.
"She grew up in humble, working-class East Somerville, and she blew past all that to find her way to Harvard," Jeka says, "but she never forgot her roots."
Search attorney feature articles
Helpful links
Other featured articles
"Lifetime Detroiter" Saul Green fights every day for his city and its people
How Craig Bashein helped the Chardon High victims' families
Jany Martinez-Ward's personal tribulations inspired her to help the immigrant community
View more articles featuring lawyers
Find top lawyers with confidence
The Super Lawyers patented selection process is peer influenced and research driven, selecting the top 5% of attorneys to the Super Lawyers lists each year. We know lawyers and make it easy to connect with them.
Find a lawyer near you