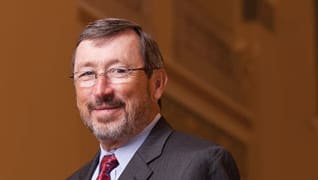 Photo by: Bryce Vickmark
The Man Behind the Largest Pro Bono Effort in History
Leo Boyle knew everything would change after 9/11. He vowed to make some of that change positive
Published in 2011 Massachusetts Super Lawyers magazine
By Nick DiUlio on October 21, 2011
On the morning of Sept. 11, 2001, Leo Boyle was driving to work. Less than halfway to his Boston-based firm, however, the trial lawyer got a phone call.
The law offices, he was told, had closed. The entire building, in fact, was being shut down. Planes had crashed into the World Trade Center in New York City. And maybe the Pentagon. Details were fuzzy. Boyle was told that he should go back home, turn on the news, and wait to see what would happen next.
Boyle didn't go home. Instead he made a U-turn and headed in the direction of his mother's assisted living facility to explain to her what was going on. It was then—midway through his drive somewhere in suburban Massachusetts on that crisp late-summer morning—that it occurred to him.
"I thought, 'Everything has changed now.'"
Boyle recalls the moment while sitting inside a crowded Manhattan coffee shop on Sixth Avenue across the street from the hotel where he's attending the annual convention of The American Association for Justice (AAJ). Lost for a moment in a memory now a decade old, the unassuming, soft-spoken partner at Meehan, Boyle, Black & Bogdanow sips his coffee and repeats himself.
"Everything," he says, "had changed."
At the time, Boyle was the newly minted president of the AAJ (then called the Association of Trial Lawyers of America [ATLA]), and he realized that put him in a position to do some good.
"If everything had changed," Boyle says, leaning closer, "I also realized the legal system had to change, too. I thought, 'We can't just sit on the sidelines and wait to see how it changes. We have to become involved in what that change is going to look like.' And what happened was a beautiful thing to watch."
There was a time when Boyle couldn't see the beauty in law. Shortly after graduating from Harvard College in 1968 with a degree in English, he enrolled at Boston College Law School. It was practicality, not passion, that brought him there, and he admits law school "was OK, but not that much fun."
At the age of 25, Boyle got his first job doing legal research at the now-defunct Parker, Coulter, Daley & White, but soon, his mentor, Jim Meehan, impressed by Boyle's dedication and intellectual curiosity, began training him as a trial lawyer. He would practice in personal injury and medical malpractice.
Something clicked. Boyle was "lit on fire by the law," he says. Once he started seeing real people—and real suffering—coming through the door, he realized that he had the ability to actually make a difference in the lives of countless individuals.
"I was immediately addicted," he says. "Once I got out there and started practicing, that was it. I was gone. One hundred percent. This was what I knew I wanted to do, and I still feel that way 40 years later."
Even in the architecture of United States courthouses Boyle sees a unique majesty. "From the first time I entered a courtroom, I loved them," he says. "I learned early on that it's a place where the disparity of power disappears the minute you walk in the door. You want to be in that environment because it doesn't happen in many places. It's a little like a church. Even the architecture is special. It's designed for a purpose, to make you serious and thoughtful. To give you … presence."
Boyle's accolades are numerous. He has served as president of both the Massachusetts and New England Bar Associations, is a fellow of the American College of Trial Lawyers and has won some of the largest settlements and verdicts in Massachusetts history.
But this is not how Boyle measures success. That comes from the personal relationships he has built with clients, and the way those relationships continue to strengthen his faith in something greater than himself.
Consider the case of Gene Doran. In 1986, Doran was getting a haircut when a carpenter in an adjacent liquor store sent an errant nail through the drywall with a hydraulic gun, piercing Doran in the neck and immediately rendering him a quadriplegic. Three years later, Boyle won a settlement for Doran large enough for the paralyzed single father to reconfigure his home and hire three full-time nurses.
"Setting my mother aside, Gene Doran is the most inspirational person I have ever known," Boyle says of the man he now considers a good friend. "He has no bitterness at all. He can't breathe. He has a pacemaker on his phrenic nerve to move his diaphragm. He has almost nothing left. But he has everything left—because he has his soul."
Doran isn't entirely unique. In his 40-plus years of practicing law, Boyle says he can count on one hand the number of clients he's represented who didn't strike him as good people.
"I think there are very few bad people in this world, and when these horrible things happen to people, I'm allowed to get inside their lives and see how they endure," he says. "It's been 40 years of dozens and dozens of people who have humbled me and made me think, 'My God, how can they move on after losing a child or a spouse or a limb?' The incredible dignity of the human spirit is just stunning to me."
In the courtroom, Boyle tries to remain mindful that jurors are just like his clients and just like him.
"Most of them have that core of goodness in them, that potential to rise to the occasion and see what's right and what's wrong and have the courage to do something about it. And I think juries pay attention to whether or not you believe in your client's cause. And I always do. If you believe in their cause, that will radiate from you."
On Boyle's style as a lawyer, colleague John Carroll says, "He has a gift for talking to juries, and it's disarmingly powerful. He addresses your insides. There is no ego or interface between his self and your higher self. I've seen it hundreds of times. His capacity to bring compassion for voiceless victims to a forum where people can do something about it is almost unequalled. His greatest strength is speaking for the weak. Leo is Atticus Finch, Clarence Darrow and John Kennedy all in one."
On the morning of 9/11, Leo Boyle was again called to summon the incredible dignity of the human spirit.
Shortly after visiting his mother, he held a conference call with the executive committee that governed ATLA, petitioning the association's 650,000-plus members for a moratorium on all lawsuits related to the tragedy. The two planes that crashed into the twin towers were only insured for a combined $3.2 billion. Between the estimated loss of life and the immense property damage, Boyle figured they were looking at more than $60 billion in losses. There had to be another way of responding to the tragedy.
"We were dealing with a mass murder, not a mass tort, and the legal system as we knew it was not going to work," says Boyle. "Lawsuits would have collected maybe five cents on the dollar. It would have been a Pyrrhic victory, and we had to step back and take a deep breath."
Boyle also knew that the airlines were already in the process of asking Congress for legislation that would give them immunity from lawsuits—yet without consideration for the thousands of victims. So, rather than fight the airlines' effort, Boyle decided he should draft behind it to help the families.
On Sept. 19, Boyle met with House Minority Leader Dick Gephardt and representatives for Senate Majority Leader Tom Daschle to discuss a bill to create an uncapped, unlimited relief fund for victims. As Boyle explains it, the bill would essentially put everyone in the exact same financial position they were in before the sun set on Sept. 10.
With uncharacteristic swiftness, the bill passed both houses of Congress less than 60 hours later. The next day, the September 11th Victim Compensation Fund of 2001 was signed into law, making it the first entitlement bill passed by Congress since Medicare in 1964.
But he wasn't done. On the night of Friday, Sept. 21, Boyle sent out an email to ATLA's membership, letting them know that a pro bono effort called Trial Lawyers Care was going to be established to represent the victims and their families for free. All he needed were volunteers.
When Boyle got to his office on Monday morning, he was greeted by nearly 1,000 responses from attorneys all across the country saying that they would be happy to take up the cause.
"It was," recalls Boyle, "simply amazing to watch."
Over the next couple of years, lawyers from 50 states and five countries flew into New York City to represent thousands of victims—all on their own dime. In the end, nearly 1,700 volunteer lawyers represented roughly 2,000 claims, and within three years more than $7 billion in claims were settled, with an average payout of $1.8 million.
"We trial lawyers get a black eye all the time," Boyle says. "But I wish people could have seen those lawyers flying and driving into New York City in droves. It was amazing to watch and to be a part of. And we didn't feel like anyone owed us anything. We were the ones saying thank you to our clients. 'Thank you for letting us help.' It was almost spiritual."
Leaving the coffee shop, Boyle walks across Sixth Avenue back to the hotel, where, in the course of about 50 paces to the elevator, no less than five peers greet him while he walks. At every turn he deflects the attention and the accolades with signature humility and self-deprecation. What he did in the aftermath of Sept. 11, he says, was really no different than what he does every day when he gets up and drives to his law office in Boston.
"The beauty of the everyday work is very similar to the work we did after 9/11," he says. "The value system is the same. It's about connecting with people, becoming a part of their lives, and seeing tragedy up close."
Search attorney feature articles