The Most Important Time Is Now
Boston attorney Sam Kim's penchant for Christian charity leads him to serve more than his clients
Published in 2007 Massachusetts Rising Stars magazine on April 16, 2007
Updated on June 11, 2009
It's Friday morning rush hour at Park Street, the hub of all Hub subway stops. Men and women hurry by, briefcases in hand. Workmen amble along in boots and overalls. Students walk slowly, weighted down by backpacks.
One figure stands apart. Dongsup "Sam" Kim strums on his Taylor acoustic guitar and sings "I'll Fly Away." Since 9/11, the Korean-born partner at Gesmer Updegrove has performed traditional gospel and contemporary Christian songs in public places. You'll see him some Sundays after services at the First Korean Church in Cambridge, or alternate Saturdays with a neighborhood ministry in places like Brighton, Dorchester and Roxbury.A train arrives, its noise overwhelming Kim's sweet baritone. No matter.
The lanky attorney switches to his harmonica. Stopped in their tracks, some impressed commuters look for a coin-collection box. Finding none, they furtively drop quarters and dollar bills behind the performer. Kim will donate the cash to the first person he sees in need.
Kim first felt the urge to serve at age 9. Up to that point, he had led a tumultuous life. Sam's mother, Yung Eunice, went into labor after curfew in Seoul on July 24, 1967, and had to get permission from the police to go to Seoul National University Hospital to deliver Sam early the next morning. When Sam was 6, his father Young Peter moved him, his mother and his younger sister Aram to a farm near the border of South and North Korea. Three years later, the family moved near an aunt in Chicago, and eventually settled on rough Lawrence Avenue. Sam's parents spoke Korean at home but, to help him learn about American culture, sent him to spend a few months with an uncle who taught English literature at the University of Texas. "The only words I knew on the plane were 'Hello' and 'Texas Austin,'" Kim remembers.
Back home, his emotions were jumbled the day he sat as a 9-year-old in a pew at Chicago's First Korean Presbyterian Church and listened to the minister recite Matthew 25:35-6. The classic plea for service includes the words, "For I was hungry and you gave me something to eat, I was thirsty and you gave me something to drink, I was a stranger and you invited me in, I needed clothes and you clothed me, I was sick and you looked after me, I was in prison and you came to visit me."
"The minister said, 'Who will help?' and I wanted to," Kim says. "People told me being a lawyer could help."
A classic immigrant success story followed. And what could be more American than a town called Springfield? "I've never met a Springfield I didn't like," says Kim.
In 1980, Kim's adventurous father, who operated a shoe-repair business, took the family on a road trip from Chicago into southwestern Missouri. The people were friendly and the smells reminiscent of rural Korea. A few months later, the family moved to Springfield, Mo. There Peter and Eunice opened Kim's Korean BBQ and served dishes like kalbi (short ribs) and koko chicken to a diverse regular clientele including "Sister Christian" rockers Night Ranger.
After graduating from Kickapoo High School, Kim attended the University of Kansas, where he majored in English literature on a Navy ROTC scholarship. During his military career, he served as an Anti-Submarine Warfare Officer, Ordnance Officer and Combat Information Center Officer. In the Gulf War, Lt. Kim saw duty on the U.S.S. Reid, an Oliver Hazard Perry-class frigate. "We knew every day could be our last," Kim says. "When you face imminent danger, your true nature comes out. Some people in tip-top shape became babbling, shuddering idiots. Others you wouldn't expect to became calm, together, focused. My faith helped me get through it."
As a result, at Cornell Law School, the young veteran was less stressed than many of his classmates. He also met his wife, Sejung, now a senior business consultant at Liberty Mutual Group, at a Korean Protestant church on campus. During his three years at Cornell, Kim asked himself how he could be of service to society. After summer internships with Legal Aid's Homeless Family Rights Project in New York City and at Boston's Bingham Dana firm, he knew. "I decided that I'm not the most litigious person," he says. "I'm best at helping people reach [a shared] goal."
Kim has moved from representing large banks for two years at Bingham Dana to working with high-growth, emerging technological and entrepreneurial companies since joining Gesmer Updegrove in 1998. He describes himself as a good listener who can absorb great amounts of information and negotiate pleasantly without being a pushover. "I market myself as another business partner who backgrounds himself on all aspects of the business and is a general-practice outside counsel. The big picture is more important than legal jargon. It's as rewarding to do a few-hundred-thousand-dollar deal for a two-person company as a multimillion-dollar deal for a large company. I love finding out what's important for my clients and helping them get there."
This afternoon Kim sits in his uncluttered office in black slacks and a lime-green shirt. On the wall is a framed Korean translation of a Tolstoy quote: "… the most important time is now, the most important person is the one you are with, and the most important action is to do that person good." Asked about his interest in community outreach, Kim lights up.
"Because of the age at which I came over here, I was a stranger in a strange land," he says. "Teachers, ministers, informal mentors and my parents all helped me. I'm grateful for the amount of grace I received. The way to give it back is to turn it around and do what they've done."
As a member of Mayor Thomas Menino's Youth Council, Kim has helped high school leaders successfully advocate for causes like addressing the MBTA's zero-tolerance policy for youth gatherings in the subways. "Sam helped them understand that things don't change overnight and a longer process may be necessary," says Patty McMahon, director of the Youth Council. "He established a good relationship with young people. When they gave presentations at the Mayor's Youth Forum, he'd stand in the middle of the back of the room to establish eye contact and give them confidence."
On Boston's Law Day, Kim and other volunteer lawyers he recruits go into schools to teach interactive modules on subjects like Brown v. Board of Education. So it's no wonder he's an award-winning co-chair of the Boston Bar Association's Children and Youth Outreach Task Force. "We have a financial literacy program for young people so that they don't make mistakes when they reach the age to make financial decisions," he says.
Finally, as the prior president and current chairman of the board for the National Association of Asian-American Professionals—Boston (NAAAPBoston), he coordinates a speaker series and handles community service, networking and corporate sponsorships for a diverse membership. "People think we're all the same, but we've been warring with each other for thousands of years," he says. "The stereotype of Asian-American professionals is one-dimensional people who work hard, stay quiet and do what they're told. In reality, we're no different from anyone else, but the stereotype can hold us back if we're not perceived as aggressive and ambitious. When we act differently from expectations, it can throw people off. That's something we can use to our advantage."
Kim is proud of his heritage. "There's a word—'hahn'—that means a concept of enduring and accepting suffering. In our art, music and poetry, there's suffering as sadness, but also a sense of overcoming it."
"Sam's awesome," says Helen Wong, one of his NAAAP and Youth Council advisees, a 2003 Wellesley grad and language coordinator for the Boston Election Department. Like Kim, she's an immigrant and the first member of her family to attend college. "Lawyers would come and go [at the youth council]," she says. "He's the one who has stayed the longest. He has a great memory. I have two sisters on the youth council, and he's always asking me if they're going to college and if I'm going to grad school. He's like a father."
The interview complete and the afternoon waning, Kim prepares to head out. A final question remains: "Sam doesn't sound like a Korean name. How did you get it?"
Kim explains that when his parents asked him if he wanted a middle name, he chose Samuel, whose birth was a gift from God to the infertile woman Hannah. After Hannah gave him to priests to raise him, Samuel became a great judge, prophet and priest. Kim, a deacon and youth group teacher at the First Korean Church in Cambridge, pauses and smiles. "I hope my write-up doesn't make me seem more like a preacher than a lawyer!"
Other Featured Articles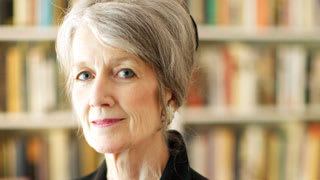 Morrow in the Middle
Williamsburg-based mediator Joan Morrow, who practices across the country, speaks about fundamental neutrality, navigating emotional minefields and going from gladiator mode to counselor mode Featuring Joan S. Morrow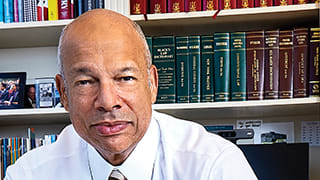 The Public Service Call
Jeh Johnson keeps giving back to his country Featuring Jeh C. Johnson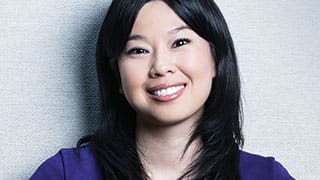 The Immigrant's Story
Christy Han Mohan has one, and she says it's the key to immigration law