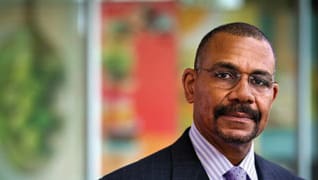 Photo by: Steve Niedorf
A Steely Calm
General Mills' Rick Palmore keeps the Pillsbury and Betty Crocker brands strong
Published in Super Lawyers Business Edition 2011 magazine
By Dan Heilman on August 29, 2011
It doesn't take long to discover Rick Palmore's roots.
Palmore, 59, has been executive vice president, general counsel, and chief compliance and risk management officer of General Mills Inc. since 2008. That post—which carries responsibility for the packaged-food giant's worldwide legal activities, corporate ethics and compliance, and corporate security—is the culmination of a professional odyssey that started in Pennsylvania, near a town represented in Palmore's office in Minnesota's Golden Valley by Pittsburgh Pirates and Pittsburgh Steelers memorabilia. (Asked about the latter's recent Super Bowl loss, he replies, wryly, "It wasn't a very good game.")
But perhaps the bigger giveaway about his geographical origins is his work ethic.
The second-youngest of five kids, Palmore was raised in a working-class environment in Monroeville, Pa., just outside of Pittsburgh, that stressed the importance of education and an honest day's work.
"I grew up along the Monongahela River where the Westinghouse Air Brake Company had a facility," he recalls. "That's where my father worked his whole life. He worked in maintenance and he was a cook later."
"My parents were very achievement-oriented," he says. "To put it in context, the house I grew up in was the house my father grew up in—it was owned by Westinghouse Air Brake. Back in those days, the companies owned the houses. When the company got out of real estate, they gave employees the chance to buy the houses they lived in."
There was little question that once out of high school, Palmore would be going on to college—a seldom-walked path for a member of a working-class family at that time. Neither of his parents had much in the way of education, he says, so "they were very focused on making sure their kids were [educated]."
An excellent high school student, Palmore was encouraged by a guidance counselor to apply to Yale, even though, as he says, "none of the [Ivy League schools] were in my frame of reference." But Palmore's interview session with Yale alumni prompted the school to pursue him, and he chose to attend, eventually securing a bachelor's degree in economics.
The path to law school was paved with similar thought: It was simply the next logical step for a bright, ambitious student who knew he had more challenges ahead. "There were no lawyers in my family, and I'd never been to a lawyer's office," Palmore says. "The closest concept I had of what a lawyer did was from Perry Mason."
A desire to study away from the East Coast led Palmore to the University of Chicago Law School, where he earned his J.D. in 1977. With a solid educational foundation in place, Palmore returned to Pittsburgh for a three-year stint with what was then Berkman Ruslander Pohl Lieber & Engel, where he took on litigation cases.
Then, the public sector came calling in the form of the U.S. attorney's office for the Northern District of Illinois. Eager to return to Chicago, and intrigued by the work, Palmore took the job. As an assistant U.S. attorney, Palmore participated in the civil prosecution of a contact lens manufacturer that introduced its bifocal contact lens into the marketplace without getting approval from the Food and Drug Administration. On behalf of the FDA, he succeeded in having the products taken off the market until they received agency approval.
"That was a fabulous job," Palmore says. "I was in court virtually every day. I got to learn the federal rules of procedure inside and out, and got to know the judges."
In 1982, Palmore joined the Chicago firm of Wildman, Harrold, Allen & Dixon, where he made partner and, he says, "in a number of very material respects, grew up and watched my practice grow up." The next step was the Chicago office of Sonnenschein Nath & Rosenthal (now known as SNR Denton), where he practiced mostly in products liability and other types of complex litigation, representing such clients as General Motors Co. in products-related matters.
"He's absolutely unflappable," says John Grossbart, a partner in the Chicago SNR Denton office, who worked alongside Palmore. "I would characterize what he has as a steely calm that allows him to succeed in the face of pressurized situations. He knows how to keep the boat pointed in the right direction."
In 1996, Palmore met with Janet Langford Kelly, then general counsel for Sara Lee Corp. Interested in corporate work after having spent time in both private practice and the public sector, Palmore was enticed to join the Illinois-based consumer foods giant as vice president and deputy general counsel with the responsibility for managing a network of senior attorneys in the company's operating units. Three years later, when Kelly left for Kellogg's, Palmore replaced her.
Palmore gained valuable experience at Sara Lee, managing a departmental budget of more than $10 million and an outside legal fee budget of more than $14 million. For a dozen years, he showed ever-increasing acumen as both a lawyer and a manager, and late in 2007, he got a call from a company doing similar business in another market segment. General Mills' senior vice president, general counsel and secretary, Siri Marshall, had long guided the company's worldwide legal activities but would soon be retiring, and the company was in search of a replacement.
An initial overture from General Mills was followed by a series of meetings with Ken Powell, then the company's president and chief operating officer (now CEO). What sold Palmore on the company was what Powell didn't say during an informal meeting.
"I had come up here several times and met the senior management team and done my due diligence about the company," recalls Palmore. "During one of my visits, they made a formal offer, and the day ended with me having dinner with Ken at Vincent A Restaurant in Minneapolis.
"We had a wide-ranging conversation about a number of different topics, very engaged, and when I looked up, the meal was over," says Palmore with a laugh. "As I drove back to Chicago, it dawned on me that we hadn't talked about the offer, and we hadn't talked about the company. None of that was necessary, because I knew all of that already. I thought, 'There's a rapport here; I could work here.'"
At General Mills, where he supervises 50 attorneys, Palmore's responsibilities are incredibly diverse. His tasks include anything from poring over marketing language to looking into prospective international interests on the company's behalf. He recently traveled to Sao Paulo and met with grocery retailers within two hours of his plane landing.
"There really isn't a typical day for me," he says. "The environment is so interesting these days, from an economic standpoint, a regulatory standpoint, a geopolitical standpoint. Anything could pop up at any time. There was a while when I was spending a great deal of time in Washington, talking with federal agencies about food regulations. I spend days talking about class actions and how to resolve those sorts of issues."
At times, part of the task for Palmore is to shake up the status quo. One of his first moves was to arrange alternative-fee arrangements with outside counsel, which comprises firms in the Twin Cities and beyond, used by General Mills most often for litigation. It was part of a wider initiative aimed at overall quality improvement—finding efficiencies in previously unexplored areas—and, not surprisingly, the reaction was mixed.
"Some were very receptive to it and some not so much," Palmore says. "[Our message to outside counsel] is, 'I'm not trying to get you to make less money; I'm trying to get us to work together in the best way.' Part of that process is making sure we have the right partnerships with our outside firms and that our interests are aligned. Those fee arrangements are a part of that."
General Mills, above all else, is a branded company: Betty Crocker, Pillsbury, Green Giant and Cheerios are just some of the company's more recognizable names. That means a great deal of Palmore's energy goes toward protecting the company's brands and innovations. Over the last few years, the landscape of food industry litigation has changed and companies have faced increasing litigation, including a number of class action lawsuits. In late 2009, General Mills and the Kellogg Co. were served with a putative federal class action lawsuit in Illinois related to the labeling of some products in General Mills' Fiber One and Kellogg's FiberPlus lines. Palmore's team pulled together a collaborative and diverse team of both inside and outside counsel to handle the litigation, and led in filing a motion to dismiss the case for lack of subject matter-jurisdiction. The team argued that this complaint was pre-empted by the federal Nutrition Labeling and Education Act. The motion was granted. At press time, the case was being appealed by the plaintiff.
"We have a lot of marketers, and we want to position our products well. We want to make our products attractive," says Palmore. "But one of the great values of General Mills is we want to make fair statements about our products. We don't want to make claims without any foundation. But the regulatory environment is very nuanced. And the competitive environment is very intense. You've always got competitors saying, 'You can't say that'—or maybe we're saying that to them."
A growing area of concern for Palmore's department, and for the packaged-food business overall, is the attention being paid to childhood obesity. A lot of attention—an inappropriate amount, in Palmore's view—is focused on breakfast cereals, sales of which are on the rise. The last fiscal year, General Mills' domestic cereal sales, excluding their organic cereal line, were $2.3 billion.
"The issue that most gets my attention is the initiative to establish guidelines for advertising to children about food product," says Palmore. "There's a lot of discussion among government agencies and activists about whether it's an appropriate area of focus, what the guidelines should be, whether they should be voluntary, and what the scientific basis for any guidelines might be. It's a complex undertaking."
While sugared cereals often receive blame for playing a role in the weight problems of many kids, Palmore insists that there is "a fundamental misunderstanding of the importance of breakfast cereals in the diet. We as an industry haven't done a good enough job of educating the public and the government on how good breakfast cereals are for you.
"The popular wisdom on the amount of sugar in presweetened cereals is just plain wrong," he continues. "We believe cereal is one of the healthiest breakfast choices you can make. Ready-to-eat cereals account for only about 4 percent of total caloric intake, while delivering much higher proportions of a number of important nutrients."
Palmore is not one to seek the spotlight, but doesn't shy from taking a strong public stance on diversity in the legal field. He gained attention as the first African-American to make partner at Wildman Harrold, and while at Sara Lee, he steered the company's business away from outside law firms with low diversity marks. Then he wrote A Call to Action—Diversity in the Legal Profession, a document in which he encouraged corporate legal officers to push for increased diversity when retaining outside counsel. About 120 counsel, many with Fortune 500 companies, pledged to take corporate diversity efforts into account when hiring outside firms.
"I was in a place to potentially have an impact," Palmore says. "So I felt some responsibility to foster some change."
An outgrowth of Palmore's manifesto was the Leadership Council on Legal Diversity (LCLD), now a 2-year-old nonprofit whose aim is to challenge the legal profession to foster and encourage diversity. Growth is good, Palmore says, but the problem hasn't been solved. "I'm happy with the progress that LCLD has made," he says. "I'm not happy about the progress of diversity in this profession."
The lingering problem, Palmore maintains, is that companies and people have gotten used to thinking of diversity as an issue to be addressed once and then shunted aside. "It's not, especially not in today's world," he says. "It goes to the heart of the talent issue for organizations. In an increasingly diverse world, the issue is just going to get bigger and bigger. In a lot of respects, diversity is just the canary in the coal mine.
"If you're an associate at a law firm, you're interested in whether you're valued, and whether you're invested in, whether your talents are being developed and showcased," he continues. "If that's not happening, you're not happy and you become disaffected, and you either put up with it or leave. Those issues may affect diverse talent disproportionately, but they affect everybody."
Palmore's work in this area has drawn praise and recognition, including the Corporate Exemplar Award from the National Legal Aid & Defender Association in 2007. Jo-Ann Wallace, president and CEO of the association, says the honor was well-earned.
"Rick is extraordinarily committed to ushering in social change and equality under the law," Wallace says. "He has demonstrated that a highly successful corporate attorney can build bridges to America's underserved communities. He truly walks the walk when it comes to equal access to justice and opportunity."
Palmore and his wife, Lynne, live in the
St. Anthony neighborhood of Minneapolis, and keep a home in Chicago. The couple has two grown children: daughter, Jordan, just began work as an attorney, while son, Adam, works in human resources for an energy company in Chicago.
Palmore is a voracious reader (his most recent memorable read: Jonathan Franzen's Freedom) who stays in shape with running, golf, tennis and boxing. He plays the piano, an instrument he took up seven years ago, and enjoys playing classical pieces as well as pop and jazz standards. He even joined the board of Minneapolis' MacPhail Center for Music when the search for a new piano teacher led him to that academy. "The piano is relaxing, challenging and just a lot of fun," he says.
But at work, the fight goes on every day: poring over regulatory documents, helping shepherd international growth, and playing watchdog to the brands that helped General Mills earn $12 billion in revenue last year in the United States alone.
Despite the vastness of what's at stake in his work, Palmore recognizes that the company wouldn't be where it is without the same quiet, work-based virtues that helped get him where he is.
"General Mills is a Midwestern company in just about every respect, especially when it comes to having a high degree of humility," he says. "It's not a company that trumpets itself."
Search attorney feature articles
Helpful links
Other featured articles
How Ryan O'Connor and a team of attorneys changed Oregon law
Employment lawyer Diane King takes on big companies like Lockheed Martin
How Richard Shevitz put his class action know-how to use for Holocaust victims
View more articles featuring lawyers
Find top lawyers with confidence
The Super Lawyers patented selection process is peer influenced and research driven, selecting the top 5% of attorneys to the Super Lawyers lists each year. We know lawyers and make it easy to connect with them.
Find a lawyer near you