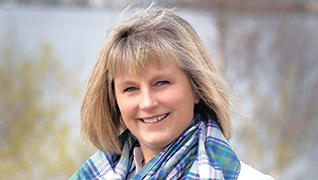 Photo by: Frederick Dudderar
Authentic Grace
Behind a pulpit or on behalf of clients, Jenny Carey is there for the Twin Ports
Published in 2020 Minnesota Super Lawyers magazine
By Andrew Brandt on July 20, 2020
By the time Linda Ward reached out to Jenny Carey for help, she had hit rock bottom. "I look back on it now, and I was so vulnerable," she recalls.
Ward's husband, Steve Chadwick, a Duluth professor and organizer, died of glioblastoma in 1995. Ward had continued managing their organic farm while dealing with her own unstable epilepsy that had escalated during his illness. To top it off, a neighbor for whom they had previously granted a land easement began harassing her: "They were trying to run me off the farm."
So in 2010 she called Carey, whom she'd first met at a 1996 walk-run event in honor of Steve. Carey obtained a harassment order and moved the easement for Ward, who can't imagine what it would have cost if Carey hadn't done it pro bono. "I don't know how I could have survived without Jenny," she says. "She pulled me out of a very dark place. Without exaggerating, Jenny really saved my life. And she's been there for everyone in her life. She really is beloved by this community."
Carey has put her heart into the Twin Ports community since she arrived as a teenager. From putting residents at ease through her estate planning work and bringing tourists to the region through her real estate practice, to serving as a pastor and on community boards, the now-president of Hanft Fride has made bettering the region her life's work. 
"She's a constant reminder that our business is a people business," says Hanft Fride vice president Bill Burns, one of Carey's mentors. "Clients appreciate people who do good work, but the people who deal with her know that she cares about them and their problems. Her clients trust her, and know they can share things with her."
Carey grew up in Wisconsin Rapids, Wisconsin, a paper mill town in the center of the state. Her father worked for the state department of transportation, and just before Carey's senior year of high school he accepted a district manager position in Superior.
Since Carey was so busy during high school—"I was council president, on the tennis team, had a steady boyfriend," she says—her parents gave her a choice: Remain in Wisconsin Rapids and live with her grandparents for the year, or move up north with her mom, dad and younger sister.
It was the first adult decision she was asked to make. She stayed. 
"It was one of the most influential years of my life—developing that relationship with my grandparents," Carey says. "It gave me the opportunity to learn, at a far younger age, what was important to people much older than I was. I had to rely on my boyfriend and girlfriends for rides everywhere, because I wasn't allowed to drive my grandparents' car. Those kinds of things were different."
The day after she graduated, Carey headed up to Superior for the summer, knowing she'd be shipping back down to Madison in the fall. "My parents thought it would be the place where they retired, so even though I went off to college, they wanted this community to be my home," she says. "It was important to them that I was happy there."
At Madison, Carey enjoyed her undergrad experience, and wound up with degrees in political science and journalism. "Public relations was my area, but I felt I needed to do something more," she says. "When I talked to my mom about this a few years ago, she said: 'Jenny, that's not when you decided to be a lawyer.' She said it was important for me, when I was little, that people have the rights they were supposed to have." 
Carey enrolled in UW's Law School in Madison, where she could study at a respected program for an in-state price. "It was an economical choice," she laughs. "And I already knew I liked it there."
Upon graduating in 1991, she didn't know what she wanted to practice, but she did know where. Small towns like Wisconsin Rapids looked, well, too small. And cities like Chicago loomed too large. But Duluth? 
"The size of community that Duluth is, and the level of practice that my firm has, was a perfect happy medium," says Carey. "This wasn't the only place I looked, but it was a natural."
Though her caseload has changed over the years, little else in Carey's legal sphere has: She interned at Hanft Fride before she got her J.D., and has been with the firm ever since. "I showed up for my first day not having any idea what kind of law I wanted to practice," she says. "We're a general practice firm, so I've had the ability to be exposed to different areas of law."
That reality brought another one with it: Carey didn't enjoy the courtroom. "If you told me I needed to go to court every day to be a lawyer, I would probably choose to do something else," she says with a laugh. "I want to create win-win scenarios. I'm not particularly excited about the trial court arena, where there has to be a winner and loser—that's not fun for me."
That doesn't mean she doesn't step up when called upon. "She reminded me of Tinkerbell on the outside, and Hulk on the inside," says Ward. "In a court setting, she would be in her heels and catch them totally by surprise. My neighbor had five lawyers, and she just blew through all of them. It was amazing to see." 
The same goes for town halls. Ward recalls one involving her farm in the 2010s. The county commissioner, the town hall board, and one of Ward's neighbor's five attorneys were all there. "And then there was Jenny and I," she says. "When it was Jenny's turn to speak, within 10 minutes, the other lawyer was almost crying. He left with his hair standing on end, and his shirt kind of crumpled and half out of his pants. She undid him, in a very nice way. The board dismissed everything."
Meanwhile, estate planning became a venue for utilizing the lessons Carey learned from living with her grandparents. 
"Most young people don't understand why older people talk about what's not working in their body, or what illnesses they have. To have an appreciation for those things being so challenging and important at a young age, rather than not knowing about it until you get there, was helpful," she says. "I was exposed to different generational issues in an instant way, and that allowed me to be a much better listener."
Her other focus—real estate—came to fruition by being in the right place at the right time: In 1994, the first community associations law was passed in the state. One of the senior attorneys at Hanft Fride tasked Carey with learning about common interest communities, and she took it in stride.
"It came easily to me," she says. "I loved putting the different pieces of the developments together."
Over the years, Carey's CIC work has centered around resorts on the North Shore. "When you get north of the Twin Cities, there are not a lot of lawyers who have an expertise or developed practice in terms of common interest communities," she says. "It is rewarding to be a part of what makes communities up here thrive—the tourism and resort development."
Notably, she's aided Odyssey Development in creating a number of resorts, and she worked on the Larsmont Cottages near Two Harbors and the Lutsen Resort in Lutsen. Currently, she's creating a CIC for a campground in northern Minnesota, so campers can own their individual sites. 
Her two practices form a solid whole. Planning estates affords Carey quality client time, while she gets to be creative and technical in the real estate realm.
"The thing I enjoy the most about estate planning is taking something complicated and explaining it in a way that's easy for people to understand, so they're not overwhelmed. When people think about the wills, they'd really love a short and simple one. And then they get a 16-page document and say, 'Oh my god!' To make it understandable is more important than the satisfaction I get out of drafting some complicated trust," she says. "But, in the CIC world, if I can think outside the box, solve problems creatively—that's super fun."
Carey learned her legal creativity from Burns, whom she says is the big-picture lawyer at the firm. 
"She's a very good lawyer—hardworking, thorough, intuitively good at seeing problems and cutting them off before they happen," he says in return. "But she also is such a nice person. There's an instant connection between her and clients. And it's real, which is why it works. She likes people."
That instant connection endures for those who aren't Carey's clients, too. She spent a decade on the board of the Duluth Superior Area Community Foundation, including a stint as chair, and she's currently chair of the board for the Miller-Dwan Foundation, an independent medical foundation focused on improving health care in northeastern Minnesota and northwestern Wisconsin. Traci Marciniak, the foundation's president, met Carey long before she joined the board. "I remember being impressed by her," Marciniak says. "She's obviously quite good at what she does, and people really, really like her. She's highly thought of in the community. There's a little bit of me that wishes I was more like her.
"She's helped direct conversations for us," she continues. "Not everyone understands the ins and outs of donor intent, and what we're legally bound to do. And her presentation style … she has a wonderful way of articulating things so people understand them."
In 2019, Carey took those skills in another direction: She became an authorized minister for the Northwest Synod of Wisconsin. "I decided a few years ago that I wanted to serve in that capacity," she says. "I love serving the way I do in my law practice, so I wasn't looking to stop practicing law. But I wanted to serve more in the capacity of my faith, as well."
Carey took night classes for two years, and would now be allowed have a church of her own. "Instead, I'm what they call pulpit supply, meaning I go preach at churches where they need me," she says. "I'm authorized to do this at five churches in Superior." 
The role has reinforced her belief in the importance of aiding those in need—legally and otherwise. 
"When you take an oath as a lawyer to serve pro bono, I think some lawyers take that very seriously and some don't," says Carey, who became Hanft Fride's first female president in 2013. "Whether it's in the practice of law, as a person in the community, or a leader in my church, it seems to me that, in the second half of my life, there's been a growing importance of serving those on the edge. That philosophy is much more an everyday part of my life now than it used to be."
When Ward—who works part-time with the Benedictine sisters at St. Scholastica Monastery—thinks of Carey, she's reminded of a quote from Sister Joan Chittister: "Another word for humility is authenticity, the grace of being who we say we are." 
"Jenny is truly, truly that," she says. "I'm going to be 69, and I've met very few people in my life that have brought that authentic grace to the world. I have valued her so much." 
---
Photography During a Pandemic
Gov. Tim Walz's stay-at-home order would typically have ruled out a magazine photo shoot last spring, but Super Lawyers found a fortuitous loophole in this case: Jenny Carey's husband—and fellow Hanft Fride shareholder—Frederick A. Dudderar Jr. moonlights as a professional photographer. The proprietor of Northpoint Photography is also an experienced videographer and commercial drone pilot, and was bitten by the photography bug after receiving a Nikon F2 film camera as a high school graduation present from his father, who'd purchased it during a business trip to Japan.
"My husband and I have a great partnership," Carey says. "It really helps to have a spouse who is also a lawyer because he understands the stresses and demands of the private practice of law. It's pretty nice to have a photographer around too. He has taken some magnificent shots of the North Shore and some other pretty scenic places, but his favorite are his family and dear friends."
Search attorney feature articles