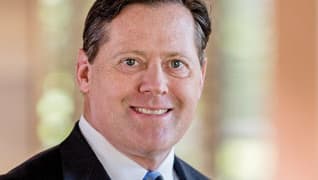 Photo by: Steve Niedorf
Best Man
Keith Nelsen uses his leadership skills to help renew Best Buy
Published in Business Edition Super Lawyers 2013 magazine
By Adam Wahlberg on November 12, 2013
Keith Nelsen has become accustomed to two things in life: leading teams and taking hits.
Nelsen, the general counsel for Best Buy, the consumer electronics giant in Richfield, Minn., has been doing both of these since quarterbacking youth football teams in Green Bay.
The hits these days may be less physical in nature, but they're just as brutal.
"You might think that being a consumer electronics retailer is a relatively simple business, but it's not," Nelsen says. "You have complex vendor relationships, the services and warranties business and the financial services business. In addition, there is the international aspect of our business that presents its own unique challenges. You also add complex IT systems, supply chain, real estate, marketing, intellectual property and the employment issues that arise when you have 140,000 associates in the field. Plus you have to layer in a number of acquisitions that we did that we're working to integrate. Add the world of compliance, and it can be complicated."
That's just the beginning. There's also the difficulty of working for a brick-and-mortar outlet in the midst of the digital age. "Showrooming," for example, is a curse word in Best Buy hallways—it's the practice of consumers browsing for products at a Best Buy (or other store) and then ordering the products online elsewhere.
"You read a lot about this over the past couple of years, but we have taken our own actions to combat this, including implementing our own low-price guarantee," Nelsen says. "This allows our associates to match our competitor's prices on the floor and make any sale. This, along with the fact that we have always been competitively priced, has literally run the word 'showrooming' from our vernacular."
Then there was the leadership crisis Best Buy faced in 2012 when CEO Brian Dunn abruptly resigned amid rumors of an inappropriate work relationship. The company was rudderless and there were panicked looks on the faces of Nelsen's colleagues. Nelsen had never seen anything like it.
"You don't necessarily prepare for a CEO going out in the midst of allegations surrounding his behavior, followed by the founder and chairman of the board [Richard Schulze] leaving and attempting to launch a potential take-private acquisition of the company," Nelsen says from his office, a Police concert poster hanging on the wall. "We had an interim CEO at a time when everyone is questioning your business model and whether it's viable even in the short term, never mind the long term. To have all those things facing you at one time must be unprecedented."
Lawyering wasn't the dream for Nelsen. Getting a football into the end zone was.
Not that you can blame him—Nelsen's childhood home is just over a mile from Lambeau Field. He has season tickets to this day.
"I grew up not dreaming about being a lawyer, but of being the next Bart Starr," he says with a laugh.
He was a solid high school student, finishing in the top dozen or so of his class of around 300, but football was his thing. He made his college decision on pigskin criteria.
"Northern Michigan University offered me a football scholarship … that was about it," he says.
Nelsen made the most of it, becoming team captain in 1985 and setting records for most touchdowns passes in a game (six) and yards passing in a season (2,636). In 2005, he was named to the school's sports hall of fame. Not that he mentions any of this. Instead he says, "We were a perennial playoff team."
In between doing his Starr turn on the field, he found his stride in the classroom. He enjoyed business courses and earned his degree in finance and accounting. But law school entered his thoughts. "I've always been competitive, and I thought being a lawyer would be a way to continue competing in a professional sense," he says.
He chose the University of Wisconsin for law school. "I liked the intensity of it," he says. "You didn't want to embarrass yourself, and you wanted to be prepared. So I prepared."
Nelsen excelled in the tax and corporate law offering. Apparently drawn to "Best" companies, after graduation, the future Best Buy GC went to work in the business law section at Best & Flanagan in 1989, doing mainly tax and transactional work.
"After a year or so I realized that I had the most in common with the firm's trial lawyers and began taking on work in that department, ultimately making the shift in my second year of practice," he says. "There was a whole realm of cases we tried. Our firm had contracts with some of the local municipalities, and a few days a month, we would do their prosecution work. You'd show up in court and have 40 or 50 files and a courtroom full of people. By the end of the day the courtroom had to be empty, and you usually tried a case or two. I was also able to take on a significant commercial workload at the same time and work with some excellent trial lawyers."
He soaked up the experience for nearly seven years, but then those old business stirrings returned.
"I got to the point where, I thought, 'Well, with each case the people are going to change, the facts are going to change, the judge is going to change, but the process is going to be the same, and getting a case from complaint to trial can be very tedious.' Plus most of the bigger cases settle, so you do all this preparation work and rarely get to try the case. You also generally learn enough about a business to handle a particular matter, but don't get a chance to learn what drives it from end to end. I found that to be frustrating." He adopts a football metaphor. "There was a lot of practice and very few games."
In the midst of this restless period he got a call from David Berg, one of his clients who was the general counsel at a well-known local fitness company called NordicTrack. Berg told him the manufacturer of indoor skiing machines was enjoying such spectacular growth, thanks largely to the company's infomercials, that it could use another legal counsel. Nelsen came aboard in 1995.
"I liked the transition. I was going into an industry that I had a huge interest in because at the time I was an avid runner, a biker and a skier and a user of their products," Nelsen says. "So being able to work in an industry that I had an almost fanatical interest in was great."
By the time Nelsen arrived, however, the company was well into its very difficult strategy of opening retail outlets in high-end malls and storefronts across the country.
"You're paying $50,000 a month for a storefront on Madison Avenue," he says. "There's no way that you can run enough volume through that store to make it work, and we had many that were like that." NordicTrack eventually closed its retail outlets and was sold to Icon Health & Fitness.
Nelsen's next move was again engineered by Berg, who was then in Florida with Danka Business Systems, a seller and servicer of predominately higher-end printing and copying equipment. Danka had just acquired Kodak's copier sales and services division, doubling the size of the business (to nearly $4 billion in sales) and putting it in some 30 countries across the globe.
"Mr. Berg, who had hired me, left the company, and the then-CEO gave me a bit of a battlefield promotion into the general counsel's job. For someone who was really only 11 years out of law school, to be the GC of a public company was—well, I'd question the decision on the part of the company," he says with a laugh. "But I threw myself into it and really learned a ton over the next few years."
Here's a taste of what Nelsen's life was like for the next six years: "Danka was headquartered in St. Petersburg, but it also had a significant presence in the U.K. and Europe, so the stock was traded on the NASDAQ and the London Stock Exchange. So we had compliance in the U.S. and Europe, we had businesses in around 30 countries, we had just acquired a large division of Kodak, so we had integration issues going on, a ton of real estate rationalization and banking facilities that were constantly being renegotiated because of the debt that we had taken on in the Kodak deal. Ultimately, we had to dispose of some of the noncore assets, so the last four or five years, in addition to my day job, I spent significant time traveling around the world selling off noncore businesses."
"Keith is a lawyer first," says Berg, who today is the CEO and chief customer service officer at Z Wireless in Minnesota. "But he's very good at endearing himself into the business and understanding it and forming partnerships with the leaders of units. He's just one of those athletes you'd love to have on any team."
Berg ended up leaving Danka in 2000 and eventually took a leadership role in the international business division at Best Buy. And in 2006 he knew who he wanted to run its legal division. So he dialed Nelsen. Again.
"He said," Nelsen recalls, "'I know you've spent a lot of time working out of the country for the last few years, and we're putting together an international team here at Best Buy. Would you be interested in being the general counsel of the international group?' I got to be involved in helping acquire a large Chinese consumer electronics company, originally a state-owned enterprise, which hadn't happened very often. We were opening stores in Turkey. We were talking about Mexico; we were beginning discussions with a partner in Europe to begin opening the big-box stores in the U.K. All of that was going on. I was on a plane all the time all over the world—if I wasn't in Shanghai or Nanjing, it was Istanbul or London or Vancouver or Mexico City."
He manages a department that includes a wide range of languages to serve the company's international needs. "We have approximately 45 lawyers here, a staff of six or seven in China, and work with a similarly sized team in Canada." He also assisted in working with 15 or so legal professionals in the company's European Joint Venture.
His job was evolving into what he'd envisioned in Madison. "At some point," he says, "you become a little bit less of a lawyer and more of a business person."
This was particularly true during the recent crises at Best Buy.
"Keith is a very talented lawyer, and a trusted adviser. He is a critical leader within our executive team and the company," says Hubert Joly, Best Buy's current CEO, who's receiving some huzzahs from Wall Street for leading the company's 2013 financial recovery.
Berg isn't surprised by what he's seen out of Nelsen during this time of crisis.
"I think counselor is a good word for him. He's good not only at evaluating the risks and why you shouldn't do things, but bringing solutions to the table on complex issues that drive the business forward," Berg says. "He's a very steady hand."
Nelsen received a battlefield promotion at Danka, and in a sense, he received another one here. He kept his renowned cool and he took notice of colleagues who didn't flee the ship when things ran aground.
"It's a remarkable turnaround from a year ago. I am so proud of the fact that people put aside all the distractions and the bad press and focused on the things they could control. I could walk you through this building and introduce you to hundreds of people, and there are thousands more people out in the field running our stores … people who would say, 'Yep, that was tough, but I knew what I had to do.' People who went through it developed very thick skins, but everyone believed that we had a great brand, a great company, and that we would emerge from this challenging period of time."
And what of the low points? "I think the lowest point [for me] was the, albeit temporary, split with the founder [Schulze] of the company, for whom I have a tremendous amount of respect. To have to take a somewhat adversarial role to him was a challenge."
Nelsen credits Hubert's leadership of the company at that time. "[It] enabled an amicable reconciliation with Mr. Schulze, and an endorsement by him that we are indeed steering the company in the right direction. Today is far more focused on assisting the business in moving forward with Renew Blue, which is Best Buy's transformation plan and program."
Nelsen lives right outside Minneapolis with his wife, Kathy, and two children, Grace and Max, making Nelsen one of a very small club in the history of the world to move from Florida to Minnesota. But he loves the state, even though he's an avid Packers fan in Vikings country. "I often say the only thing better than being a Packer fan is being a Packer fan in Minnesota," he says. "We've had our way with the Vikings."
Sounds like some good old drama. But for a guy who seems to make a habit of walking in the door with a crisis either unfolding or about to, would he have it any other way?
He pauses. "Give me a call in a few months," he says. "Then I'll let you know."
Search attorney feature articles
Helpful links
Other featured articles
Cara Fialkoff's CLE explores what horror movies can teach lawyers
Pierce Hamblin's tactical weapons include humor, listening skills and powers of persuasion. Plus an Elvis shrine
Stuart Somach is in water law for the long haul
View more articles featuring lawyers
Find top lawyers with confidence
The Super Lawyers patented selection process is peer influenced and research driven, selecting the top 5% of attorneys to the Super Lawyers lists each year. We know lawyers and make it easy to connect with them.
Find a lawyer near you