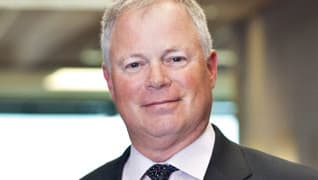 Photo by: Rich Fleischman
Bringing Down Trevor Cook
How John Harper III did it
Published in 2012 Minnesota Super Lawyers magazine
By Dan Heilman on July 9, 2012
At this moment, Trevor Cook sits in a federal prison cell, serving a 25-year sentence for defrauding investors in a nationwide Ponzi scheme. One of his accomplices, Christopher Pettengill, is awaiting sentencing, while three others—Jason Bo-Alan Beckman, Gerald Durand, and Patrick Kiley—went to trial in April.
John Harper III, one of the Messerli & Kramer lawyers who helped put Cook behind bars, takes little satisfaction in the role played in bringing Cook to justice.
"There is no happy ending to the story," says Harper, a shareholder, director and head of the business litigation department at Messerli. "They ruined the lives of all these people. Yet these men will ultimately get out of prison and will have a life."
Cook, you may recall, is the Apple Valley native who admitted in a 2010 plea agreement that he bilked more than 900 investors out of $158 million. From January 2007 through July 2009, Cook and his confederates sold investment shares in what was purportedly a foreign currency trading program. In reality, he the money to pay off earlier investors, buy a real estate development in Panama, settle personal gambling debts and even acquire the Van Dusen Mansion in Minneapolis.
So how did this matter—characterized by U.S. District Judge James Rosenbaum at sentencing as "a wretched, tawdry and cheap crime"—end up at the desk of a business litigator, Harper? Partly through old-fashioned professional courtesy.
In late June 2009, Harper was contacted by Peter Silverman, a lawyer from Shumaker, Loop & Kendrick's Columbus, Ohio, office who represented two families who had invested just short of $5 million in something called a "currency arbitrage" trading program purportedly managed by Eagan-based entities under names including Universal Brokerage FX (UBFX) and UBS Diversified. The investors had heard about the program on a radio program called Wealth Survival, hosted by Gerald Durand. Given the Twin Cities ties, could Harper make a few calls on behalf of these investors?
"After several calls over several days, red flags started going up all over the place," Harper recalls. Investors had been assured that their investments were guaranteed and secure, promising yields of 10 to 12 percent per year. After consultations with the Columbus attorneys, and in collaboration with Silverman, Harper initiated a lawsuit on behalf of nine Ohio plaintiffs against Cook and the related entities and to bring a motion for a temporary restraining order to freeze any invested funds in their possession. The idea was simple but challenging: Find out how much of the money invested was still in the hands of Cook and company, and try to get it back to their clients.
"I told Judge Michael Davis [Chief U.S. District Judge, District of Minnesota] that all we wanted was to get the money out of the program," says Harper. "At that point I had significant suspicions, but I didn't know if it was a Ponzi scheme or a legitimate operation."
In court, Cook's counsel was asked by Davis where the invested money was. He said he didn't know, prompting the judge to grant a motion for temporary restraining order, freezing the funds in various accounts, and to later grant an injunction. Even having the assets technically frozen, though, didn't stop Cook from spending the money.
"We had to act as quickly as we could to trace and freeze as many funds as we could," recalls Molly R. Hamilton, an associate at Messerli & Kramer. "Once you find out an operation like this isn't on the up and up, you know the clock is ticking."
"They wanted to know how to get their money, and I had to tell them that I didn't know where their money was and that it was very possible they wouldn't see it again," says Harper. "The dominos started to fall."
Extensive media coverage of the case prompted investments in UBFX to stop cold—and Harper's phone to start ringing off the hook. Harper estimates that he and Hamilton spoke to about 500 people about the possible whereabouts of the money they invested with Cook. They ended up representing about 135 parties, and Hamilton did a lot of the heavy lifting when it came to drafting the stacks of complaints and pleadings—many of which, she says, were more than 200 pages—that were filed in the case.
"Whatever I was doing, she was doing," Harper says of Hamilton, who worked with him at Krass Monroe in Minneapolis (now Monroe Moxness Berg), where Harper was head of litigation. "She was the principal drafter of the pleadings that were submitted. That was a significant undertaking—taking all facts we accumulated from the clients, all the documents they had, and distilling it down to the pertinent data we needed for claims."
During September and October 2009, Harper and Hamilton twice amended their complaint against Cook in order to add plaintiffs and bring suit against additional parties. By then, the U.S. Securities Exchange Commission and Commodity Futures Trading Commission had begun investigating the matter, and those two bodies brought enforcement actions against Cook in November and appointed a receiver to oversee the recovery of investor funds. These actions stayed the civil lawsuit of Messerli & Kramer's clients, but Harper and Hamilton continued their involvement in the case by providing information they uncovered during their representation. It became a federal criminal matter in 2010, when plea negotiations led to Cook's sentence.
Without Harper's and Hamilton's diligence, it's impossible to say how many more people would have invested with Cook. "People were investing up until the day we commenced the lawsuit," says Harper.
Harper has met Cook, and though he feels any sentence imposed on the schemers will have been too light, he admits to a grain of grudging admiration for the mechanics of the fraud. "It's not a complicated Ponzi scheme, but there a lot of parts of it that had to mesh perfectly for it to even work as long as it did," he says. "You couldn't be stupid and put this together."
After a pause, though, Harper gives a dismissive wave of the hand. "They're crooks," he says.
Search attorney feature articles