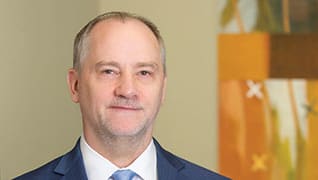 Photo by: Richard Fleischman
David Bradley Olsen Hates Making Headlines
But when you represent Jesse Ventura and Brock Lesnar, sometimes you can't help it
Published in 2018 Minnesota Super Lawyers magazine
By Adam Wahlberg on July 5, 2018
On his first day at the University of Arkansas School of Law, David Bradley Olsen assumed the attire would be college casual. He strolled in wearing shorts and a T-shirt. Then he looked around. 
"Most of the guys were wearing slacks, sport coats and ties," he says. "That's when it occurred to me that these were private school kids, raised much differently than me. I wasn't sure I would fit in. I wasn't sure I could compete."
That feeling didn't last long. 
"After a few days, I thought, 'OK, I can do this. I belong here,'" he says. 
Upon graduating, he landed a coveted district court clerkship. He stayed in Little Rock for five years before heading back north, taking a position at Henson Efron in Minneapolis. He still doesn't dress flashy. He doesn't need to.
Olsen grew up in Two Harbors on the north shore of Lake Superior as the youngest of nine children in a blue-collar family. None of his siblings went to college, but he knew he wanted to go. More, he knew he wanted to be a lawyer—though getting there would be the tricky part. His family didn't have money for tuition. Luckily, he could skate.
"I played hockey in Two Harbors, which most boys did," he says. "I was short and skinny but I could get around. I didn't think I'd play after high school though, or attend a big university. I was planning to go to community college when Iowa State called."
The Cyclones offered him half tuition to play club hockey, so Olsen headed to Ames and laced them up.
He had a great freshman year but knew he wasn't destined to play professional hockey for a living. Why was he investing time in something that wouldn't pay off later? After weighing the variables, he unlaced his skates. "I just thought I should focus on my studies," he says. 
Three years and one economics degree later, Olsen was confident he could get into law school. But financially he was back to square one. He didn't want to take out loans, so he stayed in Des Moines to work. He took a job at a credit union and then a lender; he found the time to marry his college sweetheart and they squirreled away money.
Arkansas intrigued him. It was impressively ranked and offered in-state tuition for residents who lived there at least six months. That could work. After hitting his savings mark, he and his wife relocated to Fayetteville and waited for discount day to arrive.
Law school was everything he thought it would be. Logic puzzles all day long; tons of writing; smart people. He stayed in Little Rock after graduating to clerk for Judge Henry Woods of the U.S. District Court for the Eastern District of Arkansas.
"He was a legend in Arkansas, a Renaissance man," Olsen says. "He read books in the original Latin. He was a prolific writer. He was just an amazing man to be around. My time with him was one of the most enjoyable periods of my career."
When the clerkship ended, it was time to get out of that Arkansas heat. "It's like that all the time. It just sort of drains you. I realized I'm a North guy. I missed the seasons," he says.
One of his first assignments with Henson Efron in Minnesota was a family law case. It marked the beginning and end of his family law career. "It was just that one case," he says with a laugh. "Family law is not for me. The parties weren't being rational."
Irrationality is one thing Olsen cannot abide, so he raised his hand to take on business litigation work and enjoyed the intellectual back-and-forth—knowing that every argument had a counter-argument. He liked that clients were more likely to make rational decisions. 
His work was usually done behind the scenes, in his office, quietly. When he locked in battle, he saw it through. Olsen once successfully represented a land owner in a property dispute with the city of Minneapolis for eight years. He took a complicated anti-trust conspiracy case in the concrete pipe industry to trial and nabbed a defense verdict. 
He had plenty of below-the-radar cases like that. He was fine with anonymity. Let others have the headlines. 
Then he met Jesse Ventura.
It happened via a simple referral from Ventura's estate lawyer, and Olsen took the meeting out of curiosity—it was the mid-1990s, just as Ventura's political career started to take off—and the two clicked. They're both direct and to the point, with no airs. Though Olsen had never done a TV deal, a book contract, a movie negotiation—any of it—he became Ventura's personal lawyer, for all his needs. "He asked me to do one thing, then another, then another," Olsen says. "After many years, we've done it all."
He adds: "Jesse is the same person in private as he is in public. He will tell you exactly what is on his mind at all times. He respects it if you do the same."
Olsen got an assignment right out of the gate. Ventura wanted to sue Vince McMahon, founder of World Wrestling Entertainment, for using his likeness on broadcasts, going back to his years as an on-air personality, which were being sold on video. He thought he should see royalties. Olsen filed the suit and won a verdict of nearly $1 million in federal court. 
Trickier was Olsen's work for Ventura in the Chris Kyle dispute. Kyle, of American Sniper fame, alleged in a book that he punched out Ventura in a bar over remarks disparaging Navy Seals. Ventura, a Seal himself, says the incident didn't happen. Kyle was murdered before the trial, which placed Olsen and Ventura in the unenviable position of suing the estate of a dead soldier. They won a $1.8 million defamation verdict in the first trial, which was overturned on appeal, so they sued again. The suit garnered massive public attention, with Ventura often losing the PR battle. But Ventura never considered pulling the suit, says Olsen: "If it was just about a guy saying he decked him, Jesse would have let that go. But he couldn't let pass that comment about him criticizing Seals. That bothered him."
After more than five years, the parties agreed to a settlement last November. When it was over, the bond between lawyer and client was stronger than ever.
"David knows a Vince contract when he sees one, and he never loses his cool under pressure," says Ventura. "He is just darn good at what he does."
The Body's better half agrees. "David is the kind of lawyer everyone wishes they had," says Terry Ventura. "He is quiet but strong, and will not abide shenanigans. I admire him greatly."
Olsen's work with Ventura caught the eye of Brock Lesnar, the University of Minnesota champion wrestler-turned combat sports superstar. What makes Lesnar unique as a client is that he jumps between professional leagues. Sometimes he performs in the showbiz world of WWE, sometimes he fights in the cage for the UFC. One time he tried out for the Vikings. Whatever his goal, Olsen makes it happen. 
"I met him just as he was coming out of college, where he was a tremendous amateur wrestler. He could have made the Olympic team but he was tired of being poor. Ever since, I've gotten him into contracts and out of contracts. He's similar to Jesse in that what you see is what you get," Olsen says.
Armed with this unexpected area of expertise, and two literal behemoth clients, Olsen briefly considered spinning out an athlete-representation practice. He even had a name picked out: Henson Efron Sports. But when he did the math, the numbers didn't add up. He couldn't see substantially growing the business from the Midwest and he had no desire to move to a coast. Olsen decided to keep his sports practice part-time. Litigation has always been his calling—the quieter the better. 
Yet the headlines kept coming—this time for two 2013 pro bono cases. One was on behalf of personal-care assistants who look after relatives. In a budget-saving move, the Minnesota Legislature the year before enacted a measure that would cut the pay of these caregivers by 20 percent compared to non-related caregivers. Olsen represented eight home-health care agencies, many of which are minority-owned, in a suit that he took to the Minnesota Court of Appeals. The statute was declared unconstitutional. "These are people who pass the same licensing," Olsen says, "do the same work, arguably provide better care than other people would because they're related, yet they were being penalized. That makes no sense. Thankfully, we got a good result."
That was also the year he got involved in Native American voting rights. Olsen knew nothing about this area of law, but when he got a call from an old friend who needed help, he didn't hesitate.
"I was representing several tribes in Montana that were not provided with fair access to late-registration and early-voting offices," says Steven Sandven, a solo practitioner in Beresford. "I've known David for a while and told him I could use him."
Olsen got up to speed, traveled to meet with tribal leaders and quickly built trust. He prepared a brief and traveled with Sandven to Oregon to argue it before the 9th Circuit Court of Appeals. They got the result they wanted, which set in motion legislation to provide for equal voting access.
"It was just out-and-out discrimination," Olsen says. "They didn't want the Indians to vote. It was that simple. I was pleased Steven called me to help."
Sandven was dazzled. "He was the best writer and technically sound attorney I've seen in 20 years of serving tribes," he says. "David is in a different league."
These days, Olsen is an empty nester, with two daughters and a son successfully launched into adult lives. A year ago, he and his wife traded in their suburban house for a downtown loft within walking distance of Target Field. But don't look for him to start playing hooky at day games. 
"I'm sure I'll practice well into my 70s. I enjoy it too much," he says.
But just when you expect that will lead to rhapsodies about how much the law means to him, Olsen says something different, something more revealing: "When I walk out of the office, I can turn it off. I've never had trouble sleeping at night thinking about work. I get up in the morning and I turn it back on. Most people in this business can't do that. It helps you stay sane if you can," he says.
That's the closest he'll come to bragging. He's a lawyer who, when interviewed, chooses a conference room instead of his office; he's not someone who points to memories on his walls. He keeps his answers to no more than 20 words. He says multiple times that he doesn't like talking about himself. 
The law has brought Olsen from Two Harbors to Little Rock, Jesse to Brock, personal care workers to Native Americans, and more. "Nine days out of 10, I enjoy my work," he says. "It's always been that way for me. Interesting case to interesting case."
---
Head to Head
Olsen may be Brock Lesnar's real-life lawyer, but in the world of WWE, "The Beast Incarnate" is represented by Paul "The Advocate" Heyman. How do Lesnar's fictional and nonfictional attorneys measure up?
 
Olsen
Heyman
Legal Pedigree
First in his family to become a lawyer.
Father Richard S. Heyman was a longtime attorney in the Bronx.
Legal Knowledge
J.D. from University of Arkansas School of Law; listed eight straight years in Minnesota Super Lawyers.
Knows every technicality in the WWE rulebook; no formal legal training.
Verbal Acumen
Keeps answers to 20 words or less.
Speechifies for 20 minutes or more.
Client Loyalty
Has worked closely with Lesnar
since 2000.
Betrayed Lesnar during Survivor Series 2002.
Search attorney feature articles