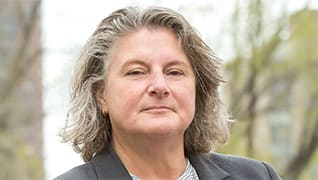 Photo by: Richard Fleischman
Joni's Way
Joni Thome got fired, then changed the state of employment in Minnesota
Published in 2019 Minnesota Super Lawyers magazine
By Andrew Brandt on July 11, 2019
In the late 1980s, Joni Thome was five years removed from college and knee-deep in a rewarding career as a program director for Valor Resources, a company that ran group homes for people with brain injuries and developmental disabilities. 
"Some people had behavioral issues where they would hit other people, or bite. I got bit. There was a lot of very intimate kinds of direct care," she says. "I remember those people. I remember their names. I remember there was a lot of joy that came from the interaction."
One Friday in 1988, Thome was visiting a friend in Wisconsin. A coworker called and alerted her that there was a situation at a group home in Chaska: One of the employees had just broken up with his girlfriend, who also worked there and was onsite. They had an altercation at the home during which he threatened her with a knife, and the girlfriend said he had a violent criminal history.
Thome reported this to Valor's executive director, who suggested dealing with it on Monday. "I said, 'I can't do that,' and she said, 'Then you need to find a way to staff the house.'" Thome drove to Chaska, called the police to have the man removed from the premises and contacted Carver County Social Services the next day.
The following Monday, the director chastised her for getting the state and county involved. When Thome countered that the felon shouldn't have been hired in the first place, the exec admitted that, although Valor was collecting money from prospective employees for background checks, they were behind in completing them, including for the man in question.
Thome didn't back down and reported the oversight. So she was fired.
"I say, 'I'm fired?' And she's like, 'You're not just fired—you're fucking fired!'" she recalls.
In retrospect, Thome realized there had been all kinds of red flags. "The executive director made too much money, and lived too well," she says, adding that the vans the company was purchasing were from dealerships owned by board members. "There were some homes going into huge disrepair, and the [state] Departments of Health and Human Services were coming in and making citations, and not everything would be fixed."
Thome cooperated with the Minnesota Attorney General's Office, and the ensuing investigation forced Valor to close its doors. The executive lost her license and left the state. And Thome went to law school.
"I was a whistleblower," says the plaintiff's employment attorney from her office in downtown Minneapolis. "Obviously, the system wasn't working, and the people adversely affected are these people who have disabilities and brain injuries. Their voices aren't loud enough. I decided that I wanted to be a louder voice for people who are oppressed."
Thome grew up a middle child in a middle-class household in Racine, Wisconsin. Her dad worked for Wisconsin Natural Gas and her mom was a hairstylist. Her grandmother was equally influential.
"She actually went back to school to become a hairstylist when she was 58, and that same year she also learned to drive," says Thome, herself now 58. "I had very strong women who worked hard and led their own lives in my family. I grew up being told that whatever and whomever I was going to be, I was going to be. I was going to be loved, and I was going to be respected. That's just how it was."
Things were less idyllic in Racine. When Thome was 7, the city imposed a curfew, fearing race riots.
"There was apparently a fear of physical altercations," Thome says. "But my dad was a jock. He was friends with everybody, mostly through sports. I remember it being curfew time and looking out the back window and seeing him sitting with a couple of black guys [in our back yard]. Out in the world, that wasn't OK, but in my house, it was. I came up with an understanding that people are people: We don't judge by race, age, economic status, any of that."
Thome was a jock too, excelling in basketball, softball and tennis at Horlick High School. After graduation, she attended UW-Parkside for two years before packing up her '69 Camaro and moving to Minneapolis' Dinkytown. She enrolled at the University of Minnesota, where she graduated with a degree in psychology in 1983.
In 1984, Thome began working in a number of group homes, and wound up at Valor. After the 1988 incidents, she enrolled at Hamline University School of Law, where she quickly met fellow student Celeste Culberth, now an employment attorney at Culberth & Lienemann in St. Paul.
"I liked Joni instantly," Culberth says. "Joni had been a whistleblower. I think that was at the forefront of her mind: She was in it to figure out how she can help other people who need advocacy."
While at Hamline, Thome and Culberth formed an all-female flag football team. Even though it also had mixed-gender squads, the school had them face off against the all-male teams. "We had a lot of respect from our law school classmates, but there was less respect from the undergrads," Culberth says with a laugh. "Some people got a little rough with us at one point. After Joni threw one of them across the field, they decided to back down. You don't want to be on the wrong side of that temper."
Or her advocacy. One of the groups showing up on Hamline's campus to recruit was JAG, and a friend inquired about opportunities. "He goes, 'Well, I'm gay. Is that a problem?,'" says Thome. "And they're like, 'Yep. That's a problem.'"
Alongside a law professor and several other students, Thome and Culberth filed a grievance with the school for discrimination on the basis of sexual orientation—which, that year, had been added as a protected class in St. Paul. "We brought our claims through the Hamline grievance process, and I spent spring break writing a brief with my professor," says Thome. The school settled for $472, and JAG was removed from campus for a time.
In their first year, Thome and Culberth helped found the law school's first LGBT group, now known as Stonewall Alliance. The initial meeting was at The Town House bar in St. Paul, and it was secretive; no names were used on the flyers. "There were a few of us that were just … out," Thome says. "When I came out, I just came out. It wasn't a big, flashy, 'look at me.' For other people, it was harder."
Around the same time, Thome clerked for an attorney friend of her life partner's family. "He gave me good work to do," she says. "I wrote memos, and I did legal research. At that point, he did a lot of work for taxi drivers, because there was fighting about the number of licenses."
Then, the lawyer landed an age discrimination case concerning three women who had worked for a rental car company, which ultimately settled. "As a second-year student, he let me do a lot of work on cases that I was interested in," she says. Thome was hooked, and, upon graduating, opened up a solo plaintiff's employment practice in 1992.
Until she co-founded Baillon Thome Jozwiak & Wanta in 2011, Thome worked in a handful of locations, zigzagging throughout Minneapolis: The Lumber Exchange Building downtown, the intersection of Central and Hennepin in Northeast, Lyndale Avenue in Bloomington. She often shared the spaces with a handful of other plaintiff's lawyers.
"There were five of us office-sharing at one point," Culberth says. "That was unusual because, at that point in time, the law-firm model was very hierarchical. We developed a model that was cooperative and supportive. It made all of us better; it was a belief that the rising tide lifts all boats."
From 1993 to 1999, Thome also worked part time as a legal advocate for the Gay and Lesbian Community Action Council (GLCAC), now known as OutFront Minnesota. "There was a small list of gay and lesbian attorneys—and some allies—that were taking referrals from the organization," she says, noting that, in 1993, the Minnesota Human Rights Act was amended to add sexual orientation as a protected class. "We worked on everything from hate crimes to employment discrimination to custody and adoption issues to criminal issues."
Another part of the job was meeting with city council members, employees, students and police to educate them on sexual orientation. At times, Thome would talk with police chiefs about how to treat gay men who had been arrested for public sex. "We were working to change the way law enforcement were treating men who were just simply using a venue to be with a person," she says. "There was discrimination that went on."
In 1996, with the cooperation of OutFront, she helped found the Minnesota Lavender Bar Association. By 1999, Thome joined the board of the National Gay and Lesbian Law Association—an organization she would chair a few years later.
Case selection is always a difficult task for young lawyers working on contingency. "Joni's got a soft spot, so she's going to take a case where someone doesn't necessarily make … $100,000 per year," says Culberth. "It talks a lot about who Joni is. She was willing to take that road, and then support others along that way to stay true to her values: representing people who otherwise wouldn't have representation or be able to afford it."
"She'll take a case that's hard as hell—that 20 other lawyers will decline—because she feels for the person who has been wronged," adds Sheila Engelmeier, an employment attorney and mediator at Engelmeier & Umanah.
By the end of the decade, Thome was taking on precedent-setting cases.
In 1994, she represented a woman who had been sexually harassed by another woman. "Hennepin County argued it was immune from the Minnesota Human Rights Act," says Thome of Davis v. Hennepin County. "I appealed that. I was just a little baby lawyer, and there I was at the Court of Appeals arguing that this government entity needs to be held accountable to human rights, too. It was bold. I know that now; I didn't know it then." She still won.
Thome also took on Equal Employment Opportunity Commission v. Federal Express Corporation, a case involving a young man who had AIDS, in 2001. "He went on leave for treatment, and never quit his job," she says. "Three years later, he tried to go back to work, and they said they couldn't accommodate him. That was one of the first cases that acknowledged that HIV/AIDS is a disability. His case ultimately settled, and he died four months after the settlement."
The same year, Thome went to battle for a transgender woman who wasn't allowed to use the bathroom of her choice at work. Though she didn't win the case, employers are now often counseled to let transgender employees use the bathroom that aligns with their gender identity.
"Any type of discrimination is deeply emotional, and deeply disturbing. It goes right to the core of who you are or what you did or how you feel or who you love or what your gender or race is," she says. "A lot of times, especially for women, we have somebody standing up for themselves for the very first time and they come out of it feeling empowered and stronger."
Engelmeier first got to know Thome during a mediation 15 years ago, but she's faced off against her, too. When that's the case, Engelmeier describes her foe as, simply, "loud.
"My impression of Joni then is pretty much the same as now," she adds. "She is tremendously unique, super passionate and justice-minded. Many people fear her—and she is tough as hell. But she has a super-soft underbelly."
These days, Thome tends to get a lot of calls related to age discrimination, sexual harassment and retaliation, but two things have remained constant: She's still representing employees, and she's doing it her way.
"I grew up with that feeling that whatever I was going to do, I was going to do it how I was going to do it. My mom's quote about me was always, 'There's a right way, a wrong way, and there's Joni's way.'" 
Search attorney feature articles