Piece by Piece
Tom Muck has made a career out of assembling the puzzle that is tax law
Published in 2020 Minnesota Super Lawyers magazine on July 20, 2020
Updated on July 22, 2020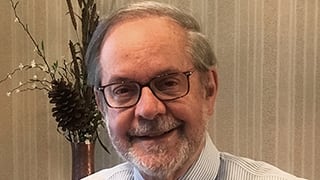 When it comes to tax law, there's rarely a simple answer.
That's why it's become Thomas R. Muck's lifeblood. A shareholder at Fredrikson & Byron in Minneapolis, Muck is able to find the drama and nuance in the arcane details of tax law.
"I like knowing a statutory system," he says. "It's like a puzzle."
While Muck's primary arena is the Minnesota Tax Court, he has also become a familiar face at the appellate, supreme and federal levels on behalf of an array of big-ticket clients that includes Amoco, Green Giant, Ticketmaster and Sprint. They'll call Muck with what they think is a simple question about sales tax, and the answer they receive is often anything but.
An example: "The sales tax in 1967 replaced the personal property tax," he says. "A sales tax is just a tax on a retail transaction between a merchant and the user of a product. Very simple. But then over the years, it branched out into all sorts of other things. There are several levels of analysis that you have to go through before you can arrive at a definitive answer: Does the statutory language qualify this as a transaction? If it's taxable, what's the taxable price? There are so many multi-state transactions now, so the answers are different all over the country.
"It's that complex web of analysis that's attractive to me."
Muck grew up in the southeastern Michigan town of Blissfield (current population approximately 3,270), the son of a building contractor and a schoolteacher. He was Blissfield High's class president in 1965. He calls it the highest elected office he's ever held.
He was inspired by his mom, who, although she was her high school's valedictorian, didn't get the degree that allowed her to teach until she was in her 40s, via night school. "She graduated from college the same year I graduated from high school," he says.
Muck attended college at the University of Michigan, 40 miles from home, majoring in economics. "The logic of economics is a lot like the logic in law," he says. "I saw it as a sound background for law.
After graduation from the University of Minnesota Law School in 1972, his first legal job was with the state attorney general's office. The tax division was his top choice, but it had no vacancies, so he went into general litigation, and later supervised the lawyers representing the state Department of Commerce.
"I was really fortunate to have started in the AG's office, because I worked with two really good people: Warren Spannaus, who was attorney general up until the early '80s; and then Skip Humphrey. A lot of us went there because we wanted to do some good, but it was just a great place to start out a career.
"They were great role models for the rest of us on the staff," he adds. "They taught us a lot about civility and just dealing with people on a fair basis. They were great advocates of the consumer."
While at the AG's office, Muck crossed paths with another rookie lawyer who would become a friend and colleague. Retired Supreme Court Justice Alan Page has had a chance to see Muck as a colleague, as a lawyer arguing before him, and as a longtime advisory board member of the Page Education Foundation, which provides scholarships to students of color.
"He's clear and his arguments are concise," says Page. "There's not a lot of fluff—straightforward and matter-of-fact. He's a lawyer who understands that the facts are what they are. You can trust what he says."
Page says Muck's contributions to his foundation have gone well beyond sharing his legal expertise. "He takes time to understand what we're doing," says Page. "He's high quality."
Muck was later appointed chief litigator at the Minnesota Department of Revenue. As a deputy AG for the department, he represented the state in complex corporate tax cases involving unitary taxation and other constitutional issues. 
"It was similar to the statutory regimes that govern some of the agencies that I represented," he recalls. "A complex statutory system is what tax is, so I sort of gravitated toward that type of environment and I welcomed it."
In one case that went to the Minnesota Supreme Court during his time representing the department of revenue, Muck showed that Westinghouse subsidiary Thermo King had not overpaid its state taxes over a five-year period. He did so by demonstrating that not only had the statute of limitations on the company's tax appeal expired, but it would have been invalid even if it had been filed in time.
He also oversaw the department's interests in bank refund cases that took on the issue of whether the department could tax interest on federal obligations. That case started at the district court level and also went all the way to the state Supreme Court. 
"I worked against some very great lawyers in that case: Bob Schnell and Walter Pickard of Faegre, Jim McCarthy of Lindquist & Vennum, and Chris Dietzen at Larkin Hoffman, who went on to become a Supreme Court justice," he says. 
In March 1991, Muck decided to begin representing businesses in tax cases instead of the government. "Fredrikson recruited me," he says, "and I knew of their reputation. Other people from the attorney general's office had gone to Fredrikson. They came to me; I interviewed with 'em; I went with 'em."
Muck is a believer in letting the work speak for itself. In conversation, he tends to lean back in his chair, and speaks quietly but with authority. 
"You attract clients by reputation," he says. "You want people to associate excellence with your name and excellence with your written work and your advocacy. You can't sit back and say, 'Well, this is a small-dollar case.'"
Then there's civility—the respect you show to other lawyers, whether or not they're on your side.
"In a fundamental way, you regard them as colleagues, and if they're on the other side, as opponents—not as enemies," he says. "Don't vilify people. Don't build it up in your mind. If they need an extension, let them have the extension."
The first hand he shook at Fredrikson was that of shareholder John Erhart, who interviewed him.
"He was interested in expanding his horizons," recalls Erhart. "He had been working at the state for some time, and wanted to look at things from the other side. I was impressed with him immediately."
Expanded horizons were exactly what he got. Over time, Muck was representing big-gun clients in a variety of tax matters. In one case, he was able to establish that Ticketmaster's convenience charges and processing fees, as notorious as they might be, are not subject to the admissions tax of the Minneapolis entertainment tax.
In 2003's Amoco Corporation and Affiliates v. Commissioner of Revenue, Muck represented the petroleum giant. At issue: whether a vertically integrated oil company could be taxed as one entity, from the production of petroleum all the way up to the finished product coming out of the gas nozzle.
Muck and his team relied on Skelly Oil Co. v. Commissioner of Taxation, a 1964 Minnesota Supreme Court verdict, which established that production and marketing operations constituted separate independent businesses because Skelly's production operations were carried on outside of Minnesota and its income was earned at the wellhead.
"We tapped earlier precedent and the current statutory test for what is the unitary business to convince the court that Amoco was not a unitary business that could be taxed by Minnesota," Muck says. "That was gratifying because unitary cases are always difficult cases on account of the factual issues they present."
Despite those high-profile state Supreme Court wins, Muck's customary arena is the Minnesota Tax Court, the specialized executive branch court that hears only tax-related cases. Because the court consists of only three tax judges, there's a familiarity to working there that Muck enjoys.
"All they hear is tax cases, so they understand tax cases," he says. "It's a smaller circle of people, and you tend to know them. That leads to an underlying tone of civility."
Muck, 73, has plans to wind down his career this summer. He's thankful for a three-decade run at Fredrikson, a firm with hundreds of lawyers that, Muck says, still maintains a small-firm feel—largely by virtue of having resisted merger overtures.
"We work together," he says. "We collaborate with each other. It's not like it's a huge organization where you're just an employee."
When he does step away from his practice, it will be to spend more time with his wife, Vicki, and devote more energy to the Page Foundation and to such pastimes as reading, fishing, home repairs, and yoga—a discipline that he's practiced for 25 years.
His colleagues will miss his drive and intellect.
"He's tenacious and creative," says Fredrikson shareholder Erhart. "When he has a problem, he keeps at it and looks at it from every angle until he can find the best argument or the best solution. He's always on the lookout for a different perspective." 
---
On the Tangibility of Subatomic Particles
Even tax lawyers get to be creative. Tom Muck did it successfully in Sprint Spectrum LP v. Commissioner of Revenue, which went to the Minnesota Supreme Court in 2004. 
At issue was the purchase of cellphone equipment. "The state said it was a service—it isn't tangible personal property," recalls Muck. "I made the argument that what Sprint sells are, in essence, electrons, which are tangible personal property. Little bits of matter."
Other Featured Articles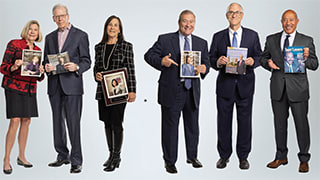 Front Runners
Six attorneys whose stories have graced our covers reflect on the last two decades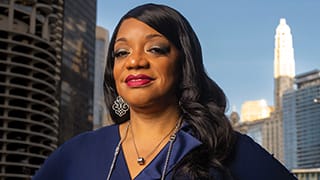 Faster, Harder, Stronger
Jeanne Gills honors her father in name, intellect and determination to uplift others Featuring Jeanne M. Gills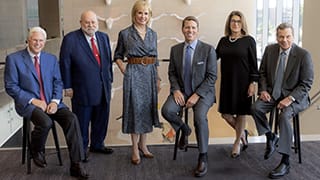 Going 20 for 20
Seven perennial Texas Super Lawyers listees reflect on the last 20 years Featuring Charla G. Aldous, Frank L. Branson, Deborah Hankinson, David E. Keltner, Mark Lanier, Richard Warren Mithoff, John Zavitsanos