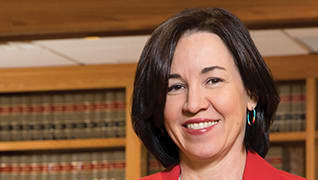 Photo by: Richard Fleischman
The Stabilizing Force
Vanya Hogen, always quick to defer credit, is a leader in Native American law and tribal sovereignty issues
Published in 2021 Minnesota Super Lawyers magazine
By Trevor Kupfer on July 20, 2021
Vanya Hogen grew up only seven miles from Pine Ridge Reservation in South Dakota, though it sometimes felt farther.
"I want to kick myself now for not talking to my grandmother about this, but she was hard to talk to about some things," she says. "My sense of it was there was so much racism, she did her best to fit into society and not give anyone any reason to treat her poorly because she was native. As a result, she didn't really encourage us to go to powwows or participate in cultural ceremonies. We didn't do much of that, and I wish we would have."
Over the decades that followed, as she's represented tribal nations and their business partners across the country, Hogen's name has become synonymous with staunch advocacy for Native American rights and tribal sovereignty. "I think through my work and connections in the native community—and especially the native legal community—that it has sort of filled in the gaps from when I was a kid," she says.
The challenges to tribal rights that happened back then haven't gone away. But neither has Hogen, and she has future generations in mind when she rolls up her sleeves.
"It's tough at times, but I don't get jaded," she says. "It just makes me want to work harder."
Hogen grew up in Kadoka, a town of about 800 just north of the reservation of the Oglala Sioux where her father was born. Her mom, a Spanish teacher, grew up in the Black Hills to a gold miner father and a mother who was a locally famous restaurant cook. 
"We pretty much knew everyone in town and were related to about half of them," Hogen says with a laugh, then adds, "No, seriously. … My grandparents had a ranch out of town. Our cousins would meet to play out there and, back then, Little House on the Prairie was very big, so we would often play Little House out on the prairie."
While she loved Kadoka as a child, that doesn't mean she never had to experience racism. "My parents tried to keep a lot of it from us, but we'd hear some talk about violent crimes that took place—a lot of fights, Indian guys getting beat up by local white boys," Hogen says. "I remember my dad prosecuted one young man in particular. He had a younger brother in my class and another sister, and those kids were relentless at teasing us."
They moved to Sioux Falls when she was in eighth grade, after her father was appointed U.S. attorney for South Dakota. Philip Hogen would later chair the Department of Justice's Indian Affairs subcommittee, as well as the National Indian Gaming Commission, and is now of counsel at his daughter's firm. "In Kadoka, he was the county attorney and had a private practice," Hogen says, "probably because he was the only lawyer in town."
New opportunities opened up to Hogen in Sioux Falls, but debate stands out most. "It was the best thing I did in high school, by far—even though I wasn't really great at it," she says. "When I got to college and later with the law, it made me very efficient at outlining a project, knowing what research to do, and then delivering my thoughts."
Hogen went to the U of M for political science, and stayed for her J.D. "I came into law school thinking, 'I would love to have my dad's job—be a federal prosecutor, pick which cases you do, be the boss,'" Hogen says. She remembers riding in the car as a kid, reading deposition transcripts out loud to her father so he could prepare. "Then, when he was U.S. attorney, he would tell me about jurisdictional issues, like the fact that if an Indian kills someone on a reservation, it's a federal crime, whereas if it involves non-Indians, it's a state crime. I thought it was fascinating that the laws could be so different."
She gave it a try as a law clerk at Hennepin County Attorney's Office. Then she clerked for Kurt BlueDog, and there was no looking back.
After graduating in 1993, Hogen spent six years with what was then BlueDog Law Office representing tribes. "Kurt gave me a lot of opportunities that most young lawyers don't get when they're first out of law school," she says. "I just loved it immediately."
Their biggest client was the Shakopee Mdewakanton Sioux Community. "There were a bunch of lawsuits filed in tribal courts—people seeking to become members, as well as members trying to keep others out—and I got to be lead counsel on a lot of those cases. So I got thrown into the fire right away," Hogen says. 
Henry M. Buffalo Jr. presided over Hogen's first appearance before SMSC Tribal Court. "It was interesting how nervous she was, because she's usually very confident," says Buffalo. "To top off her nervousness, she later told me that she felt like a migraine was coming on. But what impressed me most was how in control she was. It's something I'd come to know from working with her after: Adversity brings the best out in her."
Many of the SMSC cases came to a head in Smith v. Babbitt, in which members tried to stop tribal leadership from changing membership criteria. "We were co-counsel with Faegre & Benson on that case," Hogen says. "It was very exciting because I did a lot of the brief-writing on that case, it was my first time in federal court, and we won."
In 1999, Faegre recruited Hogen to grow its Indian law practice and introduced her to Kent Richey, a partner in the corporate finance group. "He knew nothing about Indian law, and I knew nothing about bond deals, so we taught each other," Hogen recalls. "It was interesting, because I had done no transactional work and then it was, 'OK, we're going to do this $60 million bond deal for a tribe in California, and we don't even know if slot machines are legal there.'"
As financings for casino developments piled up, Hogen was also balancing tribal litigation and governmental work. Then she became an election appeals judge for the Saginaw Chippewa Indian Tribe. 
"That was another baptism by fire," she says. "I would have to hold these hearings and, under election law, you had to issue a decision by 5 p.m. the next day. So sometimes it was an all-day evidentiary hearing, then stay up all night to get the opinion done."
In 2006, after one of the judges for the SMSC Tribal Court passed away, Hogen accepted an appointment and became a judge in January 2007; to avoid conflicts of interest, she joined a firm run by the other judges, Buffalo and John Jacobson. The judicial role is one she continues to this day—it takes up roughly a third of her time—hearing all manner of civil cases, from child protection to contract disputes.
Her defining characteristic as a judge and attorney, Buffalo says, is her work ethic: "She's very well prepared. Over time, her judicial demeanor has really developed—especially with the tougher cases and difficult people in the court. She started out, like everybody, trying to feel out the lay of the land, but what has served her best is her preparedness."
One example is Pourier v. South Dakota Department of Revenue, which dealt with taxation of motor fuel on reservations. "That one was personally gratifying because it involved a member of my tribe, it was a cutting-edge issue, and the South Dakota Supreme Court is historically not the most friendly court for Native Americans," she says. "We went into it thinking there's no way we could prevail."
Hogen credits Colette Routel, a colleague at Hogen Adams—which Hogen co-founded in St. Paul in 2013—with doing "an incredible amount of legislative history work" on the case.
"One of the great things about Vanya is she delegates a lot and really trusts people," Routel says of her mentor. "She has good judgment about the people she surrounds herself with and has no ego at all. I'm sure she lets people take credit for every case she's ever worked on."
Hogen remembers Pourier, as with all her cases, relative to her children. "I was pregnant with my daughter when I did the oral argument," she says. "Because of a statute of limitations issue, part of the case needed more briefing and needed to be re-argued, so Colette did that while I was on maternity leave."
"There's not many people who would let a third-year associate go re-argue their case before a supreme court," Routel says. Pourier went before the court two or three more times, Hogen says, "the last of which was when I was pregnant with my son, who is seven years younger than my daughter." 
Long timelines aren't unusual in her career. City of Duluth v. Fond du Lac Band of Lake Superior Chippewa concerned revenue sharing at Fond-du-Luth Casino. The two governments worked out a 1986 joint venture agreement, but after Congress passed the Indian Gaming Regulatory Act, the agreement was called into question. Hogen won at the Eighth Circuit Court of Appeals in 2013, but, she says, "It ended up in arbitration and administrative work before the National Indian Gaming Commission, and then there were separate related claims in state court at the trial, appellate and Supreme Court levels."
In the end, Hogen helped create cutting-edge law and saved the tribe millions of dollars. "The band was getting nothing from the city, so it was great to help them say, 'Nope, we don't have to keep paying you,'" she says.
In Wells Fargo v. Lake of the Torches Economic Development Corporation, Hogen and the legal team again applied IGRA, saved her client millions, and handled several related lawsuits at once. "When we were writing the Seventh Circuit brief, I was on maternity leave with my son," she says. "When we finally settled the case, my son was in first or second grade."
"There is a point when you wonder if the case will ever end," Routel adds. "But she kind of envisions all of these pieces from the beginning, prepares the client for it, and then maintains excitement about the matter years after starting to litigate it."
Then there's her even-keeled approach. "I could never picture her raising her voice to somebody, or even voicing strong feelings," Routel says. "It's very helpful as an attorney, because often in litigation there's a lot of crazy stuff going on. It also translates well to her being a judge, where a lot of those cases are volatile. She's a stabilizing force."
If there's a downside to Hogen's calm? "It was several years before I felt like I knew the real Vanya. She's got the stoic thing down, and I sometimes give her a hard time about that," Routel says with a laugh. 
In the last few years, Hogen has helped with two treaty cases in Wisconsin—one of which, Oneida Nation v. Village of Hobart, she worked alongside tribal law legend Arlinda Locklear. The other, which was decided in April, involves four tribes challenging the state over property taxes for lands allotted in a treaty dating back to 1854. "It was a win on treaty interpretation, but a loss in terms of ultimate tax consequences on many parcels," Hogen says, adding that she expects the case to be appealed.
These cases present some specific challenges. Not only are there debates about the meaning of the language, Hogen says, "but because they are written in another language, and the tribes were always at a disadvantage, treaties are supposed to be construed the way the Indians understood them. Often, we'll have linguists say things like, 'There is no word for boundary or reservation in that native language, so what did this mean for the treaty to say that?'"
It's not only dissecting the language of a treaty, either, she says, "but other treaties that lead up to that one, the notes taken by people who were present at the negotiations, and correspondence about the effectiveness of the translator."
While Hogen is quick to credit Routel for the research, Routel knows where to point when a case goes their way. "Vanya is incredible at coordinating a complex litigation strategy and pulling the pieces together," she says. "She's also a great brief writer. One thing I learned from her is, 'You shouldn't be proving to the judge that you're smart; you should be proving that this case is easy and it's obvious your client should win.'"
As though running a firm, presiding over a court, being a mom, and balancing lengthy cases aren't enough, Hogen has been part of organizations like Minnesota Center for Environmental Advocacy, The Nature Conservancy, and the Minnesota American Indian Bar. But Minnesota Urban Debate League holds special significance. 
"I got involved because my daughter, Cora, did debate at Highland Park," Hogen says. "The kids are so inspiring, and it has come a long way since I was in debate. It was fairly elitist back then—everyone wearing suits and looking like stereotypical young Republicans—but now it serves a population that wasn't typically involved: a lot of kids of color and a lot whose parents didn't go to college."
This spring, while Cora was considering which university to attend in the fall, Hogen's fifth-grader son, Vincent, was learning about the 13 colonies. "What they're learning definitely seems better than when I was a kid," she says. "At least I was happy to see in his social studies book which tribes were where, what the disputes were about, and who the leaders were—not a huge amount of detail, but some." 
Still, she's not ready to broach the full story with him—not during the pandemic, at least. "I don't want to completely overwhelm him with depressing facts," she says.
Hogen has seen other encouraging signs locally—such as Indigenous Peoples Day and Bde Maka Ska replacing Columbus Day and Lake Calhoun—but she can point to plenty of others that show racism is still prevalent nationwide. "Such as the fact that it took until 2020 to get rid of the Redskins name," she says.
She recently attended an online meeting of Tribal Women for Indigenous Nations, "an informal group of native women from around the country," she says. "Deb Haaland, Peggy Flanagan and Sharice Davids were so inspirational in speaking about the importance of coming together to support one another. Seeing more native women in leadership roles—that gives me hope."
At the time, Haaland had been nominated to become Secretary of the Interior. "That's huge to have a Native American cabinet member," Hogen says. "Finally, some attention is being paid to Native Americans. Whenever you hear talk about people of color, too often it feels like natives are left out of the conversation."
Search attorney feature articles