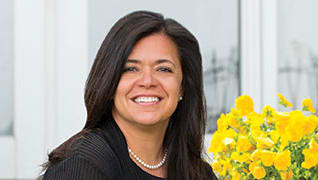 Photo by: Richard Fleischman
The Steady Boat in the Storm
Lymari Santana makes the most of every opportunity
Published in 2018 Minnesota Super Lawyers magazine
By Dan Heilman on July 5, 2018
Lymari J. Santana has been called on to wear many hats in her 49 years—student, military officer, paratrooper, JAG attorney; wife, daughter, mom, law partner and volunteer—and she's made them all fit. With Laurie Mack-Wagner, she currently runs Mack & Santana Law Offices in a space overlooking the Mississippi River in downtown Minneapolis.
Over 18 years in private practice, Santana has cultivated a reputation for tenacity and smarts that has made her a star in Minnesota's family law circles.
"As a family law attorney, it's easy to get lost in the details," says Minneapolis attorney and legal ethics expert Eric T. Cooperstein, who shared office space with Santana for five years. "Lymari makes sure to do all the administrative and practice-management things that are necessary to make a practice run, and yet is always there for her clients."
Santana grew up in Vega Alta and Bayamón along the northern coast of Puerto Rico. Higher education was a foregone conclusion in her family. Santana's paternal grandmother owned a store and had seven kids, with the only goal being that all of them would go to college.
"My grandmother had to drop out of school in fifth grade to go work and be able to survive," Santana says. "Going to school and getting a professional degree was an incredible achievement, because my grandparents didn't have that."
Santana's father became a lawyer, her mother an OB-GYN. "When I was a kid, I used to go to his law school classes with him because we didn't have someone to take care of me," she remembers. "The funny part is, years later, when my mom was talking to me about going to school, basically the conversation was, 'Which are you going to be? You're either a doctor or a lawyer.' Well, I knew I couldn't handle seeing blood. And watching my dad prepare for his cases, and seeing his passion for his work, really drew me to it."
Her family also inspired Santana to pursue the military as a way to earn money for college. Her maternal grandfather served in three wars, while her mother had a stint in the Navy. So after graduating from Antilles High School in Fort Buchanan, Santana earned an ROTC scholarship that paid for her undergraduate studies at the University of Puerto Rico, Rio Piedras, where she earned a degree in political science with honors in 1991.
"I loved the environment," she says. "It wasn't like everyone in this big family was telling me what to do—I was more than opinionated about studying what I wanted to study, and I had fun doing what young people do."
Santana earned her law degree from the Detroit College of Law, since renamed Michigan State University College of Law. After graduating and passing the bar, she returned to Puerto Rico before reporting for active duty. It was during this time that she met her husband-to-be, Minnesota native and former Navy SEAL Christopher Daeger. 
Santana had her eye on the private sector, but decided to hitch her wagon to the military for an extra year before entering private practice. From 1995 to 2000, she worked as an attorney at the rank of captain in the U.S. Army JAG Corps. For about six months, she advised soldiers and their families on family law issues, tax issues, consumer law, and wills and estates. She then was a prosecutor and administrative law attorney at Fort McClellan, Alabama, and served a tour as a criminal defense lawyer with the paratroopers of the 82nd Airborne Division. (Yes, she was a paratrooper; no, she no longer jumps.)
"I got to defend soldiers from all the different units on Fort Bragg, including some special forces cases," Santana recalls. "It was a lot of fun."
In 2000, she moved to Minnesota and started working for M. Sue Wilson Law Offices in Minnetonka, where she met her future law partner, Mack. The two split off to start their own practice in 2004, with a little help from colleagues.
"I was part of the Minnesota Hispanic Bar Association—still am—and their support and camaraderie was instrumental in helping me move forward with opening my own practice," Santana says. "The support from them, Laurie and our colleagues in the family law bar was really helpful. A lot of members, many of whom are now judges and senior partners at firms, offered mentorship, support, guidance and even referrals. It was an interesting transition for us, but comforting to know they are out there helping a lot of attorneys move forward in the profession."
Since then, Santana's docket has seldom been empty. Focusing exclusively on family law litigation, she has successfully represented clients in complex high-asset and high-net-worth divorce cases. She has navigated the emotional minefields of custody, parenting time and financial issues in divorce cases, paternity cases, post-divorce modifications and enforcement of court orders. She's also a qualified mediator under Rule 114.
"You're dealing with some really good people going through a really hard time, and they may not be at their best," Santana says. "We're at the front lines while families are being broken up and everyone's finances are in flux. We have to be the steady boat in the storm, the ones who guide them through a crisis. So you have to have a passion for it."
Passion and empathy are good; but don't forget about her strong backbone.
"She's a pit bull in the courtroom," says Ellen Boss Krohn, whom Santana represented in a protracted custody battle. "I had interviewed many lawyers, because my situation was really unique. Everyone in this situation says the father of their child is crazy, but she was the only one who actually listened to my story. In the courtroom, she takes that same vested interest. She is at your side during the worst times, but she knows the law and is very logical. It's not just a case to her; it's personal, and that makes her a better lawyer."
More than once, Santana caught Krohn's ex in an inconsistency.
"She would say, 'Wait a minute,' and dig through the file," recalls Krohn. "A little while later it would be, 'Look, that's not what you said before,' and she would completely contradict him. She's got the mind trap of an elephant."
Like many family attorneys, Santana has had plenty of cases full of precious and painful moments. She represented a man whose ex-wife seemed to be taking extreme pains to keep him from his daughter. Then the ex went through a second divorce.
"I brought a motion to modify custody and to get her back with her dad, and he came in and testified that there was a plan to keep my client away from his daughter," Santana says. "It was an extremely complicated, very high-conflict case with an eight-day trial that had 10 years of history involved. It was really dramatic.
"Now I get a Christmas card every year with a picture of [his family]. And when I see that I think: That's why I do what I do."
Her own family came about as a result of her military work. She was in Puerto Rico on leave before going on active duty in 1995 and met Daeger when he was training at the nearby Roosevelt "Rosey" Roads naval base. As it happened, Santana's later officer basic course was at the University of Virginia—and Daeger was stationed in Virginia Beach.
The two married in 1996. When the couple was deciding where to live, Daeger lucked into the perfect day to sell his bride on Minnesota. "It was beautiful and sunny and not humid," she says with a laugh. "We went to Lake Calhoun and I thought, 'Oh, I love it here.'"
Santana and Daeger, a retired Minneapolis firefighter, live on Medicine Lake in Plymouth with their young son, Cyrus. When she's not working, she runs, watches movies and spends time on the lake.
"I'm pretty sure we have the only pontoon boat on Medicine Lake with a Puerto Rican flag," she says. "Running a firm, even with a partner as great as Laurie, takes an incredible amount of time and energy. So family time is precious to me."
Santana has worked as a legal volunteer for the Hennepin County Family Court Services' settlement program and with the legal clinics at Tubman, helping Spanish speakers who struggle with English. 
If Santana has a philosophy on practicing law, it's this: Diagnose the problem, have a guiding policy, follow through with coherent action.
"On Sunday night, when I'm thinking about what the week will look like, I go, 'OK, what's waiting for me?'" she says. "Because you never know. You have to be the type of person who can deal with change in real time. And you have to be passionate and committed to it. Because if you're not, I just don't know how you can do this work."
---
Relief for Puerto Rico
Santana grew up in an environment where family was everything: Scores of cousins, aunts, uncles and others were a fixture in her life. "We did everything together," she recalls of her cousins. "It was a vibrant, rich childhood."
While Santana has lived in the Twin Cities since 2000, all of her family apart from one sister is still in Puerto Rico—and they, like millions of their neighbors, suffered at the hands of Hurricane Maria in late 2017.
The deadliest hurricane on record in that part of the world, Maria caused catastrophic damage and numerous fatalities across the northeastern Caribbean. On Puerto Rico, it left 3.4 million without electricity or clean water. Death toll estimates range in the thousands.
"It's had a devastating effect," she says. "People are standing in line for three hours to get water. One of my mom's uncles died of a heart attack, and we suspect it was because he couldn't escape the heat.
"My mother, who is a strong, professional woman, called me to say, 'I don't know where I'm going to get money to buy food because the banks are all closed.' It killed me to get a desperate phone call from the woman who has always been the rock in our family."
Apart from assisting her own family, Santana has become involved with broader relief efforts, lending her support to Coalición de Boricuas en Minnesota, a nonprofit community organization that focuses on relief work in Puerto Rico. Last October, she attended a CLE event put on by the Minnesota chapter of the American Academy of Matrimonial Lawyers, where they let her do some fundraising. "It was incredible—I got a lot of support from colleagues," Santana says. 
"I've found that if you just take a minute to talk about it, people want to help."
To help, go to: givemn.org/fundraiser/puerto-rico-hurricane-relief-coalicin-boricuas-en-minnesota5a028f0cd077e
Search attorney feature articles