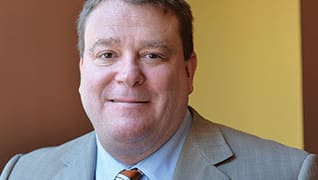 Photo by: Don Ipock
'It Matters to Me What Happens to Them'
Michael Yonke makes his mark in both civil and criminal court
Published in 2014 Missouri & Kansas Super Lawyers magazine
By Karin Beuerlein on October 9, 2014
Michael Yonke doesn't list criminal defense as a practice area on his website. He's a civil litigator by trade. But if a significant federal criminal defense case comes to his door, sometimes he just can't say no. "I just really enjoy federal criminal cases," Yonke says. "I know people in criminal think I'm crazy for saying that."
Few attorneys who take on both criminal and civil work reach his level of success. He once won a criminal acquittal and a $1.4 million judgment in a civil case in the same building, Kansas City's federal courthouse, in the same year.
"Mike is one of the rare lawyers who is willing and able to keep up with what it takes to be conversant in both civil and criminal procedures," says Kansas City trial lawyer Kevin E.J. Regan, Yonke's mentor and friend since Yonke was a boy. "A good lawyer is a good problem solver. A great lawyer can solve difficult and complex problems consistently. That's Mike. He wins cases other lawyers would turn down."
So what if Yonke had to review 20,000 documents and 40,000 wire intercepts for his last federal case? So what if the government enjoys a 93 percent conviction rate in federal cases and has months to prepare while the defense often has to scramble to get up to speed? So what if there's precious little leeway in sentencing? It's all in a day's work for Yonke—or a night's work, since his everyday work is trying civil cases on behalf of plaintiffs.
"I never considered, at any time in my career, handling the defense side of civil cases," he says. "On the plaintiff's side, you really have an opportunity to have an impact on a person who has suffered losses—but you also have the unique opportunity to make the world a safer place."
How does he make the mindset switch to defending alleged criminals? He says the two things aren't so different. "You're still protecting someone's constitutional rights," he says. "Just because someone gets caught up in a big federal indictment doesn't mean they're guilty, or that their responsibility rises to the level the government says it does."
For Yonke, it's all about justice.
That's something he learned from his dad. Albert Yonke was a well-known labor attorney in Kansas City, who, 40 years old when Michael was born, was in the prime of his career by the time his son was old enough to catch a bus downtown and watch him try cases. "I had a great relationship with him, and it became even better the older I got," Yonke says. Albert passed away in 2011 at the age of 84.
Yonke followed his father's footsteps through law school at the University of Missouri, Kansas City, and eventually joined his firm, where Yonke was able to team up with Albert to successfully try a wrongful death case. "Actually, I don't know if 'team' is the right word," Yonke says with a laugh. "I think I was told what to do—I was a little puppy lawyer at the time. But it was a great experience to get to do that. It was the only case we ever tried together.
"My dad was the greatest influence on my life," he adds. "He taught me that people are much more important than money, and that's how you should approach the practice of law."
Eventually he did it on his own. His father was winding down his career, preparing to retire, and Yonke wanted to focus purely on trial work. There's nothing more thrilling to me than trying a case," he says. So he founded Yonke & Pottenger in 2001, which became Yonke Law in 2012.
His civil work spans a variety of practice areas, including wrongful death, slip and fall and medical malpractice, and has resulted in several multimillion-dollar settlements and verdicts. "I particularly love medical malpractice cases because you're doing battle with a doctor—someone who's obviously intelligent and knows the medicine," Yonke says, "so it's very challenging. That's what I enjoy."
His criminal cases delve into completely different territory—drug trafficking, for example—and the clients are occasionally high profile; one notable defendant was former Chiefs wide receiver Tamarick Vanover. He also won an acquittal for a client in a complex multi-defendant federal case stemming from a drug sting. It became clear during cross-examination that the government's witness, not Yonke's client, was the most culpable party. "It was fun to expose how this violent individual who was, in fact, running narcotics through Lawrence and Kansas City was the one who became the government's lead witness and the one who they wanted to cut a great break to," he says.
Yonke sees his mission as protecting those who can't protect themselves. And, in some cases, getting justice in civil court when none can be had elsewhere.
That was the case for the family of Frederick Charles Jones Jr., affectionately known to friends as "Little Charlie." A 21-year-old man suffering from schizophrenia, he was shot to death outside a Kansas City convenience store on Sept. 3, 2010, allegedly by a new employee of the store, Akbar Rana.
According to Yonke, Jones, who had difficulty staying employed because of his mental illness, was a well-known regular at the store and frequently panhandled outside it. Allegedly, Rana, a large, muscular man, confronted the physically slight Jones and asked him to leave the premises. Jones refused and became agitated; Rana and a fellow employee wrestled him to the ground and used a taser on him twice. When Jones got up and tried to run away, Rana shot him in the back with a pistol, struck him with the gun and kicked him in the jaw.
"It was a completely senseless death," says Yonke, who represented Jones' father in a lawsuit against the corporation that owned the gas station and Shell Oil Co., which had a fuel contract with the station. "These acts were despicable, unconscionable."
The obvious question—why?—may never be answered; Rana fled the country after being charged with voluntary manslaughter and armed criminal action. But Yonke and the other plaintiffs' attorneys were able to demonstrate, using Rana's application for employment, that he had been hired explicitly to provide store security. "Employees of convenience stores are not allowed to carry firearms or weapons because they don't have the appropriate training," Yonke says. "It was clearly shown that the managers knew he was carrying a firearm all week and did nothing about it, even though they said that their policy was 'no firearms.' That's a breach in the industry standard of care."
The judge approved a settlement in excess of $3 million, which Yonke sees as a clear message to convenience store owners. "These independently owned gas station companies that have major oil company names on them have to operate within industry standards," he says. But more than that, it provides a measure of comfort and closure to Jones' parents, who likely won't get their day in criminal court.
Yonke still keeps in touch with Jones' dad, often just to talk. That's pretty standard for him. "My clients aren't a payday to me. They aren't just a file," he says. "Their pain affects me. It matters to me what happens to them."
The same goes for Ron Stout, a retired sporting goods manager whose wife passed away after being improperly treated for a strep infection in her blood that spread to her heart. Yonke joined his case to contribute medical malpractice expertise, and they've been friends ever since. "Mike studied all the medical aspects of my case and at times, it was like he knew as much or more as the doctors who were testifying," Stout says. "It was amazing to me that a lawyer could learn that much about medicine that quickly." The jury returned a verdict of $728,000 in Stout's favor.
Now he and Yonke catch an occasional Royals game or talk about plans to play golf. "This was a pretty emotional case and it took a long period of time to try," Stout says. "Mike really became part of my family."
Regan says that's the difference between Yonke and lawyers who aren't as successful. "Many lawyers are in this for fame, fortune or financial gain," he says. "Mike Yonke, like his father, is in this for the love of the people he serves."
Search attorney feature articles
Helpful links
Other featured articles
That's how it feels to work side-by-side with trailblazer Sherrie Savett
Three attorneys credit their passion, resolve and success to their paralegal pasts
Joanna Adu connects with clients caring for loved ones with disabilities
View more articles featuring lawyers
Find top lawyers with confidence
The Super Lawyers patented selection process is peer influenced and research driven, selecting the top 5% of attorneys to the Super Lawyers lists each year. We know lawyers and make it easy to connect with them.
Find a lawyer near you