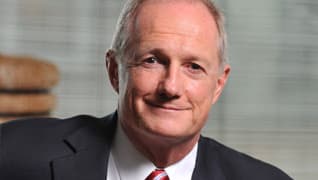 Photo by: Don Ipock
The Good Seed
Don Downing grew up around Missouri cotton, soy and rice farms. So when a genetically modified seed ended up in the U.S. rice supply, he got the call.
Published in 2012 Missouri & Kansas Super Lawyers magazine
By Beth Taylor on October 15, 2012
Long summer days spent swinging bats and helping out on the family farm—these are the images that come to mind when Don Downing thinks back on his childhood near Kennett, Mo.
"I lived and breathed baseball back in those days," Downing recalls. "My dad would bring me to the Cardinals games once or twice a summer. After one of the trips, I asked my dad, 'How are the Cardinals going to find me down here?' He said, 'Son, if you're good enough, they'll find you.' Well, I guess I wasn't good enough, because they never found me."
Not that Downing is complaining about the direction his life took. Instead of playing in the Major Leagues, he ended up in a career that has taken him to the U.S. Supreme Court four times and enabled him to score big wins for clients ranging from major corporations to small family farmers. One of those, a $750 million settlement, is being paid out this year to rice farmers whose crops were contaminated with genetically modified seed. That victory was especially sweet for Downing.
"Farmers have a special place in my heart, given that my uncles and a lot of my cousins still farm down there [in Southeastern Missouri]," he says. "I think farmers are just generally wonderful people. They've worked very hard; they're typically honest; they're not litigious people at all. They sort of go by the motto, 'If you do harm to your neighbor you make it right.' I think that's what was galling them about this situation: that they were suffering because of this contamination, but the defendant had not stepped up to the plate and offered to make it right."
The genetically modified seed, which Bayer CropScience was developing at Louisiana State University, was designed to be herbicide-tolerant. The seed's selling point was that the farmers who used it could spray Bayer-brand herbicide to kill weeds without damaging their crops. But the seed—which had not yet been approved for human consumption—somehow ended up in the U.S. rice supply.
There are varying theories on how this happened. One story goes that pollen from Bayer's experimental field, where the modified seed was being developed, drifted over to nearby fields, took root and began to spread. Although Downing notes nothing has been proven, one thing is certain: When the Department of Agriculture announced the contamination, the European Union—which has stricter standards than the U.S. and up to that point, had been a major purchaser of U.S. long-grain rice—bowed out.
"They flat out would not take any," says Downing. "To this day, the European Union is still taking very little U.S. long-grain rice."
Rice prices plummeted, and many farmers had to let valuable land lie fallow or plant less lucrative crops, like soy, to crowd out any of the remaining rice seed. That's when Downing's phone began to ring. Many farmers knew him because he had grown up around cotton, soy and rice farms. They also knew he had represented farmers in the past.
That's how Downing became the co-lead plaintiff's attorney for rice farmers across the country in a five-year, multidistrict mass tort against Bayer. The judge decided to hold several bellwether trials to give the plaintiffs and defense a taste of how juries would react. Downing's side kept winning, so a settlement was reached.
"When we tried our first bellwether case," he recalls, "our plaintiff was a fellow by the name of Ken Bell. He was a big, big rice farmer: big in terms of acreage and big in terms of physical stature. … It's always exciting in a courtroom when the jury comes back in with a verdict, particularly when you've been in trial for a month or longer and everybody's waiting with bated breath. When the verdict was read and they found for the plaintiff … Ken Bell was there with tears streaming down his face and he wrapped me in this huge bear hug that just about broke my back.
"I've represented many corporations over the years and there are a lot of great people at corporations in this country, but the appreciation from the client and the fulfillment that I get from helping a person like Ken Bell, it's extraordinary."
Mark Ferguson, with Bartlit Beck Herman Palenchar & Scott in Chicago, was the lead trial lawyer for Bayer in the bellwether cases. He tips his hat to his opponent: "I have respect for Don as an adversary, and I like him as a person. His style is direct, passionate and very competent."
As successful as Downing has been as an attorney, practicing law wasn't even his second career choice. After turning in his baseball uniform, he set his sights on politics. Downing's father, in addition to owning farms and a cotton gin, was a Democratic state representative for Southeastern Missouri. As a child, Downing campaigned door to door for his dad—and also for Lyndon Johnson. "I remember, when I was just a little kid, passing out 'LBJ for the USA' buttons," he says. "I [ultimately] went to law school because I thought I wanted to be a politician. It turns out I wanted to be a lawyer. I just didn't know it at the time."
His alma mater, the University of Missouri School of Law, honored him with its highest award, the Citation of Merit, in 2011—the year he settled the rice litigation.
"To know Don is to like him," says R. Lawrence Dessem, who was the university's dean of law at the time. "[He] has a wonderful, practical wisdom as to how other people see the world."
The reason Downing opted for law? For one thing, he took a semester off from law school to work on Tom Eagleton's senatorial campaign in 1980, only to find that politicians spend much of their time dialing for dollars. "It's so foreign to, I think, the way our Founding Fathers envisioned [the election process]," he says. "Then when I actually got out and started practicing law and started to really enjoy the practice, I think that was what convinced me that law was something I was better suited for than politics."
After clerking for a federal judge for two years, Downing went to work for the precursor firm to Stinson Morrison Hecker in Kansas City, Mo., where he practiced business litigation until Gov. Jay Nixon, then the state's attorney general, asked him to be his deputy attorney general in 1993. For Downing, it was a dream job. For the next three years, he managed 170 lawyers, handled everything from consumer protection to school desegregation cases, and made four trips to the U.S. Supreme Court, one of which saw him arguing before the justices.
The case, in 1994, involved an esoteric legal issue: whether a state use tax was constitutional. "To make a very long story short, the day after the decision came down, The Kansas City Star's headline was [something like] 'State Wins Tax Case,' and the headline on the St. Louis Post-Dispatch the same day was 'State Loses Tax Case.' It was an interesting result, based on the way it applied in different counties—whether the sales tax exceeded the use tax or not."
Some of the early questions came from Justice Antonin Scalia. Nixon, seated beside Downing, later told him that Scalia seemed to be testing him; when Downing answered the questions promptly, even referring to specific law review articles, the justice seemed satisfied.
"That was the view of the attorney general: that I was being tested and I passed the test," says Downing. "Therefore, they didn't go after me just for sport after that—which they do sometimes."
"Whether it has been as deputy attorney general, as a curator for the University of Missouri or in his private practice, Don has always worked very hard in representing his clients and in serving the people of Missouri," says Nixon. "I've appreciated Don using both his abilities as an attorney and his thoughtfulness and passion as someone who cares deeply about Missouri on behalf of our state."
After the attorney general's office, Downing went back to Stinson, this time heading up the firm's St. Louis office, where he was able to do some, but not enough, plaintiff's work."Most big law firms represent big corporate defendants, and I was finding it increasingly difficult, because of the size of our firm, to represent the little guys," Downing says. "Anytime I had someone approach me about that, I'd have to run a conflicts check to make sure that we didn't represent the defendant."
Working on a case, Downing met Maurice B. Graham, partner at Gray, Ritter & Graham. "He was from the other firm, but we were joint counsel," Graham says. "It became readily apparent to me that he was just an outstanding lawyer." Graham went back to his partners; soon they made Downing an offer.
"What is unique about him is his ability to work extremely hard on behalf of his clients and to make extremely complex issues easy to understand," Graham says. "I can't imagine any significant farmers' litigation in the Midwest that he wouldn't be involved in."
Downing says his experiences working on consumer protection cases at the attorney general's office stayed with him. "It sort of opened my eyes to representing the little guy against corporate America sometimes, as opposed to representing corporate America," he says. "I just decided I'd done about half of my career representing big corporations, and I was going to spend the other half of my career representing the little guy."
Search attorney feature articles