Up to Chapter 19
Corporate litigator Charley German specializes in high-stakes storytelling
Published in 2013 Missouri & Kansas Super Lawyers magazine on October 14, 2013
Updated on October 16, 2013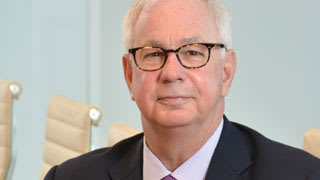 When Hallmark Cards Inc. won a long-standing dispute over stolen trade secrets in November 2012, its co-lead attorney, Charley German of Rouse Hendricks German May in Kansas City, Mo., wasn't terribly surprised.
"I thought we were going to win a verdict from the first day of the trial," German says. "I liked the jury and I thought our stories were compelling."
What did turn his head, however, was the amount of punitive damages—$10 million of an overall $31.3 million award. "That," he says, "we didn't see coming."
Hallmark, a company that's both privately held and fiercely private, hired a consulting firm, Monitor Company Group, to evaluate its business model top to bottom in the early 2000s—back when the rise of the digital age was making greeting card manufacturers nervous. In the process, Hallmark bared its soul, both strategically and financially. Then, Hallmark alleged, Monitor took its sensitive data and passed it to a related private equity firm, Monitor Clipper Partners, which then used it to acquire and manage a Hallmark competitor, Recycled Paper Greetings.
But Hallmark prefers not to disclose its financial information to the public, and German's team chose not to show actual damages at the trial. "We couldn't show that theft of trade secrets had caused us to lose market share or customers," says German, who tried the case with John Aisenbrey of Stinson Morrison Hecker. "So we presented the jury with an economic model that estimated what royalties Clipper would have had to pay Hallmark if they had licensed the information rather than stolen it." The jury found the model so compelling that it awarded $21.3 million in lost royalties plus $10 million in punitive damages.
The case is currently on appeal.
"Keep in mind that this is Hallmark's view of the case," German says, "not Clipper's. Here's what Clipper would say: that stuff wasn't worth anything, it wasn't worth stealing, we didn't steal it, it was inadvertent, it was one little email, nobody looked at it, we didn't use it, it was all public information anyway, we would never have licensed it, it's a ridiculous theory, your economist is a hack, he doesn't know what he's talking about, and he shouldn't be permitted to testify."
German stops. "I think I tell their version of the story better than they did."
It's German's knack for telling a riveting tale that makes him such an effective litigator, handling complex criminal and civil cases in corporate governance, finance and intellectual property. Storytelling is the key, he says, to getting a jury to care about a corporate plaintiff or defendant. "The average guy on the street really couldn't care less that your depreciation deductions were crimped by 19 percent in 1997," he says. "That doesn't resonate with most people. You talk about how the client built the business and what it means for the family and the employees and the customers. You have to try to tell your story in a way that causes jurors to anticipate what's coming next: You tell the story up to Chapter 19, and they fill in Chapter 20. The great trial lawyers I admire really have that ability to weave a story."
Jeremy M. Suhr, an associate at Rouse Hendricks German May, and German's colleague on the Hallmark case, agrees. "In working with Charley," he says, "I've been impressed by his ability to have mastery of all the details and minutiae of a complex case, yet also present a simple and compelling story." Plus, he says, German's sense of humor is often the valve that lets off steam in the pressure cooker of the courtroom.
"I've always been able to put the stress, the pressure, the emotions aside," German says, "and focus on taking baby steps in the case, from one point to the next. I don't worry that much about the amount of dollars involved or the consequences of losing. You just can't think that way—you have to focus on telling your story."
Sometimes, though, stories aren't enough. Not all of German's clients have been boardroom types: In August 1983, German was appointed by a federal judge to represent convicted murderer Doyle James Williams in his federal post-conviction proceedings. "That's the only case I've ever handled where somebody's life hung in the balance," he says. "It was both a very serious and a very thrilling case—handling the appeals, the arguments, the briefing. And the background investigation: I took a trip to North Carolina to meet his family in the early '90s, and [a relative] picked me up at the airport in a stolen Cadillac. I said, 'Geez, pretty nice car, where'd you get it?' And he says, 'Don't ask. From Florida.'"
German and his family—his wife, Jan, and children, Sarah and Charles Jr.—became close to Williams and his family as the post-conviction process dragged out over 13 years. Ultimately, the final petition for a stay of execution was denied, and Williams was put to death on April 10, 1996. "Jan took it really hard, as hard as I did," German says. "Through Christmas cards and letters, we'd gotten to know each other's families, watched each other's children grow up. It was a life-altering case, one that shaped the way I view many things."
A past president of the Kansas City Metropolitan Bar Association, German was given the organization's Presidential Award in 2011 for his pro bono work helping the homeless. "In the mid-2000s, we started having a significant downtown revitalization in Kansas City," he says. "I started to notice there were more and more vagrants on the street, which I thought wasn't a good image for downtown. I actually came into this work for the wrong reasons."
But in exploring potential solutions, German discovered that most homeless people were not stereotypical panhandlers. In fact, 50 percent of Kansas City's homeless were families with children, many of whom couldn't get Social Security or unemployment benefits because of petty brushes with the law. It was a light bulb moment. It was often the legal system that had failed these people, so who better than a lawyer to spearhead a change?
German started gathering input from all avenues of the system, from police chiefs to politicians to social workers. "We talked about what we could do as a community to create opportunities for people falling into homelessness through foreclosure, electricity shutoffs, losing their jobs, getting injured or arrested, mental health issues, and so on—how to strengthen the safety net that's supposed to be there," he says.
The group persuaded the city council to establish a task force by ordinance, and as chair of that task force, German approached other jurisdictions in the hope of connecting large numbers of people "with the means and the ability to do things—food banks, schools, land developers and so on," he says. "Almost everybody agreed: We got five counties, two states, two cities and major suburban communities on board."
Six years later, the multidisciplinary effort is still going strong, and German was finally able to step away in 2012 and absorb the results. Although monitoring outcomes among the homeless is difficult because of their inherent mobility, he says, the task force is having a real effect. Even in the early stages of the program, new housing, employment and transportation opportunities have been created, and local school districts are reporting decreased numbers of homeless children. Also in 2012, the task force was accepted to the Mid-America Regional Council, a nonprofit association of city and county governments that promotes regional cooperation across greater Kansas City.
Now that he's handed over the reins, German looks forward to spending more time with Jan at the Lake of the Ozarks, and continuing to accept cases that intrigue him. "I'm at the stage of my life where if I don't believe in the case or don't connect with the client, I just don't take it on," German says. "If I take the case, I think our side is right, that we ought to prevail, and it's up to me to make that happen."
Other Featured Articles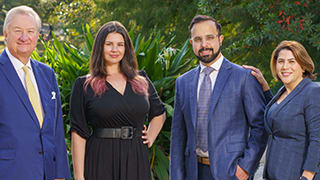 New Frontier
Four immigrant attorneys talk about their paths to law Featuring Erzsebet Pifko, George J. Fowler, III, , Pablo Isaza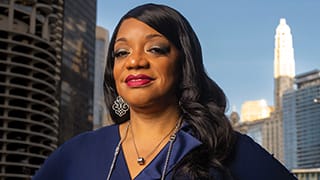 Faster, Harder, Stronger
Jeanne Gills honors her father in name, intellect and determination to uplift others Featuring Jeanne M. Gills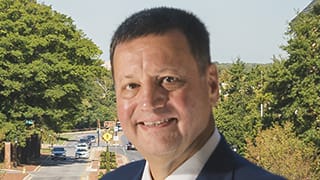 On the Wall for Justice
For Bruce Plaxen, it's about the law, his clients, and what's right Featuring Bruce M. Plaxen