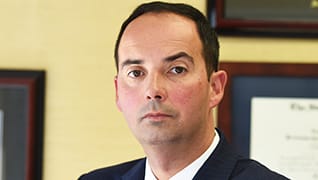 Photo by: Submission
'A Massive Wave of Death'
Paul da Costa represents victims from the facilities ranking first and second in the country for COVID-19 deaths at veterans homes
Published in 2021 New Jersey Super Lawyers magazine
By Andrew Brandt on March 23, 2021
In early May 2020, Paul M. da Costa got a call from a woman whose father had died from COVID and whose uncle had gotten the virus but survived. Both had been residents of the Veterans Memorial Home at Menlo Park, and she said her story wasn't uncommon.
"She presented it to me as, 'There's not only smoke—there's fire,'" says da Costa. "Ultimately, she was more than right: There was a wildfire of epic proportions that could not be ultimately controlled by the people running this facility. They're the ones who threw gas on the fire, and made it spread. … It's mind-boggling the amount of mass death that occurred."
According to da Costa, Menlo had 302 patients when its doors were shut to the public on March 13. Pre-COVID, the home averaged about eight deaths per month. In April 2020, there were about 100. By late June, there were only 167 patients left.
Da Costa notes that while Menlo had COVID cases as of March 29, the home didn't disclose that information to families or residents until a letter dated April 7. He claims a similar pattern played out at the Paramus Veterans Memorial Home, at which 81 residents died from COVID last spring. He says one client there told him: "'My mom was transferred to the hospital on March 29, and on April 1 she was dead of COVID.'"
Da Costa has been retained by more than 75 families who lost loved ones at either Menlo or Paramus—ranked first and second in veterans-home COVID deaths in the U.S., respectively. He's also representing approximately 20 employees or their family members. 
The cases will be filed as individual suits on behalf of each client. Because the state is the primary defendant, no suit can be filed until six months from the day the initial tort claims notice was filed, meaning da Costa can begin filing in early 2021.
That's given him plenty of time to put together what he says is a clear picture of gross negligence and reckless conduct. One of the more disturbing facts he's gathered after talking with clients is the facilities' seeming unwillingness to let employees wear masks or gloves until mid- to late April, in an apparent bid to downplay the severity of COVID.
"There may have been reports in the media that certain facilities were rationing PPE. In this case, it's completely different: We have every reason to believe they had the PPE, but the staff were outright told, 'You're forbidden from wearing it,'" says da Costa, noting he has an email laying out four tiers of discipline for staff who wore masks. 
By summer, COVID deaths at the homes had slowed, but da Costa's work was beginning to ramp up. First, the media came calling. "There was a symbiotic situation where the media did a yeoman's job in getting the truth out and moving the ball down the field in terms of getting the public to know what happened," he says. 
Then, in August, he spoke in front of a joint session discussing nursing home reform bills between the Assembly Aging and Senior Services Committee and the New Jersey State Senate Health, Human Services and Senior Citizens Committee. 
Unfortunately, the latter is a committee he's familiar with—he appeared before it in December 2018, after an adenovirus outbreak at the Wanaque Center for Nursing & Rehabilitation killed 11 children. Afterward, a law was mandated that long-term care facilities had to have infectious disease outbreak plans in place by January 2020. The bill did not require every facility to submit its plans and, as a result, da Costa says he doesn't know if the homes had any. "But to the extent they had a plan in place, it was woefully insufficient and certainly not followed," he adds.
"When you deconstruct it, what are these COVID cases all about? They're about an infectious disease outbreak and the mishandling of it," says da Costa, who represents 13 families in ongoing adenovirus settlement discussions. "Those kids who perished at Wanaque, I like to think their deaths were not in vain, but were serving as a warning siren for what was coming. … These two veterans homes were the epitome of mismanagement." 
After a September protest outside the Menlo facility, the governor fired the CEOs of both homes. The state attorney general's office has subsequently opened an investigation, as has the Department of Justice. "I can only hope their leadership has started dotting i's and crossing t's," da Costa says. "The massive wave of death that washed over these facilities in April and May, thankfully, is no longer happening."
Da Costa expects the state to raise an immunity defense pursuant to the Immunity Bill passed in April, which states that health care workers or institutions dealing with COVID are immune from claims of ordinary negligence. While the bill has exceptions for cases of gross negligence and reckless and willful conduct, he expects the defense will argue it regardless.  
"Certainly, it's a hurdle," he says. "But I'm seeking accountability, and full justice."
Search attorney feature articles