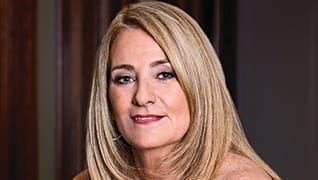 Photo by: Luigi Ciuffetelli
Her Brand is Crisis
Got a $2.8 billion-dollar problem? Give Kathleen Einhorn a week
Published in 2019 New Jersey Super Lawyers magazine
By Matt Amis on April 4, 2019
When the behemoth American Dream mega-mall finally opens its doors this spring in East Rutherford, Kathleen Barnett Einhorn deserves a plaque on the 287-foot Ferris wheel. Or at least an all-time golden ticket ride pass for her work on a project that has spun in circles more often than it made forward progress.
The notorious retail mecca near the Meadowlands Sports Complex—on track at press time to open in April—is expected to draw 40 million visitors a year, inject the state with $3.5 billion in tax revenue over the next two decades, and create thousands of new jobs.
Most New Jerseyans know the tale, which has more twists and turns than Scandal. Conceived in 2002 as the neon-splashed Xanadu, the property was pegged to be the Disneyland of the Mid-Atlantic, with shopping, theme parks, water slides, an NHL-sized ice rink and the tallest Ferris wheel in North America. But year after year, it was besieged by a seemingly endless parade of lawsuits, political turmoil, funding gaps and construction delays. The project's construction drew the ire of everyone from the Sierra Club to the Federal Aviation Administration to the New York Jets. The frequent halts and front-page embarrassments led a local news outlet to call it a "colossal real estate nightmare." Former Gov. Chris Christie called it "the ugliest building in all of New Jersey."
The latest in the drama came in September 2016, when a taxpayer advocacy group called the New Jersey Alliance for Fiscal Integrity attempted to stage yet another roadblock by contesting a complex bond sale that would net more than a billion in proceeds and pave the way for billions more in private investments.
On the line: $2.8 billion in funding that would ensure finished construction and effectively end 15 years of development hell.
"A lot of people crumble under that kind of pressure. We're talking the extreme," Einhorn says, pausing. "Yeah. That's actually what I like about what we do."
By the time it reached Einhorn and her team at Newark-based Genova Burns, where she chairs the complex commercial litigation and intellectual property practice groups, a rare sense of optimism permeated. The mall seemed tantalizingly close.
Xanadu had been sold to the Triple Five conglomerate, owners of the 2.5 million-square-foot Mall of America in Minnesota. After a lengthy delay, investors and state officials had orchestrated a complex $2.8 billion financing deal anchored by a $1.1 billion bond sale. An unexpected appeal, however, came when the New Jersey Alliance for Fiscal Integrity sought to overturn two resolutions authorizing the bonds.
"The real pressure was that it was a novel situation," Einhorn says. "And we had to figure out how to solve it as quickly as possible."
They did—in eight days.
With Einhorn guiding the strategy, she and her team earned a unanimous ruling from the state's Appellate Division, and a stipulation of withdrawal before the New Jersey Supreme Court.
"It was literally just sitting down, reading the rules, figuring out that this is a complicated procedure," she says. "Then digging in, rolling up the sleeves and figuring it out."
"She thrives under pressure," says Genova Burns partner Rajiv Parikh. The key, he says, is Einhorn's practicality. "A lot of lawyers get hung up on procedure and process and everything else, but to be a lawyer in those pressure situations, sometimes you just have to think through common sense and be proactive in saying, 'OK, how can we accomplish the goal?' And then you find the rules and figure out the way to put it together. Because in those situations, there is no normal process."
A Manalapan product and self-modeled Jersey Girl (see her "Close the Deal in Heels" coffee mug), Einhorn's candid approach grew at New York Law School, where the broad spectrum of general practice litigation presented a multitude of options for someone with a sharpened set of skills.
"I think our job as litigators is to get the facts of your case, even if you have to learn a new area of the law," she says. "Doing discovery, being able to see the big picture, analyzing the case."
But no matter how sharp the skills, like many young women at the start of their careers, Einhorn ran into some well-trodden speedbumps. At times she was the only woman in the room. Occasionally, she'd be mistaken for somebody's secretary. Once, she laid out a strategy to a room full of 15 men, including a former judge.
She says they questioned her approach, and when she asked what they thought should be done, cue the crickets. Forty-five minutes later, the men circled all the way back to Einhorn's initial idea. For Einhorn, it was a frustrating experience that made her wonder: Were they not taking her seriously because she was a woman?
It's a subconscious layer of disadvantage, Einhorn says, that's helped shape her career. "You shouldn't have to fight that hard to convince people, just because you're a woman," she says. "I don't want the women in this firm to have that experience."
"Kathy was coming through law school when the first generation of women lawyers had graduated five or 10 years before her," says Parikh. "So there wasn't that much mentorship around. And I think she's realized that she and other partners had to take that role on."
Einhorn, Parikh says, empowers female associates to not only contribute but grow into leaders. "She will tell our female associates what it takes to be the best."
"Here, I will tell women, 'You have to work harder.' It's not fair, but it is what it is," Einhorn says. "I would like to get to a point where you don't have to say that to women. I have to believe that over time it will be easier, but my message is still you've got to do more. We're still at a disadvantage."
Einhorn does what she can for the next generation. She was past chair of the New Jersey Bar's Women in the Profession Section; and with the New Jersey Women Lawyers Association, she helps direct scholarships to students who are pursuing law degrees in New Jersey.
"She takes that role very seriously," says Christine Amalfe, who chairs the labor and employment department at Gibbons and served as trustee for the state bar's Women in the Profession Section. "She actually listens to what younger women are experiencing. She tries to understand where they are having challenges. She provides advice to help women lawyers overcome obstacles so they can reach their career goals. She was instrumental in designing professional development and networking programs for women lawyers, and also in providing mentoring to help women lawyers achieve their career and life goals. 
"I can't think of any time where going to talk to Kathy wasn't a good idea," says Maria Fruci, an associate at Genova Burns whom Einhorn helped hire in 2012. When Fruci first became involved with the local bar association, Einhorn urged her to take on more and strive for leadership positions. "She said, 'Put yourself out there, because that's how people will get to know you.' And because of that I decided to try for a leadership position in our state bar organization, and I ended up winning that spot. I don't think I would've done it without her encouragement. I wouldn't have thought of myself as someone that people would have seen as ready for a position, because I am still a younger attorney."
As a single mom of two kids—16-year-old Kaleigh and Kenny, 19, a freshman at St. Joe's in Philly—Einhorn knows that women need to create their own breaks to advance at a firm, especially when juggling a family life. "There were always times when, especially when they were little, you can't do as much as you want," she says.
"The most important thing is you need to find a place to work where the people get it and support your family life. I consider this law firm to be a powerhouse law firm—I do—but we are very much a family."
Genova Burns has turned out to be an ideal fit, and Einhorn has added commercial litigation to her book of employment business since she arrived at the firm in 2000.
"I've always had support from my partners when I had young children," she says. "If you have a doctor's appointment, you go to the doctor's appointment with your child. There are big law firms out there that frown upon that. Obviously you get the work done and if you've got trial, you've got trial. But even if you're only home with your kids for three hours, you're home. You give them a kiss and you go back."
That strategy worked as Einhorn has played a key role in growing the commercial litigation group from a boutique practice area to a full-service part of the firm, expanding from 10 to 22 lawyers. She's also helped grow the firm overall, working to add part-time counsel and part-time female partners.
As the firm's first woman to chair a department, Einhorn leads a dedicated team of lawyers and paraprofessionals who specialize in complex contract and business disputes, some of which are spiked with winding tales of fraud, extortion and intrigue.
Alongside Parikh and fellow partner Angelo J. Genova, Einhorn put determination on display during Chambers v. Scutieri Jr., a seven-year legal saga involving a wealthy retiree and a disgruntled former business partner. There were allegations of affairs, misappropriated estate dollars and some seriously hurt feelings. When Philip Scutieri's hotel business went under, he blamed businessman Raymond Chambers and his alleged shady transactions.
Chambers allegedly stole millions of dollars from Scutieri's father, then used that money to create the fortune the Chambers family eventually amassed. In response, Scutieri demanded $420 million in reparations. When asking didn't work, he spent more than $20,000 on a bona fide smear campaign, going so far as to hire picketers to carry signs outside Chambers' office, with phrases like "Is This The Largest Theft in U.S. HISTORY? You Be The Judge." A dedicated website and pamphlet mailing followed.
In 2010, the client sued in civil court for extortion and defamation. He didn't want damages; he just wanted the madness to stop. A 20-day bench trial proved to a judge that repeated defamation and extortion had occurred, but getting the crazy campaigns to stop was a bit trickier.
"What we were seeking to do was refrain future speech, which was almost unheard of here," Einhorn says. Since the New Jersey Supreme Court didn't have a definitive solution to the issue, Einhorn's team pointed to other state court decisions and convinced them to issue a rare, post-trial permanent injunction against the harasser, despite the specter of a First Amendment violation. "There were lots of layers," she says. "Difficult constitutional hurdles, lots of discovery and depositions, and months of trial."
Einhorn's team combed through financial transactions and proved they were lawful; they even deposed the picketers.
"If there is a crisis going on," she says, "I'm involved." 
Search attorney feature articles