Q&A: Paulette Brown
We caught up with the American Bar Association president after her keynote speech at a recent Minnesota Black Women Legal Network event to talk about diversity and mentorship in the legal world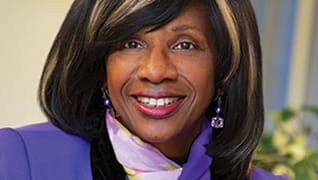 Published in 2016 New Jersey Super Lawyers magazine
By Ross Pfund on March 11, 2016
You've discussed the role of mentorship in increasing diversity. When you are mentoring younger attorneys, what are you are talking about with them?
Everything that I learned that I didn't know before: about the various practices of law, that you don't have to be litigator to be a real lawyer, that you have to have both a personal development plan and a professional development plan and it must be in writing. It cannot be in your head, because it won't get done. You're never too young to do that.
Do you still have your own written development plan?
Yes. The thing is, you miss some dates sometimes. But you know that it's there and you go back to it and you adjust.
Did you have mentors when you were breaking into the legal profession?
I really didn't know any lawyers. Some people—I didn't realize they were mentors at the time—gave me some guidance. I didn't know that I should have mentors, or how I should seek them out. The same is true for a lot of people.
In your speech, you talked about encouraging kids toward the law even before they're in high school. What are some of the ways to do this?
Just the exposure is a big part of it, and then having someone who is going to be in contact to reinforce the message. For example, when I go to the Boys & Girls Club, they are so curious about things, and they ask such wonderful questions. You never want them to lose their curiosity, because that's what propels them forward.
So if they are seeing someone they've never seen before who is doing positive things, they know that that window of opportunity can be opened for them too. I also tell them that no matter what other career they think about, they can still be a lawyer because the law interfaces with everything no matter what it is that you do.
What are some of the questions that they ask?
They've asked, "Why do they call it a bar exam instead of a test?" They've asked, "What do you do if you get a case you don't believe in?"
You've also discussed how mentorship is not just for law school students or young lawyers, but for women who become a partner at a firm. What form does mentorship take for someone in that position?
A lot of times it is peer-to-peer mentoring. You may need to talk about shared experiences and bounce ideas. "What would you do under this circumstance?" or "How would you handle this particular situation?" and "How did you talk to this potential client in order to make them go over and give you business?"
You ask people who are sometimes in leadership positions, "What did you do to get here? Do you have any tools to do that?"
When discussing the challenges faced by African-American women in the law, the term micro-inequities comes up. Can you expand?
There are little slights that are generally invisible to everybody else except the person who is giving them and the person who is receiving them. It can be in the inflection of your voice, it can be in something that you're asking somebody to do. For example, two people go on a pitch. One is an African-American woman and one is a white guy and when they come back, the person who was the leader of the group will say to the African-American woman, "You know, we spent a lot of money for you to go on that pitch, we need a good write up." And to the guy, "Can we have a write up on the pitch?"
It sounds like the statements are deniable in some way. Do you think people understand that they're doing it?
Sometimes they do, sometimes they don't. Why do you have to add that extra thing for me? You don't [ask that question] out loud because the person will say, "Well, it's true that we did have to spend a lot of money." Sometimes you make a statement instead of a question. Inflection and tone—all of those things. You spend so much time thinking about it that you [become] unproductive.
What are strategies for dealing with these sorts of things?
You need to talk to your mentor or your sponsor to try and help you navigate through it, because it is difficult—they are just almost invisible for other people to see.
What do you hope your legacy will be once your presidency has ended?
Two things. One, I hope people have a better understanding of what the ABA does and that the ABA cares about all of its members; that we don't always expect you to come to us, we are willing to come to you. My real hope, too, is that we move diversity and inclusion in significant ways that we make a real great impact over the next 10 years in ways that we have not made over the last 30 or 40 years.
This interview was edited and condensed.
Search attorney feature articles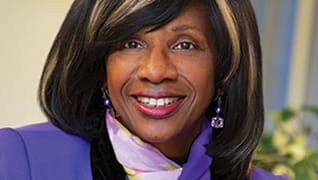 Helpful links
Other featured articles
Vance Goldammer has headed to Augusta every April through a combination of ingenuity, luck and tradition
Sam Alba's long and storied legal legacy
And that was just the beginning of the tumult in Rosa Parks' estate case
View more articles featuring lawyers
Find top lawyers with confidence
The Super Lawyers patented selection process is peer influenced and research driven, selecting the top 5% of attorneys to the Super Lawyers lists each year. We know lawyers and make it easy to connect with them.
Find a lawyer near you