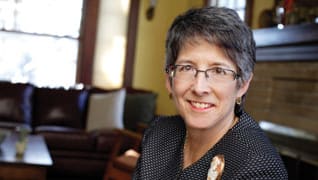 Photo by: Luigi Ciuffetelli
The Compassionate Lawyer
Linda Ershow-Levenberg has made a career of helping the elderly
Published in 2011 New Jersey Super Lawyers magazine
By Michael Y. Park on March 16, 2011
Linda Ershow-Levenberg's story begins not in a courtroom or even in law school, but in a Russian shtetl in the first decade of the 20th century.
A young woman received word that she was to travel to America and reunite with her husband, who had gone to the New World to start a new life for his family. Her home was to be in a bustling metropolis, teeming with immigrants who had dreams of riches and opportunities. It was called Newark, New Jersey.
But after Fanny Denburg arrived, her husband fell ill, and she ended up supporting him and their six children by working odd jobs. Somehow, she still found the time to co-found an orphanage for Jewish kids who kept strictly kosher—an institution that grew into a vital organization for Newark's burgeoning Jewish community in the early 1900s.
"At the same time she was raising all of these children and keeping food on the table and working, she was saving up a lot of money," says Ershow-Levenberg, the woman's great-granddaughter and one of New Jersey's most respected elder law attorneys. One night, Denburg came home and made an announcement to her children, then in their 20s.
"She said, 'It's time for you to go into business. I just bought you a music store on Broad Street.'"
Then she pointed to each of her children in turn, assigning jobs to each—such as music teacher, purchaser, sales manager. The store turned out to be just the first step in a series of businesses that saw the entire family prosper.
Denburg was Ershow-Levenberg's mother's father's mother. The attorney's grandfather was the son who was appointed music teacher.
And that's where Ershow-Levenberg will tell you the seeds of her success were planted.
Early leanings
Unlike most attorneys, Ershow-Levenberg chose her specialty well before she chose a career in law. A native of Essex County, she had no family connection to the law—her father worked in industrial sales; her mother was a publications director for two New Jersey colleges. Ershow-Levenberg went to West Orange public schools and received her undergraduate degree in sociology at Douglass College (once the largest public women's college in the U.S., now merged with Rutgers University). Her minor was in gerontology.
"I think that it's because of some volunteer work I did in my freshman year at college," Ershow-Levenberg says. "Once a week through my freshman year, I went over to this nursing home and kept this elderly woman company, read to her, talked to her. At the same time, there were some elderly relatives in my very large family all over Essex County, and I would sometimes stop in and visit them in the nursing homes nearby. It got me thinking a lot about the issues people face as they are aging—psychological issues, the loss of identity, the effects on the family."
Her cousin Dorian Denburg, also an attorney and current president of the National Association of Women Lawyers, has a slightly different theory about what sparked Ershow-Levenberg's interest in elder law.
"She was very, very, very close to both sets of grandparents," Denburg says. "Her life was shaped by the lives of her grandparents. I'm sure there is a desire to take care of the elderly in the same way that her own parents took care of her grandparents."
So elder care was the path Ershow-Levenberg chose early in life. But becoming an elder care lawyer was denied to her—at least at first—for a simple but insurmountable reason: The field didn't exist yet.
Instead, Ershow-Levenberg worked in a variety of community programs, including as a Section 8 housing-program caseworker and at one of the battered women's shelters in New Jersey. Working as the legal advocate for the shelter, she came into contact with the practice of law for the first time.
"Once a week, I'd go up there and help them prepare pleadings for restraining orders for women in the shelter," she says. "I spent a lot of time with the attorneys at legal services and saw the lawyers in action. I really enjoyed the whole process and using the law as a way to solve a very distinct set of problems. It just appealed to me as an occupation; it was something I could see myself doing."
So in 1981, Ershow-Levenberg entered law school at Rutgers University.
"I did have this notion in law school that I might be able to be a lawyer for the elderly and, much to my surprise, there was no such field," she says. "So I sort of put it off to the side and forgot about it."
After graduating in 1984, she clerked for the chief justice of the state tax court, then got a job at the state attorney general's office. There, she worked for the professional boards of the state, representing the legal positions of the state agencies that certified professionals in various fields.
"My second day on the job, the attorney I was taking over for came in and said, 'I forgot to tell you I have a hearing on Thursday.' I'd started on Monday," Ershow-Levenberg recalls. "I said, 'I've never done a hearing before.' She said, 'Not to worry, you'll be fine.' So I had three days in which to examine the evidence, check the burdens of proof, make sure everything was all lined up, and present my first case.
"I needed to withdraw one of the counts because of insufficient evidence, but I got what we needed on the second count."
David Levenberg, who works for Citibank, says, "She really is the most honest and sincere and trustworthy person that I know." He should know. Ershow-Levenberg married him during her third year of law school.
Changing times
Her family's progress has kept up with that of her career. "I had to defend the state board of pharmacists in federal district court because it had adopted a resolution prohibiting the use of coupons as a form of advertising," Ershow-Levenberg says. "The argument was around January or February of 1988, and on the morning of April 28, 1988, I had my second child, a daughter. That also happened to be the day the decision came out declaring that the board's regulation was unconstitutional, so reporters began calling the office looking for comment. An article appeared on the front page of The Star-Ledger saying, 'The attorney representing the board was unavailable for comment.'
"A copy of the article is now in my daughter's baby book," she adds with a chuckle.
From 1985 to 1995, Ershow-Levenberg refined her skills as a state deputy attorney general, representing state boards from pharmacy to accountancy.
But in 1994, she made a discovery that changed the course of her career.
"In March, I noticed in the New Jersey Law Journal that there was an upcoming meeting of the elder law section, and I had that epiphany-type experience where I said, 'Oh my God, there actually is a field of elder law. Let me go check it out,'" Ershow-Levenberg recalls. "I went down and listened to the discussions about regulations and medicine and statutes … and I had spent 10 years in administrative hearings, so everything began to feel very familiar and manageable and interesting."
Seven months pregnant with her fourth child and in her ninth year at the attorney general's office, she came home that night determined to make a vast career change.
"I said to my husband, 'I found the career that I want to do for the rest of my legal career,'" she says. "And he said, 'Well, that sounds great. Let me know what you find out once you figure how you want to go about doing it.'"
So, while wrapping up a big lawsuit in Bergen County involving a false-arrest case, she drew up an 18-month-plan for herself, including spending a year studying the field of elder law and the practical concerns of starting up her own practice.
The effort paid off. "She's like a walking encyclopedia of cases and citations," says Susan Goldring, an elder law attorney in Red Bank.
For Donald Shapiro, a friend of 30 years who is also her husband's cousin, Ershow-Levenberg's meticulous planning is part of her charm.
"We used to camp every year, and she'd make a list of everything we brought and everything we ate," he says. "And when we went the next year, she'd bring out the list and compare whether we ate three tomatoes or two tomatoes. She didn't want to waste food. She doesn't waste anything. Basically, everything that we needed was on her list."
At the start, Ershow-Levenberg rented a suite in a small office building in eastern Union County, sharing a secretary with another lawyer. She paid for "a blizzard of publicity for a month" in community newspapers, networked with lawyers who could refer clients to her, and prepared to live lean for a few months while her business developed.
"I scrimped on a couple other things, but I splurged on a beautiful desk," she says, waving toward the handsome mahogany piece that's still the center of gravity in her office.
To her surprise, clients began coming in earlier and steadier than anyone expected.
"They weren't lining up, but the phone was ringing," she says.
And it kept ringing throughout her solo career, from October 1995 to 1998—no surprise to her husband.
"She spends the first part of meeting someone [who's a new client] just getting to know them," he says. "Where they're from, what they're feeling like. Part of it is that it's important to the job that's coming. Part of it is that she truly is interested."
In 1998, she began discussing the possibility of merger with the men who would become her partners, Stan Fink and Gene Rosner. By 1999, she was the newest member of Fink Rosner Ershow-Levenberg.
"Gene likes to joke that I would make plans for my plans, because once I went into private practice, I was always thinking ahead and sketching out my business plans," she says.
The business of elder law, however, has changed dramatically since she first hauled her mahogany desk into her office, thanks to the changes in medicine and elder care.
"When I first opened my practice in 1995, having a 90-year-old walk in the door was not common," she says. "Now it's very common."
One case took her before the New Jersey Supreme Court.
In 2003, the state's highest court was deciding whether a trial and appellate court were wrong for denying the request of an elderly woman's legal guardians to transfer some of her assets to her children as part of a Medicaid-eligibility plan. Ershow-Levenberg—who had convinced the chancery courts several times to approve cases that involved gifting by guardians in connection with Medicaid planning—argued as a friend of the court on behalf of the New Jersey chapter of the National Academy of Elder Law Attorneys. Her daughter, then in junior high, took the day off from school to watch her mother work her magic.
"It was really thrilling," says Ershow-Levenberg. "They asked me millions of questions, and it gave me the chance to present my argument that gifting had been approved by courts for estate purposes and estate statutes, and that it can be pretty well presumed that family members would want to preserve their assets for the next generation and take advantage of the benefits of gifting," she says.
The New Jersey Supreme Court reversed the lower courts. Eventually, the guardianship statutes were amended to allow guardians to make gifts with court approval.
Off duty
Ershow-Levenberg fills her already-packed schedule with charity work, following in the footsteps of her great-grandmother in combining a knack for business with a zeal for helping the community. Ershow-Levenberg is, among other things, a former president (and current board member) of the Young Men's-Young Women's Hebrew Association of Union County, recent chairwoman of the New Jersey Bar Association's Elder and Disability Law Section, and she has served on various boards over the last 30 years. And, yes, she taught music for three years at a Hebrew school, in the vein of her grandfather. And raised her children—Lewis, 25; Esther, 23; Sam, 20; and Molly, 16—while working full time.
"I don't know how she stays awake, with the four children, the job as an attorney, and all the volunteer work," says longtime friend Sue Hoch. "I feel like she never sleeps."
But for Ershow-Levenberg, there's no secret: Her career, community service, and her personal and family life are all fueled by a passion for making things better.
"Early in her career, one of her clients was an elderly woman who really had no one," her husband says. "Linda would regularly—once a month—visit her and check up on her. She was a client for many, many years before she passed."
He pauses before adding, "She takes a lot of these cases personally."
"She's about as honest as they come," says Donald Vanarelli, an elder law attorney in Westfield. "She's easy to work with, she's good with the clients, and she's always been fair in all the cases I've worked with her. We're involved in a case right now where the family is dysfunctional, there are a lot of them, and they all have different opinions and the issues are pretty complex. She never got upset, she never lost her temper, she's always on top of the situation.
"You can't ask for much more than that from an attorney."
Search attorney feature articles