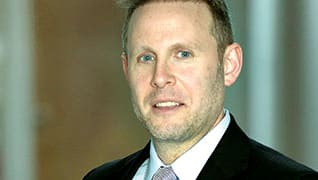 Photo by: Michael Paras
The Pusher
Envelopes, arguments, limits—Jeffrey S. Mandel pushes many things, but nothing more than himself
Published in 2014 New Jersey Super Lawyers magazine
By Matt Amis on March 13, 2014
In the crystal blue, shark-infested waters that surround the Galápagos Islands, Jeffrey S. Mandel was testing his limits—again.
Having already conquered skydiving, rainforests, volcanoes, crocodiles and poisonous pit vipers, Mandel, a Manalapan, litigation attorney, figured swimming with giant, unblinking predators seemed like a logical next step. And as the school of Galápagos sharks closed in around him, Mandel focused and recalled the lessons of all his previous adventures: Don't panic.
To Mandel, this is all part of the regimen. It also happens to be valuable professional development. After encountering an 18-foot hammerhead, the New Jersey Supreme Court doesn't seem so scary.
"It's about defying your body in the face of imminent fear," he says. "I have always felt that mediocrity is unacceptable, so I go all in. I like to see how far I can push an envelope. It's the same thing on appeals: How far can I push an argument?"
Fifteen years into a high-octane legal career, Mandel, a founding partner at Cutolo Mandel, pushes himself the hardest.
Thanks to his uncommon versatility and diverse practice oeuvre—which includes civil litigation, criminal defense, and his focus, appellate law—13-hour workdays are his norm, as are his nightly workout sessions at the gym when he's not at trial. He writes extensively (his book, the 900-plus-page New Jersey Appellate Practice, is in a dozen law school libraries, last he checked) and teaches summer courses on appellate advocacy at Rutgers School of Law. He's a go-to legal commentator for Court TV, Fox News and CNN.
Like a shark, he seems scientifically incapable of remaining still. At night he stares at the ceiling and reviews cases: "Are there better arguments that I can make? How can I look at the bigger picture?" He knows transcripts and depositions like they were laundry lists. In conversation, he speedily finishes other people's sentences if he deems their lips are moving too slowly. He says he's driven. Others use more colorful language.
"The guy's a maniac—it's really amazing," says Louis Civello, a client who battled with Mandel through eight years of litigation stemming from a business ownership dispute which culminated in a unanimous jury victory in May 2013. "In eight years, I don't know how many boxes of files we filled. But it seemed as though he had them all memorized. I remember one time we were in his office from 7 p.m. to 1 a.m. I left, and the next morning he was calling me at 5:30 to get up. Then he'll send you a picture of a crocodile. He's nuts. Absolutely out of his mind."
Says Mandel: "I'm robotic. I just don't tire. I don't think anyone could figure out truly what makes me tick."
That indefatigable engine, whatever the fuel, also drives his practice. In the unassuming Manalapan office space he shares with partner Hubert C. Cutolo, manila case folders overlap like shingles across his desk. His experience in New Jersey's appellate arena—the active, 32-judge intermediate appellate court that decides approximately 6,500 appeals and 8,500 motions each year—keeps Mandel in constant demand. He is always willing to assist other lawyers who have questions on navigating the complex procedural waters of appellate court. Others simply send him clients on referral. The appellants themselves enlist Mandel regularly. "The volume of work is very high," he says. "If you need help, ask an appellate lawyer. We're in the trenches."
When Justin Furfaro was making plans to acquire a Midtown, N.Y., watch store, he recruited Mandel to handle the negotiation and preparation of the contract of sale. In it, Mandel covered legal bases Furfaro hadn't even considered—like protecting him from competition with the person who was selling the store. "Every little detail was covered," Furfaro says. "He doesn't miss a thing. I remember we were at a wedding together one time, and he had notes for a case stuffed in his pockets."
Mandel's zippy, idiosyncratic brain is the perfect fit for appellate cases, where tiny discrepancies and bureaucratic minutiae can make enormous impacts.
In 2008, he argued amicus curiae on behalf of the Association of Criminal Defense Lawyers of New Jersey in the dramaturgical State v. Cottle, in which the criminal defense attorney representing a juvenile—who was charged with and later convicted of murder—kept a big-time secret from his client: he, too, had been recently indicted in Essex County. The attorney never mentioned he'd violated a restraining order and was undergoing psychiatric treatment as part of admission into the Essex County Pretrial Intervention Program (he was eventually disbarred for professional misconduct and also failed to successfully complete the PTI program).
Mandel submitted that public confidence in the criminal justice system would be "seriously eroded" if the conflict of interest was ignored. The court agreed, reversed the defendant's murder conviction and tossed his life sentence.
In other cases in which Mandel argued for the Association of Criminal Defense Lawyers of New Jersey, State v. Parks in 2007 reversed a defendant's life sentence without parole based on the misapplication of New Jersey's "three strikes" law. The state Legislature amended the law slightly—emphasizing the dates and sequencing of previous "strikes"—while the defendant's appeal was pending, and the Supreme Court of New Jersey remanded the case back to the trial judge to be sentenced anew. State v. Mahoney in 2006 found that a defendant's conviction should be overturned because of incomplete jury instructions. State v. Jimenez, affirmed in 2011, revolved around a man who was found guilty of kidnapping, sexually assaulting and murdering a 10-year-old boy. The state initially pursued the death penalty, but subsequent appeals, including at the state Supreme Court, determined Jimenez was mentally handicapped and precluded from a death sentence. Mandel's argument in 2006 helped the court establish procedures that the trial court must follow when resolving claims of mental illness.
All were lurid, sensational cases that pivoted not on evidence or testimony, but botched trial procedures. Some might say such decisions are based on technicalities. Mandel is hyper-aware of the stigma that can surround such outcomes.
"For there to be respect for the judicial system, you need to make sure the rules and procedures are followed," Mandel says. "That's why I don't lose sleep over the fact that I may have gotten somebody out of prison based on what others would call a technicality. To me a technicality is not a technicality, it's making sure the system works the way it should work.
"I've had cases defending child molesters. I'm not endorsing them as a person; I am making sure the proper procedures are followed from arrest through conviction. If someone's guilty, let the system convict them the right way. Then you don't have to worry about appellate or a reversal."
Other landmark reversals left more gratifying impressions on Mandel. In the highly publicized State v. Nunez-Valdez, the defendant, who faced numerous charges, accepted a plea deal to one count of fourth-degree criminal sexual contact; he expected probation in exchange. Instead, he was deported to his native Dominican Republic. No one—not even his attorneys—mentioned the possibility of deportation.
Before the Supreme Court of New Jersey, Mandel fought for changes to the state's outdated plea form, and for stronger onus of counsel to advise non-U.S. citizen clients about the consequences of entering into certain guilty pleas. Today the new-and-improved form is used in every courtroom in Jersey.
"When I'm able to obtain for them post-conviction relief and give clients an opportunity to remain in a country they've [lived] in most of their life," says Mandel, "I feel like I've done good."
Mandel's ability to find a weak spot in any procedural armor is his greatest gift, friends say. "His analytical ability is his greatest strength," says Anthony Locascio, a board-certified civil trial lawyer who manages the Red Bank office of Gold, Albanese & Barletti, based in Morristown, and Mandel's longtime friend. "He is the type of guy who will go through things with not only a fine-toothed comb but with a straight-edged razor. He is the reflection of a highly devoted attorney."
The two first met in evidence class at Seton Hall University School of Law, when Mandel became annoyed that Locascio was eating an apple too loudly, "like I was taking away from his laser focus in class," Locascio says.
That laser focus may be the result of childhood dyslexia. Reading and learning presented barriers for Mandel, and his studies languished. At school and at home, he was "Dennis the Menace," he says. "Always in trouble. I don't know how my parents put up with me." But rather than folding, Mandel adapted and absorbed lessons listening, watching and internalizing. "My dyslexia forced me to input information differently," he says.
With a psychoanalyst for a mother, Mandel soon became fascinated with why people do what they do. He'd shirk class assignments and sneak into his mom's office to flip through books on Freud and criminal psychology. He enrolled as an undergrad at Indiana University, and the fascination continued. He loaded up on psych courses and reveled in learning the inner-machinations of why people do bad things.
On a whim, he sat in on a criminal justice lecture led by an FBI agent. As he sat and listened, the miraculous occurred: "The stuff he was saying, these cases … I learned the cases and I never forgot it," Mandel says.
The next semester, he enrolled in every class he could that involved the law. To him it represented the nexus where psychology and investigative thinking met. Learning was no longer a barrier but an obsession. He devoured case proceedings, and pored over statements, transcripts, rules and regulations.
It made him a natural fit for an internship for two appellate judges, and later, for a clerkship for New Jersey Superior Court Appellate Division Judge Donald G. Collester Jr. The further immersed he became in the scholarly world of appeals, the more he noticed that trial lawyers often struggled with the unique intricacies appellate cases present. He also noticed a serious void among legal literature about the appellate practice.
So he penned a short article, "How to File Emergent Appeals: Tips for Saving Time and Money," for the New Jersey Law Journal. "I started receiving countless phone calls from people with follow-up questions," he says. So he kept writing. More articles followed, and as he moved from his clerkship on to an associate position at the New Jersey office of Drinker, Biddle & Reath—based in Philadelphia—a book began taking shape.
Published in 2008, New Jersey Appellate Practice is updated yearly, and is considered the go-to treatise on the state's appellate policies, practices and procedures. "He literally wrote the book on appellate practice," Cutolo says.
Mandel eventually transitioned from Drinker, Biddle & Reath to Pitney Hardin (now Day Pitney) in Parsippany, and while there, he chanced into a phone conversation with Court TV's Kimberly Guilfoyle. Mandel was a fan of the former Victoria's Secret model-turned legal analyst—"I was just flirting," he says—but following their conversation, Guilfoyle connected him with her producer. Not long after, Mandel was dissecting the infamous Scott Peterson trial on Guilfoyle's Both Sides show. Other networks took notice, and the likes of CNN, Fox News and Nancy Grace came calling for his analysis on Michael Jackson, Kobe Bryant, Phil Spector, Barry Bonds and scores of other high-profile legal battles.  
As usual, cramming the details of each case into his brain—including the reference codes and court procedures of other states—felt like second nature.
"National TV will also force you to be overly prepared," he says. "It all goes back to the challenge: Can I recall that information on the spot? To me it was kind of like jumping out of an airplane—an incredible rush."
Search attorney feature articles