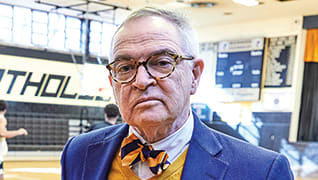 Photo by: Luigi Ciuffetelli
The Ties That Bind
Brian Neary came from a 'city of hope' and it hasn't left him
Published in 2020 New Jersey Super Lawyers magazine
By RJ Smith on March 17, 2020
December 11th, 2019 was a tough day to be talking about the law in Jersey City. So maybe it was the right day for it, too. 
Two assailants, one reportedly linked to the Black Hebrew Israelites group, killed a detective before storming a Jewish business in a targeted attack. Six people, including the shooters, died. 
The shooting hit close to the heart for criminal defense attorney Brian Neary. 
"That's the neighborhood where I grew up, it's five blocks away—the Catholic grammar school where my father went, and the one where I went, are both right there," he says. "I know both the Hasidic and African-American communities as a citizen, and I've also represented members from both groups. It's unfortunate that hate crimes and gun violence are so prevalent today."
Jersey City has long served as a kind of conscience to Neary. "This place has given me my sense of right and wrong," he says. 
Neary's paternal grandfather came from Ireland to Jersey City's Greenville neighborhood in 1917. "It was a place where everybody knew everybody else," he says. "Today it's still like that." It's gone from ethnic Irish Catholic to now being the "most diverse city in America," a designation it received in 2017.
His grandparents arrived "with a very heavy Irish brogue," Neary says. "And every time I ride by the neighborhood I grew up in and where my grandparents lived, well, I yell, 'Thanks, Granddad, for getting on that boat!'" He left a farm in Ballyhaunis in West Ireland and never looked back.
Growing up in Greenville, Neary met a lot of vivid characters in a city stocked with them. 
Like Basketball Hall of Famer and coaching legend Bob Hurley, which was a real treat for Neary, who lives for hoops. "In my early teens, Bob coached me," Neary says. "Although I guess it didn't help too much, did it? Most of the other kids I grew up with either became involved in crime or became cops."  
His family sent him to Hudson Catholic, and he went on to study sociology at the University of Notre Dame. A Catholic education looms large in his world view.
"I don't want to suggest that I'm pious at all; I'm far more sinner than anything else," Neary says. "But I know my Catholic background and the education I got collectively from the nuns, brothers and the priests kind of put that spirit in me that it's so important to be thoughtful and contribute." 
Neary spends a lot of time thinking about, cheering for and talking about Notre Dame. It's part and parcel with going there, he says. But he has also often wondered what Our Lady of Notre Dame thinks about what he does for a living, representing those accused of murder, rape, drunk-driving and firearm infractions.
"She probably thinks I'm doing good because I'm helping people," he decides.
What about the former Rutgers student he represented in 2016, charged with writing anti-Semitic graffiti and setting fire to Jewish sites in New Jersey? 
"Those are the situations where the system is stretched to its limits. And it is those fights," he adds, "taking place at the highest levels, that help determine what happens to the garden-variety citizen when they are charged with something. We're fighting [so] that the system continues to work … the right to a fair trial with legal representation is understood on a daily basis, but it's greatly tested in these extreme cases."
But today he's most concerned with the question: How do we make it better from here?
"This place made me who I am," he says. Neary points out that the Statue of Liberty is closer to Jersey City's coast than Manhattan's. Quick with a basketball analogy for most things, he says that from his old neighborhood, it feels like you could hit Lady Liberty with a jump shot. "Even on a day like today, Jersey City is still the same city of hope and promise," he says.  
Neary's first gig was in the Hudson County Prosecutor's office, where he stayed for three years, then spent another year working with a committee former New York Gov. Hugh Carey assembled to critique the state's criminal justice system. After that, he felt ready to launch his own firm.
He had taken notes. There was a group of defense attorneys, "Hudson County guys," as Neary calls them, that he watched closely.
"This whole generation of Hudson County lawyers were what I would call street guys: they were focused trial advocates, fearless guys. I learned [from them] the importance of courage when you represent somebody in a courtroom," Neary says. "That a judge can't be too difficult, a prosecutor can't be too hard that you can't stand up them. Often you're the only one rooting for that guy sitting next to you. And these guys had the courage to represent their clients to the best of their abilities."
Joseph A. Hayden was a Hudson County guy who created and was the first president of the Association of Criminal Defense Lawyers of New Jersey. "That was founded in the early '80s," Hayden says, "when defense lawyers were under attack and we wanted—we needed—to defend ourselves."
The two are longtime friends. "Let me dial up this time machine," Neary says. "Joe and I have been buddies for some 30 years." To this day, Hayden, 75, and Neary, 69, work out twice a week in a Hoboken boxing ring, under the tutelage of the man who trained Arturo "Thunder" Gatti, a world champ in two divisions. 
"Brian tries about as many cases as any lawyer in the state," Hayden says. "It's the fight in him. To see Brian box is to see what a battler he is. And the same person he is in the ring, he is in the courtroom, where he gives everything he has until the concluding bell."
Larger than life things tend to happen around Neary. 
Last year, he represented Anthony Comello, who was charged with gunning down alleged Gambino family crime boss Francesco "Franky Boy" Cali at his Staten Island home. While waiting on the stand for a court hearing to begin last March, the suspect made national news by flashing two pro-Trump slogans written in ballpoint ink on his hands, as well as a symbol popular among the far-right conspiracy theorists in the QAnon group.
"I had no idea," says Neary, who still sounds a bit discombobulated by that moment. "I had just gone back in chambers and talked to the judge. When I came out … suddenly people started asking, 'What was on his hands?' I didn't know, so I just said 'handcuffs.'" (Neary served as New Jersey counsel before Comello was extradited to New York.)
Neary connects with clients and strangers alike, he says, because he's approachable. His sartorial acumen helps, too—find him in bowties, seersucker suits, hats and brightly colored watchbands that match his neckwear. 
If any of his clients from the hip-hop world—like rappers Juelz Santana (who attempted to bring a loaded handgun onto a plane at Newark Liberty) or Fabolous (embroiled in an alleged domestic violence encounter)—take note of his fashion sense, he doesn't let on. 
But his ties—the ones around his neck and the ones that bind him to Jersey City—were both on display throughout one of his most celebrated cases, when Neary represented former Jersey City Deputy Mayor Leona Beldini. 
In 2010 she was caught up in a statewide corruption investigation that ultimately saw charges brought against 46 people, including five rabbis, three mayors, two state legislators, and, as a local media account laid bare, a "Brooklyn man accused of conspiring to sell a human kidney."
The deputy mayor, a former burlesque dancer billed as "Hope Diamond, the gem of the exotics," was charged with receiving illegal campaign contributions. Solomon Dwek, the son of an Orthodox rabbi who presented himself to her as a developer of a 750-unit housing project, told her he would funnel $20,000 to her in exchange for her expediting permits and paperwork on his project. Except Dwek was working for the FBI—he'd previously been caught red-handed running a $400 million Ponzi scheme, and the feds used him as a pawn in their corruption probe of Jersey City. 
Neary's strategy was to undermine Dwek's credibility. Before he stood up to make his opening remarks, he understood the weight of the moment. He crooked his neck "like a boxer about to get into the ring," one journalist reported. Then he removed his jacket, then pulled off his sweater.
"I thought the silk robe was coming out," muttered the prosecutor. 
"Just getting the warm-ups off," Neary responded.
He asked the witness if he knew what a friend was, and followed that by asking if he had any. 
"How many are not FBI agents?"
Looking miserable, Dwek replied, "It is a very difficult question to answer."
"You don't have a father as a friend, is that correct?" Neary asked, knowing that soon after Dwek's arrest, his father railed against him in his synagogue. 
"You don't have a mother as a friend, is that correct?"
"No."
"Don't have Uncle Joey as a friend." That was the relative Dwek had hustled for $60 million before the FBI flipped him. Dwek put his face in his hands for a moment, before finally answering, "No."
"Don't have all the members of the community you stole money from?"
"No."
Dwek took off his glasses and his tears flowed freely.
Neary still sounds surprised at the impact the questioning had. "There are things that happen during cross-examination that you can never plan for, and that was spontaneous," Neary says. "Sometimes you get lucky."
As he closed, Neary quoted The Tempest: "As you from crimes would pardon'd be, let your indulgence set me free." 
The federal judge sentenced her to three years, below federal guidelines.
While "not exactly a Shakespeare guy," Neary feels OK about borrowing from The Bard because of his deep appreciation for literature. "I've been a reader forever," he says. He's working his way through Sapiens: A Brief History of Humankind, and he's still juiced up about the last title he read, The Last Pass, and is incredulous that anyone wouldn't know the book's subject: Bob Cousy. "This guy was Steph Curry before Steph Curry, in the late '50s," Neary says. 
Neary has been married for 25 years to actress Lisa Brown, and has three sons and a daughter. For the past 37 years, he has taught a class in trial advocacy at Rutgers University, and in recent years, he has enjoyed teaching one at Notre Dame as well. At Rutgers he co-teaches with his son Aedan, a former assistant prosecutor for Passaic County.
"I have this theory," he says. "I tell students that, to be a great lawyer, you have to be a good person." Teaching how to direct or cross-examine, that's the easy part, he explains. But to be a good person—how do you teach that? 
"The great thing about law students is that they come with a passion to do right as lawyers—they don't come with the idea that 'I want to make a lot of money.' They don't," Neary says. "So I try to make sure they channel the compassion they have brought with them in the right direction." 
Neary's never left his old neighborhood behind him; he's been on the board for his alma mater, Hudson Catholic, for years. Today, he's board chairman.
"He's generous to a fault to the school in anything we need," says school president and principal Richard Garibell. "He speaks at the graduation every year and talks to students about what it means to be a member of the community."
On the day of the Jersey City shooting, Hudson Catholic was on lockdown. Soon after, Garibell scheduled a prayer service to mark the event. "I talked to Brian about it the day before the service, and he said he would like to come. 'I just have to do one thing,' he told me, without telling me what it was." 
When he hung up with Garibell, Neary called the judge in a court proceeding scheduled for that day, and requested a postponement so that he could attend the prayer service. The judge granted it.
"He is what he is—not one thing in court and another outside," says Garibell. 
Neary said a prayer at the service. The kids at Hudson Catholic have a name for him: The Pope. 
"Either it could be that I am gray- haired and old, or I'm a venerable member of the school community," Neary says. "I confess the first and hope for the second."
Search attorney feature articles