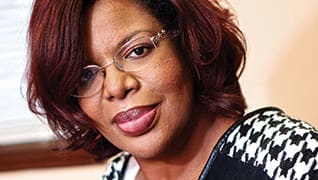 Photo by: Luigi Ciuffetelli
Williams v. the Rubber Stamp
Family law litigator Allison C. Williams doesn't sit in the sandbox and sing 'Kumbaya'
Published in 2016 New Jersey Super Lawyers magazine
By Nick DiUlio on March 11, 2016
Allison C. Williams had only been practicing family law for two years when she came to the swift and startling realization that she would be fighting an uphill battle for the rest of her life.
As the youngest associate at the small family law firm Lomurro, Davison, Eastman & Muñoz, Williams was often handed walk-in cases. So when "A.F." came into the firm's Freehold office one afternoon in 2005, the newbie was tapped.
"As soon as I met her I could tell this woman was just broken," recalls Williams, now founder and owner of the New Jersey-based Williams Law Group. "She had alcohol on her breath and I don't think I had ever seen such a gaunt, lifeless expression before."
A.F.'s husband had recently committed suicide, leaving her behind in a state of deep depression and in charge of two children, one of whom was 8 years old and severely autistic.
A.F.'s children were forcibly removed from their home by the Division of Youth and Family Services (DYFS) and placed in the care of her late husband's parents. What's more, DYFS wanted A.F. to undergo a series of evaluations and services simultaneously in order to be reunified with her children.
That's when Williams got involved.
When they eventually got to court, Williams approached the deputy attorney general representing DYFS, who explained to Williams that the agency was demanding four specific conditions in order to grant visitation rights. They wanted the mother to undergo a substance abuse evaluation, psychological evaluation, therapy and attend parenting classes.
Williams says it would be impossible for her client, or any human being, to comply in the manner they required. "Instead of saying, 'Let's get you from being drunk to being dry to being sober to being in recovery, and while you're getting well, we'll put you in therapy,' they decided that, all at once, she needed [all four]," Williams says. "Until she's sober, and able to focus on what's being taught to her, putting a whole bunch of services in place is not going to be productive.
"She rebuffed me, but I wasn't too concerned," says Williams. "In my naivete, I assumed it would be no different than divorce litigation. We'd both present our case to the judge and he'd make a decision. But that's not what happened."
When Williams and her adversary approached the judge, he asked the deputy attorney general what conditions DYFS was asking for. The attorney laid them out, and without a second thought the judge ruled in her favor, even going so far as to add some additional conditions of his own.
"I said, 'Wait a minute! Don't I get to speak?' That didn't go over too well. But I was just so shocked," Williams recalls. "The judge had a duty to hear both sides, consider evidence, weigh the options and make findings of fact and conclusions of law. But he simply rubberstamped the agency. By the time I got to make my argument, he just listened while glancing off into space before ultimately denying my requests. His mind was made up."
Williams realized then and there that the deck was often hopelessly stacked against parents fighting state agencies like DYFS (now known as the Division of Child Protection and Permanency, or CP&P). And in the 10 years since, Williams has dedicated her career to matrimonial and family law with an emphasis on complex child welfare matters, fighting a perpetual battle of perceptions, complex bureaucracies, and a judiciary that, according to her, favors the state over her clients.
"I got fired up about the inequities of the system," says Williams. "My client was just a cog in the wheel. That offended me. And that's how the vast majority of cases like that were handled. Until I learned how to fight back."
Growing up in Florida as the daughter of two educators, Williams first considered practicing law after participating in a mock war crimes trial of Christopher Columbus in high school. Several faculty members praised her skills and told her she should think about the law.
By the time she left to pursue her bachelor's at Florida State University in 1996, Williams knew she wanted to become an attorney. Four years and two degrees later, she was enrolled in Syracuse University College of Law.
During her third year of law school, Williams landed a job with the Equal Employment Opportunity Commission. But when it rescinded the offer due to a hiring freeze, Williams sent her resume to "literally every judge in the state of New Jersey," eventually landing a job working for a family court judge, James Farber, in Newton. There she "fell in love with family law" while managing matrimonial and non-dissolution motion calendars and getting a glimpse of a wide range of cases, including those involving domestic violence and custody battles.
For nearly a decade, Williams worked for a handful of small law firms, perfecting her skills in an array of family law matters, including divorce, child support, child custody, interstate litigation, DYFS litigation and administrative appeals and domestic violence litigation.
She also lectured and published extensively in the area of DYFS litigation and became the youngest attorney ever certified by the Supreme Court of New Jersey as a matrimonial law attorney. She is currently the youngest fellow of the American Academy of Matrimonial Lawyers and was the youngest attorney ever appointed to serve as member of the Board on Attorney Certification's matrimonial law committee. She is also the first lawyer in the state to become board-certified by the National Board of Trial Advocacy as a family law trial advocate.
Slowly but surely Williams started to embrace new ways of combatting biased judges and the complications of the family-court system. For instance, in 2007, Williams successfully argued against the termination of parental rights for the mother of a 12-year-old girl with psychiatric disorders.
According to Williams, the mother slipped into a deep depression after both of her parents died within days of each other. She struggled to care for her daughter, and one afternoon while at a movie theater, the mother fell asleep while her daughter wandered into the lobby unaccompanied. DYFS determined that this instance warranted termination of parental rights and placed the girl in foster care.
Williams argued in the appeal that, at the mother's trial, her attorney didn't prepare her to testify. She filed an ineffective assistance of counsel claim and made her case before a three-judge panel. She explained how her client's daughter had been misdiagnosed with ADHD while in division custody and was given medication that exacerbated the mood disorder at the root of her emotional problems.
"As a result, the child became psychotic, and everyone blamed this behavior on mom, even though she didn't have anything to do with it," says Williams. "And as I'm in the middle of giving this very correct legal answer to the judges, I just stopped and put my head down for a minute."
Williams then looked up and posed a question to the panel: "'If I was sitting here next to someone accused of murder, and that person had only gotten 30 minutes of time with a lawyer to prepare for 12 years of facts and law that culminated in losing his liberty, would we even be suggesting that there hadn't been ineffective assistance of counsel?' That's one of the major issues we have with the system: oftentimes the attorneys don't give the amount of energy, time and investment that it requires, and as a result people lose their children."
The lead judge paused, considered Williams's hypothetical, and then said, "Point well taken, Ms. Williams."
By the time Williams decided to start her own firm in 2013, she had not only sharpened her skills as a litigator, she'd also garnered a reputation as the woman to see for matters involving child welfare and defending parents accused of child abuse or neglect by the state.
"Allison has really given life to aggressive parental representation that's oftentimes a David versus Goliath struggle," says Sarah Jacobs, a family law attorney who has known Williams since they faced off as adversaries many years ago in a custody case. "She's not afraid to aggravate the deputy attorney general or tell judges that they can't simply rubberstamp an agency or trample on constitutional or evidentiary rights. Few have the same breadth of knowledge she does on this aspect of the law."
That breadth of knowledge comes from a case history that is as exhaustive as it is exhausting to imagine.
For instance, there was the time when CP&P investigated a matter of possible child abuse at the hands of a divorced father in Ocean County. The agency came back saying no abuse had taken place, but the judge demanded they investigate further, eventually holding a summary hearing where the judge, says Williams, "improvidently interviewed the party's 12-year-old and then ordered her shipped out of state to her mother with no application filed by the mother, no relocation hearing, nothing."
"You're confronted all the time with the division asking for the removal of children on very short notice and with little, if no, time for parents to respond," says Sara Sencer McArdle, a former Essex County prosecutor who often co-counsels with Williams on child abuse and neglect cases. "[But] Allison is a fighter. She's willing to take on the issues—demanding that the division has valid reasons for what they are doing. She is willing to put adversaries' feet to the fire to make sure the parents' rights are being protected."
The tenacity for which Williams is so widely respected hasn't come easily. Williams admits that during her formative years, she would often cry and get sick to her stomach after leaving court.
"When you're sitting next to your client in court, you can literally feel them shaking with terror as they watch their children carted off to God knows where," says Williams. "There's a trauma they go through, and you go through it with them. At some point you need to learn how to deal with that."
She's learned how to deal, and found ways to transpose her toughness onto her clients—not that's it's a pleasant experience for them. Williams often fiercely cross-examines and attacks clients the way she expects her adversary will.
"I think I can sometimes be jarring to my clients. But when you tell me your story behind closed doors I'm on your side, even when I'm beating the shit out of you," says Williams. "I'm ripping you apart so you can become strong enough that someone else won't be able to."
Williams wants to help reform the family court system, but for now, she's focused on growing her burgeoning firm from its current staff of four attorneys. Within the next few years, she intends to do more national public speaking about what she calls "the travesty of these systems" while finishing the book she's currently writing about the struggles of practicing family law.
"Whenever a client comes to me—whether they believe their child is being abused or they're being accused of abusing their child—my role is not to play social worker," says Williams. "I'm very clear with my clients that I am a litigator. I am not someone who holds hands and sings 'Kumbaya.' So if you want to mediate and play nicely in the sandbox, I'm probably not the right person for you."
Search attorney feature articles