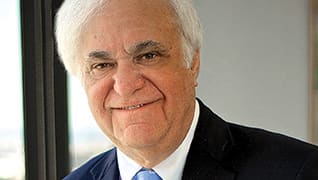 Photo by: Luigi Ciuffetelli
Being a Little Guy
"You cannot be great at what we do if you don't have compassion for people," says personal injury attorney Robert Kelner
Published in 2015 New York Metro Super Lawyers magazine
By Lisa Armstrong on September 11, 2015
There are three Kelners working at Kelner & Kelner, a personal injury and medical malpractice firm in lower Manhattan, but only one of them is a name partner. That would be Robert, who followed in the footsteps of his prominent lawyer father, Joseph, the first Kelner in Kelner & Kelner.
"I never thought of doing anything else," says Robert. "When I was 5, I asked my father whether I could work with him one day, and the answer was 'Sure!'"
One of their earliest cases together was also one of their most famous.
On May 4, 1970, National Guardsmen shot into a crowd of unarmed Kent State students who were protesting the Vietnam War, killing four of them. It was a tragedy, an iconic moment in the forces tearing apart the country. One of the four students was Jeffrey Miller of Long Island; and Robert, then a student at Columbia University School of Law, asked his father what he'd do if he was asked to represent Miller's mother, and the rest of the plaintiffs, in a civil case against Gov. James A. Rhodes of Ohio and 27 members of the National Guard. "His response was, 'I would take the case in a second,'" recalls Kelner. A couple of weeks later, he did just that. The trial started five years later, in May 1975, and lasted until August.
The younger Kelner recalls the moment when his father re-enacted a scene with one of the guardsmen, who says one of the students milling about had raised his middle finger at him. The guardsman was asked to take an unloaded gun and point it at the student, who was standing about 50 feet away with his middle finger raised.
"My father asked the guardsman, 'Did this constitute a threat to your life and safety when he was doing that?'" recalls Kelner. "It was just a devastating cross-examination. And his summation was out of this world; it was music." (Initially, the jury ruled, 9-3, that the defendants were not liable for the killings, but this was reversed upon appeal; the case wound up settling.)
Kelner was not only impressed by his father's legal mind but also influenced by the compassion and chutzpah he says both his parents developed coming from humble beginnings. Joseph Kelner had to start working in his parents' dry-goods store in Detroit when he was 10, after the death of his father. Kelner's mother, Elizabeth, came from a poor Brooklyn family and had to work as a child to help support her family.
"If you come from being a little guy, I think that's important," says Kelner. "You cannot be great at what we do if you don't have compassion for people. … This is a field where the little guy, if he has the right attorney on his side, is equal to the biggest guy that is out there—the largest corporation, the people with the most money."
Kelner estimates that he's won more than 300 verdicts and settlements of $1 million or more, with many in excess of $10 million. He defended Liza Minnelli in 2006 when her estranged husband, David Gest, filed a $10 million lawsuit against her, alleging abuse. (The case was dismissed by the state supreme court and then settled before it could be appealed.) Kelner also represented Mariane Pearl, widow of journalist Daniel Pearl, as she filed to get compensation from the September 11th Victim Compensation Fund.
Although Pearl's claim was denied because her husband was killed in Pakistan, not in the 9/11 attacks, Kelner still feels she had a legitimate claim. "The person who murdered Danny Pearl, Khalid Shaikh Mohammed, was the same man who planned the September 11 attacks," he says. "I felt that all victims of terrorism should be protected by this country. The case was rewarding because it brought the issue before the entire world, as the case was covered by virtually every newspaper and station in the country. … Mariane Pearl was one of the most impressive people I've ever had the pleasure of representing."
Though Kelner has taken on dozens of similarly heartbreaking and challenging cases, he says that one of his most difficult was representing Francis Driscoll, who was struck by a train in 1991 at the Nevins Street subway station in Brooklyn. Driscoll's lawsuit was against the New York City Transit Authority, for "damages for pain and suffering, lost earnings, and medical expenses due to injuries rendering him a quadriplegic from being struck by a subway train."
The case was a challenge simply because of the facts: Driscoll, then 19, was running along the tracks, trying to escape a gang that was attacking him, when he was struck by the train.
"It was 4 a.m., he had been drinking, he was dressed in black and in a tunnel in the middle of the night," says Kelner. "One of the other attorneys in my office said, 'Bob, this is a case we maybe can't win and it's going to take a long time, but if you'd like me to try it I will.' I said, 'If someone is going to lose this case, it is going to be me.' There was a paralyzed kid, and I felt that if I did not take this case, he was going to remain in an institution forever."
Kelner's goal was to show that there was enough light for the conductor to see Driscoll and stop the train in time.
"I rode that track 50 to 100 times," says Kelner. "The only way that I could successfully have cross-examined that motorman was to know those tracks cold. There was a 19-year-old kid paralyzed for life; if I was going to do that case, I was going to know every square inch of that tunnel."
The case dragged on for almost a decade, and though at times Driscoll was worn down by it, he says Kelner never wavered.
"Bob was always just tirelessly working on the case for nine years, that's how we won," says Driscoll. "We won a war. They would not let up; they did not want to give me one cent. Even with pressure from the judge, they just wouldn't let up. We had to fight tooth and nail, and if it hadn't been for Bob's hard work they never would have gave in."
Driscoll was initially awarded close to $36 million, but in June 1999, after numerous appeals by the New York Transit Authority, the case was settled for about $3 million. Driscoll was able to buy a home in Las Vegas and go to school to study media arts.
"I would still be in New Horizons [nursing facility]. I would never have this flourishing career and education—I have Bob to thank," says Driscoll. "He is the best personal injury attorney and he is a dear, dear friend. Without him and the work he did, I don't know where my life would be."
The other two Kelners at Kelner & Kelner are Robert's wife, Gail, who worked at Karelsen, Karelsen, Lawrence & Nathan and Greenbaum, Wolff & Ernst before joining the firm in 1998; and their son Joshua, who began working at the firm in 2005, shortly after he graduated from Harvard Law School. (Kelner's other son, Jonathan, broke with tradition and is an associate professor of applied mathematics at MIT.)
Both Joshua and Jonathan recall hearing stories like the Driscoll case from their father in the same way Kelner heard stories from his dad. For Joshua, 35, they were the impetus to study law.
"The thing that was impressed upon me was that law can be a tool and a force for good," he says. "When someone is terribly hurt, you are what will make their life decent or not, in terms of monetary issues. It is just a great responsibility."
Even though Jonathan, 34, decided to study mathematics, he says some of the legal talk around the family dinner table rubbed off on him. "One thing you learn growing up in a house full of lawyers is how many things can be a negotiation," he says. "If you can win a negotiation with my parents to stay out late, any future negotiations you'll have later in life will be a cakewalk." 
While Joshua typically works on his own cases—he recently represented the family of a 25-year-old inmate who died at Rikers Island in 2012, in a lawsuit against the city—Gail often works on cases with her husband.
"We do different things," says Robert. "Gail does appeals and does very heavy legal work, and I am more on the trial end and settlements."
Gail puts it more simply: "I do the writing, he does the talking."
One memorable case involved a couple of weeks living and working out of two motel rooms in Orange County. It was a case, Kelner says, reminiscent of My Cousin Vinny. "Gail was Marisa Tomei and I was Joe Pesci, and the cross-examinations went the way they did in the movie," he says.
Another memorable case—in part because of its intensity—was that of David Belding, whose right leg was shattered when he fell from a ladder in May 2004 while installing bomb blast window film on a Manhattan building.
Belding says he initially refused to go up on the ladder because he felt it was unsafe. A supervisor insisted, in order to complete the job within a given time frame, and when the legs of the ladder collapsed, Belding fell.
Doctors performed several operations to try to save Belding's leg, but it was amputated in September 2010.
"Bob and Gail gave me good moral support," says Belding. "It was beyond just an attorney-client relationship; it was the emotional support too, with my having lost my ability to work and then my leg. They knew when I was down in the dumps, and sometimes they would talk to me for an hour about nothing to do with the case."
Belding says the defendants, Verizon New York Inc., Tishman Interiors and Northern Bay Contractors, were unwilling to give him any money, despite his injury and subsequent loss of work. Since he was the one who had the credentials to install the film and had to be on site when the work was being done, his business ended up going under once he was unable to work. (The case eventually settled for almost $10 million.)
"We were elbow-to-elbow fighting this thing, and I always felt I had somebody supporting me—Gail and Bob never wavered," he says. "To this very day, Bob is one of the most important people that ever entered my life. He gave me a life. As a lawyer he was just exemplary. As a friend he is even better."
Gail and Kelner also spend a lot of time outside the office together, collecting art and traveling. But there are a few places where their interests diverge:
"Some of us like opera and some of us don't," quips Kelner. "The only thing we don't do together is opera."
Then he adds: "Oh, and I am a Yankees fan and Gail was raised in Massachusetts so she's a …"
"… Red Sox fan," Gail finishes.
"That's one step worse than the Mets!" says Kelner. Then he dives into a story about Gail representing Whitey Ford's wife. "It was clearly a terrible thing that a Red Sox fan do this, but when Whitey saw her drinking coffee out of a Red Sox cup, he went over to her and hugged her and said, 'Sweetheart, we can still be friends.'"
Baseball loyalties aside, Kelner says that he, his wife and their son are typically on the same page when it comes to the business side of things, though Kelner says there were some bumps along the way with his father in the first few months of Kelner & Kelner's existence.
"I quit in a fit of anger," says Kelner. "My father looked me right in the eye and he said, 'I can't fire you, and you can't quit,' and I didn't do that again."
Each of the 10 lawyers at Kelner & Kelner has been there for at least a decade, and Kelner says that the firm is successful in part because they are all extremely talented lawyers, but also because it is a family business, and not just because his son and wife work there.
"My style is not to have people work for me; I work with them. That is very important," says Kelner. "The magic trick is to listen to the family members you work with, and I say that meaning there are 10 lawyers in our firm, which means the significant percentage are not blood family, but they are family."
Search attorney feature articles