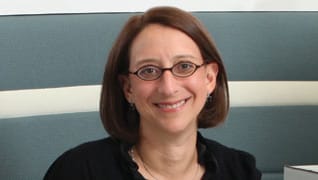 Photo by: 85 Photo
Big Deal
Julie Jacobs navigates the new media frontier at AOL
Published in Super Lawyers Business Edition 2011 magazine
By Timothy Harper on August 29, 2011
There were a lot of standing ovations at the Super Bowl in Dallas last February, but Julie Jacobs was probably the only lawyer who received one. And she wasn't even at the game.
Jacobs, general counsel for AOL, was 1,500 miles away that Sunday night, in her New York office where she had been working all weekend hammering out the final details of a big deal: the $315 million purchase of The Huffington Post, which required negotiating with the other side's lawyers, nailing down the terms, and getting the contract language just right. Finally, Jacobs made a phone call to Cowboys Stadium, where the Green Bay Packers were on their way to defeating the Pittsburgh Steelers.
Her boss, AOL Chairman and CEO Tim Armstrong, answered from the private box where he was hosting a party for media executives. He took the call on speakerphone so that Arianna Huffington, sitting next to him, could hear. They had been waiting for Jacobs to finalize AOL's purchase of The Huffington Post, one of the leading news and opinion sites on the Web.
"Are we done?" Armstrong asked Jacobs.
"We're done," Jacobs confirmed.
According to reports, the box erupted in clapping and cheering as Armstrong and Huffington hugged and shouted congratulations and thanks to each other—and to Jacobs. People in nearby boxes looked over, wondering what could be more important than the game. Armstrong and Huffington announced the purchase later that night.
Whether or not the deal revitalizes the once-mighty AOL, Jacobs will be in the middle of it all, as she has been throughout AOL's roller coaster ride over the past decade. For 11 years, Jacobs has been involved in all the corporate strategies, good and bad, failed and successful. She joined AOL as a corporate lawyer at its zenith in 2000, during its takeover of Time Warner Inc. Jacobs led both AOL's ambitious international expansion and then its long, wrenching downsizing as Web users turned away from AOL and toward Google, Facebook and other Internet upstarts. As deputy general counsel, she helped engineer the complicated divorce from Time Warner nine years after its acquisition. Jacobs has seen thousands of AOL employees come and go, including five departed CEOs: Steve Case (1991 to 2001), Barry Schuler (2001 to 2002), Robert Pittman (2002), Jon Miller (2002 to 2006) and Randy Falco (2006 to 2009).
Today, as general counsel of the digital media company, Jacobs is at AOL for what the company feels is its second act of its history. She oversees all of AOL's legal, regulatory, compliance and public policy issues. She supervises 50 in-house lawyers who are located at AOL headquarters in New York, and in Dulles, Va., Los Angeles, San Francisco and London, and serves as corporate secretary and adviser to Armstrong and AOL's board of directors. But if you tell Jacobs she doesn't seem to fit the stereotype of a high-powered corporate lawyer, she takes it as a compliment. Jacobs may be a big shot, but she's personable. She's in her mid-40s and looks even younger—and she holds no pretentions. When she hears something funny, Jacobs has a habit of leaning back, giving a spontaneous whoop and clapping her hands.
She grew up in the 1970s and '80s in Bellevue, Wash., where her father worked as a Boeing engineer and her mother as a schoolteacher. Her father's father was a small-town lawyer in Indiana, and Granddad Jacobs' stories made practicing law sound like something she'd want to do. Her parents, especially her father, pushed Jacobs and her two younger sisters to do their best. "He told us there's nothing we can't do," she says. One of her sisters now works for Microsoft in Seattle and the other for Fidelity Investments in Boston.
Theirs was an outdoorsy, sporty family, and Jacobs was a star tennis player in high school. After graduating in 1985, she went to the University of Colorado in Boulder, and by her junior year she had decided she wanted a career in corporate law. She majored in finance and loaded up on math, science and business courses. But after graduating in 1989, Jacobs took a year off to work in a sporting goods store to get a break from school and earn money for law school. She says that year in retail imparted many lessons that have helped throughout her legal career, including the important moral to always treat everyone with respect.
At Georgetown University Law Center, she made law review and many lasting friendships, including that of former FCC Commissioner Michael Powell, who later joined AOL's board. She graduated cum laude in 1993, got job offers from a number of firms focusing on corporate law—"all the big ones," she recalls—and joined the Washington, D.C. office of one of the largest: New York-based Milbank, Tweed, Hadley & McCloy. She focused on international work, including development and telecommunications projects, and represented both foreign and U.S. clients on a wide range of major financings, transactions, security offerings and restructurings. Her assignments at Milbank with Mark Kantor and Tsugumichi Watanabe led to a lot of time spent in Asia, particularly Japan, often working with government agencies, developers and financiers to put together infrastructure projects in emerging economies.
"Every culture has its own way of doing deals," she says. "It's fascinating. Some are more regimented. Some are more freewheeling in their decision-making. Some, there's more process. But eventually everyone gets to the same place." She says her strengths are bringing people together, facilitating resolutions and helping opposing sides understand it's OK to compromise. "Everybody has different styles, which makes it interesting in a boardroom going through negotiations," says Jacobs, "but eventually you are able to close the gaps and bring everyone to the table and get a deal done."
Jacobs was on track to become a partner at Milbank, but two concerns gave her pause: the firm wanted her to move to New York, but she liked living and working in D.C.; and she realized she might be better suited to in-house work. A lawyer who charges by the hour, she says, may have a stake in the immediate transaction, but has less of a stake in the long-term outcome for the client. "I wanted to be part of something," she says.
After joining AOL as a corporate lawyer in 2000, and after the Time Warner merger was announced, she immediately set about working on international expansion for the newly combined media giant. Much of this early work, however, was undone in subsequent years as AOL's subscribers—and revenue—dropped dramatically. Jacobs was impressed with Tim Armstrong's vision for a new media exclusive search partnership between two parties when she met him in 2005; he worked for Google and was across the table from her during negotiations that resulted in Google's purchase of 5 percent of AOL for $1 billion. When Armstrong was appointed CEO of AOL in March 2009, Jacobs thought, "This is what AOL needs." Armstrong quickly turned to Jacobs, by then deputy general counsel and senior vice president, to help unwind what some have called the biggest failed merger in history, between AOL and Time Warner. "Everybody felt the separation was best for both parties," Jacobs says.
The unraveling made for long hours and often frantic work over several months—the divorce was finalized one day short of the Dec. 10, 2009, deadline set by AOL and Time Warner executives—but Jacobs says it helped that she was working with many former AOL lawyers who had stayed at Time Warner. On the day her appointment as general counsel was announced in May 2010, not long after she helped take the newly stand-alone AOL public, AOL's shares went up 90 cents, about 4 percent. "Yeah, it was all because of me," she says, laughing.
Armstrong makes it clear how much he counts on Jacobs, calling her one of the most talented people he has ever met. "She is a driving force at AOL," he says, "and the company wouldn't be where we are today without her."
Jacobs sees the role of corporate counsel as establishing trust both inside and outside the company, and helping executives within AOL—her clients—understand the risks in pursuing any particular strategy. Whether in external negotiations or providing strategic advice within the company, she says, communications skills are critical. She needs to be able to explain risks, their potential ramifications and the alternatives that can reduce them. "I view myself as a strategic partner with those clients," she says. "In order to do that, I have to be able to help them achieve their goals and be able to work with them to mitigate any of the risks we identify together."
One of the things Jacobs likes best about being a corporate counsel, especially at a media company, is the range of work as AOL shifts from its traditional role as an Internet service provider to Armstrong's vision of an advertising-supported new media conglomerate. Jacobs describes Armstrong as a "phenomenal leader" and believes in his vision for AOL. "There is a need for content, and if we have quality content, advertising will follow," she says. "AOL has a legitimate shot at being one of the top sources for content." (Jacobs herself stopped reading newspapers four years ago. Instead, she gets her news from AOL, HuffPost and other news sites.)
Working through AOL's transitions gives Jacobs the challenge of anticipating and responding to changes in Internet law, including those regarding defamation and copyright, which she enjoys. In addition, there is no shortage of employment-related legal issues. Part of Jacobs' job has been supporting the human resources department during the layoffs and staff reductions that AOL has experienced since the spinoff from Time Warner in 2009. "Part of our job as management is to right-size the company and position it for success," she says. "We make these decisions very carefully and I believe we're doing the right thing for AOL." Armstrong and the business leaders set the strategy, and as their lawyer, she carries it out.
In addition to assisting the business and HR with the employee separations, there is plenty of legal work related to bringing talent onboard, says Jacobs. AOL has gone through numerous management changes throughout the years, and with each change, there are extensive negotiations with executives and drafting of employment agreements. Additionally, AOL retains new talent through recruitment, as well as its acquisitions. "AOL has acquired over 30 companies in the last five years," Jacobs says. "With each acquisition, we negotiate employment terms with the other side and deal with unique circumstances related to bringing on a new workforce." Jacobs has overseen a raft of acquisitions besides HuffPost, including Advertising.com, ADTECH and Engadget—even a round of three separate companies (5min Ltd., Thing Labs Inc. and TechCrunch) within three days in September 2010.
Jacobs has won a number of awards for her work, and has been involved in a number of bar association and mentoring programs for women. "Julie and I met when she became an executive mentor for other women at AOL," says Donna Vitale, director of records management at AOL. "She has an amazing talent for getting to what's important, getting the focus right. She's candid even when it's tough to be, and that inspires trust and loyalty in those around her. And she's great fun to work with, too."
Jacobs also works with the American Bar Association-sponsored DirectWomen Board Institute, to help place more female lawyers on the boards of major U.S. corporations. "It's a huge interest of mine, working to increase the number of women on public company boards," she says. "Why? Because it brings diversity of thought and a firsthand perspective on a client base that controls 80 percent of household purchasing decisions. Companies are beginning to realize this now."
Jacobs met her husband, Department of Justice trial attorney Andrew Skowronek, through a mutual friend; they now have three kids who were born less than 15 months apart: 6-year-old twins Benjamin and Ethan, and 5-year-old Zachary. After growing up in a household where her dad was the only male, she now lives in a house full of guys. "And I love it," she says. On a typical day, she wakes up early at their home in the D.C. suburbs, gets the three boys up, fed, dressed and off to school, and then drives 45 minutes in her 2003 Honda Accord to her office on AOL Way in Dulles. (Her other car's a minivan.) On weekends, she's a hockey mom and is teaching the kids golf. Each got his own set of little clubs for his second birthday. Her own golf game is stuck around bogeys, she grimaces, and it probably won't get any better until she retires—which is many years off, she promises. For now, vacations are a week here and there at kid-friendly destinations such as Disney World or Cape Cod. Her advice on work-life balance: Be present, 100 percent, wherever you are at that moment. She doesn't think about work when she's golfing with the kids, and she's totally focused on the job when she's in the office.
At a recent media industry event, Jacobs was approached by a familiar face: sorority sister Desiree Gruber, who had detoured with Jacobs to see Warren Buffett's home on a trip to a college football game—Colorado vs. Nebraska—20 years earlier. Gruber went on to become a high-profile public relations agent, one of the producers of Project Runway and the wife of actor Kyle MacLachlan, and though the two women hadn't seen each other in years, they were soon chatting as though they were back at the Alpha Chi Omega house. They agreed not to tell anyone in the room their old college stories. "People here generally think of me as a responsible person," Jacobs says with a laugh.
Looking back, Gruber says she's not surprised Jacobs has had such a big career. "It absolutely makes sense," she says. "Julie was the sort of person, even in college, who always had that perfect sense of balance. She was the one who got things done."
Search attorney feature articles
Helpful links
Other featured articles
Karl Tilleman is as sure a shot in court as he was on the court
After cancer, Scott Lundberg became Iron Man 
The real estate attorney helps guide Portland through its growing pains
View more articles featuring lawyers
Find top lawyers with confidence
The Super Lawyers patented selection process is peer influenced and research driven, selecting the top 5% of attorneys to the Super Lawyers lists each year. We know lawyers and make it easy to connect with them.
Find a lawyer near you