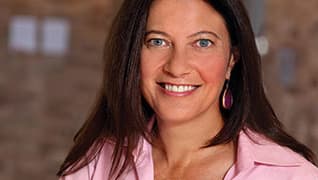 Photo by: Luigi Ciuffetelli
Brew Master
How M&A ace Sabine Chalmers helped form the world's largest brewing company
Published in 2014 Super Lawyers Business Edition magazine
By Matt Amis on November 21, 2014
In 2008, InBev, a brewing company that was the child of Belgium's Interbrew and Brazil's AmBev, began negotiations with Anheuser-Busch, the American brewing giant, to merge the two companies. The turbulent negotiations included rebuffed offers, accusations and lawsuits from both sides, while shareholders, board members and politicians played favorites. When the dust finally settled on the $52 billion all-cash deal, the world's largest brewing company was born.
At the center of the storm was Sabine Chalmers, InBev's chief legal and corporate affairs officer, who worked on the legal and communication aspects of the merger, strategizing with in-house and external legal, communications and government affairs advisers. 
"Between the internal and external forces at work, the economic downturn, the presidential election, 2008 was a very tumultuous year," says Frank Aquila, a partner at the firm of Sullivan & Cromwell, which served as outside counsel for the landmark transaction. "She was very young, had not been in her position all that long, and clearly this was the most important transaction the company had ever engaged in, and probably will ever be involved in. Nevertheless, there was never a bead of sweat on her brow."
Not everyone was enthused. To many in America, the merger signaled another sad chapter in the economic downturn—a foreign takeover of a cherished, family-owned American cultural institution. Many feared that jobs would be cut, breweries would be stripped for parts and the famous Budweiser Clydesdales would be put to pasture. There were indeed casualties. The St. Louis Post-Dispatch reported the layoffs of 1,400 salaried U.S. employees and 415 contractors while the new company consolidated its resources. Other cost-cutting measures—the sale of Busch Entertainment Corp.'s 10 theme parks, including Busch Gardens and SeaWorld—were necessary, but the Anheuser-Busch name and legacy, as well as its U.S. brewing operations, remained largely intact.
"We all felt an enormous sense of responsibility that this was bringing together two companies with rich histories," Chalmers says. "And not all mergers, not all combinations, work. Lawyers often fixate on the deal: How big is the deal? When does it close? I think I was equally aware that the deal was only the first step in ensuring that we as a legal and corporate affairs team got through it as seamlessly as possible, and making sure the sum was greater than the parts."
Anheuser-Busch InBev emerged a sleeker, more modern and more global company. Chalmers and the in-house legal and corporate affairs team carefully aligned along the new company's five geographic zones, each of which appointed a head of legal and corporate affairs to sit on a management committee and report to Chalmers and the regional president. A more robust panel of external law firms, which included both InBev and Anheuser-Busch advisers, was settled, and worked in concert with in-house lawyers, resulting in better training and development for the in-house team.
Meanwhile, Chalmers' M&A acumen was put to the test, as AB InBev revenues grew by more than fivefold over the past decade, thanks in part to acquisitions, including Mexico's Grupo Modelo. In recent years the company has also acquired brands like South Korea's Oriental Brewery Co. Ltd. and American craft brewers like Chicago's Goose Island Beer Co. and Long Island's Blue Point Brewing Co. In 2012, for the first time ever, more than half of Budweiser production—51 percent—was sold outside of the U.S. Where the old-model AB depended on North American sales and a few international distribution networks, the new regime focused on emerging markets in Asia and Latin America.
In 2014, the company continued as a major sponsor of the FIFA World Cup in Brazil, while a team of Clydesdales underwent a goodwill tour of China. They even were projected on the Great Wall. "It was a massive success," Chalmers says. "They were real rock stars in China."
"We became a really global company," she says. "AB was very much an American company, and [InBev] was very much a company with a very small U.S. presence. Here was this amazing brand with a very rich heritage in the U.S., with enormous international potential, and what InBev brought was the network. We could launch Budweiser in Brazil, in Russia, really grow it in China."
As AB InBev's chief legal and corporate affairs officer, Chalmers supervises a 150-member legal team on a global scale for the world's largest brewer, a company with more than $43 billion in annual revenue in 2013 and over 150,000 employees in 25 countries. She and her team are the company's pulse throughout all of AB InvBev's markets, especially North America, Latin America, Western Europe, Eastern Europe and Asia, where she deals with matters ranging from her specialty of commercial law to the compliance program to corporate social responsibility initiatives—for each unique setting. Her travel schedule is, in a word, extensive. There are the board meetings in Belgium and management meetings in Beijing, Sao Paulo, St. Louis and so on. While Skype and email have their place, "A big aspect of the job is visibility, the people issues, and just helping the teams," she says, "whether I'm recruiting great lawyers or great corporate affairs professionals. You drive engagement by spending time with them, being with them, talking about their issues."
"There aren't too many people in the business community who are truly citizens of the world, but she really is," says John Blood, the company's VP of legal. "She is multicultural, and comfortable in all different geographies, and when she's there, she thrives, absorbs the local nuances and culture and uses that to make our business better."
Colleagues laud her ability in nuts-and-bolts legal work: the contracts, negotiations, strategies, and departmental restructuring that a quality corporate lawyer delivers. "She's a very excellent technical lawyer," Blood says. "Particularly in the M&A areas. By the time you're general counsel for a major consumer products company, it's tough to maintain that functional expertise, but she has that."
But it's Chalmers' uncommon blend of the procedural and the personable that sets her apart from upper management ilk. Aquila calls it the "the ultimate empathy."
"She an extraordinarily smart lawyer, one of the smartest I've worked with in a 31-year career," he says. "But I've worked with a lot of really smart lawyers who either don't have her street smarts or emotional IQ, and they don't have a clue why they don't get the job done.
"She's not a table pounder, but she's someone who's going to rely on consensus-building, somebody who respects different points of view. She understands something that a lot of people don't understand: that our own perspective might not always be the right one or the only one."
Says Chalmers: "Maybe it's a reflection of my life—having been raised in different cultures in different countries, different colors, different backgrounds. I've always been very tolerant of anything in life."
Chalmers grew up in the city of Amritsar, about an hour's flight northwest of New Delhi in the Punjab region of India. Considered a Sikh spiritual capital, it is home to the Harmandir Sahib "Golden Temple," the most important pilgrimage site in Sikhism. It's where her father, Gerhard Glassl, the German son of a bricklayer, met her mother, Roma Bhandari, the Indian daughter of a local guesthouse operator. Besides its spiritual import, Amritsar is also famous for its textile heritage, which is why Glassl, a technician specializing in fabrics, found himself there. Throughout the '40s and '50s he traveled extensively throughout Asia and the South Pacific, and his tales of adventure and foreign cultures had a meaningful impact on his daughter.
"I remember him showing me these black-and-white photographs of him standing at the base of Mount Fuji or eating Japanese food," she says. "I found it fascinating. He came from a tiny village in Bavaria, and had gone and seen the world."
The other side of her family tree is marked with "incredibly strong women," she says, "who were always bucking the norm." Chalmers' grandmother was a Parsi who married a Hindu for love, and encouraged each of her four children to blaze their own trails. "She ran her own business, and was always telling stories about having the courage to try different things, to find your own way in life, and in never agreeing with the status quo. She was also a great believer in the importance of tolerance.
"When you put those things together, it's given me incredible interest and respect for other cultures, but also a curiosity in how you bring them together to find a better way."
When Chalmers was 5, her father was offered a job designing brassieres at a Playtex facility in the Philippines, and Chalmers soon began attending the International School in Manila. From there she moved on to the London School of Economics and qualified as a solicitor in England, which led to a position specializing in mergers and acquisitions at the firm of Lovell White Durrant (today known as Hogan Lovells). Traveling halfway across the world made her feel resilient and bred independence and resourcefulness. "You're constantly in an environment which is alien to you, and for want of a better phrase, you're having to figure out how to fit in," she says.
While she learned the ropes of private practice and mergers and acquisitions, Chalmers received a tip on an in-house junior lawyer position working on commercial contracts around the world at the London offices for Guinness PLC, makers of the famous Irish dry stout. By the mid-'90s, Guinness began expanding into Latin America, and Chalmers was asked to move to Miami to become the company's general counsel for Latin America and the Caribbean. She was quickly tasked with learning the legal systems in Argentina, Colombia, Peru, Brazil, Venezuela and others to negotiate distributor terminations and brand acquisitions, build up relationships with external law firms, and establish joint ventures with Latin American partners. Tax laws, employment laws and incorporating procedures all flowed through her desk. But the business grew. Chalmers improved her Spanish. In 1997 Guinness merged with Grand Metropolitan and became Diageo, and Chalmers was given the reins on the company's transactions of iconic brands like Burger King (sold to several private equity firms, led by Texas Pacific Group in 2002), and she also worked on a long-term distribution agreement for the Jose Cuervo brand. "I always had a real fascination with companies, and the brands, people and families that companies represented. The interesting thing about mergers and acquisitions is it's like bringing different cultures together. Ideally the ones that work are the ones that prove that one plus one is three or four or five."
She and her husband, Richard, welcomed their daughter, Natasha, into the world in 1999. In 2000, she was promoted to general counsel of Diageo's international markets, and in 2002, she was appointed general counsel of U.S. business and relocated, again, to Stamford, Connecticut. By the time InBev called, she'd had exposure to business on almost every continent.
"Her personal story influences her career, the decisions she makes, and what she finds important," says Blood. "You just can't fake that. She speaks universal truths, and that is: We need to be honest and passionate about what we do, we need to work really hard, and be responsible about what we see."
Like the best storytellers, Chalmers continues to add new bits to the narrative. Her devotion to AB InBev's social agenda, environmental and community projects has become a major endeavo. "She's taken the best of AB InBev and brought it to the rest of the world," Blood says. "I think that's really becoming embedded in the company's DNA." Her work with Legal Momentum, America's oldest legal defense and education fund dedicated to advancing the rights of women and girls, is helping to create the next generation of world-conquerors.
"A significant impact on the positive evolution of the world is dependent on access to education [for] everyone, but also on the role of women in society," she says. "I've always had a massive interest in improving the choices that women have."
There is, of course, down time, too. Since moving her family to Manhattan, Chalmers has made it a point to dive headlong into the borough's famous arts scene. She reflects on Sleep No More, the acclaimed theatrical production that reimagines Shakespeare's Macbeth through a filtered lens of Alfred Hitchcock, 1940s film noir and carnival haunted houses. "I love the retelling of old tales," she says. "I've always had this huge interest in storytelling and in the arts. But I'm always eclectic in my choices."
In January of 2014, firmly entrenched in America's melting pot, the storyteller landed a fitting capstone to her latest chapter. The lifelong itinerant officially became a United States citizen.
Search attorney feature articles
Helpful links
Other featured articles
Before April Hollingsworth fought for employees' rights, she was an adventurer with no clear path in sight
Five real estate, land use and construction attorneys on the Bay Area's past two decades
Abou Amara brings capitol experience to his practice
View more articles featuring lawyers
Find top lawyers with confidence
The Super Lawyers patented selection process is peer influenced and research driven, selecting the top 5% of attorneys to the Super Lawyers lists each year. We know lawyers and make it easy to connect with them.
Find a lawyer near you