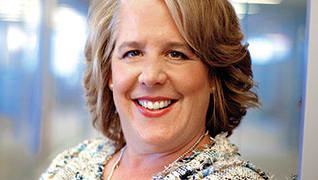 Photo by: Luigi Ciuffetelli
First Comes Love
Before same-sex marriage was the law of the land, business litigator Robbie Kaplan became a hero of the movement
Published in 2015 New York Metro Super Lawyers magazine
By Amy White on September 11, 2015
When 9-year-old Jacob Kaplan is asked to explain United States v. Windsor, the pro bono U.S. Supreme Court case his mom Roberta "Robbie" Kaplan won for client Edith Windsor, he shrugs and says, "Edie wanted her money back."
Three hundred and sixty-three thousand dollars, to be exact. That's the estate tax bill Windsor received after the death of her wife, Thea Spyer, in 2009. Kaplan's 2013 victory before the U.S. Supreme Court, on a 5-4 decision authored by Justice Anthony Kennedy, not only killed the 1996 Defense of Marriage Act, it also made the spunky, pint-sized Windsor the darling of Manhattan and Kaplan the new hero of the same-sex marriage movement.
"A lot of times people come up to me and ask, 'How do we know you?'" says Kaplan, a commercial litigator with Paul Weiss. "Then I tell them, and they're like, 'Thank you.' It's humbling. And strange. As a young girl growing up in Cleveland, this life would have never occurred to me."
That's not to say she didn't know she wanted to be a lawyer. She did. And thanks to her mother's subscription to New York magazine, she knew where. She just didn't foresee a landmark SCOTUS case.
But then came Edie.
"She is not a client, she's a friend," Kaplan says. "My child adores her. The whole Windsor experience was an enormous amount of fun with her. There were certainly some tense moments, but we won in district court, we won in the circuit court, and then we won in the Supreme Court. The most surprising thing that happened during the case was Obama changing his position [on same-sex marriage]. … That phone call [from Tony West, then-assistant attorney general for the Civil Division of the Department of Justice] shook my core. That was the first time in the case I actually cried. I was shocked. I thought, 'We're going to win.'
"But we didn't really have any down moments in the case. We spent a lot of time laughing."
Contrast this with 2006, when the state Court of Appeals ruled against same-sex marriage in a case on which Kaplan served as lead counsel with the ACLU. "We lost," Kaplan says. "Big time."
Of course, if Kaplan had won in 2006, Windsor might never have happened.
"Look, I always wish that I had won. I couldn't do what I do if I hadn't always wished that. That's what we do as litigators. You can't be a litigator unless you really like to win. And I really hate to lose," she says. "I believe in God, and I believe God helped bring Edie to me. But I'm not enough of a determinist to say it was a good thing we lost in 2006 so we could win in 2013. Too many people couldn't get married, who died in the meantime, who couldn't visit people in the hospital. … It's too much."
At the heart of Windsor was a poignant relationship between Windsor and Spyer. "If you look at the first few pages of our Supreme Court brief—there are not a lot of Supreme Court briefs that begin this way," Kaplan says. "The first eight or so pages is a love story."
But was it the right case? Kaplan, who celebrated her 10th anniversary with her wife this month, thought so. Not everyone did.
"Rumor has it that other movement lawyers were not happy about Edie's case," says U.S. District Judge Colleen McMahon, whom Kaplan considers a mentor. "They did not think it was the right way to go; it did not fit into their strategy for achieving the right to marry. But Robbie saw a human being with a problem that needed to be solved—[Windsor] wanted her money back, and she needed a lawyer. Sounds mundane, but it allowed Robbie to present the issue in equal protection terms—which I thought was the only argument that would ever work—in a way that made it personal, affecting and compelling. And it worked. The very fact that the case was about a tax refund made it impossible to dodge the real issue, as the court did in the Prop 8 case. Robbie, and Robbie alone, was able to see that Windsor was the perfect case to light a fire under the issue of gay marriage."
Adds McMahon, "Robbie understood that the key to victory was to convince courts to make right something unjust that had happened to a real person. It was not about a movement, it was not about a cause. It was about Edie Windsor."
Kaplan did this by reminding herself via Post-it Note. "I stuck it on my computer," Kaplan remembers. "It says: 'It's all about Edie, stupid.' My job was to represent Edie, even though I was someone who was obviously impacted by DOMA, and who would reap benefits if we won—which I have—but it was incumbent upon me not to think about that. That was inconsistent with my duty as a lawyer."
Kaplan allows that there were moments in the case where her emotions played out. "I was arguing in front of the chief justice and he asked me a question like, 'Aren't politicians falling over themselves to support your side?'" she says. "If you listen to the audio, you can hear my voice crack. I think that crack was Robbie Kaplan bubbling up because I couldn't keep her down anymore."
Marty London, of counsel at Paul Weiss, and another lawyer Kaplan credits as a mentor, says there's no keeping Kaplan down, period. When he needed a lawyer to catch a flight to Tokyo, yesterday, to help sort out what was then the largest financial scandal ever—the Sumitomo copper affair in 1995—he picked Kaplan, then a seven-year associate, to move to Tokyo and serve as lead counsel.
"I said, 'Listen. The magnitude of these issues is enormous, and daily; and I need you to go be in charge, and I need you to go now," he says. "If that wasn't hard enough, there was the cultural aspect: The only women involved in Japanese corporate infrastructure, at the time, were known as OLs, 'office ladies.' Their one job: serve tea. It was Mad Men to the third power. This was an unprecedented assignment."
He enlisted Kaplan, he says, because she's rock solid. "I'd like to be as intelligent as she, and be as dedicated as she, and to have her ability to make the people around her have 100 percent confidence. By the end of [the firm's] tenure there, about nine months, she had the complete confidence of the corporation. They started calling her Robbie san."
Kaplan remembers the assignment well. "The first time all the Japanese came for a meeting, I employed the lead paralegal—male—as an OL," she says. "The Japanese were all looking at each other, stunned, as he continued to walk around and politely pour tea. After a few moments, they all started laughing."
In addition to her civil rights work, Kaplan maintains a healthy roster of powerful clients, including JP Morgan Chase, Fitch Ratings and Columbia University, among others. "There's a lot of talk out there in the world, and I get it, about specialization within the areas of commercial law, civil rights versus non-civil rights," she says. "But the truth of the matter is that the skills of being a great litigator are the skills of being a great litigator."
Kaplan recently won a three-year case for client Airbnb. "The New York attorney general was basically seeking all the data for all people who used Airbnb in New York over a period of three years. They wanted to poke around, the way that attorney generals do. That's their job," she says. "We argued that, 'Look, while you're probably entitled to some information, you're not entitled to everything Airbnb has.'"
"Robbie … never misses the forest for the trees," says Airbnb Deputy General Counsel Darren Weingard. "She is strategic and practical but keeps her sense of humor at all times. Most important, she's really taken the time to understand our business and its transformational effect on the world."
In Kaplan's office, guests don't sit in fancy, overstuffed leather loungers but casual, cream chairs that would fit in any J. Crew summer catalogue. The room's palette of warm whites clash with the gloom and steel outside her window on a rainy Manhattan afternoon. Her son's finger paintings hang on the wall; plaques celebrating her career sit haphazard on the floor. Bookcases are in the same state of disarray as the half-opened case of Perrier at her feet; she proffers a bottle to everyone who stops by. She talks about hitting the city with playwright Terrance McNally ("a great friend of ours") and schmoozing with Vice President Joe Biden ("Now, that guy's charming. It's like hanging out with Tip O'Neill") in the same relatable manner in which she admits she likes country music ("No one ever believes that") and fly-fishing ("It's so relaxing"). It's easy to forget the immenseness of what she helped bring about with Windsor.
While Kaplan describes the summer after Windsor as "the summer of euphoria," one moment sticks out. "The most profound thing that happened was my son's interpretation of My Fair Lady," she says. "He loves watching movies, and Rachel and I couldn't take another Disney cartoon. After the end [of the movie], the first thing he says is, 'Why did Eliza go back to Higgins? He was so bad to her.'" At which point Rachel and I gave each other a look of pride: We had to be doing something right if that was the reaction. But the second thing he said was, 'I guess this is kind of an old-fashioned movie, before men could marry men.' And it was an astounding moment for me that my 7-year-old son would react that way."
Now she's thrilled that Jacob will grow up in a world where same-sex marriage is legal in all 50 states.
Kaplan expected SCOTUS's June 26 decision in the Obergefell case to be in the movement's favor. But, she adds, "somewhere in my heart I always had a fear that it wouldn't happen. Now that is has, the amount of 'pinch me' is hard to put into words. The opinion is everything we could have wanted and more—it's not narrow, it's not limited. It's truly amazing. The whole thing has been incredibly joyous."
While Kaplan was in San Francisco the day the news broke—"not a bad place," she adds—she flew home the next day to host a soiree at her apartment. "Edie was there," she says. "She is living on top of the world right now. She thought it would happen, but she didn't think it would happen in her lifetime."
As for where the movement goes from here?
"That's a very interesting question," Kaplan says. "It depends on what the other side does. The obvious place to go, and we've seen this a bit, is [opposing] these so-called Religious Freedom Restoration Acts, which aren't about religion, and they're not about freedom, and they're not restoring anything. They're about giving people license to discriminate. So far the gay community has been successful in fighting those—in large part, ironically enough, led by business. The business community does not want to be in the situation—this is my view—where they can have their employees in any way discriminate against a customer simply because they're gay. And you've seen, post-decision, that there has been some noise about letting clerks in various Southern states use their religious conscience and decide who to give marriage licenses to. I don't think any of that is going to bear fruit, but we'll see. If it does, I think we'll ultimately win, but we'll see what kind of battle it will be."
The next big case Kaplan is working on in the civil arena is representing Columbia University in the "mattress girl" case; in the commercial space, she has a five-year complex matter for J.P. Morgan Chase just entering discovery. And on October 5, Then Comes Marriage, her book chronicling Windsor, co-authored with Lisa Dickey, will be in bookstores.
If Kaplan is known for Windsor from now on, she's content with that.
"I come from a religious tradition that says that the reason God put us here is to … the Hebrew word is tikkun olam, 'to repair the world.' That means repairing the world globally, repairing the world in terms of getting civil rights, and repairing the world in terms of your family and friends and people you love. If I have done a little bit of that, I think I did OK."
Search attorney feature articles