Getting to YES
Sports lawyer Irwin Kishner's highlight reel includes developing the country's first regional sports network
Published in 2017 New York Metro Super Lawyers magazine

on September 20, 2017
More than 20 years ago, Irwin Kishner got one heck of a call to the bigs. 
He was a young transactional lawyer working in M&A for Herrick when the prestigious firm Shea & Gould imploded. One of its attorneys, Lonn Trost, a corporate lawyer with an impressive roster of sports clients, including the Baseball Hall of Fame, the Mets and Yankees, and Lelands Auctions, landed at Herrick. 
The two worked well together, and Trost trusted Kishner to work some Mets and Yankees business. 
Then Trost got his call. "One day Lonn said, 'You know what? I got a call from Mr. Steinbrenner, and I'm going to become the general counsel and the chief operating officer of the New York Yankees.'"
The Brooklyn-born Kishner became heir apparent for Trost's clients, and one of the nation's most robust sports law practices was born. During the past two decades, he's also served as the Yankees outside counsel. 
"It started initially with helping them buy one of their minor-league teams," he says of the Yankees work. "Through the years, it's crescendoed in being involved with all of the significant transactions—and sometimes litigations—that have affected the client. We like to think of ourselves as business partners in the sense of just being fully available, all the time. Whenever we can add value, we jump in."
To the uninitiated, sports law might mean starry eyes and ticker-tape parades. To Kishner, it's simply "corporate law in a very exciting and continually evolving industry." 
That's where his mergers and acquisitions background comes into play. "If I'm representing the acquirer of a team, of an interest or of a subsidiary business, or a seller of any of those; or if I'm looking to help a client access capital on the most efficient terms possible, I've done that in my M&A capacities. The M&A attorney is something of a renaissance lawyer in the sense of the types of industries you work with. You really need to become an expert across the board to properly represent your clients."
These days, those clients include the World Surf League, the sanctioning body for surfers; the New York Racing Association, which operates the three largest thoroughbred horseracing tracks in the state; upstarts like the Champions Basketball League and the World Freerunning & Parkour Federation; and various major sports organizations, including The Ultimate Fighting Championship.
Sometimes he's the starting pitcher, sometimes the closer, occasionally the left-handed relief specialist. "When John Henry was buying the Florida Marlins, I was called in to help with the media rights contract," he says. "When the Cubs were entering into the radio rights deal, I helped with that."
He and his team have also done substantial work on stadiums. "Most significantly, the new Yankee Stadium," he says, "but we've helped with Citi Field and its structuring, with the Meadowlands and Red Bull Arena. Those take years. You can't just plop a stadium in a very densely populated metropolitan area. You need to deal with city approvals, you need to deal with federal approvals, you need to deal with taxing authorities. But then you're able to drive by and say, 'Hey, I had a little hand in making that happen.'" 
If you're into sports memorabilia, you'd have to envy his work with Lelands. 
"I got to work on extremely sexy matters," he says. "We just finished the Jim Brown 1964 championship ring. Jim Brown—he's a very colorful character whose reputation transcends. We've dealt with the Wilt Chamberlain 100-point basketball, one of the storied items of basketball. We've dealt with Muhammad Ali's gold medal, which he allegedly threw into the Ohio River but was ultimately recovered. And we've dealt with Mickey Mantle and his estate."
But Kishner knows when it's time to get serious. 
"I absolutely enjoy the ability to attend games and events with people that I have great, great admiration for, and, frankly, I have an emotional attachment to the teams here in New York and elsewhere," he says. "On the other hand, this is my job. I've got to deliver. If I don't, there's somebody down the street who will. You have to be unflappable. All in, all the time."
His legal work would fill a highlight reel, but he says it's pretty easy to point to his No. 1 web gem: developing, organizing and structuring the nation's first RSN—regional sports network—which he did while wearing his Yankees' outside counsel cap.
The YES Network owns the exclusive TV rights of the Yankees, the Brooklyn Nets and Major League Soccer's New York City FC. It's earned 95 Emmy Awards since its launch in 2002. For this one he threw a complete game: "From the twinkle in somebody's eye to inking the final papers" is how he puts it. 
"That RSN model has really taken off," he adds. "We were at the forefront of coming up with the way it works, which has ultimately been replicated. As a result, my firm represents numerous regional sports networks in their ownership and day-to-day operations." 
The first step was to theorize what an RSN is. "The theory of our RSN is you should have 12 months' programming," Kishner says. "One of the ways of doing that is you have a team that plays in the spring, summer, fall; and then you have a team that plays in the fall, winter, etc. You develop a basis for programming. You take those media rights or the ability to broadcast those and you put it into a separate entity, call it a broadcaster. By doing that, you've in effect value-engineered a new media company, which will now sell on a multiple of media companies as opposed to sports teams, which is pure value creation."
And that's not the only sports law innovation he's had a hand in. He's worked with pro sports teams on developing new technologies and apps. He's worked with startups developing biometric and virtual reality tech.  
"We're talking about technology where you can see what a player's heartbeat is. … You can see when the player was—I'm just making up numbers—between 100 or 110 BPM, and he goes two for four. You can measure how much sleep a player has gotten. The technology is absolutely transformative."
And if you can't get to the stadium, the stadium can now come to you. 
"You'll be in your living room and put on goggles and be, basically, on the floor of Madison Square Garden. When you turn around, you'll be able to see the whole court," he says. "A few years ago, digital ticketing was huge. That's old hat now." 
Kishner, who went to law school in Boston, says he loves his New York teams. "I'm one of those people that if nothing is on, I will find sports. Any sports," he says. "I pay extra on my satellite package to make sure that I have it. If it's not baseball or basketball, it's golf or X Games, horseracing—whatever."
His favorite sports moment? 
"That's simple: when championships have come to New York," he says.
Other Featured Articles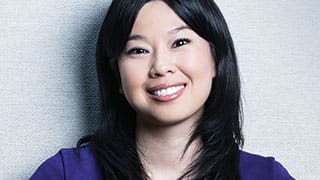 The Immigrant's Story
Christy Han Mohan has one, and she says it's the key to immigration law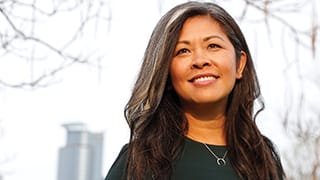 'You're Not Gonna Wear Us Down'
Employment litigator Rachhana Srey rises to every challenge Featuring Rachhana T. Srey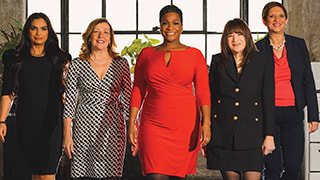 All the Single Ladies
Five New Jersey solo acts on why they stepped out on their own Featuring Mary Ann Bauer, Ayesha K. Hamilton, Linda Mainenti Walsh, Abhisha Parikh, Samantha Mendenhall