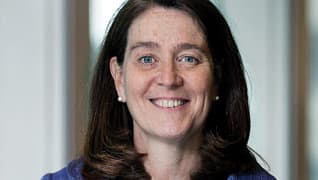 Photo by: Michael Paras
Indefatigable
Mary Kay Vyskocil reps insurance companies in cases ranging from the Rocky Mountain Arsenal to the collapse of the World Trade Center
Published in 2012 New York — Metro Super Lawyers magazine
By Michael Y. Park on September 20, 2012
The fires were still burning under the rubble of the World Trade Center when the executives of Swiss Reinsurance Co. realized they had a multibillion-dollar problem.
Larry Silverstein, the New York City developer who had just finalized the lease for the massive Lower Manhattan office complex in July 2001, had insured the property for $3.54 billion. Swiss Reinsurance, or Swiss Re, was the insurer for the largest share of the claims: a whopping $877.5 million.
Then double that. Silverstein argued that because two passenger jets flew into the twin towers at different times, they constituted two "occurrences," making him eligible for double the amount of the insurance payment. It was a complex legal knot that involved destruction of a magnitude no one in insurance or law had ever imagined.
"There was a significant push to settle by a strong fraction of the company's leadership," says Markus U. Diethelm, the general counsel for Swiss Re at the time. "At least initially."
Diethelm, however, didn't want to give in, so Swiss Re called in its legal firm, Simpson Thacher. And at Simpson Thacher, no one was surprised when the case ended up with Mary Kay Vyskocil.
Vyskocil was raised the middle daughter in a family of eight in Rockland County, N.Y., a stone's throw north of the city. Her mother was an elementary school teacher and her father was vice president of group claims for Mutual of New York. "I never knew a lawyer before I went to law school," Vyskocil says.
Early on, she proved to be the rock of the family. "Mary Kay was just always the one you counted on," says younger brother Bill. "She's the one you would go to when you were in trouble, when something went wrong or you had a problem."
"She was always a student," says Vyskocil's sister Helen Huffman. "If she was trying to put together a puzzle that was a really hard puzzle, she would stay at it and keep working at it until she was able to do it. She wouldn't quit because it was hard to do."
At Dominican College, she studied to become a teacher and was elected student-body president. "She exudes trust," says Sister Mary Eileen O'Brien, president of the college. "She knew how to be a friend. She seemed to have a great balance in her life."
Shortly before she graduated, Vyskocil decided to scratch a longtime itch and give law school a chance.
"I was always fascinated by the law," she says. "I thought if I didn't go to law school while I was still in school mode, I'd get caught up in teaching and never give it a shot."
Of the decision, she says, "My mom was like, 'Nobody's shocked.'"
At St. John's University School of Law, she immersed herself in moot court and learned she had a knack for litigation. As graduation approached, she considered her options. The Manhattan District Attorney's Office beckoned—she made it to the final round of interviews with the legendary Robert Morgenthau—but private practice promised a broader range of experiences. She went with Simpson Thacher.
Almost immediately, she was given one of the biggest cases in the country.
For decades, the Rocky Mountain Arsenal near Denver had manufactured and housed stockpiles of the U.S. military's chemical-warfare munitions, including deadly compounds like nerve gas. The major corporation working on the site was Shell Oil. Eventually it was discovered that, because of years of shoddy environmental practices, the site was deeply contaminated with everything from pesticides and heavy metals to chemical weapon leaks; and in 1983, three years after the federal Superfund law was passed and one year after Shell had closed its Shell Chemical Co. plant, the government filed suit against Shell and ordered it to clean up the site. Shell said the cost of the cleanup ought to be covered by its insurance company.
From 1952 to 1975, Shell's primary insurer at the Arsenal was Travelers Indemnity Co., which argued that Shell had been intentionally negligent and thus wasn't covered. Travelers' law firm was Simpson Thacher. Newbie attorney Vyskocil was attached to the case.
"It was a fabulous learning opportunity," she says. "A baptism by fire."
Discovery took years. By the time the case went to trial, millions of pages of documents filled the boxes of evidence. In San Bruno, Calif., a defunct high school was converted into a makeshift courthouse with offices for the legal teams on both sides. Foreseeing a lengthy stay, the judge originally impaneled a 30-person jury.
"One woman on the jury got pregnant, left to have the baby and then came back to introduce everyone to the baby—all in the course of the trial," Vyskocil recalls.
Renowned litigator and Simpson Thacher partner Barry Ostrager took first chair on the case. Initially, Vyskocil was one of a few associates assigned to it. One by one, the other associates left the firm or moved on to other cases. Vyskocil was tempted to leave, too.
"I remember being at a party at Battery Park Plaza coinciding with the anniversary of the Statue of Liberty, in 1986, where the firm had opened up the offices and invited clients," she says. "I remember having a conversation with someone about a federal judge who had a vacancy for a clerk, and I thought very seriously about it. But I knew the Shell case was getting ready for trial. I had done all of that work getting it ready for trial."
She stayed. By the time the case went to trial, she was second chair.
The trial took roughly two years. Vyskocil flew out to California every Sunday night and returned every Friday afternoon.
"She worked ridiculously long hours," Huffman says. "I'd just had my daughter, and she came home to see her. It's just the way she's always been. Family: that she would do anything for."
The long hours paid off when Vyskocil's team discovered a crucial piece of evidence that helped firmly establish that Shell knew exactly what it was doing at the Rocky Mountain Arsenal: a report from a Colorado environmental inspector who described workers at the site combing through the area before any inspections were scheduled, collecting and disposing of animals, including ducks, that had died from soil and water contamination.
"People who participate in this field call the Shell case 'the dead-duck defense,'" says Vyskocil. She points to a shelf in her office, where a framed picture of a mallard sits, her personal reminder of the key juncture in the trial. "It was a pretty damning piece of evidence," she says.
For Shell, it boiled down to a cost-benefit analysis, Vyskocil argued to the jury. It hadn't cared about the environmental or safety consequences. It only looked at the bottom line.
"I remember one cross-examination that was just unbelievable to me," she says. "There was evidence that Shell knew that some of its operations were causing men to become sterile, yet the Shell Corporation had given the Rocky Mountain Arsenal an environmental award for safety. I remember questioning the guy who had been head of operations and saying, 'And you gave them the environmental award.' And he said, 'Yeah. They conducted safe operations.' He just said it with a straight face: 'Yup, no problem.'"
Ostrager and Vyskocil won the case and saved their clients $2 billion.
"You could see right away she was going to be a star," Ostrager says. "She's among the most broad-gauge lawyers of her generation. She's indefatigable."
Over the following decades, Vyskocil racked up impressive victories in high-profile cases, including the ongoing USF&G case, and a suit involving a syndicate at Lloyd's of London, which took her to the U.S. Supreme Court for an argument about whether American antitrust laws have extraterritorial reach.
"You feel the grandeur of the law," she says of the high court, where she sat at the counsel table while Ostrager argued the case. "You are almost as close to the bench as I am to you. You really are engaging in a conversation with these nine people."
When the Archdiocese of New York sought legal counsel to help navigate a growing number of sex-abuse allegations, Vyskocil, who is active in alumni and church groups, became its lead attorney on several cases.
"They were probably the most difficult [cases] I've handled," she says. "If wrong took place, we tried to get help for the victims, and I worked very closely with Cardinal [John Joseph] O'Connor on those. His instruction was: 'Do the right thing.' It was great to have that kind of license from a client."
Respect from colleagues grew, especially when it came to her skill at swaying juries with direct and illuminating language.
"Mary Kay is so capable an attorney that she can take the most complicated legal issue and communicate it in a simple and direct way," says Timothy Yessman, formerly of Travelers and now managing director of Avalon Consulting. "In the 25 years I've known her, I don't know if she's ever been caught by surprise."
"What I love about this job is finding a compelling story and distilling it for the jury," she explains.
The Shell case, for example, took place in the days before PowerPoint, and each day she scheduled time with graphic artists who laid out jury-friendly diagrams, charts and visual presentations for the next day's proceedings. "You literally made the big board every day," she says.
"She's [also] very tuned into whether she has a hot bench or a cold bench," says Scott Birrell, group general counsel for Travelers. "She's very dogged in a respectful way."
When she and Ostrager got the World Trade Center case—which attracted the nation's top litigators, including David Boies and Herb Wachtell—Markus Diethelm was relieved.
"The brain, the mind, the strategist behind everything was Mary Kay," Diethelm says. "It required some extremely good lawyering but also good public strategy to say this was purely a dull insurance-binder or contract issue."
Vyskocil's fingerprints were all over the Swiss Re strategy, as evidenced by the constant stream of information-laden yellow stick-it notes she handed out to Ostrager during oral arguments.
"Those Post-it notes came out almost like a machine gun," Diethelm says. "In the middle of an argument, when you have someone reaching a piece of paper to you, there are often lawyers who are taken off track, so they ignore them. But every time someone reached over and took one of those notes from Mary Kay, they looked at it because they knew it was meaningful."
For Swiss Re, the meat of the case against Silverstein was whether an underwriter in Zurich had implicitly signed off on a boilerplate insurance agreement with Silverstein. Vyskocil, who cross-examined Silverstein, kept the focus on the facts.
"It was not about the people who died," she says. "It was about property insurance Larry Silverstein had purchased and the fact that he was trying to capitalize on a tragedy to get a double payment."
"We had a deposition with a key underwriter where Herb Wachtell [representing Silverstein] took the deposition with Mary Kay in the room," Diethelm says. "Mary Kay held her calm and stayed very professional. She held the line very firmly."
On a Friday afternoon, the jury came back with decisions for all the insurance companies involved in the litigation. All except one: Swiss Re.
"We were the lone defendant on Monday," Vyskocil says. "It was a very long weekend."
When they reconvened to decide Swiss Re's fate, the jury sent the judge a single question. The judge answered that silence is not assent. His answer was taken back to the chamber where the jurors were deliberating. When they got it, they let out a relieved hurrah. They could finally go home. Vyskocil, who can read juries like a book, knew what that meant.
"When we heard a cheer from the jury room, I knew it was in favor of Swiss Re," Vyskocil says.
It was another victory for Vyskocil—and the way she saw it, another victory for the American justice system.
"I do have confidence in the jury system; it's the greatest system in the world for resolving disputes," she says. "If you keep it to the basic theme of the fairness, juries will get it right."
Search attorney feature articles
Helpful links
Other featured articles
Rosemary Scapicchio wins long-haul cases for Sean Ellis and others
Six attorneys on the ups and downs of going solo
Ibiere Seck follows in some big footsteps
View more articles featuring lawyers
Find top lawyers with confidence
The Super Lawyers patented selection process is peer influenced and research driven, selecting the top 5% of attorneys to the Super Lawyers lists each year. We know lawyers and make it easy to connect with them.
Find a lawyer near you