Outdated Laws: New York City Edition
Some of the most bizarre crimes in NYC
Published in 2015 New York Metro Super Lawyers magazine on September 11, 2015
Updated on February 25, 2017
In May 2015,
Today
host Matt Lauer rode a bicycle 230 miles from Boston to Manhattan to raise money for charity. It was good publicity for a good cause.
But was it legal?
New York has a statute banning "offensive exhibitions," including competing "continuously without respite for a period of more than eight consecutive hours in a dance contest, bicycle race or other contest involving physical endurance."
Criminal defense attorney
Robert J. Anello
of Morvillo Abramowitz Grand Iason & Anello may have broken that law himself: That same month, he completed a 108-mile bike ride from Babylon to Montauk.
"No one [in the race] was aware of the fact they might be violating the law," Anello says with a laugh.
Thrown and batted balls
Both he and fellow criminal defense attorney
Andrew St. Laurent
, of Harris, O'Brien, St. Laurent & Chaudhry, cite the "offensive exhibition" statute as one of the more amusing and oddball laws still on the books in New York. Enacted in 1965, the law is actually the latest revision to a series of statutes going back to at least 1909. St. Laurent's favorite sentence is one that might get Derek Jeter in trouble: "'A person is held up to ridicule or contempt by voluntarily submitting to indignities such as the throwing of balls or other articles at his head or body,'" St. Laurent recites.
Part of the job of being a criminal defense attorney, Anello explains, is looking for lesser misdemeanor charges a client can plead to. That means spending a lot of time stumbling onto strange laws. "Because no one gets charged with them," he says, "they just sit there and languish."
Well, not exactly "no one." Anello has had clients charged with fortune-telling, while Occupy Wall Street protesters were arrested in 2011 for congregating in masks in public.
A law banning adultery "occasionally comes up when the government is trying to put pressure on someone to be a witness," Anello says. "I've never seen someone raise this as a serious offense, but a number of people have been charged with adultery and then the charge is dismissed."
Liquor stores and bloody marys
Commercial real estate attorney
Joshua Stein
can point to plenty of oddities in New York real estate statutes—everything from requiring LLC formations to be announced in a general-circulation newspaper to requiring that all foreclosures wind up in court.
But what Stein cannot wrap his head around are the restrictions on alcohol.
"A liquor store has to have a door to the street. No one can own more than one, and it must be a certain distance from other uses. You can't sell wine in supermarkets," he says. "All of that stuff seems pretty nutty in 2015."
One of the state's strangest laws, says criminal defense attorney
Gerald Lefcourt
, prevents a restaurant from serving him a bloody mary before noon. But he points out that plenty of federal laws are equally strange.
"Believe it or not, if you overfish in South Africa and bring any fish to the United States, you've committed a crime in the United States," he says. "It caught me by surprise. Someone I know went to jail for five years and had to forfeit $15 million. He was an importer of Chilean sea bass, with the alleged crime 10,000 miles away."
How you may be breaking the law
Adultery: "A person is guilty of adultery when he engages in sexual intercourse with another person at a time when he has a living spouse, or the other person has a living spouse."
Fortune-telling: "A person is guilty of fortune telling when, for a fee or compensation which he directly or indirectly solicits or receives, he claims or pretends to tell fortunes …"
Loitering: "A person is guilty of loitering when he: 4. Being masked or in any manner disguised by unusual or unnatural attire or facial alteration, loiters, remains or congregates in a public place with other persons so masked or disguised, or knowingly permits or aids persons so masked or disguised to congregate in a public place …"
Jostling: "A person is guilty of jostling when, in a public place, he intentionally and unnecessarily: 1. Places his hand in the proximity of a person's pocket or handbag …"
Other Featured Articles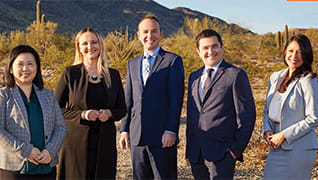 My Land, Your Land
Five attorneys tell their stories of immigrating to the U.S. Featuring , Oksana Holder, Olsi Vrapi, Li-Jen Shen, Michael Moldoveanu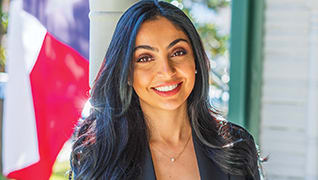 Belonging Somewhere
After many years, Rasha Zeyadeh Thompson has found a place in her country Featuring Rasha Zeyadeh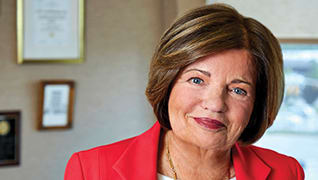 Lady Justice
Ellen Makofsky came to the law late but to elder law early Featuring Ellen G. Makofsky