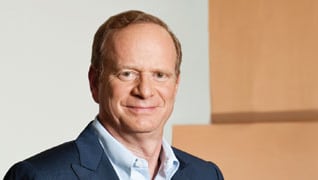 Photo by: 85 Photo
Protecting a Global Brand
Starwood Hotels & Resorts' Ken Siegel helps craft a corporate culture that is globally minded and socially aware
Published in Super Lawyers Business Edition 2011 magazine
By Bill Glose on August 29, 2011
In 2000, just two years after the company's creation, Starwood Hotels & Resorts Worldwide Inc. lost a lawsuit that included a large damage award and created a precedent that could threaten its business. Reeling from the verdict, Starwood's management decided to begin the new millennium by making some big changes.
They brought in Ken Siegel.
Siegel, then 44, was a mergers and acquisitions lawyer who had already managed multiple company spin-offs and billion-dollar acquisitions. He joined the company as Starwood's new general counsel and executive vice president in November of 2000, shortly after the 2660 Woodley Road Joint Venture et al. v. ITT Sheraton Corporation, et al. verdict supported the allegation that one of Starwood's subsidiaries, Sheraton, had violated fiduciary responsibilities to its individual owners due to vendor rebates it was receiving for volume purchases. Sheraton, and Starwood, asserted that they acted in good faith and did nothing improper, but the jury disagreed and Sheraton was slapped with a $50 million judgment, most of which came in the form of punitive damages. The judgment also created the possibility that hotel owners could terminate Starwood's multiyear management contracts, each of which was also worth millions of dollars. With 700 hotels in 80 countries at the time, that could make the $50 million seem like pocket change.
"Fifty million dollars," Siegel says. "This meant that suddenly there was now an incentive for hotel owners to sue the company. Not only could you get out of your contract, but you could possibly be entitled to a punitive damage award that was worth multiple times what the contract value was. So it was a nervous time for the company as it looked like these cases were going to proliferate, not only for us, but throughout the industry. That's what I came into."
Not one to mind a challenge, he jumped right in and demanded answers from the senior staff.
"Ken is a terrific strategist who is challenging to work with in the best sense of the word," says Susan Werth, Starwood's senior vice president and general counsel for Global Acquisitions and Development. "He has excellent judgment and—in one of the defining qualities of someone in his role—doesn't shy away from the tough calls. He invariably asks the question that gets to the essence of the issue from a business, legal and practical perspective."
But even Siegel's insistent questioning couldn't turn up a good reason as to why Starwood had lost the Woodley Road case. So he gathered together his legal team at the company's headquarters in White Plains, N.Y., to scour the case's transcripts, examining every line to figure out why Starwood had lost the case and determine if anything could be done to reverse the ruling.
"The law firm that we engaged had made major mistakes," Siegel says of what they found. "This was not simply a matter of errors in judgment; these were pretty egregious problems. And I went and met with them and said, 'Look, what I want from you guys is an apology. I want it publicly because I want to be able to go out and say that this wasn't Starwood. This was a mistake; essentially the vagaries of litigation resulted in a judgment that, had things been conducted differently, wouldn't have happened.' They refused and I sued them."
Burden of proof in a legal malpractice case can be difficult: Not only does a plaintiff have to prove that the defendant attorney failed to exercise a proper degree of care and skill, but also that the case in question would have been successful for the plaintiff had the attorney not failed in those areas. But Siegel saw another way he could achieve victory. The Woodley Road case had been handed off to an inexperienced and ill-prepared attorney to litigate just a few weeks before trial, so Siegel claimed breach of contract—the first time anyone had ever done so to try to prove legal malpractice.
This novel approach had far-reaching implications. "Sheraton's case against [the firm] offers several important lessons for New York lawyers and firms," wrote Steven Wechsler, professor at Syracuse University College of Law, in an article published in The New York Professional Responsibility Report in 2002. "First, it teaches the critical importance of communicating with clients at all stages of a representation and of reaching a clear agreement about who in the firm will be doing what for the client. … [Also] the case may have a serious impact on the manner in which large firms assign work to junior lawyers."
The court sided with Starwood, but Siegel didn't get everything he wanted: "I never got the public apology," he says. "Instead, I got a headline."
Siegel also successfully reduced the verdict of the original case on appeal, getting the total award down to slightly more than $3 million. He had successfully defended his new company in both the short and long term and managed to alter the legal landscape of New York along the way. Not bad for someone who had originally intended to become a doctor and whose father had implored him to never work for a corporation.
Siegel grew up in the tiny New Jersey borough of Morris Plains. His father, Sheldon, was a junior manager at Warner-Lambert Co., which was later acquired by Pfizer. After a standard 9-to-5 day, Sheldon would head to his second job as a pharmacist at a local drugstore, where he worked until midnight. Sometimes after he closed the store, he would come home and wake up Ken and his two brothers just so he could spend time with them.
"It may sound a little clichéd," Siegel says, "but the greatest influence on my life was my dad. [He] worked two jobs and went to school in order to create a better life for his family. So literally-—other than late at night when he would come home from his second job or from school—I never saw my dad other than brief periods of time on the weekends. But the fact that he was prepared to do that in order to raise a family was very powerful for me."
As a teenager, Siegel embraced that same work ethic, taking summer jobs and working in the evenings after school. He painted houses, worked as a summer camp counselor, wrote copy for an advertising firm and worked the floor as a sales clerk at Macy's. Although his father was proud of his hardworking son, he didn't want him to punch a clock forever.
"Every generation wants to build on what the last did," Siegel says. "He wanted his son to achieve a level beyond what he was able to achieve. My dad ultimately became a pretty senior corporate executive, but one of the things that he said to me when I was a kid was that he didn't want any of his three sons working at big corporations. He didn't like the politics, he didn't like the dynamics, didn't like having a boss. So each of us had to have a career that, worst case, you could hang out your own shingle."
Siegel's plan was to become a doctor. His father had always wanted to go to medical school, but was unable to because he was supporting his family. So when Siegel headed off to college, he intended to fulfill his father's dream. "But organic chemistry killed that," he says. "At the end of my freshman year, I said to my dad, 'This just isn't for me.' And he was fine with that. He said, 'At the end of the day, do what it is you're going to be great at.'"
What he was great at was writing, planning and strategic thinking. Armed with a degree in political science from Cornell University, Siegel was accepted at New York University School of Law and moved to the city. "Frankly," he says, "I had no idea what I was getting into [as a lawyer]. … I assumed everybody was a litigator. And it was only in my first year of law school that I realized that there were all these aspects of law that were fundamentally different than just plain litigation, and the one that I gravitated to was corporate law. I liked the concept that, as opposed to being a gladiator, you're actually involved in building something. An awful lot of what corporate lawyers do is putting things together to drive forward business."
Siegel lived in a Greenwich Village apartment during the beginning of New York's renaissance. "Law school for me was a phenomenal awakening," he says. "I loved the way of thinking; I loved the intellectual challenge and the overall dynamics of it. But doing it in New York at the same time meant that I had access to all its cultural resources, that I could stay up all night and study and know that at 2 o'clock in the morning I could still find someplace to eat." What impressed him most about NYC were the illustrious law firms stationed in towers throughout the city. Interning at Cravath, Swaine & Moore, he was delighted to see that the deals he was working on were making the front page of The Wall Street Journal. "Pretty heady stuff," he says. "Meeting these great people and then to understand that, at least in some small way, the things that I was doing were having an impact on the economic side of the world."
During Siegel's third year of law school, Cravath offered him a full-time job and he leapt at the opportunity, putting in the same type of crazy hours his father once had. He took classes in the morning and went into the office to work until 6 or 7 p.m. Sometimes, he would return to campus to take a seminar course at 7:30. The arduous schedule was worth it to Siegel since it allowed him a seamless transition to a professional career when he graduated in 1980.
He spent the next five years at Cravath mastering finance-related specialties before he was recruited away by O'Sullivan Graev & Karabell, which needed a strong mergers and acquisitions talent with a securities background. When one of O'Sullivan's clients wanted to acquire the Motel 6 chain, Siegel was asked to put the deal together.
"So in my relatively early 30s, I'm handed this multibillion-dollar transaction for a company that had never acquired anything in the United States and told to run with it," he says. "Normally a takeover ends at midnight; in this case, [the seller] was so desperate to make sure that they got the money at the exact moment that the takeover was closed that we literally had banks open around the world so we could complete fund transfers at 12:01 a.m. The money was being originated in a French bank and it had to make it into several American banks, and because of the size of the transaction, people were prepared to do that." He pauses, then adds with a chuckle, "That was my first experience of actually keeping a bank open after bankers' hours."
Siegel remained an outside counsel for Motel 6 for several years, learning about hotel operations, guest relations and franchising. Throughout the 1990s, he continued to work on major acquisitions, and leveraged buyouts and private equity financings. By the time Y2K rolled around, he'd become the perfect candidate to deal with the complexities of being general counsel to a global hotel chain—which is when Starwood came calling.
After his masterful handling of the Woodley Road case, Siegel redesigned Starwood's contracts to clarify its fiduciary obligations to hotel owners. As a reward, he was promoted to chief administrative officer (CAO) in 2006, which has allowed him to work outside the law and focus on such areas as Starwood's social responsibility.
"Ken Siegel has been a terrific contributor to the [Minority Corporate Counsel Association] board of directors and furthered the association's mission to advance diversity," says Veta T. Richardson, MCCA's executive director. "In particular, Ken is a diversity leader who was recognized a few years ago by MCCA as an Employer of Choice." This award is given out to industry leaders who create and maintain an inclusive workplace.
The greatest addition to Siegel's responsibilities as CAO, comes in the area of U.S. and international government relations. Operating on foreign soil brings with it a complex array of difficulties. China, for example, does not believe in privacy on the Internet, and they require that all hotels in China put recording software on Internet systems.
"A couple of years ago," says Siegel, "the media got involved and there were enormous sensitivities on both sides, so getting to a resolution that we felt reasonably comfortable with took an awful lot of time and effort." The final outcome was that Starwood will comply with the recording software in their hotels, but will also inform arriving guests that whatever they do on the Internet will be recorded and can be monitored.
On a 2008 trip to Saudi Arabia, the senior staffers were attending a formal reception at a prince's palace and drifted out to the courtyard where a replica of a Bedouin tent was pitched. "We're being served tea," Siegel says, "and we're seeing all these demonstrations of falconry as well as watching TV on multiple TV sets. At 3 o'clock in the morning, one of the younger members of our team said, 'Saudi Arabian hospitality is such that they will never ask you to leave.'" He laughs heartily at the gaffe now. "Finally we realized that it's up to us to determine our departure time, otherwise we would still be there."
There is no shortage of international experiences for Siegel as the company continues to expand. "With properties in nearly 100 countries, Starwood is no longer an American company that happens to run some hotels overseas," says Starwood President and CEO Frits van Paasschen. "Today, we're a global company that happens to be based in New York. Eighty percent of our future pipeline is outside of North America, and nowhere is more emblematic of our global growth than China, where we will open one hotel every two weeks this year."
"With our rapid growth in emerging markets," says Siegel, "we are often going into locations ahead of robust legal systems and have to anticipate legal and operational issues in our contracts. In many cases, the entire concept of property ownership is either new or doesn't exist. We need to create our own dispute resolution mechanisms and worry about enforcement. … Many times the hotel owners with which we work are agencies of the local government. Getting them to agree to abide by U.S. laws or to participate in neutral dispute resolution can be a challenge."
Operating hotels on foreign soil means Starwood must work hard to ensure that each location still exudes the identity travelers expect from a particular brand. "We don't just rent a hotel room," Siegel says. "We provide a 'branded' experience, which varies depending on which of our hotels you stay in." Each of Starwood's brands (St. Regis®, The Luxury Collection®, W® Hotels, Westin®, Le Méridien®, Sheraton®, Four Points® by Sheraton, Aloft® and ElementSM) has a distinct personality. From the exterior appearance and layout of rooms to services provided and fragrances diffused in lobbies via ScentAir machines ("White Tea" in Westin and "Welcoming Warmth" in Sheraton, for example), everything is geared to create a branded atmosphere that remains the same whether a guest checks in at a hotel in downtown Chicago or Cairo.
On quarterly visits to Starwood's hotels around the world, Siegel witnesses firsthand the impact Starwood can have on local economies. "What we do is a powerful economic engine for good," he says. "We change the lives of people simply by the virtue of putting a hotel in an emerging area. When you see the opportunities that are created and the enormous loyalty [shown by associates], you realize that the company and the brand have become this very powerful thing for our 150,000-plus employees. That sounds a little overwrought to a degree, but when you actually see it in play it's really quite amazing."
Siegel often finds himself having to respond rapidly to shifting allegiances because of extraterritorial laws like the U.S. Sanction Law or the U.S. Trading with the Enemies Act. "You can suddenly be in a situation in which things that were perfectly legal on Monday become illegal on Tuesday, as the governments of the world decide that a friend is now an enemy," Siegel says. "So you have to be anticipating—this sounds like a contradiction—but you have to be anticipating unanticipatable changes and build in the flexibility to address them."
That includes changes stemming from events as shocking as Sept. 11. "In the aftermath of 9/11, we became acutely aware of the vulnerability of civilian 'soft targets' to terrorist attacks. Company executives ordered a comprehensive review and overhaul of our crisis preparedness," says Siegel. "As a result, we adopted comprehensive procedures to deal with most contingencies. As you can imagine, with business in over 100 countries those procedures are invaluable."
In times of emergency, the company dips into its Starwood Associate Relief Fund Inc., a pool of money devoted to helping employees in times of disaster. Created by Starwood's Global Citizenship team, which reports to Siegel, the fund has been tapped previously for such disasters as Hurricane Katrina in 2005 and the 2011 earthquakes in Japan. "If anything happens anywhere in the world," Siegel says, "it's going to affect at least one of our properties. Within hours after a disaster, the Associate Relief Fund is already gearing up to help people rebuild their homes, help their families rebuild their homes, and give them money to tide them by. I think that's a pretty unique thing for a company like ours.
"This is one of those rare companies, rare organizations, in which what I do every day is different. During the course of my career, I will see just about anything that anybody who practices law can see, just by virtue of the global reach and social responsibility of the company. Every time I hit a milestone in terms of accomplishment, something else comes along that is truly remarkable. I really feel like every year I get to reinvent myself, and I don't know how many general counsels or how many lawyers can say that."
Search attorney feature articles
Helpful links
Other featured articles
Going to the bench and back with John Nazzaro
Qusair Mohamedbhai tackles civil rights and employee rights in post-9/11 America
Attorneys tell their stories of immigrating to the U.S.
View more articles featuring lawyers
Find top lawyers with confidence
The Super Lawyers patented selection process is peer influenced and research driven, selecting the top 5% of attorneys to the Super Lawyers lists each year. We know lawyers and make it easy to connect with them.
Find a lawyer near you