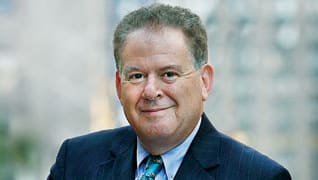 Photo by: Michael Paras
Stein's Way
Joshua Stein, one of the first lawyers with a laptop, hangs a shingle midcareer
Published in 2011 New York Metro Super Lawyers magazine
By Timothy Harper on September 20, 2011
Joshua Stein keeps surprising people.
He surprises them by not being an aggressive, hard-bargaining, big-city attorney. "Are you sure you're from New York?" lawyers and clients from other parts of the country often ask.
Back in the 1980s, he surprised them by walking into meetings, pulling out one of those new-fangled laptop computers, and tapping away.
In complicated deals, he is known for simple yet creative solutions, and among the bar for his prolific writing, and last year, at the height of his career, he surprised the New York legal community by walking away from a cushy partnership at a major international firm and hanging a shingle as a sole practitioner.
None of this has been very surprising to Stein himself. But having a career in law? That was a surprise.
Growing up in Davis, Calif., Stein was a faculty brat. His father, Sherman Stein, was a math professor, now emeritus, at the University of California, Davis, and his mother, Hannah Stein, is a poet. Stein and his two younger sisters got to spend a couple of sabbatical years abroad: Florence when he was 5; London when he was 14. As a kid, both at home and abroad, he became fascinated with architecture. "I love buildings," he says.
He also loved writing. In junior high, he started writing and publishing The Thorn, meant to be a thorn in the side of the school administration, which he produced on a duplicating machine that he bought at a garage sale. In high school, he went to the local newspaper, The Davis Enterprise, and told the editors that they needed a "youth page"; he told them he should edit it. They agreed. Stein proceeded to write a personal opinion column as well as weekly stories on local events, visiting speakers, trends and anything else that caught his fancy. He also wrote a series of "day in the life" profiles of working people—a garbage truck driver, a pizza maker, a bank teller, a postal worker—and these wound up on the front page.
After entering the University of California, Berkeley in 1973, he became a computer geek. A highlight of his college career was fixing problems at the campus computer center. "It was a good way to meet girls," he recalls.
He still loved buildings but didn't want to be an architect. He still loved writing but wasn't sure he wanted to be a journalist. He had many interests but he could only choose one path and he decided to major in political science as a path to law school, which, he felt "would open doors to a larger world." Doors to what? "I wasn't sure," he says, "but I was always impressed by the lawyers I knew."
At Columbia Law School, in the autumn of 1978, he didn't particularly enjoy himself. "I was one of the kids who sat in the front row taking copious notes," he says. "I would ask questions and be a nerd."
Then he took professor Stephen Lefkowitz's class in commercial real estate transactions. "He really brought cases to life," Stein recalls. Lefkowitz helped Stein see the step-by-step rigor of real estate deals—and the possibilities for being creative within that framework. Now a partner at Fried, Frank, Harris, Shriver & Jacobson, Lefkowitz remembers Stein as one of those students who showed flashes of humor in classroom discussions. Their paths have crossed many times, on many different real estate matters, since. "He is enormously industrious and very willing to share his knowledge with the world," Lefkowitz says.
After graduating in 1981, Stein went back to California, working for the Los Angeles firm Irell & Manella, where, by the end of his year, he was doing mostly real estate work. That's when he realized he missed New York.
So he returned in 1984 with the firm Patterson Belknap Webb & Tyler, where, as a new associate, he did many, many residential closings. Today, Stein groans at the childishness of some of the issues that came up. Should the chandelier stay or go? Etc. But he sees it was a good introduction to New York real estate. "At the time, I hated it," he says.
One of the first people he met at Patterson Belknap was the recruiting coordinator, Gloria Malkin, whom he married in 1986. They have two daughters: Julia, 18, a freshman in college; and Helaina, 22, who works for a nonprofit in Rwanda.
As a young lawyer, Stein was an oddity who wrote on a computer instead of dictating or scribbling on a legal pad and handing it to a secretary. His 1985 article, "How One Lawyer Uses a Personal Computer on His Desk Instead of a Legal Pad and Dictating Machine," was a revelation. He wrote: "I use a personal computer to avoid half the delays, hassles and frustrations of the modern practice of law. My computer, a Kaypro II, sits on a table near my desk. I use it to write contracts, letters, memoranda, notes to myself and most of my other written work." Stein might have been the first lawyer to routinely carry a laptop into negotiations. When other lawyers would offer to have their office draft something to send around later, Stein would type in the new language and show it then and there.
He worked on a number of projects that helped redevelop New York landmarks—42nd Street, the Apollo Theater, Loews Victoria Theater and the old police headquarters on Centre Street. He became known for being efficient, productive and fast. Then he got a call from a headhunter: Latham & Watkins was expanding its real estate practice and looking for a senior associate. In the spring of 1987, he joined the firm. In 1989, he made partner.
Early on, he did construction financing for the London NYC Hotel and 4 Columbus Circle. He did the portfolio acquisition for 13 Holiday Hotels. Meanwhile, Latham grew from 400 lawyers to more than 2,400. "The firm proved to be a very good home for my practice," he says.
In the early 1990s, he began writing more, and has now written five books—including A Practical Guide to Real Estate Practice—and more than 200 articles. "That has had a substantial effect on my visibility out in the marketplace," Stein says. "The stuff I write, I try to make readable and comprehensible, which is not always true when lawyers put pen to paper."
He was also asked to join the American College of Real Estate Lawyers and has chaired the Practising Law Institute's annual two-day seminar on commercial real estate financing since 1997. He's long been involved with, and chaired for a year, the Real Property Law Section of the New York State Bar, writing the state's model non-disturbance agreement. Early in 2011, the state bar handed Stein its annual Professionalism Award for contributions to real estate law.
But it wasn't enough.
He was restless. He wanted to run his own ship, wanted to pursue certain kinds of work that couldn't get approval at Latham—quirky projects that didn't fit the firm's model, such as serving as an arbitrator, receiver or expert witness.
So in August 2010 he opened Joshua Stein PLLC in a 1,100-square-foot suite on East 54th Street. The firm is a work in progress. When clients said they liked having someone answer the phone, he hired a receptionist. When clients wanted to see the office to make sure he wasn't working out of his apartment, he threw several office cocktail parties. He acknowledges he is his own chief marketing officer and IT guy. He misses having a 24-hour word processing department, and he visits nearby firms to borrow the law library, but within eight months he has handled 50 different matters for 20 different clients and hired three lawyers part-time. He vows never to take a partner: "I don't want to grow this into a big law firm," he says.
Stein's move attracted a fair amount of attention in both real estate and law circles. Other midcareer lawyers marveled at Stein's guts. More than one confided: "I wish I could do that."
His hourly rate is lower than it was at Latham, but he emphasizes he is not offering discount legal services. He pays the part-time associates by the hour, and thus charges clients considerably less than they would pay for the same work by associates at a big firm. Besides lower fees, he says, clients appreciate that he doesn't nickel-and-dime them for minor expenses that commonly appear on large law firm bills as disbursements. Each itemized invoice includes the line: "All photocopies, messenger runs, word processing, secretarial time, scanning, postage, FedEx charges, telephone calls and other similar items during the period covered by this statement: $0.00."
Everything about Stein's practice feels relatively simple. Large law firm engagement letters tend to run five to 10 pages. His is just over a page.
At one point, Stein points toward his L-shaped desk, where four computer monitors are lined up. On two other desks, he has six more. At big firms, he says, two screens per desk is the max. On nice afternoons, he is able to take his laptop downstairs and works in the public plaza next door. "Freedom," he says. "Flexibility. … I never need to get approval for anything."
The range of work thus far is pretty normal: lots of new leases and refinancing. He recently represented a lender in a multiproperty loan for a redevelopment/turnaround transaction in Florida; negotiated management and branding for a hotel development in the Middle East; helped work out new construction loans and hotel refinancing in Manhattan; advised borrowers regarding loans in distress or in default; negotiated and closed various leases, lease amendments and loan reviews; and structured funding for several acquisitions in New York and elsewhere in the country.
"Finding Joshua was like discovering gold," says Eve Robbins, a New York landlord and longtime client. "Not only is he an excellent attorney, but he counsels his clients with pragmatic wisdom. When I use the word 'pragmatic,' I mean that Joshua doesn't give me cookie-cutter advice, but instead he looks at the entire picture: Who are the people in this deal, what do they want, and what is a realistic way for me to achieve my goal."
Fred Harris, senior vice president at developer AvalonBay Communities Inc., says Stein helped him on the lease for the largest grocery store in Manhattan, Whole Foods, which was based not on rent but on revenue-linked overheads. "It was very creative," Harris says. "He enabled that to happen."
"He thinks of all the possibilities and dismisses none of them easily," agrees Andy Herz, a partner at Patterson Belknap.
"Too many attorneys," says Laura McCabe Brandt, general counsel for the discount designer clothing retailer SYMS Corp., "can only handle leasing or real estate financing and have to bring in their partners to complete a full development package. That's not the case with Joshua. He can fully participate in each piece of any real estate deal. His insight allows for a smoother process, less billable hours—not as many attorneys need to get involved—and a comfort that details aren't being dropped in the overlap of attorneys, as is sometimes the case."
Besides opening Joshua Stein PLLC, teaching at Pace Law School and serving as a trustee for Bronx Museum of the Arts, Stein is planning a trip to Rwanda to visit his daughter as well as updating a book: Stein on New York Commercial Mortgage Transactions.
The fresh start feels like a new career. "I think of myself as being 22," he says.
Search attorney feature articles