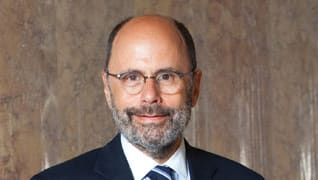 Photo by: 85 Photo
The Don of Criminal Defense Attorneys
Gerald Shargel defends collars of every color … as well as the mob
Published in 2011 New York Metro Super Lawyers magazine
By Aimée Groth on September 20, 2011
"I really find it boring to have to explain what I do. I'm tired of explaining it."
It's an April afternoon, and criminal defense attorney Gerald Shargel, dressed impeccably, occasionally doodling on a legal pad, is discussing his cadre of clients from his 45th floor office hovering over Lexington Avenue and 51st Street in Midtown Manhattan. Not that he feels the need to defend them. He's already done that in the courtroom. In fact, he sees people who criticize his work as uninformed or hypocritical. Or both.
"My wife says a lot of times we're invited to dinner parties just because I'm a curiosity piece," Shargel continues. "Everyone asks, 'How can you represent those people?' For that reason, my social life really involves lawyers and people in the media who are sophisticated in this area."
Shargel has represented, among others, Jeffrey Chodorow, the former president of Braniff Airlines; Oscar Wyatt Jr., the Texas oil trader who was charged with trading with Saddam Hussein in the oil-for-food case; and Joe Halderman, the former CBS News producer who attempted to extort $2 million from late night talk show host David Letterman. "I'm involved in the defense of collars of every color: white-collar, gray-collar, blue-collar," he says. "I represent doctors, lawyers, politicians, state senators, congressmen."
But the reason Shargel is invited to those dinner parties is because of another group of clients.
Most of the New York State Bar Association, and probably most of New York, know Shargel's story: how he represented, for a time, Gambino crime family boss John Gotti; how he visited him in Little Italy's Ravenite Social Club and how the FBI taped Gotti threatening to kill Shargel; and how federal Judge I. Leo Glasser called Shargel and Cutler "house counsel" for the Gambino family, and had the two removed during a 1990 murder and racketeering trial.
So here he is, explaining it again.
"I think that my interaction with, whether it be John Gotti or Salvatore Gravano or any other member of organized crime, was appropriate," he says, adding: "If some Mafia gangster decides to become a government witness and cooperate with the government, then law enforcement embraces those people." He points to a nearby book, We're Going to Win This Thing, co-authored by former FBI agent Lindley DeVecchio. "DeVecchio makes the argument that in order to be effective as an FBI agent, you have to get close with the people who are cooperators, form relationships. You see that all the time."
To do its job, the FBI needs to get close to the mob. To do his job, Shargel needs to get close to his clients. To Shargel, there's no difference.
"Someone," Shargel says, "once asked me, 'Isn't a criminal trial a search for the truth?' And I said, 'It's a search for the truth, but I'm not part of the search party.'"
Shargel grew up in New Brunswick, N.J. His father owned a paint and wallpaper store and his mother was a secretary at Rutgers University, where Shargel graduated from college. He was the first in his family to do so.
"I can remember the first time I walked into a courtroom," Shargel says. "I saw Paul O'Dwyer, who was also a politician, but a very able criminal defense lawyer. I even remember the name of the man he was defending: Ernest Gallishaw. He even had a nickname: 'Kid' Gallishaw. I believe it was a murder case. I believe O'Dwyer won an acquittal. But just to see the courtroom mastery. He had mastered the art. He had wonderful white hair and an Irish brogue, and I just watched that scene."
Shargel learned his craft in the Brooklyn federal and state courtrooms in the summer of 1968. It was a lucky break. Between his second and third years at Brooklyn Law School, he interned with the U.S. attorney's office in the Eastern District of New York.
"Usually, the courts were, if not closed, very inactive during the summer months," he says. But in '68, there were a backlog of cases in the Eastern District. "That summer, every courtroom had a trial. Not only with the District Court judges from the Eastern District, but judges were brought in from other parts of the country. It was just a phenomenal opportunity to see the best of the best at work. Henry Singer. Maurice Edelbaum. These were legendary lawyers of that period."
In the summer of '68 he met attorney Jim LaRossa, his future boss and law partner, and soon after Shargel passed the bar in December 1969 he started taking high-profile cases. His first, when he was only 26 years old, involving a client accused of extorting Mobil Oil, was Shargel's first encounter with organized crime. His description makes the case sound like a Monty Python routine.
"There was a strike against Mobil Oil," Shargel says. "The company needed to eventually ensure that the oil got delivered to gas stations and essentially got through picket lines, and a bunch of mob tough guys were retained, if you will, by the Mobil Oil company here in New York. It turned out Mobil Oil were slow payers.
"I represented someone who called Mobil Oil and said if he wasn't paid by a certain time, they'd have bigger problems than the strike. And my client was indicted for extortion, and I was able to show that an hour after they were on the telephone claiming to have been extorted by my client, they were reaching for my client to come back so he could perform his 'assigned task.'
"It didn't even go to the jury," he adds. "The judge threw it out."
In 1972, Shargel wrote all the appellate briefs for John Giglio in Giglio v. United States, "one of the most important cases in all of criminal law," he says, in which the U.S. Supreme Court determined that the government must turn over evidence that damages the credibility of its witnesses. The case has been cited more than 4,900 times.
Shortly after he opened his own firm in 1979, Shargel won his first famous acquittal, that of Nicholas Barbato, the former Republican leader of Smithtown, who was charged with bribery in the Eastern District in 1981.
"When you're representing someone in a criminal case, it's very difficult not to form a very close relationship with that person," he says. "You hear the person is in the struggle of his life, and you can't be distant and detached. I came to know and admire Barbato. I thought he was a decent, well-intentioned person."
He talks similarly of client James Coonan, leader of the Westies, the Irish mob that stalked New York City's Hell's Kitchen during the 1970s, who was charged with several horrendous crimes that involved the dismemberment of bodies.
"It was very easy to work with [Coonan]," Shargel says. "I found him to be charming, respectful, deferential and very helpful. How can you work with your client every day if you view your client with disdain and were dismissive of any idea that he had? Jimmy Coonan had good ideas and helped me develop strategy."
Of the hard-hitting closing arguments he's delivered, Shargel feels his summation at the close of the Westies trial ranks among his best. During the trial, Mickey Featherstone, Coonan's former No. 2 man who testified against him, said that he heard voices, and so, during his summation, Shargel, invoking Martin Luther King Jr.'s "kitchen-epiphany sermon," said that Coonan also hears voices: the voice of Mickey Featherstone promising never to leave him. Jurors cried.
But not everything in the trial went as smoothly as its close. "Featherstone's psychiatric history all came from the Vietnam War. I start asking questions—I must have had anchor notes this thick about the war," he says, measuring a few inches with his fingers. "And Judge Whitman Knapp—probably my favorite judge; he's dead now—said, 'Come up here.' I went up to the sidebar and he started throwing pencils, saying, 'I'm not going to fight the Vietnam War again! I don't want to hear another question about Vietnam!' So he just carved half the belly of my cross."
Coonan was sentenced to 75 years.
In the 1980s, Shargel began representing members of the Gambino family and other organized crime family figures with his colleague Bruce Cutler. After a series of acquittals for John Gotti, only the third of which Shargel played an active role, Gotti was again charged with several counts of murder and racketeering. This is when the Ravenite tapes surfaced and Judge Glasser called Shargel and Cutler "house counsel" to the mob and ordered the two attorneys to step down from the case. With new attorneys, Gotti Sr. was sent to prison for life.
"They claimed, basically, that we had to be disqualified because we were witnesses to many events relating to the case," Shargel says. "However, they never called me or Bruce Cutler as a witness. I think the disqualification order was wrongly decided.
"I was investigated for four years," he adds. "The government abandoned the investigation. There wasn't a drop of evidence that I had ever committed an offense of any kind. I was never disciplined or sanctioned in any way by any bar committee."
That wasn't the end of his Gotti representation, either. A few years later, Shargel represented John Gotti Jr. who was indicted on federal racketeering charges. Gotti Jr. pleaded guilty before the trial began and served seven years. Then in the early 2000s, Shargel represented Peter Gotti, Gotti Sr.'s brother, in a 68-count case that included allegations of corrupt control of the New York waterfront, illegal gambling and extortion. He was convicted of extortion and money laundering activities and sentenced to nine years in prison.
There were also unrelated Gottis: Murder Inc. record producer Irv Gotti and his brother Chris Lorenzo. "Jay-Z gave Irv the last name Gotti," says criminal defense attorney Gerald Lefcourt, who worked with Shargel in 2005 when the brothers were indicted for money laundering. "We got a fabulous acquittal."
Gotti Sr. died in prison in 2002. "I saw him once when he was completely healthy—or rather, he didn't have any signs of cancer," says Shargel. "Then I saw him once when he was suffering from the cancer. He had surgery and a large portion of his face had been removed. It was sad, very sad."
When asked if Shargel is the same guy he knew 40 years ago when the two sat next to each other at law school, Geraldo Rivera, the Fox News analyst and host of Geraldo at Large, says he's the same. Except more confident.
"I was in court during the Westies," Rivera says. "He tore the prosecution apart. When [he stood up], whatever frail credibility they had, he was about to dismantle it."
"The state needs to meet a force, a resistance," Shargel says. "It should be difficult to convict someone. Not easy to put someone in jail. Listen, Mr. U.S. Attorney or Ms. Assistant District Attorney, you want a conviction here? You're going to have to work to get it. And my job is to make it as hard as possible for you to get it."
One of the ways he does this is through extensive preparation. "A lot of people think that preparation is linear. You go from A to B to Z and right down the line," he says. "It's not. You could really get thrown off track in trial and your approach can be ruined. That's the difference between an inexperienced lawyer and a real lawyer."
In one case, he says, "There must have been 10,000 pages of prior testimony, maybe 15,000. I knew where every piece was. Each had a yellow Post-it on it. I knew from my notes that I could find in two seconds anything that could contradict anything that was said in the courtroom. That's knowing the case better than the witness knows the case. I want to know the case better than the prosecutor knows the case. That's what preparation is."
He's also not afraid to think outside the box. Once he brought in, as an expert witness in an assault case, the cut man for former heavyweight boxing champion Joe Frazier. "He testified that he was involved in fixing thousands of cuts, and [this case] was not that serious," Shargel says. "He explained that the skin on the forehead is so taut that it's easily cut; it doesn't mean that you got some horrible blow to the head. And I think that the jury was not only amused by that testimony, but it set the tone for a trial that ultimately led to the client's acquittal."
"Gerry has an instinctive grasp of the law," Rivera says. "He knows what the law is. He has an ability to relate to the client, and make a legal rather than moral judgment about it."
Just listen to Shargel discuss Marc Dreier, the New York lawyer indicted for fraud in connection with the sale of fake promissory notes to hedge fund managers. He pleaded guilty to engaging in a Ponzi scheme and got 20 years.
"In many ways the Dreier case pulls more interest than the [Bernie] Madoff case," Shargel says. "Dreier is like a Patricia Highsmith novel, The Talented Mr. Ripley, because of his assumed identities and his close calls." Shargel adds that, despite the Ripley allusion, Dreier is not mentally ill. "First of all, I have to go by how the law defines mental illness. And when is it a defense? The answer is rarely. American juries don't like it."
Shargel and his wife of 44 years, Terry, have two children. When the kids were young, Shargel sometimes took them to lunch with his mob clients. "It must not have been enough to rub off on them," he says. "They are now corporate and litigation attorneys."
At the time of this interview, Shargel had a full docket. He was handling the CityTime case, the municipal scandal based on a federal investigation of Mark Mazer and other consultants charged with stealing $80 million by moving city profits through a network of corporations. He had an Aug. 15 trial date for a case involving alleged mobster Thomas Petrizzo; a tax fraud case involving former DHB Industries Inc. CEO David Brooks set for October; and a case involving Eric Goldstein, owner of GT Systems, a temp staff agency, who is charged with $25 million in workers' compensation insurance fraud, which is set for September.
As for members of New York's Italian organized crime families, Shargel will continue to represent them, he says, "as long as the phone keeps ringing."
"I don't think that you can represent someone, and if there's a [client's] family wedding, say, 'I'm not going to go because of who you are.' Or someone has some other celebration, or a wake or a funeral, and you say, 'Well, I can't be there because it's not the right thing to do.' I don't subscribe to that. I don't subscribe to that at all."
Search attorney feature articles
Helpful links
Other featured articles
Tristan Brown's path to the law went through BP and HBO
Paul Sinclair's life and practice are guided by his LDS church principles
Lawsuits will increasingly be about the technology designed to prevent accidents
View more articles featuring lawyers
Find top lawyers with confidence
The Super Lawyers patented selection process is peer influenced and research driven, selecting the top 5% of attorneys to the Super Lawyers lists each year. We know lawyers and make it easy to connect with them.
Find a lawyer near you