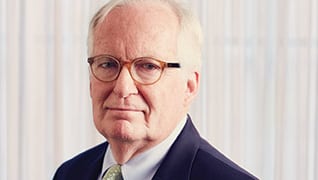 Photo by: Luke Copping
The Lawyer for the 20th Hijacker
Be it suspected murderers, sex offenders or terrorists, everyone deserves a fair trial in James Harrington's book
Published in 2016 Upstate New York Super Lawyers magazine
By Matt Chandler on August 15, 2016
It's a busy Friday morning at SPoT Coffee, not far from the federal courthouse. James Harrington sits near a window looking more relaxed than when he's in his third-floor office in Buffalo's business district. His tie is gone, and a brown corduroy sports jacket covers his open-collared shirt. 
A fellow attorney stops by to greet Harrington as he sips black coffee. After exchanging pleasantries, Harrington turns back and offers some insight into a case he will be remembered for: Fifteen years after Al Qaeda operatives hijacked four commercial airliners and used them to kill nearly 3,000 men, women and children, Harrington is fighting to save the life of the man once called "the 20th hijacker." He just returned from Guantanamo Bay, where he's visited regularly since 2012, when he stepped in to represent Ramzi bin al-Shibh, the Yemeni national alleged to have played an integral role in the Sept. 11 terror attacks. 
Harrington typically flies out of Buffalo at least once a month, either to Andrews Air Force Base, where he catches a military charter to Cuba, or to Jacksonville, Florida, boarding a second plane for the flight to the prison where his client has been since 2006. Once there, he meets with bin al-Shibh as he tries to make a case that will, he hopes, ultimately save his client's life. 
"People find out I'm involved in this case and they'll say, 'Why don't they just take them out and shoot 'em?'" Harrington says. "What people don't realize is that this case is more about us than them. If we can attempt to have some semblance of a fair trial, isn't that what this country is supposed to be all about?" 
A native of Rochester, and the son of Irish immigrants, Harrington has called Buffalo home since graduating from the State University of New York at Buffalo Law School in 1969. The 71-year-old defense attorney has spent the better part of five decades zealously advocating for his clients—a group that includes sex offenders, a cop-killer and alleged terrorists. 
"I have always looked at what I do as an obligation. It's important for our society to have people like me who are willing to do this work, even if it's not thought of as very noble in some circles," Harrington says. "I've never refused to take a case because I found the acts of my client to be so offensive that he didn't deserve someone to fight for him in court."
Described by colleagues as highly intelligent, and self-described as a man who likes a good courtroom battle, Harrington is, at the heart of it, a believer in the law, an advocate for those who often stand alone and—according to friends—a man of unwavering virtue. 
"He's the quintessential defense attorney and a tenacious advocate for his clients," says William J. Hochul Jr., the U.S. attorney for the Western District of New York, who has squared off against Harrington for decades.
In 2002, 10 years before he took the case of bin al-Shibh, Harrington represented another suspected terrorist, Sahim Alwan, who was one of six men charged with visiting an Al Qaeda training camp in Afghanistan before Sept. 11. Thanks to Harrington's legal maneuvering, Alwan was the lone defendant given an opportunity to post bail amid what Harrington describes as a heightened anti-Arab sentiment in the U.S. Though Alwan ultimately pled guilty, Hochul, whose office led the prosecution, says the case highlighted what makes Harrington so special.
"His goal was always to represent his client to the best of his ability instead of making it a battle of the lawyers," Hochul says. "He is someone I have a tremendous amount of respect for." 
Praise makes Harrington a bit uncomfortable. Despite the scrutiny that comes with many of his cases, he shies from the media spotlight.
"I went for quite a while without even reading the press and what was said about me," he says. "People sometimes identify the acts individuals have committed with their lawyer. You build up different layers of Teflon and different ways of dealing with it, and that's all you can do. 
"In a lot of cases, [the victim's families] want justice for their loved one and, as a defense attorney, I'm sympathetic to that. I know at times they look at me as an obstacle to that justice and as someone who they feel isn't an honorable person." 
Harrington's wife, Ann, says her husband's career is driven by a core belief: "He always says, 'If the law doesn't work for the worst of us, it doesn't work for the best of us.'"
The couple has lived in the same home since 1973, and both of their children live within three blocks. Ian practices with dad at their three-man firm (with Mark J. Mahoney). 
After nearly 50 years of practicing law, what keeps Harrington grinding away is "an intellectual curiosity that makes him want to look a little further at everything," Ann says. "But more than that, Jim has a real love of the law, and I think that drives everything he does."
Asked to offer a single observation from his nearly 50 years on the job, Harrington delivers a sobering assessment of the legal system. 
"The American people think if you go to trial, it's a fair system—and it's not," he says. "The system is not designed to provide a fair trial for the accused." 
Harrington takes issue with the very fundamentals of the system. "The primary problem with the whole system is lack of disclosure," he says. "The discovery rules are designed to benefit the prosecution. The rules of evidence are designed to benefit the prosecution. It makes it very difficult for people to fairly defend their clients."
To get an idea of just how difficult, consider the numbers: In 2010, more than 98,000 people were charged with federal crimes. Just 286 of them were acquitted by jury.
"Underneath everything, I think there is a fundamental desire to be fair, but it's still an adversarial system," he says. He cites The Patriot Act as a prime example. "It's a 6,000-plus-page bill. They didn't start writing that after 9/11. That was the wish list of the Justice Department for years. It tramples on people's rights and ignores many constitutional principles.
"We have judges, especially those appointed by the more conservative presidents, who I don't think understand constitutional rights, and they do everything they can to undermine [them]."
From 1995 to 2004, the death penalty was legal in New York. Harrington earned a spot in local legal lore by successfully defending the only death penalty case tried in Erie County. Jonathan Parker was a teenager when he shot and killed 36-year-old Buffalo Police Officer Charles McDougald. Despite a public outcry demanding Parker's execution, Harrington and his team persuaded a jury to spare his life, "primarily with a presentation on the history of how [Parker] came to be the person he was—what put him in the circumstances of committing the crime that he committed," Harrington says. Nearly 20 years later, he singles out that case as one that's most important to him.
"It was a hard case for everyone involved," he says, "but in the long run, it was very rewarding to me that this kid's life was saved. … I think it confirmed what [former Erie County District Attorney] Frank [Clark] already thought, which was: If you can't get the death penalty in this case, it's going to be extraordinarily difficult to get it in any case." 
Harrington says he understands why some people might wince at the notion of defending a man accused of gunning down a police officer in cold blood. For them, he offers an alternative viewpoint.
"If you're committed to doing this kind of work, you can't say, 'I believe in the principle, but only in the cases I think are OK.' You either do it or you don't do it." 
While to the outsider Harrington is defending one of the most despised men in America in bin al-Shibh, Harrington sees a client who faces charges that include murder, terrorism and destruction of property. 
"All this case means is that everything is more exaggerated. There is more publicity; there are more resources; everything is magnified. In an ordinary case, you may have one or two victims; here we have 3,000 dead and many more injured." 
From a legal perspective, defending a client accused of participating in the worst attack ever committed on U.S. soil is fundamentally no different than representing a client accused of a single murder. It comes down to studying, dissecting the facts and successfully arguing the law. And that, says Hochul, is where Harrington has the edge. 
"He is as good or better in the courtroom than anyone I've seen in my 30 years as a federal prosecutor," he says. "Any young lawyer who wants to know how to do the job right can study the life and cases of Jim Harrington."
Search attorney feature articles