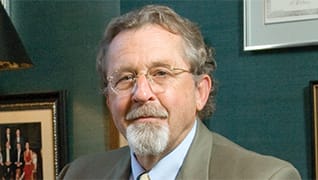 Photo by: Alex Maness
Fifth-Generation Lawyer
Joseph B. Cheshire V lives up to expectations
Published in 2009 North Carolina Super Lawyers magazine
By Nancy Henderson on January 20, 2009
Ever since March 2006, when an African-American exotic dancer accused three white Duke University lacrosse players of gang-raping her at an off-campus party in Raleigh, N.C., the case had consumed Joseph B. Cheshire V. But not even the painstakingly prepared Cheshire could have predicted the stunning turn of events on Dec. 15 of that year.
Sitting in the packed courtroom, with his 23-year-old client David Evans right behind him, his colleague Brad Bannon next to him, and more than 100 reporters scrutinizing every word—CBS news anchor Katie Couric was in the front row—Cheshire watched District Attorney Mike Nifong walk in with a surprise DNA expert.
"We had filed a motion prior to the trial to cross-examine him, but it was pending," says Cheshire. "We certainly didn't expect for him to be there."
The legal team, including attorneys Wade Smith, who defended Collin Finnerty, 19, and James P. Cooney III, who represented Reade Seligmann, 20, debated what to do. They'd been given no notice. None of them were prepared to question the witness. Shouldn't they request more time?
"Listen," said Cheshire, who's known for calming jangled nerves, "Nifong is clearly trying to sandbag us here, but we have to do this." Then he turned to 36-year-old Bannon and said, "Brad, you go first."
Bannon shook his head. "I can't do this, Joe," he protested. "I'm not ready."
So Cheshire, founding partner at Cheshire Parker Schneider Bryan & Vitale, delivered one of the best pep talks of his life. "Brad, there is a moment that defines the difference between a good lawyer and a great lawyer. I've been telling you for 10 years that you are a great lawyer, and I've always known it, but you've never believed me. You're ready to do this, and you're going to do great."
And that was that. Under Bannon's cross-examination of the prosecution's expert, it was revealed that Nifong had withheld DNA test results that proved none of the lacrosse players had been in contact with the woman during the night of the alleged rape. In April 2007 the North Carolina attorney general dropped all charges against the athletes, while Nifong was accused of prosecutorial misconduct. He was later disbarred.
Cheshire's selfless attitude and eagerness to bolster other attorneys—rare traits, colleagues say, in someone who has handled so many first-degree murder, complex conspiracy and political corruption cases—was evident during his defense of the Duke University players. So was his willingness to stand up for an unpopular cause. "He's got an incredible amount of humility but he's also got an incredible amount of courage," says Bannon, who became Cheshire's research assistant in 1995 and was hired after law school. "About the lacrosse case, you have to remember that it wasn't always cool to talk about prosecutorial misconduct. It wasn't always cool to talk about the presumption of innocence. At the beginning of the case it was the exact opposite. Those kids were being vilified and Joe was literally the first voice to stand up publicly and say, 'You people in the media and in the community need to back up and think about what you're doing.'"
Despite his dream of becoming a high school teacher and sports coach, Cheshire, 61, is the fifth consecutive Joseph B. Cheshire to practice law. "I wanted to spend my life molding young people to do the right thing," he says. "But that was kind of a fantasy for me because there was never much doubt that … I was going to be a lawyer. That's just what we did." His forefathers, who championed civil rights for minorities before the Civil War, were also prominent Episcopal ministers. Cheshire, however, became disillusioned with organized religion in the 1980s, when it "started to become so political," he says. "I have a very deep personal faith but I don't like public proselytizing."
Advocating, on the other hand, has always been in his genes. "By most accounts I was a sweet kid," says Cheshire, an only child who spent three weeks organizing a lunchroom strike in sixth grade because the food was terrible. "The strike was 85 percent effective," he says, "and I got severely disciplined by the principal because it was very embarrassing to her and very costly to the school. But everybody told me that after the lunchroom strike the food got better."
At 12, Cheshire won a scholarship to Groton, the Massachusetts boarding school attended by Franklin D. Roosevelt and other dignitaries. He describes his six years at Groton, where he once met Martin Luther King Jr., as "the most important years of my life. It molded my belief that I should live my life more for other people than I live it for myself. It also gave me a tremendous sense of insecurity because I didn't really ever quite understand why I was sent away from home until I grew up." He is still shy, he says, and not fond of crowds despite his media-savvy persona.  
While a student at the University of North Carolina at Chapel Hill and Wake Forest University School of Law, Cheshire waited tables at night. "You learn how to deal with very difficult people under high stress and you learn to please people that you don't necessarily like," he says. "To a large extent, that's what I still do today." He was also blackballed from a UNC fraternity "because of my racial views. People don't understand this, but if you were a forward-thinking white Southerner on the issues of race in the '40s, '50s and '60s, that was a dangerous, very unpopular way to be." Despite his deep-seated opposition to the Vietnam War, he served in the U.S. Army as a military intelligence officer at Fort Huachuca in Sierra Vista, Ariz. He began practicing civil and criminal law at Ragsdale & Liggett in 1973.
Cheshire handled more than 15 first-degree murder cases in his first five years of practice and won his first jury trial with a self-defense argument. "It made me feel fabulous," he says. "I realized that the greatest narcotic in the world is the phrase 'not guilty.' You spend your entire life hoping that you will hear those words just one more time before you die." Despite his early success, he says, "I was scared all the time, of failing. … I've always been enormously humbled by the fact that people would actually entrust their lives to me. So I've found the practice of law to be an enormous personal burden because everyone I represent is in great pain and turmoil and they're looking to me to try to help them."
In 1977, at age 29, Cheshire was appointed special prosecutor for Wake County in a corruption case against the longtime sheriff and some of his deputies. The sheriff was acquitted, but several deputies went to prison. The next year, Cheshire established his own firm and was soon embroiled in a class action suit against the state on behalf of female prisoners who "at the time did not receive any mental health care, had no ability to have work release and were being mistreated, significantly worse than males." He wrangled a settlement "that changed the conditions for women to be equal to those of men. In many ways that's one of the most important things I've ever done."
Another case with far-reaching consequences involved a young man named Allen Gell, who was convicted in Bertie County of killing a man named Allen Jenkins and sentenced to death despite statements from 17 witnesses who said they saw Jenkins alive while Gell was in jail on another offense. (Jenkins was found dead while Gell was still incarcerated.) As soon as Charlotte attorney James P. Cooney III secured a new trial in 2003, he called Cheshire because, says Cooney, "He's the best trial lawyer I know."
Cheshire's cross-examination of the two chief witnesses who said they saw Gell murder Jenkins was "just brilliant," says Cooney. "I hadn't seen cross like that in a long time. There wasn't a person in the courtroom that believed those girls. I'm not even sure the girls believed themselves when Joe was done.
"He's got a sense of courtliness and professionalism, the way law was practiced for a century before any of us got here," Cooney adds. "He sees it as an instrument of positive good and of social change, but he practices it in a way that preexisted any of us and, I think, is frankly dying out these days."
Cheshire and Cooney obtained a not-guilty verdict. They also found that the state did not turn over certain files that proved Gell's innocence, prompting a ruling that prosecutors must surrender all files to the defense before the start of a trial. The ruling transformed criminal law in North Carolina.
Two years later, that change was key to proving the innocence of the Duke lacrosse players. "It was an enormously important case because the American people for the first time got to see the criminal justice system and all of its flaws in the context in which they cared, because the defendants looked just like the majority of Americans-white males," Cheshire says. "That case reflected everything that I had been fighting against in my entire life: abuse of authority.
"It was almost like a political campaign," he says of the media frenzy. "We would get somewhere between 10 and 25 telephone calls from press all over the world every day. That in and of itself was an all-consuming battle. And it was the first major United States trial that also was tried in the blogosphere. The battle for public opinion was almost as important as the trial itself."
Cheshire, like his forefathers, spends up to half his time on pro bono work. He helped establish the Indigent Defense Services Commission of North Carolina and has been chair since 2002. "Most of the people in the criminal justice system—95 percent or more—don't have anything," he points out. "They're just poor people. If you don't have fairness for poor people, then you simply don't have fairness."
Search attorney feature articles