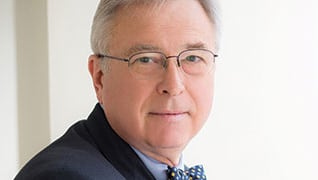 Photo by: Jeff Cravotta
On the Fly with Ed Hinson
For the James, McElroy & Diehl lawyer, there's nothing like the lure of a government investigation—unless it's rainbow trout
Published in 2015 North Carolina Super Lawyers magazine
By Amy White on January 21, 2015
Q: I hear you're a born-and-bred Southerner.
A: I grew up in Rock Hill, a relatively small Southern town. Most people worked in the textile industry. My grandfather ran a country store about 20 miles south of Rock Hill, out in the country, and had a farm. I was influenced by a bunch of farmers.
Q: No lawyers?
A: No lawyers. When I was growing up, I read a lot, and I was aware that a lot of people in this country that I admired were lawyers—people like Abraham Lincoln. I was interested in American history, and it seemed like all the early people in American history, for the most part, had studied law. At some point, I thought I wanted to be a trial lawyer. I think anybody who ever saw To Kill A Mockingbird—especially a Southerner who saw To Kill A Mockingbird—would think that was a great way to make a living.
Q: Your first stop after law school was the district attorney's office.
A: Now that was a steep learning curve. The office was understaffed at the time because Charlotte was in a big growth spurt. There was a fair amount of crime and not enough people to take care of it in the prosecutor's office. So it was kind of all-hands-on-deck. Even the new people who were inexperienced had to learn fast. It was kind of like what I'd imagine being a fighter pilot at the beginning of World War II in the Battle of Britain felt like. You had to learn fast, or you wouldn't make it.
Because of the turnover in the office and so forth, I only spent about 16 to 18 months handling misdemeanor cases in the lower courts before I was trying cases for the state of North Carolina. I was in the DA's office for 4½ years. It was a wonderful experience.
Q: Any favorite war stories?
A: Not so much a story, but I'll never forget Judge Frank Snepp, who was the senior resident superior court judge, [and] who was a Pacific War veteran. He'd been island-hopping across the Pacific in World War II. He was a tough old guy, not all that patient. I got very close to being put in jail a time or two by him. He would just lose his temper when you were arguing with him, and he would threaten to put you in the lockup. He was a lot of bluster. I learned that it was bluster because I got to a lockup but got immediately released. He put you through the fire.
Q: Do you miss it?
A: Well, I joined this law firm because they needed to do civil litigation. I wanted to make the switch. I'd done criminal work all my career. When I first left the district attorney's office, North Carolina had reinstated the death penalty. To be eligible to be appointed to defend a death case, you had to have had experience as a first chair in a death penalty case. Because we had not had the death penalty for a number of years, there were not that many defense lawyers who were death-qualified.
Q: And you were?
A: Right. So Judge Snepp, in fact, called me not long after I left the district attorney's office and asked me to take an appointment to defend a capital murder case. It was a fairly notorious case from many years ago, with some young people from an underprivileged background who were out trick-or-treating. What they were doing was looking for the opportunity to rob and steal. A retired elderly librarian was assaulted and robbed, and then the young man I represented, who was quite troubled, went in and beat her and raped her and killed her.
It was a really bad case, got a lot of attention in this community. We got a life sentence out of it, principally by putting on a lot of evidence about what a difficult upbringing he had.
For about a decade, I probably defended 10 or 12 capital murder cases. I almost always had one. Finally, I just went to see the judge at the time. Judge Snepp had retired by then. I went to see the judge and said, "I just don't want to do this anymore. I can't. I've had it."
Q: Now it sounds like you've got your hands in a little bit of everything.
A: That's true. The firm was not so much looking for somebody to do criminal defense work. So in fact, at the time, Bill Diehl, who was a great lawyer and somebody I learned a tremendous amount from, was defending First Union Bank in a pretty high-profile lender-liability claim.
He asked me to help him with that case, and I did. We ultimately won. We got summary judgment for the bank in federal court here. The other side appealed to the 4th Circuit Court of Appeals. We wound up settling the case, the night before the appellate argument, by getting the bank all of the money plus all of the interest.
Do you know Bhagwan Shree Rajneesh? He was an Indian guru who had come to Oregon and started a commune called Rajneeshpuram. He had people coming from all over the United States, the world, to settle in what had formerly been Antelope, Oregon, but had been renamed to Rajneeshpuram. Bill Diehl was the leader on that case. We defended the Bhagwan in a very high-profile case. He was indicted for arranging marriages.
The marriages were between his followers, who were Americans, and people who were from other countries, so they could stay in the United States. The government charged him with conspiracy to violate the immigration statutes. The grand jury had been investigating him for quite some time. The Bhagwan and his leadership decided it would be good for him to take a break. So he got on a private jet and was headed out of the country for a little R&R, when the government arrested him in Charlotte for alleged flight to avoid prosecution. Our evidence was that he didn't know that the indictment had been handed down and sealed. The government claimed that he knew that, and that he was trying to get out of the country. After about a week of fighting and arguing with the government, we worked out a deal for him to leave the country, which he was on the way to do. That's one of the earliest cases I was on at the firm. I had the good fortune of working with people who attracted all kinds of interesting work.
Q: What kind of work do you attract?
A: I help people under government scrutiny. A lot of my clients are not regular participants in the legal system. So the legal system scares them because they've heard horror stories. Some of the government investigators can be pretty aggressive and accusatory. I've always felt that if you give me a United States grand jury and six months, I could indict a ham sandwich. I'm not the first person who said that.
I've done work for financial institutions. I represented and still do represent professionals, lawyers, accountants, physicians. I represent lawyers who are under scrutiny by the government in white-collar investigations. We've had a fair amount of mortgage fraud investigations and prosecutions around Charlotte. They've looked at lawyers, particularly lawyers in the real estate business. I also represent lawyers who have grievances brought against them, before the grievance committee or the state bar and before the disciplinary hearing commission.
It's trying for my clients. Anybody with a brain in their heads is intimidated by the government. So I think good lawyers always try to manage people's fears. You try to reassure them about what's a rational fear and what's an irrational fear.
Q: What are you most proud of?
A: Some of my best work, I cannot talk about. There's been some insider trading matters where the government, I think, ultimately concluded there was no case to be brought. If you can defend a government investigation and avoid charges, that's the best outcome.
People who hire me in those situations are not looking for any attention about the fact that the government scrutinized them. If I'm able to get through that without there ever being any public attention, then I quietly close my file.
Q: What's something that your peers in the bar might be surprised to learn about you?
A: I have a strong interest in fly-fishing. There's not much I love more than that. I go for a week to 10 days every year, out in Montana. It's like everything else disappears. I find that the places you go to fly-fish are about as removed from a courtroom as possible. I enjoy the whole process of trying to catch a fish with a fly. Lots of trout—rainbows, browns, the occasional book trout; and out West, cutthroat. I also enjoy music and I like to cook.
Q: What's your best dish?
Probably a steak with the typical trimmings. Although, I have a little garden in the backyard, and I've had bushels of eggplants this year. My wife and I travel some in Europe and particularly in Italy, and learned a little bit about how the Italians cook eggplant. And of course, I love history.
Q: Do you have a favorite period?
A: I'm fascinated by all of history. I just read a book, Persian Fire. It's about the encounter between the Persian Empire and the Greeks, and how the Greeks turned back the Persians. … Western history would have been entirely different had the Persian Empire conquered Greece and moved on into Europe.
I think the most fascinating period in American history is the Civil War. The fact that Americans were killing each other on an industrial scale, 150 years ago, is something that I don't think we think about. I've spent some time on the battlefields, particularly in the East. It's sobering. In fact, I'll just mention this: I was born in 1952, and I was the first grandchild in my generation. My great-great-great-grandmother was alive at the time. She was born in 1860.
She could remember the day that her father, who was a Confederate soldier, came home from what she called the "War Between the States." She told my father the story of that day. She remembered it vividly. The concept that I have this photograph of me being held as a baby by the woman who witnessed that? It's pretty amazing.
Search attorney feature articles