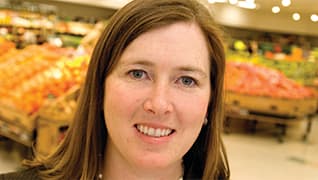 Photo by: Gary Kessler
Deposition in Aisle 5
Hilary Vollmer, behind the scenes at the nation's largest grocery chain
Hilary Vollmer has made life a little easier for millions of people who shop at Kroger, the nation's largest traditional grocery chain. But as they fill their carts, gas tanks and prescriptions, most customers have no idea who she is.
As corporate counsel for The Kroger Co., the 34-year-old Vollmer oversees a broad array of legal areas: information technology, advertising, loyalty programs, sweepstakes and fuel. Since joining the company in 2002, she has worked on deals that changed the way Kroger does business: from outsourcing part of the $66 billion company's IT department to fighting lawsuits against its fuel centers' discount programs.
Ohioans know Kroger from its grocery stores of the same name, but the company operates nearly 2,500 grocery stores in 31 states under a variety of banners: Ralphs, Dillons, King Soopers, Fred Meyer and more. Of those supermarkets, more than 600 have fuel centers and 1,921 offer pharmacies. Kroger also runs multi-department stores, convenience stores and jewelry stores. A company like that needs lawyers who can handle anything.
Unlike her post-law school job as an associate at a large firm, Vollmer's position as in-house counsel gives her the independence to handle bigger projects—even trials—on her own. "We are all ultimately responsible for our own work," she says, referring to the 15 attorneys in the Cincinnati-based corporate headquarters. Her work doesn't undergo an official review, the way it would by a partner in a firm. Vollmer calls herself "a one-woman show," though she says her colleagues are happy to pitch in when she needs help. But usually she just puts in the hours and effort to get the job done herself.
"Hilary has taken the best of what she learned at a firm and transferred it artfully into her corporate role," says Vollmer's manager, Bruce M. Gack, vice president and assistant general counsel for Kroger. "Hilary's clients and colleagues here at Kroger trust her and appreciate her perspective because she offers strategic legal counsel they can rely on time and again."
The oldest of six children, Vollmer grew up in Cincinnati, where she still lives today. Her early 20th-century home is located just a mile from a bustling Kroger store. After graduating from high school, Vollmer studied history at Colgate University in Hamilton, N.Y. In 1999, she graduated from the University of Cincinnati College of Law.
Why law? "I like to read, write and research, so I figured law was a good way to do that for a living," she says.
Vollmer spent her summers during law school working as an intern at the Cincinnati office of Baker Hostetler. After graduation, she continued on as an associate practicing primarily in the corporate group, while gaining experience with Internet-related work. "It was really an opportunity to find something unique that I could do," she says.
Her knowledge of technology-related law helped get her in the door at Kroger. Now she's involved in the purchase of all hardware, software and related services, such as outsourcing part of Kroger's IT department to IBM Corp. "That was a rather large deal for us," she says. "It takes an amazing amount of technology for the system to run—logistical software for our trucks, pricing software, scanners in the scales and the self-checkout units."
Vollmer recently helped with the development of a new system that allows pharmacists to access a patient's history at all of the company's 1,921 pharmacies. The pharmacy program is still being tested and will roll out to all Kroger pharmacies over the next year. "It's rare that I get to see what I do in the store," Vollmer says. "[My work is] usually more visible behind the scenes."
Much of Vollmer's work involves technology and the legal questions it raises, from domain name issues to fraudulent coupons. She's providing guidance to employees who are developing the company's e-commerce capacity, which includes online grocery shopping and delivery. "We're trying to figure out a way to have one system that works for everybody."
When you're strolling through the aisles of your local Kroger, you may notice the in-store TVs featuring new products, services and ads. Vollmer calls the Kroger TV network "one of the bigger and more exciting projects" she has worked on. It's part of her work with the company's advertising department, for which she also deals with Kroger ad-related issues or competitors' advertising claims.
"Hilary has taken the time to understand the advertising/marketing side of our company, which has allowed her to look at our agreements from more than just legal issues," says Vollmer's internal client, Evan Anthony, vice president of corporate marketing and advertising for Kroger. "We've developed a great working relationship with her because she anticipates what we need and looks out for the company's best interest."
Recently, Vollmer's work has centered on Kroger's 600-plus fuel centers, specifically the tightly regulated and controversial issue of fuel pricing. "Generally, it's about selling below cost. We had a lawsuit in Colorado alleging that we violated state law," a case that ended up going to trial last November. "We are in the process of appealing the verdict."
Meanwhile, the Colorado State Legislature recently passed a law so that grocery stores like Kroger can continue their groceries-for-gas discount programs. Vollmer also responded to investigations by several states, individuals and attorneys general relating to fuel price gauging in the aftermath of the 2005 hurricane season.
In an effort to balance her own professional success with community service, Vollmer serves on the board of ProKids. This nonprofit organization represents abused and neglected children who have been removed from their families and placed in the child protection system. ProKids recruits, trains and supports volunteers to advocate for these children and help establish them in loving, stable homes.
"We're actually a pretty involved board," she says. "We really want to help in as many ways as we can."
With her background as a big-firm attorney, Vollmer can appreciate the life and career she has now as a corporate lawyer. "I enjoy what I do. It changes a little every day," she says. "I get to be involved so much earlier at the initial thinking and planning level. My internal clients don't have to pay by the hour—so they don't hesitate to bring me in. They really treat me like I'm part of the team."
Search attorney feature articles
Helpful links
Other featured articles
Pierce Hamblin's tactical weapons include humor, listening skills and powers of persuasion. Plus an Elvis shrine
Former Gophers wide receiver Lee Hutton III traded in his pads for a thriving and diverse legal practice
Barbara Howard has held the reins at both her state and city Bar associations 
View more articles featuring lawyers
Find top lawyers with confidence
The Super Lawyers patented selection process is peer influenced and research driven, selecting the top 5% of attorneys to the Super Lawyers lists each year. We know lawyers and make it easy to connect with them.
Find a lawyer near you