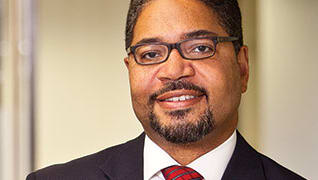 Photo by: Ross Van Pelt
The Lawyer Lawyers Need
When a professional colleague gets in hot water, Alvin Mathews Jr. is on the case
Alvin Mathews Jr. learned his first lessons in business as a 10-year-old boy helping out at his father's used car and body shop. These included: Be kind; whatever task you're working on, do it to the best of your ability; and see a job through to the end.
"I'm just enjoying helping people; that's really the foremost thing I get out of practicing the law," he says. "Being able to encounter clients who need help and then helping them to the best of my abilities."
Growing up in Dayton during the 1970s, Mathews looked up to his father, Alvin Mathews Sr., who ran his own business while he and wife Anita raised three daughters and two sons. "Other kids kind of had the summer to play outside, and I had that, but I also went to work with my dad," Mathews recalls. "So I got to observe him. He worked very hard, building his businesses. That gave me a good foundation for hard work and perseverance."
Despite those summer stints, his father didn't pressure his eldest son to take over the family business. "He always told me, 'Hey, you should do something different because you are really not cut out for manual labor,'" Mathews says, laughing.
He was the first in his family to finish college. At Miami University, Mathews majored in political science and got involved in student government. "Going to meetings, getting used to exchanging ideas, expressing yourself, giving reasons for your positions, learning how to articulate the reason that you have your opinion—that was all part of the growing process," he says. "Obviously, you learn those things in college, but it's nice to be able to apply them in the context of an organization."
At Ohio Northern University's law school, he participated on the moot court and privacy law teams. Mathews was hired right after his 1987 graduation by the Montgomery County Prosecutor's Office, where he became an assistant prosecuting attorney, with the not-so-glamorous task of trying juvenile court cases: delinquency, traffic violations, paternity.
He enjoyed the daily courtroom action, but says, "I was a little impatient. I wanted to prosecute adult felony cases." After a couple of years learning the ropes and seeing opportunities in Columbus, Mathews leveraged his criminal law experience to nab an opening at the Ohio Attorney General's Office, then led by Anthony J. Celebrezze Jr. His job there, prosecuting health care fraud and patient-abuse cases for the state, provided both the opportunities he sought and a different kind of legal perspective. But of course he missed the daily courtroom battles.
"I went from being in court just about every day to hardly ever being in court," he says. "But that position ended up being more realistic. Most lawyers are not in court every day. … It was pretty jarring for me to [go from] being at court every day to doing basically a lot of desk and paperwork."
Later, he would realize this switch gave him a richer professional experience, because he discovered how important handling paperwork and mastering written communication are to a successful law practice. But the job wasn't what he wanted to do on a permanent basis.
"Particularly after my parents made the sacrifices they did to help me go through school," he says, "it was really important to me to maximize my opportunities and find my fit."
So he shifted to a more balanced work environment: the Ohio Supreme Court's Office of Disciplinary Counsel.
Mathews spent the next 6 1/2 years investigating and prosecuting Ohio lawyers and judges for ethical misconduct. "As lawyers, we are a self-regulating profession," he says. "When [a lawyer] does do something that rises up to the level of misconduct, identifying those situations, making sure that they are thoroughly investigated and then taking action … it was very important to get those cases right.
"Somebody's career and reputation is on the line."
Disciplinary counsel Geoffrey Stern, now chair of the professional responsibility practice for Kegler Brown in Columbus, had an office next to Mathews. "You handed him a case, and he did it responsibly and well. He was not one of those assistants who had a question every hour. He's remained a very good professional friend."
Private law firms were the next logical leap. As Mathews saw it, practicing law was not just about going after "bad guys," but also about making sure all parties got a fair shake.
"One of the tenets of being a prosecutor is seeking justice," he says. "You are not just looking for a conviction, you are trying to do the right thing … I learned from having good mentors, lawyers who trained me, that 'winning' was not always prevailing in a case, but getting the best results for whoever your client is, whether you are working for the government, an individual or a business client."
Mathews spent the next 10 years defending companies in liability cases as a litigator at Lane Alton Horst in Columbus. Rick Marsh, a partner at the firm who tried cases with Mathews, says, "He's completely honest, ethical, professional—all those good things."
While at Lane Alton Horst, Mathews began building a practice helping other lawyers, based on his experience at the office of disciplinary counsel. "People would call me for advice on what to do to stay out of trouble," he says. "Other lawyers—they can read the code of professional conduct like I can, but because of my experience, that adds some ability to evaluate ethical issues."
As of counsel at Bricker & Eckler, from 2007 to 2012, Mathews litigated cases and offered advice on legal ethics and professional responsibility. Then, in 2012, he landed as a partner at James E. Arnold & Associates, a Columbus firm where he continues the ethics practice that has become his calling card.
"I have helped a wide range of lawyer clients, from solo practitioners to government lawyers and officials to in-house corporate counsel, to partners in larger law firms. I have also had the opportunity to represent several judges charged with misconduct. All these projects are rewarding because the stakes are high for the clients," Mathews says.
"The most rewarding part of my practice does not always happen in the courtroom. I enjoy giving lawyers preventive advice to help them stay out of trouble. A couple of years ago, a lawyer called me after someone had offered him an attractive business opportunity. I saw some red flags and advised him against the business opportunity, but unfortunately, he only followed part of my advice and entered the business opportunity on a limited basis. Regrettably, his participation in the business opportunity led to an ethics investigation. I was gratified because the ethics issue was favorably resolved for the client, in part because we had consulted about the issue and the lawyer had followed the most important part of my advice. That was one of those opportunities where my roles as an adviser and advocate worked well together."
Passion has always been a key ingredient in Mathews' success. "I think people should practice law because they want to do it," says Mathews, 53. "Because they think it's a very rewarding career, for the intellectual simulations and the fact that you can help people. But it is hard work, and people should do it not because it is suggested to them, but because they want to. I think a lot of people get into the profession for the wrong reasons."
Like his own dad, he encourages his four daughters to find their own path.
"He always pushed us to our full potential," says his oldest daughter, Elisa. "We were runners, and even when I was in elementary school, my dad would look up all these articles about technique and how to be the best soccer player or runner. He'd have me watch YouTube videos, do summer camps. … That's a reflection of him as a lawyer. My dad does his research."
Search attorney feature articles