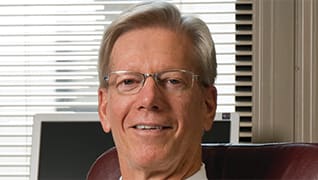 Photo by: Gary Kessler
The Man To See
Super-connected trial attorney David Kamp built his career by being the 'lawyer's lawyer'
David Kamp defies just about every (unfair) trial lawyer stereotype.
The 57-year-old managing partner of Cincinnati's White, Getgey & Meyer is known more for his "respectful," "reasonable" and "compassionate" demeanor than any cutthroat courtroom tactics. He doesn't get clients from TV commercials or public relations campaigns; law firms and legal adversaries are the ones who usually send business his way. A family man who treats clients and colleagues like friends, Kamp enjoys digging into a case without the aid of associates and assistants doing all his legwork. And as one of the most connected lawyers in town, he leaves a positive impression on just about everyone he touches.
James P. Triona of Triona, Calderhead & Lockemeyer has known Kamp for years, usually as opposing counsel. When Triona programmed Kamp's number in his mobile phone, he used "The Man to See"—the title of legendary trial lawyer Edward Bennett Williams' autobiography—instead of Kamp's name. "He just knows everything," Triona says. "David is like our law firm's consigliere. He knows a lot of lawyers in the city and knows what buttons to push."
His colleagues describe Kamp as a "lawyer's lawyer," which is how the firm gets most of its business. Often, a larger firm will refer one of its regular clients to Kamp when it has a conflict. Or an out-of-town firm may call on Kamp to take on a case because of his extensive knowledge of Cincinnati's law culture and connections. "What makes this city a special place to be a lawyer is … we have big-city legal issues but small-town law practice," Kamp says. "Relationships allow you to get things done."
Todd Bailey of Frost Brown Todd has worked with Kamp on both sides, as opposing counsel and as a partner at White, Getgey & Meyer. He describes Kamp as "exceptional" and "one of the most creative legal minds I've ever run into. He has the ability to work with a set of facts and craft a legal strategy, direction and theme that's a beautiful thing to observe."
Another friend and colleague of Kamp's for 20-plus years, Daniel Buckley of Vorys, Sater, Seymour and Pease, says, "David Kamp is a wonderful lawyer.  Smart, honest, tough and civil, he always performs with excellence."
Buckley admires Kamp's style in a trial setting. "Among the many reasons he is particularly effective in the courtroom—he doesn't rely on notes," Buckley says. "He's always well-prepared, but he can speak extemporaneously in the courtroom as well as anybody I've ever seen."
Kamp didn't take the usual route to practicing law. Starting out from what he calls "fairly modest beginnings," he attended Thomas More College in northern Kentucky as an undergraduate. He had to pay his own way, which meant working full-time at a pharmaceutical plant by day and going to night classes. After eight years, Kamp finished his bachelor's degree in sociology and political science. To complete an undergraduate degree that way, he says, "you have to want to get it done."
After college, Kamp knew exactly what would come next. "Law school is what I always wanted to do," he says. As a child, he faithfully watched Perry Mason and viewed the classic TV lawyer as a role model. And when he took the LSAT as an undergraduate and received a "nearly perfect" score, he realized "what I wanted to do was what I was suited to do." As practical as his attitude sounds, his parents weren't terribly pleased with the decision to pursue a law career. They thought he had a good, steady job and had gone to school long enough—why go to law school and risk a new profession? Kamp put their doubts aside and plunged headfirst into the University of Cincinnati's law school, attending classes full-time and without a job this time around.
Unlike many of his fellow law students, Kamp found law school "refreshing." After all, "going to school full-time was not that hard" after attending college and working full-time for eight years. During the first summer break, he got a job at a downtown Cincinnati law firm, where one of the partners persuaded him to work part-time after he went back to school. Kamp met his future wife, Eileen, at the firm. The couple is still together, with three children and a grandson.
Kamp's first job as an attorney was with Dinsmore & Shohl where, right out of the gate, he tried cases ("the only thing I ever wanted to do was litigation," he says). He found he had a passion for talking to juries and making persuasive arguments—not for "sitting there for hours" poring over documents.
Then in the late 1980s, Kamp encountered a unique job prospect: handling major litigation cases at a smaller firm that had lost its founding partner, John Getgey, in a plane crash. Three years after Getgey had died, his law firm of White, Getgey & Meyer still had not found someone to take his place. The firm's co-founder, Alvin White, invited Kamp to lunch and offered him a job—with the possibility of succeeding White as the firm's managing partner. "It struck me as an interesting opportunity," Kamp says. So in 1987, at age 35, Kamp joined White, Getgey & Meyer and has stayed there for more than two decades. He became the firm's managing partner in 1989 when Alvin White retired.
During his tenure at White, Getgey & Meyer, Kamp litigated a wide range of cases, from secret military radiation experiments in the 1960s and '70s to products liability. He recalls one case early in his career: Hamilton Beach, pointing to a framed newspaper clipping on his office wall. A young man was killed in a house fire caused by a defective Hamilton Beach coffeemaker, and Kamp represented the victim's family. He argued the case in the small town of Jackson, Tenn., where the judge warned Kamp that the highest amount ever awarded in his courtroom was $18,000. Kamp was unfazed. The trial, which lasted for two weeks, ended with a $3.3 million award.
After Kamp took over as managing partner of his firm, he began to envision the company as a "litigation boutique." Rather than competing with the city's big full-service firms—like his former employer—he wanted White, Getgey & Meyer to be a "safe harbor" where larger firms could send litigation cases with confidence. Over the years, Kamp trimmed the firm's staff down to a small but powerful group of attorneys. With only one associate to back them up, the firm's partners take an active role in every aspect of their cases, from discovery to trial. "Once I undertake something, I like to do it myself," Kamp says. "I like to be up to my elbows in a case."
Kamp helps up-and-coming lawyers through his volunteer work with the National Institute for Trial Advocacy, giving them hands-on training in legal advocacy skills. He led his firm's effort to build two Habitat for Humanity houses, which he says was a great team-building exercise for his employees. Kamp even lets his employees have a free week's stay each year at his vacation home in Hilton Head, S.C.
Brian Smith thought Kamp would be the right person to handle the lawsuit on behalf of his father, Pat Smith, who was killed at age 58 in the 2006 Comair Flight 191 crash at the Lexington, Ky., airport.
"We already knew he was an exceptional lawyer. But we picked him because he was just a normal guy, very family-oriented," Smith says. "He made us feel very comfortable." When Kamp told them how he thought things would go—in court, with a judge or with the defense—"it was dead-on every time," Smith says.
A successful Lexington businessman, Pat Smith had dedicated much of his time and money to Habitat for Humanity. So when Kamp started talking about his firm's Habitat project, Smith says, "it was almost like a fate thing." Later, Kamp pledged his firm's financial support to build a Habitat home in Lexington in memory of Pat Smith.
Another client, Jessica Woodruff, whose son was injured during birth, testifies to Kamp's softer side. "He's been very accessible to me," Woodruff says, citing several instances when she called Kamp on an evening or weekend and got his immediate help. "He took a lot of care in what he was doing. I don't know how I'll ever repay him."
Even after Woodruff's case was settled, she says, Kamp continued to take an interest in her son, Clay, and their family. "He still calls to check on Clay," Woodruff says."He's just that kind of person."
Search attorney feature articles