Talking Shatner with Jason Abraham
How the stars aligned for the icon to become a spokesperson for Hupy & Abraham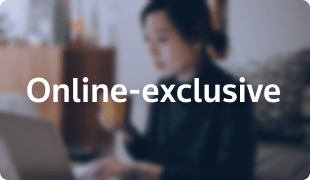 When most people in Wisconsin, Illinois, and Iowa hear the words "Hupy & Abraham," one of the first things that pops to mind is William Shatner. The personal injury firm has been running its ad campaign with the Star Trek actor at the forefront since 2007, and it has left an indelible impression. So we decided to reach out to founding partner Jason Abraham and find out more about how they snagged "Rock It Man" Captain Kirk.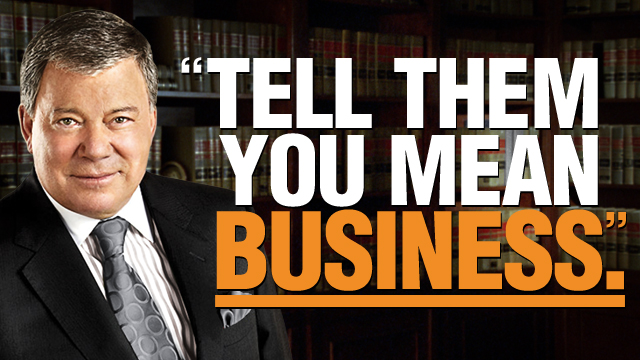 Super Lawyers: So how many years have you been running Shatner ads?
Jason Abraham: I would have to check, but my guess is 10, at least. Before that, we were using the same company with a different actor, Robert Vaughn [of The Magnificent Seven and The Man from U.N.C.L.E.].
SL: So is that how this originated—with an advertising firm—or did you have Shatner in mind?
JA: We had been using a firm that had Robert Vaughn for years, not that we thought many people would know who he was, but we liked his authoritative presence. Then we saw that Shatner was available, and as we were expanding the firm into different markets, we thought it would be an opportunity to switch it up and have someone with a lot of notoriety.
SL: Do you think it has worked? Because he's certainly the first thing I think about when I hear Hupy & Abraham.
JA: What you get, or what I think you want, is somebody who is successful in their craft and to correlate the name so people don't forget—it's memorable.
SL: Is this the kind of thing lawyers ask you about at happy hours and things?
JA: Oh yeah. Of course. Lawyers, clients, friends, family. The thing about him now, as you can imagine, is the younger generation doesn't know him much. My daughter, for instance, is 22. It's the older generations that know him from the shows and movies and Priceline. For all of them, it's just a great conversation piece. It was a real coup for us.
When we were going to new markets, for instance in Iowa, I hadn't remembered this, but in Star Trek, Kirk's birthplace is somewhere in Iowa. So when we go to Iowa and no one knows us, but we're running William Shatner ads, I start getting calls from TV stations saying, "Can we get Shatner to come in and do our morning show?" That was interesting and garnered some publicity. He's very recognizable for a huge demographic of people.
SL: Is this something you hope to stick to and stand by, as something that sets you apart?
JA: Advertising, in general, is here to stay. In order to be in the personal injury world, and have a sizeable practice, you have to engage in advertising. For us, I don't think there will ever be another William Shatner. We have another guy we're running ads with right now who was a newscaster in New York City, so not many people will know who he is, but I really like his presence. Shatner is kind of a once-in-a-lifetime situation. I don't see anyone else that we would use that would have the same kind of impact as him. I think he just recently celebrated his 89th birthday, so we know this will eventually come to an end. But we now have 11 offices in three states, and one of the biggest personal injury practices in the Midwest, and the likelihood of trying to continue the model of having a spokesperson with that kind of notoriety may not ever happen again. Even if I wanted to, I don't know that it could happen. I think the stars just aligned.
SL: So when he's doing these spots, I'm assuming it's out in California, right?
JA: Yeah, they're not doing them locally. They're doing them in California or the other places he may be.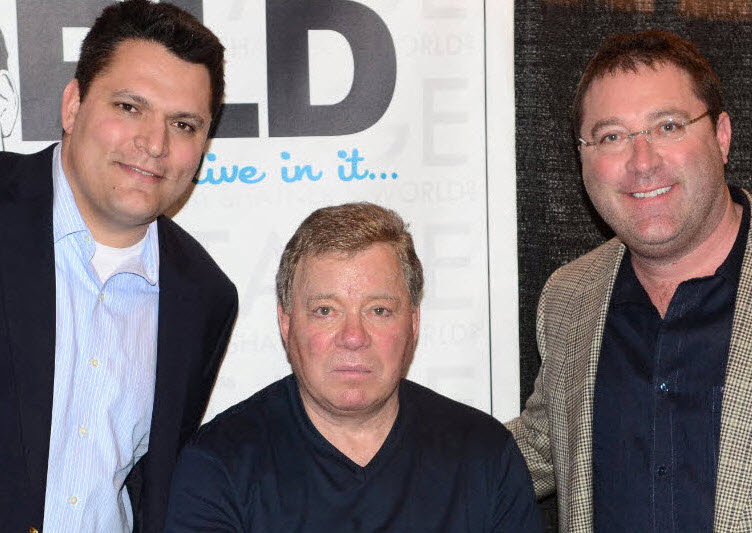 SL: Have you had the chance to meet him?
JA: Oh yeah, I've met him a bunch of times, when he's come and done his standup routine in Wisconsin. Once of my partners met him in Canada—they just coincidentally happened to be there at the same time. He's obviously not someone who wants to pal around with the folks he has done advertising for, but he was very professional and friendly. After a while in that industry, I'm sure people always want something from you, and I can only imagine that by the time you're 89, that will get pretty old. But he was very respectful, nice and cordial.
SL: Did he remember after doing all those spots, when you said, 'I'm the Abraham from Hupy & Abraham?'
JA: Yeah. He obviously knew who I was. I've had the luxury of meeting people like Shatner and certain athletes in my life, and the one thing I always try to do is be respectful of their time. It's not like just because he does ads for me, I expect to call him up and go out for dinner. I would never do that. It was just fun for me to meet the spokesman. It was really fun to say hi, snap some pictures, and chat a bit.
Search attorney feature articles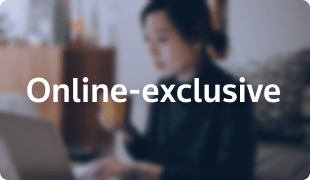 Featured lawyers
Helpful links
Other featured articles
Advocating for the marginalized is Will Hoch's calling
The passion and decorum of J. Bernard Alexander III
Samuel Himmelstein's tenants rights practice includes the NYC landmark
View more articles featuring lawyers
Find top lawyers with confidence
The Super Lawyers patented selection process is peer influenced and research driven, selecting the top 5% of attorneys to the Super Lawyers lists each year. We know lawyers and make it easy to connect with them.
Find a lawyer near you