'The Brief Every Lawyer Wants to Write'
Steve van Stempvoort and Andy Portinga's unconventional petition for cert on behalf of The Onion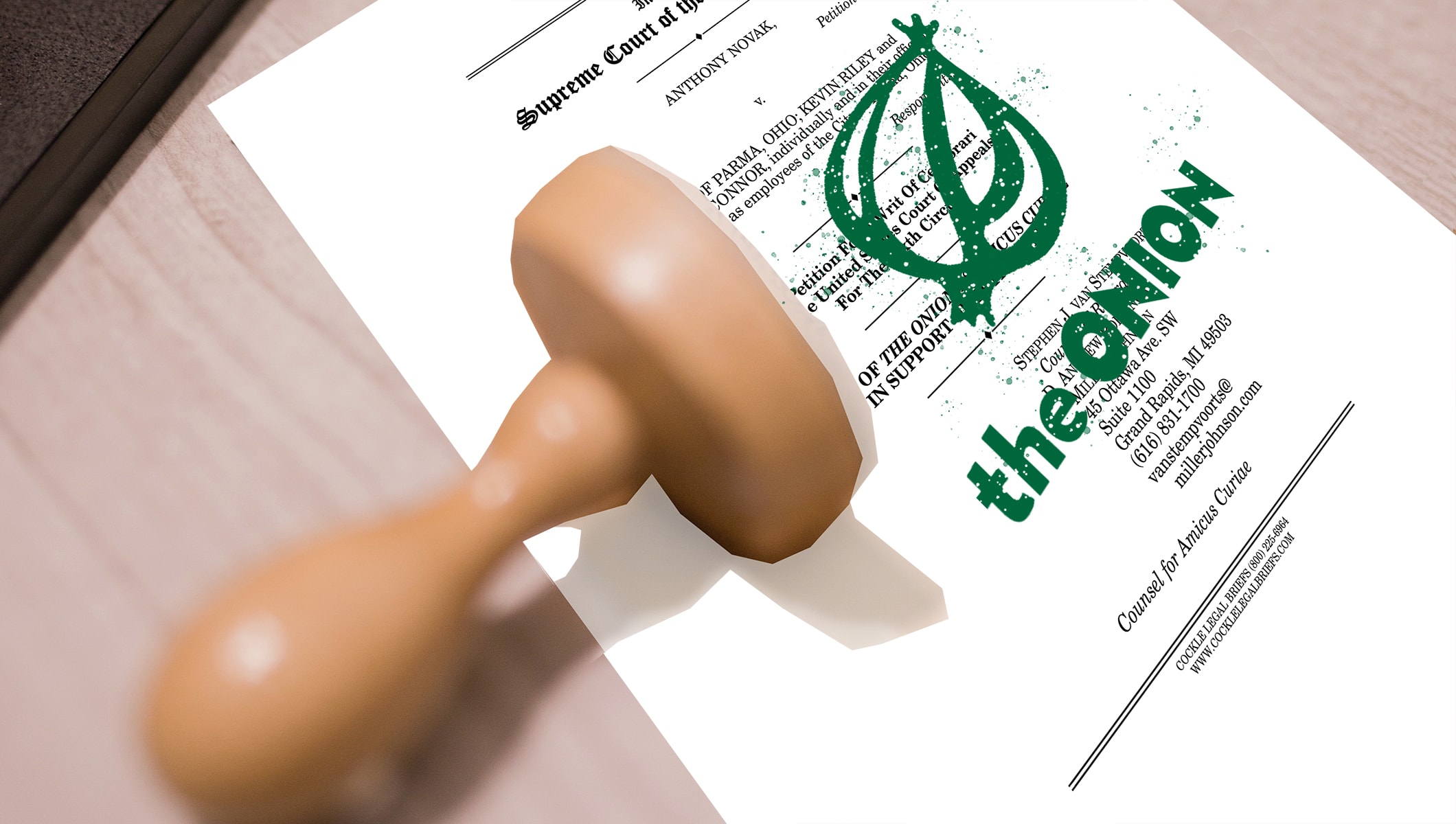 In 2022, two attorneys at Miller Johnson's Grand Rapids office filed this petition for cert to the Supreme Court in support of Anthony Novak. The fun part: It was on behalf of The Onion, America's premier source for satirical news. In early March, a week after SCOTUS denied cert in the underlying case (Novak v. City of Parma), we caught up with the attorneys to discuss the moderately famous filing.
Super Lawyers: So it's a bummer the Supreme Court just denied cert.
Stephen van Stempvoort: I hope that doesn't take the wind out of our sails.
SL: Does it? How do you feel about it?
SvS: I can answer that by telling you a bit about how it came about. The petitioner in that case, Anthony Novak, he's represented by the Institute for Justice. They lost in the Sixth Circuit. And obviously, the facts are what they are and I'm sure you're aware of what they involved.
SL: Wasn't it that Novak, a guy in Ohio, created a parody Facebook account to make fun of the local police, then they arrested him for it, and he sued them?
Svs: Yeah, apparently he was just sitting at a bus stop, bored, and created this thing. I think he put up six or seven posts over the course of about 12 hours. And they were obviously ridiculous—obvious parody. The test, of course, is whether a reasonable reader would recognize it as parody, and I think it's obvious that any reasonable reader would.
The police department didn't like that so much, so they went through the code book to see if they could find a statute to prosecute him under and they found one they thought fit. It was an Ohio statute that criminalized the use of computer technology to interfere with police operations. So they went out and got a warrant, and they charged him. And they actually brought him all the way through trial for a felony charge, and the jury acquitted him.
Of course, he was prosecuted based solely on the basis of his First Amendment protected speech. So he filed a lawsuit. But then the question was: Are the officers entitled to qualified immunity? The court essentially said yes, and Mr. Novak wasn't ecstatic about that, so filed a cert petition.
His attorney then thought, "I think The Onion might be really interested in this particular case because this is what they do all the time." They are the paragons of parody, as it were. Then the attorney reached out to us and said, "You guys want to get involved?" So we jumped on the phone and made the pitch.
SL: So, how did that pitch go?
D. Andrew Portinga: They loved it, and they ended up having an integral role in drafting it. Unlike the typical situation, we were representing professional writers who are extremely talented. So the way it worked was Mike Gillis, the head writer of The Onion, gave us four or five pages of really good comedy material. It was Steve's job to then mold that into a legal brief that was funny, but had a serious point.
Svs: My initial question was, "What have you guys done in terms of amicus briefs in the past?" They were like, "We've never done one."
We said, "OK, here's an opportunity for The Onion to have its own unique voice, its own unique angle on this particular issue."
SL: Did you give them topics to hit on in the comedy?
AP: We had a number of Zoom calls, and we talked about the Novak case and what the legal issues were. As you might imagine, the folks at The Onion are extremely sophisticated. It's not like we had to educate them a lot. They were well-versed on the issues.
SL: So how did you pull together the petition between all involved?
AP: From the legal writing perspective, it was mostly Steve. Mike Gillis provided the jokes. And I was there to tell Steve, "Just don't take the funny out of it." We had to make it into a legal argument, obviously, but we didn't want to take the funny away. I am friends with the lawyer who represented Novak, so I had a role in bringing the opportunity. I was also a cheerleader for Steve and encouraged him to take some risk in being unconventional. He's really bright and a great writer, so I had no doubt we'd have a great product.
SvS: We kind of went back and forth. The case was ultimately about qualified immunity, and our take was, "That isn't the thing that The Onion is particularly qualified to talk about. What The Onion is qualified to talk about is how parody works and why it's so important for the court not to get that wrong."
SL: How fun was drafting this?
AP: Steve wrote it. I just read it, laughed, and offered some edits. So it was a blast for me.
SvS: It was a little bit intimidating at first, because when you're representing certain organizations, there are expectations that come with the product you produce. We spent a lot of time thinking about what this thing should look like. "Should we write a very ordinary, serious brief that kind of lays everything out in a very straight and logical manner, typical of most briefs?" We thought people would have been disappointed. A brief by The Onion that's not funny?!
And then secondly, we thought, "There's an opportunity here, if we can do it correctly, to use the form of the brief to illustrate the point that we're trying to make. We can use the rhetorical form itself to demonstrate the overall argument about how this type of speech operates."
We also didn't want something that came across as flippant or glib. This is a serious issue and we didn't want to come across as just making fun of the whole situation or the institution. That wasn't the point. I was like, "Man, I don't know if we can pull this off." Actually, all the way up until filing, I wasn't sure that we had totally gotten it.
But it was a great collaborative writing process that was really enjoyable. The Onion guys are very funny, but we had some other folks on our team who are quite humorous, too. It was almost a little bit surprising—the latent funny person in all these attorneys. A project like this, this is the brief that every lawyer wants to write, so that person could finally come out a bit.
SL: Do you feel like you pulled off the balance?
AP: Well, it was well-received, so that's fun, but I think it also made the point we wanted to make and made it in a funny way. Of course, that's the essence of The Onion, right?
SL: How did you feel about the reactions it got when it got out in the world?
SvS: There are usually some folks somewhere that don't like what you did or think you went too far or whatever, but the reaction here has been universally laudatory. When I filed the brief, I was sweating a bit, because we recognized that nobody had really done this before. But then that first day, it kind of went crazy on Twitter and everybody was ecstatic. It was a huge relief to get that confirmation that maybe we did something right. And we've received feedback from people all over the place. You'd be surprised by how many people read legal briefs, or at least this one.
AP: I figured it would get reactions in the law nerd world, but I didn't expect The New York Times would be calling me. I didn't expect emails from members of Canadian parliament or the British parliament. That was strange. So I was very surprised it took off in not just the legal media, but the popular media, too.
SL: What were the parliament people contacting you about?
AP: They said, "Hey, I read this brief and thought it was excellent." It was someone in Canada and someone in the UK. I said, "Well, thanks!"
SL: Does the SCOTUS denial kind of tamper down those feelings about the experience?
AP: It's disappointing, but the odds are always against you when you're seeking cert. What are there—5,000 petitions and only 60 to 70 grants a year? So, your odds are never good. But regardless, we drew attention to a situation where, frankly, the police overreacted. And that has some benefit.
SvS: Somebody the other day told me, "I know the Supreme Court denied cert, but, man, you guys were on the side of the angels on that one." I think a lot of people looked at this case, looked at the facts, and thought, "There's no way. You can't do that." Even if you don't sympathize with the humor, even if you don't think it's a good idea to poke fun at law enforcement officers, most people recognize that charging somebody with a felony for making fun of the government shouldn't be allowed.
SL: Do you think it will have any lasting impact?
AP: I don't know about that. I do know that in the Jack Daniel's trademark case [Jack Daniel's Properties Inc. v. VIP Products], where there was a maker of dog toys making toys that looked like Jack Daniels bottles, there was an amicus brief filed that had a bunch of coloring book pages for the justices and their clerks. The question was: At what point do you have a derivation of something else and have it be different? The point being that art always derives from something else.
It's kind of funny, and I don't know if they were inspired by our brief or not, but it's similar in that it's unconventional.
SvS: I don't want to pretend greatness here. I mean, it is what it is. It was a lot of fun. It's not like Magna Carta or anything.
More broadly, I thought some people would be like, "Oh, The Onion filed a brief and it was kind of funny and that was great," and then move on. I didn't think it would have the kind of cultural moment that it has. That itself has been a valuable part of the whole enterprise. A lot of people have had this discussion or have thought about this issue that hadn't before.
I hope it's going to be more difficult for the next police department down the road or the next government official down the road who has somebody making fun of them and they don't like it. I hope it's more difficult for that person to want to go prosecute them in light of the conversation that has been happening—hopefully, partially because of this brief. It wasn't really intended to have this kind of widespread effect, and yet here we are.
Search attorney feature articles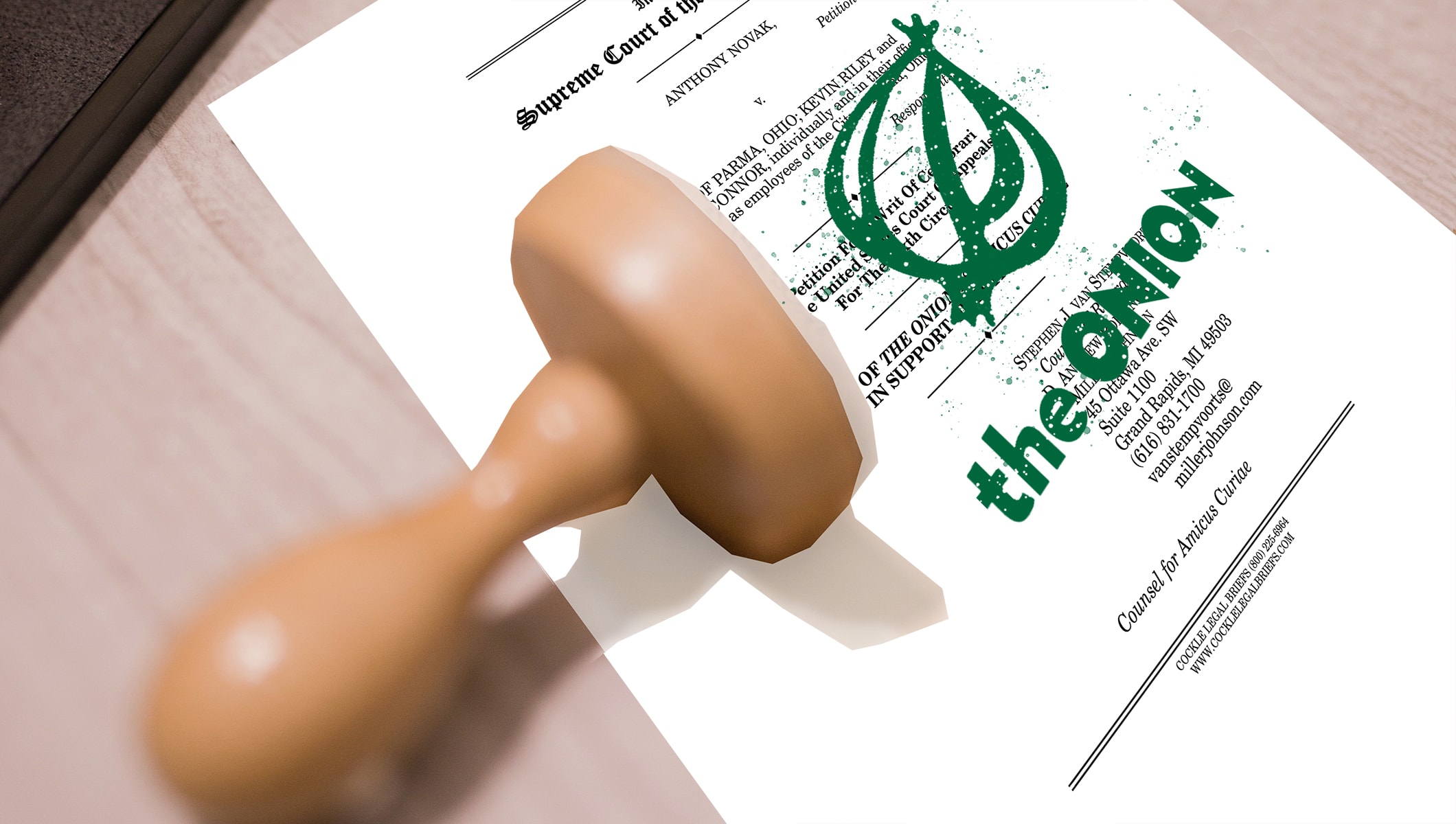 Featured lawyers
Helpful links
Other featured articles
Faith Li Pettis has helped fund major community projects and guide the city's quest for affordable housing
Martha Hofmeister is the guiding hand behind the Dallas Bar's comedic variety show
How Rita Bolt Barker tackled pandemic lawsuits to protect vulnerable communities
View more articles featuring lawyers
Find top lawyers with confidence
The Super Lawyers patented selection process is peer influenced and research driven, selecting the top 5% of attorneys to the Super Lawyers lists each year. We know lawyers and make it easy to connect with them.
Find a lawyer near you