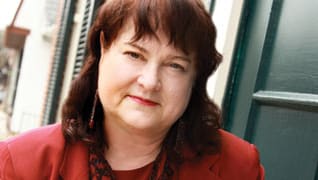 Photo by: Luigi Ciuffetelli
Fearless
Criminal defense lawyer Anna Durbin takes the cases no one else will
Published in 2012 Pennsylvania Super Lawyers magazine
By Michael Y. Park on May 18, 2012
In 2004, Kimberly Yates, while serving an 84-month sentence from a drug conviction, was temporarily housed in the Philadelphia Federal Detention Center. She was working in the commissary when a male prison guard ordered her into the basement to attend to a chore. There was no chore. When she got down to the basement, the guard raped her.
Afterward, despite the guard's threats to her and her family, Yates sought justice. But she faced a seemingly insurmountable wall of Byzantine federal bureaucracy, knee-jerk skepticism and scant sympathy from the powers that be.
"I went through a time where I thought it was my fault," Yates says. "I went from being a very self-confident woman to always second-guessing myself, having low self-esteem, all these things that aren't me."
She called a lawyer in California who told her she should call a criminal defense attorney in Ardmore, Pa., a woman who had a way with juries and a reputation for taking on can't-win clients.
"When I called Anna, she didn't even question my story," says Yates. "She took the case immediately."
Anna Durbin grew up in southeast Washington state, the daughter of a manager at Hanford nuclear plant, which had the distinction of producing the plutonium used in the bomb dropped on Nagasaki, Japan. She was the youngest of four children; both older brothers had distinguished careers in the Army, and her sister became an anesthesiologist.
"It was tough following those three in school," Durbin says.
She went to Stanford University, where she earned a bachelor's degree in English in 1973. "I think being an English major was a great background for being a criminal lawyer because a lot of doing trials is about bringing your clients' stories to life," Durbin says.
Along the way, her interest was piqued by an undergraduate course in criminal law. She took the LSAT and moved to the East Coast to attend Yale Law School.
It was a bit of a culture shock. "After a few days of law school, I was feeling very, 'I don't belong here; I don't know what I'm doing,'" Durbin says.
Then she wandered into the law school's clinic, which had programs for law students to help prepare cases for the poor, the mentally ill and prison inmates. She was hooked.
"I think I learned as much from them, writing and rewriting legal papers and strategies, and talking the law with the people running the clinic, as I did in class," she says. "You'd write something for them, and they'd make you rewrite it 16 times before they'd let it go."
She'd found her place. The clinic also happened to be where she met her husband, criminal appellate lawyer Peter Goldberger, with whom she now shares offices. "They have a really neat working relationship," says Joyce Collier, a civil lawyer who's known Durbin for 12 years. "They're both autonomous, but their desks are across the hall and they face each other."
After the couple moved to Ardmore in 1978, Durbin spent a few years gaining trial experience at the federal public defender's office. "For the first two cases I tried as a federal defender, I was pretty scared out of my mind," she says. "After, almost nothing could scare me."
When Durbin and Goldberger started their family—their first of three daughters was born in 1982—Durbin began working part time, mostly doing court appointments and contract work for other attorneys. In 1994, the year their youngest daughter turned 4, Durbin went back into the law full time.
"One of the best things about practicing law for women is it's a really flexible profession," she says of a lesson she learned while clerking for Judge Norma Shapiro, the first female federal district judge in the state. "If the kids needed me at school, I could be at school. It seemed like judges would always appoint me to some big trial when I was pregnant, and then I would have money for maternity leave. And at a certain point in your career, you just like to be in charge of yourself."
She wasn't taking it easy on herself. Durbin became an advocate for defendants others would blanch at—like professors accused of downloading child pornography. "When you're dealing with your client, you're just trying to find out about their life and how they got there," she says. "When you relate to someone, person to person, most of the time you can find something positive about them.
"I think one of the most important jobs as a lawyer is to find the human being in your client," Durbin adds. "When someone asks you, 'How can you do this work?' it's not that I represent the crime—I represent the person. And the truth is, all of us have done things we in hindsight wouldn't have done."
In the child pornography case, Durbin got her client acquitted of two of the four counts. "It's almost unheard of in a child pornography case," says criminal defense lawyer Lisa A. Mathewson, who watched Durbin make her closing statements. "It was an excellent example of her not trying to humanize the client; I think what she does is recognize the humanity in the jury."
Felicia Sarner, an assistant federal public defender who's been friends with Durbin since 1983, agrees. "She's raised it to an art form," Sarner says. "She really wants to get into the jurors' heads. Jurors just love her. She wouldn't be slicking them—she's got too honest a face."
Durbin's list of clients grew: the elderly veteran's widow accused of fraudulently receiving benefits; the 20-something junkie whose 32-year sentence Durbin shaved down to 10; the troubled drug offender who couldn't avoid jail time, but who cried as Durbin told the court his story.
"One of the things I've noticed about Anna is, as she has gotten older, she's almost gotten younger in her passion," Collier says. "She hasn't gotten harder. She's gotten even more enthusiastic and energized, which really is unusual in criminal lawyers."
Durbin even gets involved in her clients' lives. When one woman began talking about committing suicide, Durbin drove to her client's house, where she noticed an apartment filled with dog memorabilia. The conversation turned to how the client had raised dogs as a child and how she missed those happier times.
"I just decided she needed a dog," Durbin says. "So I went over to the local animal shelters and found this little dog that just came in that day, paid the fee and gave it to her. It was the best investment I ever made."
The best investment Kimberly Yates—the prison-rape victim—ever made may have been the money she spent on that phone call to Durbin's office.
As soon as Durbin accepted her case, she called up fellow Philadelphia-area criminal lawyer Lynanne Wescott, who agreed to be co-counsel. After her accusations, prison officials had transferred Yates to the women's prison in Alderson, W.Va. (where she shared a cottage with a supportive Martha Stewart). So the lawyers got in a car and drove down to meet their new client.
Yates, however, was not impressed. Not at first.
"I was worried. So worried," she recalls. "They were such sweet little ladies. I was like, these women won't be able to get this done. Then in the courtroom, it's crazy; it's like they're a force to be reckoned with. I looked at the other girls and said, 'Oh my God!' I knew then I had the right women."
The story Durbin and Wescott gathered turned out to be more horrifying than anyone had thought. After Yates' allegations surfaced, three other women stepped forward and accused the same guard. Another inmate's family revealed that it had sent a formal letter of complaint to the Federal Bureau of Prisons, only to have the letter vanish into bureaucracy.
"I did a lot of ranting and raving at my friends," Durbin says of her reaction.
Durbin and Wescott warned Yates and the other women that they would have to relive their experiences again and again in court, and that officials would assume they were making up stories.
"There was a particular part that was very difficult for me, and I broke down crying," Yates recalls. "And I looked up, and Anna was crying with me."
"Anna is the soul of humanity," Wescott says. "That's what differentiates her from a lot of lawyers in this business. She cares, and her clients know that."
In June 2005, the guard pleaded guilty to sexual misconduct with a ward and was sentenced to four months. The light punishment galled Yates. "I wanted him to go to hell," she says. "I wanted him to get locked away in prison, but Lyn and Anna told me realistically it wasn't going to happen. They said no matter if he gets four months or 400 years, it won't change what he did to you."
Durbin and Wescott pressed forward with a civil suit while tending to the emotional and practical needs of their clients, who were still in prison. "It's like they became my therapists, my best friends, my attorneys—everything wrapped in one," Yates says.
"In the criminal arena, you get results that aren't always what your clients want, but her clients always feel like they were listened to," Wescott says. "They always feel like she heard them, and sometimes that takes the sharp edges off the results."
Better still, the partners negotiated a hefty settlement for the women. Yates, who is now out of prison, used her money to buy a house and start a business.
And Durbin is back in Ardmore, defending those who have no one else on their side.
Search attorney feature articles