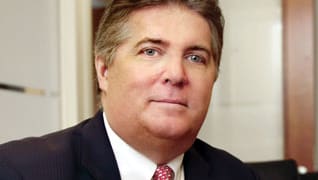 Photo by: Luigi Ciuffetelli
Living It Completely
Trial lawyer Slade H. McLaughlin does nothing at half speed
Published in 2013 Pennsylvania Super Lawyers magazine
By Nick DiUlio on May 17, 2013
When 18-year-old Amy Fledderman walked into Dr. Richard Glunk's operating room on May 23, 2001, she and her mother had little reason to be concerned. The liposuction procedure would be fairly straightforward, and in all likelihood, the Penn State freshman would be recovering at home within a few hours.
Then something went wrong.
During the procedure, Glunk accidentally severed a blood vessel in Fledderman's neck, resulting in a fat embolism that entered her bloodstream. An embolism of this sort, if addressed quickly, is very treatable. But rather than get Fledderman to a hospital immediately, Glunk kept her at his office for nearly three hours. By the time she received the medical treatment she needed, it was too late. Fledderman died two days later.
"That may have been the most significant case of my career," says Slade H. McLaughlin, co-founder of McLaughlin & Lauricella in Philadelphia.
"When I met the Fleddermans they said, 'We don't care about the money. We want someone who will take this case to a trial because we want someone to say that this doctor did something wrong and caused the death of our daughter,'" says McLaughlin.
Looking back, the Fledderman case seems tailor-made for the litigator. Over the last three decades McLaughlin, 56, has fostered a reputation as one of the most tenacious and successful trial lawyers in Pennsylvania, focusing the majority of his practice on clients who have been catastrophically injured as a result of accidents, substandard medical care and sexual abuse.
"I've worked in construction, management, law, small business, and nobody—nobody—I have ever worked with puts in the time and effort that Slade does," says Jim McHugh, a Philadelphia trial lawyer who worked with McLaughlin for 15 years at The Beasley Firm. "It's not a disputable fact. And what that does for his clients is astounding."
In the case of the Fleddermans, McLaughlin's doggedness led him to several discoveries that were instrumental in convincing the jury that his clients had been severely wronged by Glunk.
"What I came to realize was that this doctor was more concerned about not wanting an ambulance to pull up in front of his practice than he was for the life of this girl," says McLaughlin. "When her mother finally insisted that Amy be taken to a hospital that afternoon, do you know what this guy did? He told the 911 dispatcher to make sure the ambulance didn't turn on its lights or sirens when they got there."
Glunk denied it, but McLaughlin had evidence.
"I know what he did because I spoke to the dispatcher and got a copy of his records," recalls McLaughlin. "In the margin he had written, 'Doctor requests no lights or sirens.'"
McLaughlin also interviewed the two EMTs who had arrived on the scene that afternoon. Contrary to what Glunk said—that Fledderman was doing just fine—the EMTs testified in court that she "was on death's door."
"To watch him in court was truly amazing," recalls Fledderman's mother, Colleen. "When we spoke to the jury after the trial they told us that the case was closed from the minute Slade started presenting evidence. He was so thorough that they just didn't believe anything the other side had to say."
In late 2010, nearly 10 years after Amy's death, McLaughlin won a $20.5 million verdict in the case, an amount that included the highest punitive damage verdict ever awarded in a Pennsylvania medical malpractice case: $15 million.
"That's exactly what I'm talking about. A verdict like that is just unheard of," says McHugh. "The stuff Slade was able to uncover in that case could have been the subject of a 60 Minutes segment. And that's the type of work he does. All the time."
Growing up in Cherry Hill, N.J., McLaughlin had no intention of becoming a lawyer. When he left for Ursinus College in 1975, he thought he wanted to practice medicine. But that plan changed one afternoon while talking to his uncle Joe, a longtime physician who urged him to reconsider.
"He said, 'Medicine has become a business now. It's not a profession. And it's a miserable way to make a living,'" says McLaughlin. "I was stunned."
After a long talk with his parents that evening, McLaughlin decided to heed his uncle's advice, switching his major to political science in order to pursue a career in law.
"I've always been very comfortable talking to anyone. I could sit and talk for hours with a homeless man on the street—which I've done—or sit down with the president of the United States. It's something about making a connection with people, and I've always been very good at that," says McLaughlin. "Law was a perfect fit."
After graduating from the Villanova University School of Law in 1982, McLaughlin worked for 10 years at Griffith & Burr, one of Philadelphia's largest medical malpractice defense firms. He then eventually made partner during a 17-year stint at The Beasley Firm, where he trained under and worked with Jim Beasley, before founding his own firm in February 2011.
"Slade's unique because he's seen both sides of this job, so he knows how to quickly get at what's most important," says Philadelphia trial attorney Anthony Giosa, with whom McLaughlin has shared cases for almost 30 years. "A few years back, there was a medical malpractice case that had bounced around from one attorney to the next. When I heard about it I said, 'Just cut to the chase and send it to Slade.' And he got a $5 million recovery. He's probably the most aggressive and hardworking attorney I know."
McLaughlin is a member of the Million Dollar Advocates Forum and The American College of Legal Medicine, an invited member of The College of Master Advocates and Barristers and a fellow of the Litigation Counsel of America. He is also a diplomate of the American Board of Professional Liability Attorneys and was appointed by the Pennsylvania Association for Justice to membership on the Medical Malpractice Legislative Committee.
Oh, and he's also climbed to Mt. Everest's base camp, run with the bulls in Pamplona and finished the New York City Marathon.
"He's an animal. Whatever Slade's doing, he's living it completely," says McHugh. "That's what makes him so successful."
McLaughlin has also become well-known for representing victims of child sexual abuse in some of the country's most high-profile cases.
Since 2011, he and fellow trial attorney Michael Boni have represented Aaron Fisher in a massive lawsuit against Penn State University. It was Fisher, previously known as Victim 1, who in 2008 was the first person to come forward to authorities and speak about how former Penn State assistant football coach Jerry Sandusky had sexually assaulted him more than 100 times over the course of three years.
"There was no doubt in my mind that I wanted to represent this young man," says McLaughlin. The case was expected to be settled soon after press time. "Sandusky managed to abuse dozens, probably hundreds, of kids, and then convince them to keep it a secret. This kid had the courage to come forward before anyone else. Someone needed to be held accountable."
McLaughlin is also representing a 24-year-old man known as Billy Doe in an ongoing lawsuit against the Archdiocese of Philadelphia.
In 1992 Doe was an altar boy at St. Jerome Parish, and it was there that he says he endured repeated sexual abuse by now-defrocked priest Father Edward Avery, Rev. Charles Engelhardt and former archdiocese school teacher Bernard Shero.
"He was passed around between these men like a piece of meat," says McLaughlin. "It was disgraceful, and his life really fell apart as a result."
When it comes to cases likes these, McLaughlin says the biggest challenge is coping with the attacks hurled at his clients and himself.
"I sat through two weeks of the criminal trial for Engelhardt and Shero, and his lawyers called my guy a dirtbag, scumbag, drug addict, criminal. You name it. They even pointed me out in court and said, 'See! There's his jackpot jury lawyer!' I was outraged," says McLaughlin. "I'm representing someone who has been serially abused by these guys, and they're calling me some kind of bastard because I'm trying to get him compensation for having his life thrown into a downward spiral? Unconscionable!"
Despite the emotionally charged nature of these cases, Boni says McLaughlin remains levelheaded.
"It's almost a throwback to a bygone era of bedside manner," says Boni, who has worked with McLaughlin on both cases and calls him a superb trial attorney. "Slade goes out of his way to make sure his clients are comfortable, that they get counseling if they need it, and that they can handle the emotional rollercoaster of court. He has a sixth sense about what makes people nervous and then he calms them in remarkable ways."
Four years ago, McLaughlin represented a man who lost both legs in a bulldozer accident. One Saturday night, the man called McLaughlin at home and on his cell and told him he wanted to kill himself. McLaughlin stayed on the phone with his client for more than an hour, calming him and possibly saving his life.
"This job isn't just about being a lawyer," says McLaughlin. "It can be difficult sometimes, dealing with so much misery. But I try not to focus on the negative aspects of what people bring to the table. I try to focus on how I can help them and make them better. I can't heal a brain-damaged child. I can't take away the sexual abuse that someone has suffered. But I can help them find some closure."
Search attorney feature articles
Helpful links
Other featured articles
Ty Cobb, a distant relative of the famous ballplayer, is a big gun on whom powerful people rely
Jeff Anderson on law school, legal tactics and his ultimate goal—deposing Pope Benedict XVI
Qusair Mohamedbhai tackles civil rights and employee rights in post-9/11 America
View more articles featuring lawyers
Find top lawyers with confidence
The Super Lawyers patented selection process is peer influenced and research driven, selecting the top 5% of attorneys to the Super Lawyers lists each year. We know lawyers and make it easy to connect with them.
Find a lawyer near you