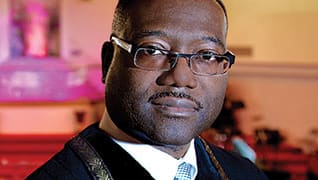 Photo by: Luigi Ciuffetelli
Man of Reason, Man of Faith
The two halves of trial lawyer/minister Daryl Winston
Published in 2015 Pennsylvania Super Lawyers magazine
By Michael Y. Park on May 15, 2015
Daryl Winston is a veteran of the courts in everything from commercial litigation to catastrophic injury. He's handled multimillion-dollar cases. He's never been defeated in the U.S. courts for the Middle and Eastern districts of Pennsylvania.
But if called, he could give it all up. "If the Lord says, 'I want you to make a choice to stop practicing law,' I believe my faith is such that I would do that," Winston says.
This is no small sacrifice, either.
"I wanted to be a lawyer since I was in the third grade," says Winston, who grew up in the small rural town of Farrell outside Pittsburgh. "I was one of those kids who had those attaché cases on the playground. I thought lawyers ran the world. If you had the gift of gab, the natural progression was to be a lawyer, and I also knew that with a legal degree I could do anything—member of Congress, a judge or any other route."
In 1984, Winston went to Penn State, already committed to using his major in administration of justice with an emphasis in business law to earn a J.D.—which he did in 1991 at Ohio State University's Moritz College of Law. He then nabbed his first job as an in-house attorney for State Farm Insurance in Philadelphia, where he worked for eight years, representing clients insured under the company's policies.
"I'd become so proficient in doing what I was doing that, by the time I'd taken the 6 bus to the subway that brings me into Philadelphia, I would've prepared my cross-examination and won the case," he says.
Winston eventually left State Farm for a firm that principally handled litigation for Wal-Mart in Pennsylvania and New Jersey—often shuttling back and forth everywhere from Harrisburg to Trenton every week on behalf of the rapidly expanding big-box chain. Then he moved to Schubert, Bellwoar, Cahill & Quinn: a "small firm that did everything."
As did he. "It was one of the greatest moves I ever made," Winston says. "It laid the foundation for the kind of practice I have now—rarely will you find a lawyer like myself that knows wills and estates, corporate law, real estate, medical malpractice, commercial litigation, employment."
But most importantly, he learned to see cases from the viewpoint of colleagues who practiced on the other side of the courtroom. "It contributed to my growth as a plaintiff's lawyer," he says. "I learned what's weak about a case."
After about four years, having "outgrown his overalls," Winston left the firm to enroll in Temple University's LL.M. program in trial advocacy. Partway through the program, he was offered a job at Conrad O'Brien, where he focused on complex commercial litigation after completing his LL.M. After four years, he made another move: to Ross Feller Casey ("Their tagline is: 'If it's not seven figures, don't call us,'" Winston jokes), where he welcomed the challenge of large-scale, catastrophic plaintiff work.
"What I enjoyed about working there was their hard work, tenacity and their phenomenal formula, in the sense that they always overwhelmed their adversaries," he says. "We were well-prepared and you knew how to be two to three steps ahead of your adversary at each phase of the litigation. When the demand letter came in, the defense was already done. The game plans were so well-planned and efficient, you just had to give it to them."
And even as Winston was learning big-picture strategy, he honed his talents on a personal scale with witnesses and clients. "I never had a deposition where I didn't have to have a box of tissues next to me," he says. "Either the witness was crying or the other lawyers were crying."
He impressed both his co-counsel and opposing counsel, says Elvin Ross of Legis Group. The two worked together representing a Pennsylvania gas station owner who was accused of neglecting to pay a New Jersey fuel-distribution company for shipments.
"The whole time, he's a total gentleman to the opposing counsel—very respectful but firm," Ross says. "And you don't see that too often, an attorney who can be as sharp as Daryl with regard to scoring points. You'd typically think of someone that sharp as being ruthless, but he's a gentleman."
By the mid-2000s, Winston was undergoing spiritual growth, too. He was appointed a deacon of his church, then began preaching at his church regularly as a reverend with the blessing of his pastor.
"It's not that he was shy, but when Daryl first joined us, he was reserved," says Marossa Davis, superintendent of the Sunday school at Christ Baptist Church in Burlington, N.J. "But when you have gifts like Daryl has, it's hard to hide."
Winston also started giving sermons at Burlington County Jail the first Thursday of every month. "In prison, I can give them an edgier message than at church," he says. "Early on, I sounded too much like a lawyer, too robotic—I mean, I'm the guy who wanted to be a lawyer since third grade. I had to grow into what a minister sounds like, so that I'm not tied to a piece of paper. But the whole thing just snowballed."
So did his legal work. In 2009, Winston decided it was time to work for himself. "It was a bold move to go out on my own, but I prayed about it, and I thought about it, and there's a calmness when you're resolved," he says.
"He's a straight shooter, and an incredibly pleasant person," says Shari Bernstein of Salmon, Ricchezza, Singer & Turchi. She and Winston were opposing counsel in a 2012 personal injury lawsuit where he represented the plaintiff. "He had all his ducks in a row, and came from a place of strength and competency."
"He considers himself a country boy," says Thane C.J. Trotman, senior litigation counsel for CNA Insurance. Winston and Trotman have been friends for several years, and Trotman has turned to Winston for advice on how to win cases. "And that's who he is: easygoing, laid-back, he puts everyone at ease."
In fall 2014, Winston scaled down his caseload and enrolled full time at Princeton Theological Seminary, one of the country's most prestigious institutions of religious learning. In his spring semester, he drives up from his Lumberton, N.J., home for classes in Princeton five days a week and works on cases around his class schedule, including in the evenings and early mornings or if he can spare a few hours between classes. His pastor encouraged him to pursue a pastorate of his own, but Winston wasn't sure he was quite ready to jump right into the role. "I said, 'If I'm going to do this, I'm going to get the additional education,'" Winston says. "Even when you go to the seminary, there's so much on-the-job training. … You kind of have to get in there, walk by faith, and He'll provide. But I still wanted to have the substance of knowledge, so that's why I decided to go ahead and move forward as a seminarian." The education will help him keep his ministerial options open, maybe even prepare him to become pastor of his own church—even if it means he has to be pickier about his legal work.
"The lights are still on," he says. "And having bigger cases allows me to keep doing what I'm doing—I just have to be very judicious about what cases I think will suck down time. Thankfully, I have a nice network in place, so I can reroute or refer cases if I need to."
Winston's colleagues and fellow parishioners weren't at all surprised by his decision.
"Is he trying to be the pastor of a church?" Trotman asks. "Absolutely. But his legal training is going to allow him to take that plunge with that sense of confidence and purpose that not everyone has. And Daryl's going to be able to use his legal training to continue to help others."
Davis describes Winston's move as "a calling on his life that he couldn't shake. Some people, you get the impression they see the position and they say, 'I want to be that,'" she says. "For Daryl, it was a calling he couldn't deny. He was thinking, 'How do I balance my law firm, plus my wife and teenagers, and do this?' But I think God opened a door, and he walked through it. I see him pastoring one day."
When Winston talks about his future plans, all of them include him as the pastor of a congregation. But he sees no reason he can't keep one foot on each path. As he said: "If the Lord says, 'I want you to make a choice to stop practicing law,' I believe my faith is such that I would do that."
Then he adds, with a twinkle in his eye: "But I don't believe He's telling me to do that."
Search attorney feature articles