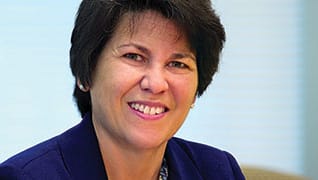 Photo by: Luigi Ciuffetelli
Nonstop
Indefatigable trial lawyer Abbe Fletman has worked on Title IX matters, voting rights cases and everything in between
Published in 2014 Pennsylvania Super Lawyers magazine
By Michael Y. Park on May 23, 2014
When coach Jennifer Ridgely started her job at Delaware State University eight years ago, the task ahead of her was daunting. Not only was she essentially starting a women's equestrian team from scratch, she was trying to grow the historically white sport at an historic black college whose athletics department was overwhelmingly tilted toward the school's mostly struggling men's teams.
Yet a few years later, Delaware State's equestrians had earned a top-rate reputation, qualifying for nationals its first year, and earning a berth in the NCAA's Division I-AA against schools with established and storied equestrian teams. Ridgley's team was one of the most successful sports teams on the DSU campus—male or female.
So when the  athletics department announced it was eliminating the team for budget reasons in January 2010, it's fair to say she was surprised.
"It was heartwrenching," Ridgely says. "I just said, 'I promise you my team and their parents will not go easily.'"
The athletes and their parents hired Philadelphia-based lawyer Abbe Fletman, who has a reputation for taking on, and winning, cases on behalf of female athletes. Soon enough, Fletman invited Ridgely—who, as a member of the faculty, had to remain on the sidelines for the lawsuit—to her office. She sat and listened as Ridgely explained what had happened, then looked the coach in the eyes.
"You're going to be OK," she said. "They broke the law, and you're going to be OK."
Fletman grew up in Philadelphia, where her father was a doctor in the Kensington neighborhood in northeast Philly for 50 years. It wasn't an affluent area, and Herbert Fletman was famously softhearted, so it was up to Fletman's mother Sylvia—who ran her husband's medical office and was trained as a medical technologist—to keep the Fletmans and their five daughters afloat.
"We always joked that we wouldn't have been able to pay the mortgage if my mother wasn't there physically collecting the money," Fletman says.
Sylvia Fletman's contributions helped shape the lawyer Abbe became, says Liz Fletman, Abbe's daughter and a pre-med student.
"She saw that my grandmother helped my grandfather in his medical practice but wasn't a doctor," Liz says. "If it was now, maybe my grandmother would have been a doctor too."
After studying history at the University of Chicago and briefly writing about the suburbs for the Chicago Sun-Times, Fletman worked as a newspaper reporter in Charlotte, N.C., covering business. However, in 1984, she was reaching a professional crossroads.
"I didn't like the restrictions on journalists, that you can't get involved in your community," she says.
She flirted with the idea of attending business school, but decided on the legal profession once she saw how well she did on the LSAT; she also liked the intellectual feel that law offered. She returned to Philly to attend the University of Pennsylvania Law School. Her future wife, fellow recovering journalist Jane Hinkle, came with her and eventually became a teacher.
Right out of law school, Fletman joined Pepper, Hamilton & Scheetz as an associate in the litigation department. In 1993, she joined Klehr, Harrison, Harvey, Branzburg & Ellers, where she quickly earned fame as a master of injunctions. She boasted a perfect record of more than 20 successful injunctions before a court rejected her arguments in a case involving heirloom tomatoes.
"That kind of work brings together everything I'm good at: taking a lot of information, figuring out the essence, and being able to do that in a compressed time period," Fletman says.
At Klehr Harrison, then during an eight-year stint at Wolf, Block, Schorr & Solis-Cohen, and finally at Flaster/Greenberg, Fletman took on high-profile IP cases. In 2009, she represented Primepoint, a family-owned payroll-processing company, in a trademark infringement case in Primepoint LLC v. PrimePay Inc. In 2005, she established that the product labels on cans of pesticide are protected by copyright law while representing FMC Corporation, a pesticide producer, against a generic producer, Control Solutions Inc. Every day since her first trial, she's had the same lunch: a turkey sandwich on whole wheat with a smidge of mayo, washed down with a Coke, never a Diet Coke. Her win record seemed to justify the ritual.
One case that grabbed national headlines was McNeil Nutritionals LLC v. Heartland Sweeteners LLC; Heartland Packaging Corp. In December 2006, McNeil, the seller and marketer of the sucralose brand and artificial sweetener Splenda, filed suit against Heartland, which marketed generic store-brand sucralose for grocery chains including Food Lion, Safeway, Tops, Giant and Stop & Shop. Arguing that Heartland had committed trade-dress infringement, McNeil requested an injunction against Heartland's continued use of packaging that McNeil claimed was confusing to customers. As part of her argument on behalf of Heartland, Fletman declared that the average consumer could clearly tell the difference between packages of Splenda and the storebrand sweeteners.
Fletman defeated the injunction request for all of Heartland's sucralose packages at the trial level. When McNeil appealed, Heartland remained successful on two of the three challenged packages, and after the case of the third package was remanded back to district court, Fletman handled the agreement when the companies eventually settled.
But her work isn't confined to IP cases. "Whatever the subject matter is, it's the job of the trial lawyer to make it understandable," she says. "And with all due modesty, I've been fairly successful against opponents who were more technically educated."
She also became deeply involved in Philadelphia politics, monitoring voting for Democratic presidential candidates from Dukakis to Obama, and serving on the campaigns and transition teams for Gov. Ed Rendell and Mayor John Street. The latter had developed a bad relationship with Philadelphia's LGBT community because of his stance against domestic partnerships. "I came in with a list of positions that he would have to agree to if I was going to support him," Fletman says. She told him he should reinstitute an advisory board on LGBT issues to begin to earn some credibility. He did, appointing her co-chair of the board for four years, and also advocated for a range of LGBT issues while in office.
"Anytime you ask her an opinion, she'll tell you what she really thinks," says Rev. Bonnie Carmada, director of partnerships of the Salvation Army of Greater Philadelphia and a friend of Fletman's.
In advance of the 2006 elections, Fletman represented the city of Philadelphia against the Bush administration's Justice Department, which wanted to place federal observers in polling places and allow them to even go into the actual booths with voters, ostensibly to assist Spanish-speaking voters. The Justice Department claimed that observers were necessary because Philadelphia had allegedly violated Latino voters' rights in past elections.
"It was offensive to me not just as someone representing the legal interests of the city and county of Philadelphia, but as a Latino who was sensitive to the implications for the Latino voters of Philadelphia," says Romulo Diaz, then the city solicitor and now vice president and general counsel of PECO Energy Co. "[It] was not legally justified. … I don't think it's too hard to see the possibility of intimidation for Latinos and other minority voters."
Fletman battled against the Justice Department's request for an injunction to force implementation of the federal observers. The week before the election, a three-judge panel of the U.S. District Court for the Eastern District of Pennsylvania sided with the city, and the observers stayed out of Philly's voting booths.
"She was dogged and assembled and managed the facts and arguments and made sure the city prepared its strongest case for retaining control over the local electoral process," Diaz says. "She was the whole shebang."
Fletman's own foray into politics was brief—she quickly ended a campaign for the judge's bench in the Court of Common Pleas in 2013 when it became clear her shot at winning that year was distant.
"I think she felt she could do more on the bench than behind the bar," says son Ted Fletman, a sound engineer and tour manager for the band Crobot. "She really did throw her heart into it."
She still throws herself into the community service she craved as an unfulfilled reporter in North Carolina. She's a vice chairman of the board of trustees of the Einstein Healthcare Network where "She's the type of board member who asks the hard questions," says President and CEO Barry Freedman. She lectures on evidence once a year at the University of Pennsylvania Law School; has served variously as chair, board member and general counsel to the Women's Law Project; and co-chaired the Woman Advocate Committee of the American Bar Association's litigation section.
"She's like the Energizer bunny; I don't know how she gets it all done," says Carmelite Bertaut, who co-chaired the ABA committee with Fletman. "But I think mothers of daughters have an increased impetus to make sure the next generation stands at least next to us and not behind us, and hopefully on our shoulders. And that's what Abbe does—she's lived a life promoting tolerance and diversity."
Which brings us back to her work on cases invoking Title IX of the Education Amendments of 1972, representing women's athletics teams at universities. In 2006, she filed a case against Slippery Rock University when the school attempted to cut the women's swimming, water polo and field hockey teams. Though only women's field hockey remains a sport at Slippery Rock today, after a settlement deal, the university was forced to ensure that women were equally represented in sports, and that their facilities were brought up to par with those of their male counterparts, which led to, among other things, a modernized softball field.
"She's really great on her feet, and knows how to operate in a courtroom," says Terry Fromson, co-counsel on the case and managing attorney of the Women's Law Project.
The battle for Delaware State's equestrian team holds a special place in the Fletman home—and not just because her daughter Liz is a fellow rider.
In the Delaware State case, after Fletman reassured coach Ridgely, the team members rallied the campus to their cause and staged a horseback protest during a trustee meeting. Fletman argued that the school was not in compliance with Title IX, and pushed for a preliminary injunction, which was approved in April 2010 and extended the team through the end of the 2010–2011 school year. The two parties settled litigation in fall 2010, requiring Delaware State to fully comply with Title IX and ensure parity between its female and male athletes; the school must also maintain the women's equestrian team until the school becomes compliant with Title IX's participation requirements.
As a result of the settlement, women's athletics got new uniforms, bigger budgets and an influx of funding for recruiting. Fletman still checks in regularly with the team, and notes that the case is still ongoing because Delaware State has not yet come into compliance on its Title IX participation numbers.
"At that first meeting with her, she said the school didn't know what they were getting into," Ridgley says. "And she was right, because she chewed them up and spat them out."
Search attorney feature articles
Helpful links
Other featured articles
"Lifetime Detroiter" Saul Green fights every day for his city and its people
To this Columbus lawyer, it's all about listening before jumping in
Jack Schulz wants to litigate cases that make you put down your cup of coffee
View more articles featuring lawyers
Find top lawyers with confidence
The Super Lawyers patented selection process is peer influenced and research driven, selecting the top 5% of attorneys to the Super Lawyers lists each year. We know lawyers and make it easy to connect with them.
Find a lawyer near you